Fenix HL40R Focus Adjustable USB Rechargeable LED Headlamp (Built-in battery, 600 Lumens)


Fenix HL40R Rechargeable LED Headlamp - with Adjustable Focus Output
- Designed for Outdoor Activities like Running, Hiking, Camping, etc.
- 600 Lumens White Output with 147 mts throw output
- This is a light weight headlamp Powered by inbuilt Li-polymer 2000 mah battery and comes with a reflective, sweat-block headband
- Battery level indication while charging and while in use
- Normal charging time - 4 hrs, can be used in low mode while in charging

The Fenix HL40R is the first headlamp from Fenix that is focusable! With this new LED headlamp, you have access to the 600 lumens emitted that can be used either as a straight spotlight or a straight floodlight or anywhere in between! The Fenix HL40R is also a micro USB rechargeable headlamp! The built-in 2000mAh Li-polymer battery pack offers a maximum runtime of 200 hours and is competitive with three AA batteries. Additionally, the integrated metal body, overlapping headband, IP66 rated protection, all make the Fenix HL40R even reliable in hiking, camping, searching, photography and more.

Specifications:

- Utilizes CREE XP-L HI V2 white LED with lifespan of 50,000 hours
- Built-in 2000mAh Li-polymer battery
- 5 output modes plus, SOS and Burst
600 lumens (1 hour 20 minutes - accumulated runtime), Spotlight - 482 feet/147 meters, Floodlight - 141.1 feet/43 meters
300 lumens (4 hours 30 minutes), Spotlight - 315 feet/96 meters, Floodlight - 95 feet/29 meters
130 lumens (11 hours), Spotlight - 210 feet/64 meters, Floodlight - 62 feet/19 meters
70 lumens (22 hours), Spotlight - 151 feet/46 meters, Floodlight - 46 feet/14 meters
30 lumens (50 hours), Spotlight - 98 feet/30 meters, Floodlight - 29 feet/9 meters
4 lumens (200 hours), Spotlight - 32 feet/10 meters, Floodlight - 13 feet/4 meters
30 lumens (100 hours), Spotlight - 98 feet/30 meters, Floodlight - 29 feet/9 meters
- 60º tilt mechanism

- Dual switches for easy and fast operation
- Micro USB charging
- Four battery level indicators
- Lockout function
- Aluminum and plastics material
- IP66 Rated protection
- Dustproof - Protected against dust and foreign objects
- Waterproof - Can withstand heavy rain and splashing
Dimensions: 68mm x 54mm x 42mm (Length x Width x Height)
Weight: 130gms (excluding battery and headband)

Whats Included:
- 1x Fenix HL40R LED Headlamp
- 1x Headband
- 1x Micro USB Charging cable
- 1x User Manual
- 1x Warranty Card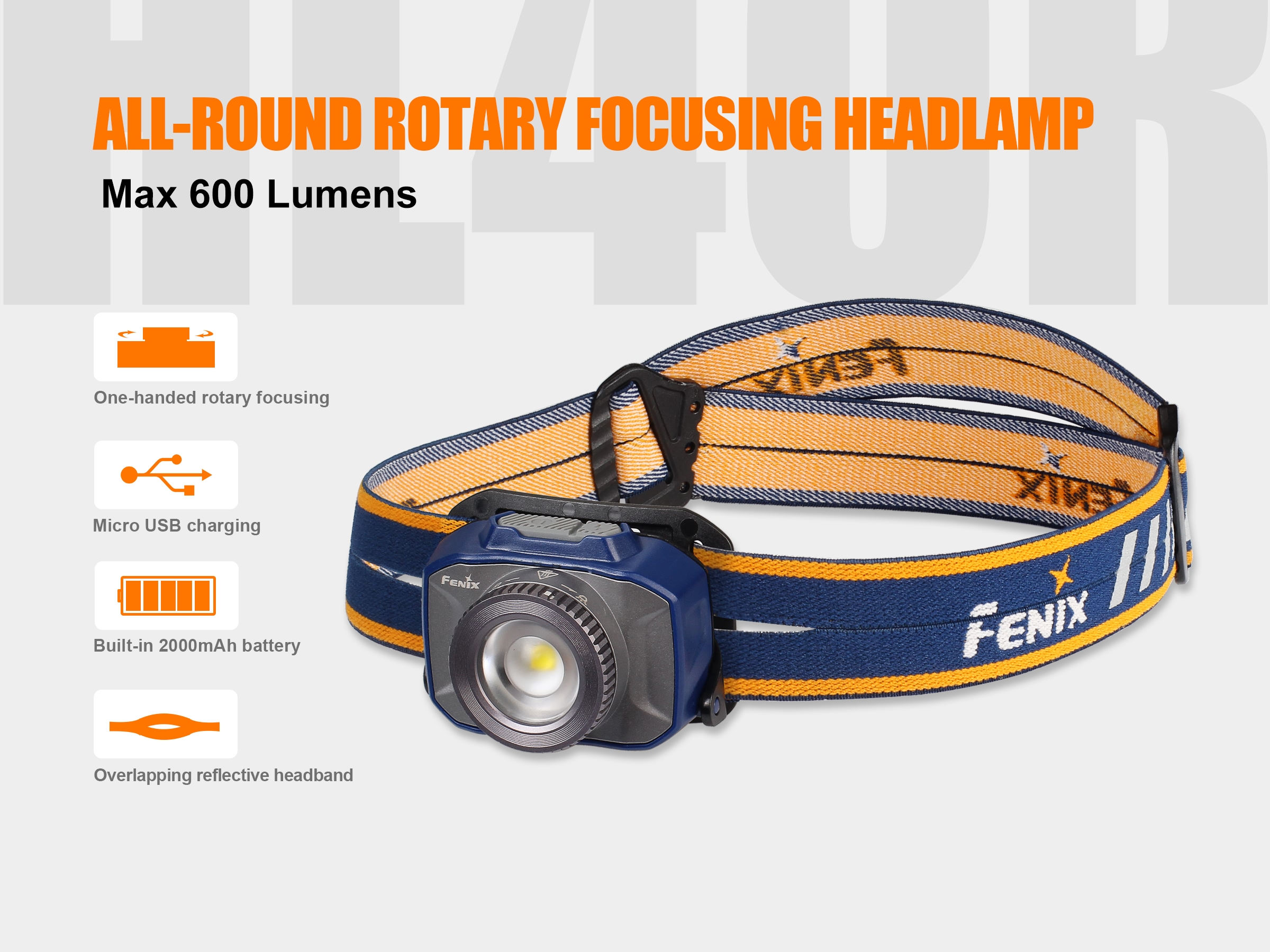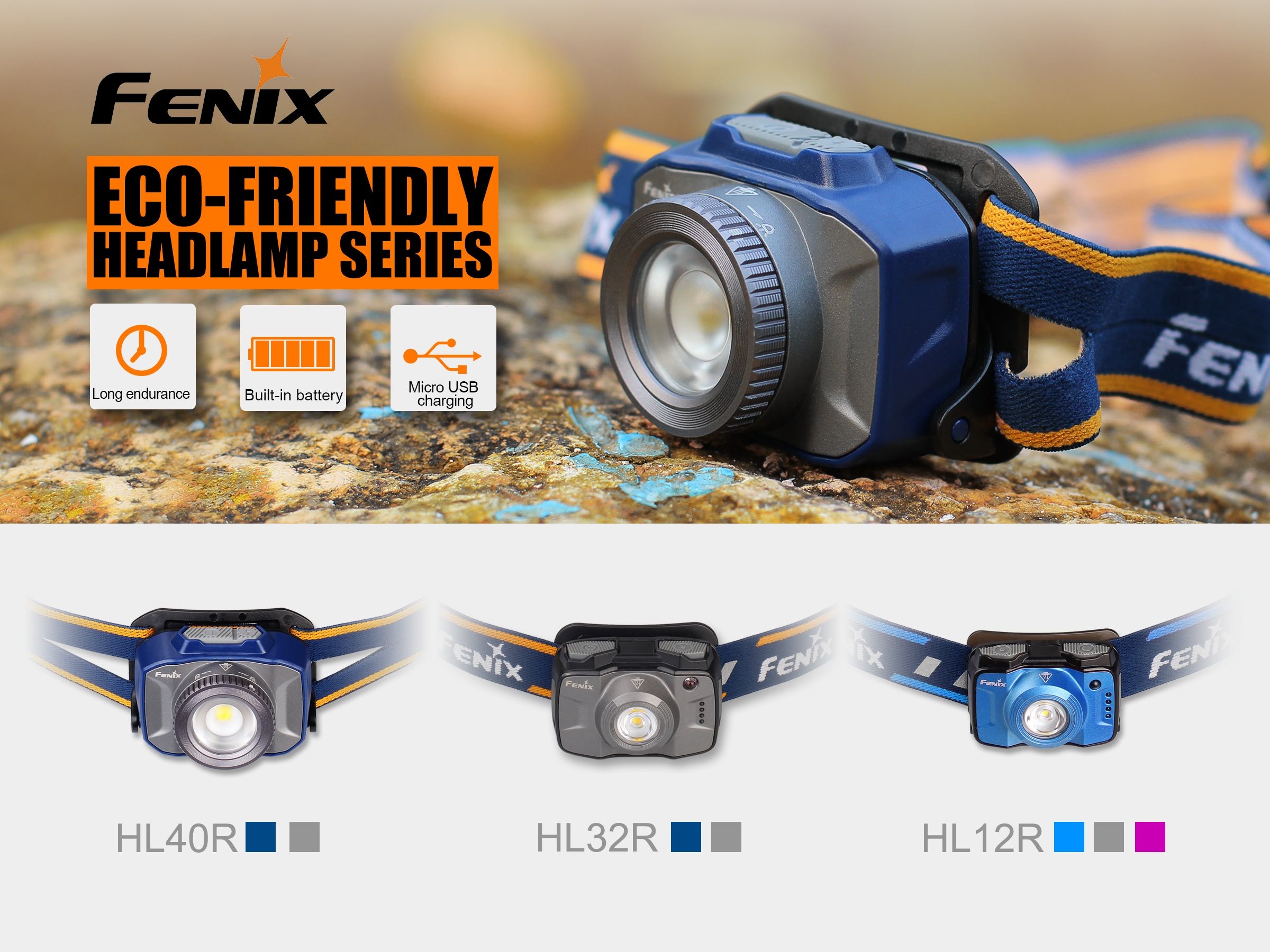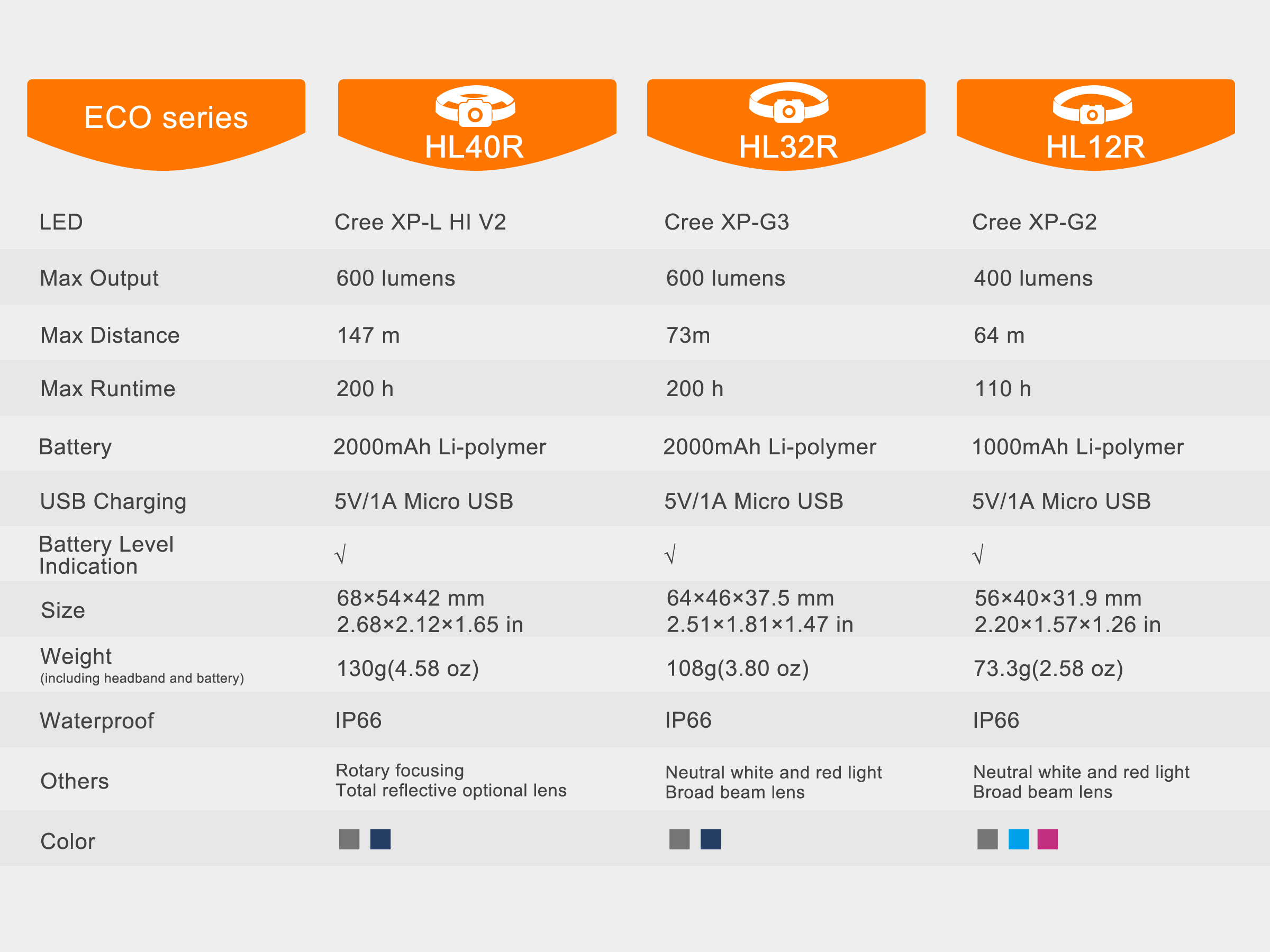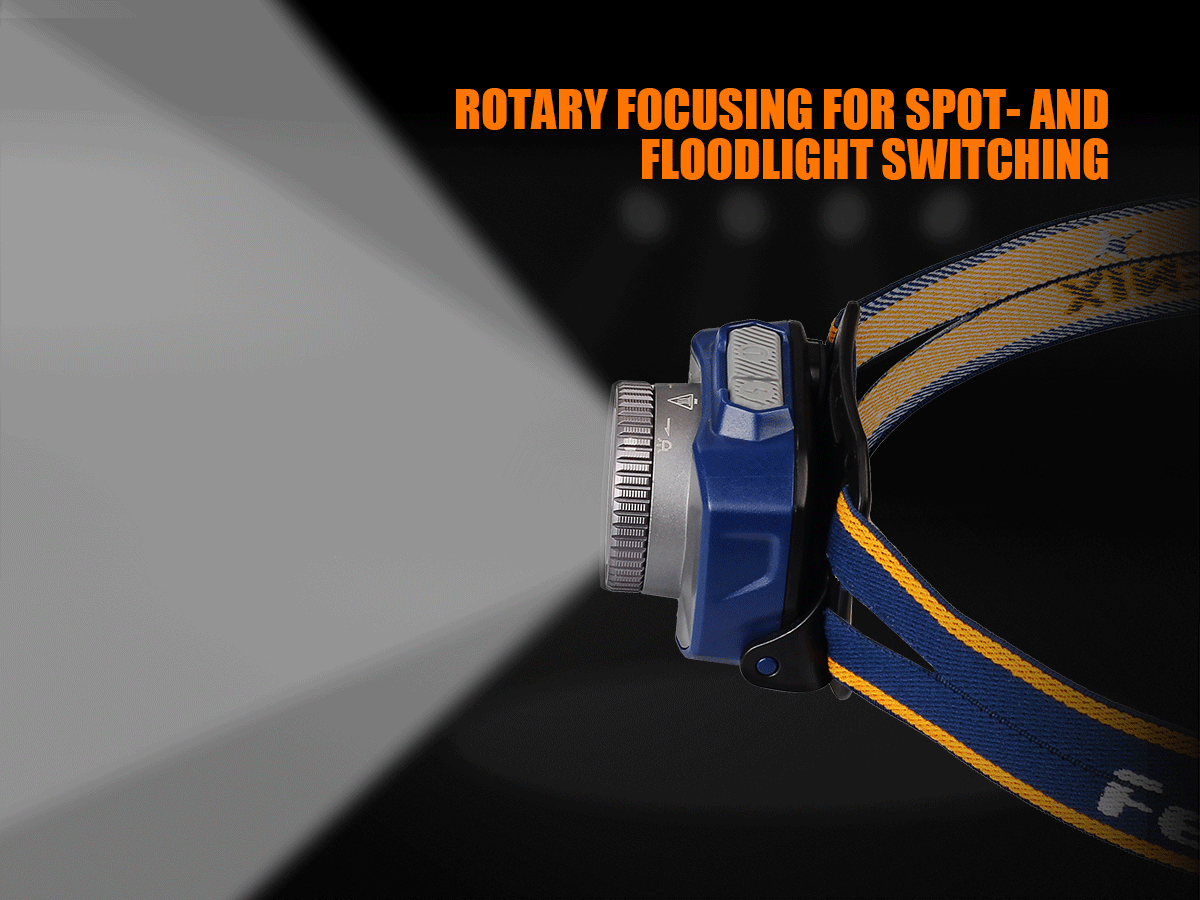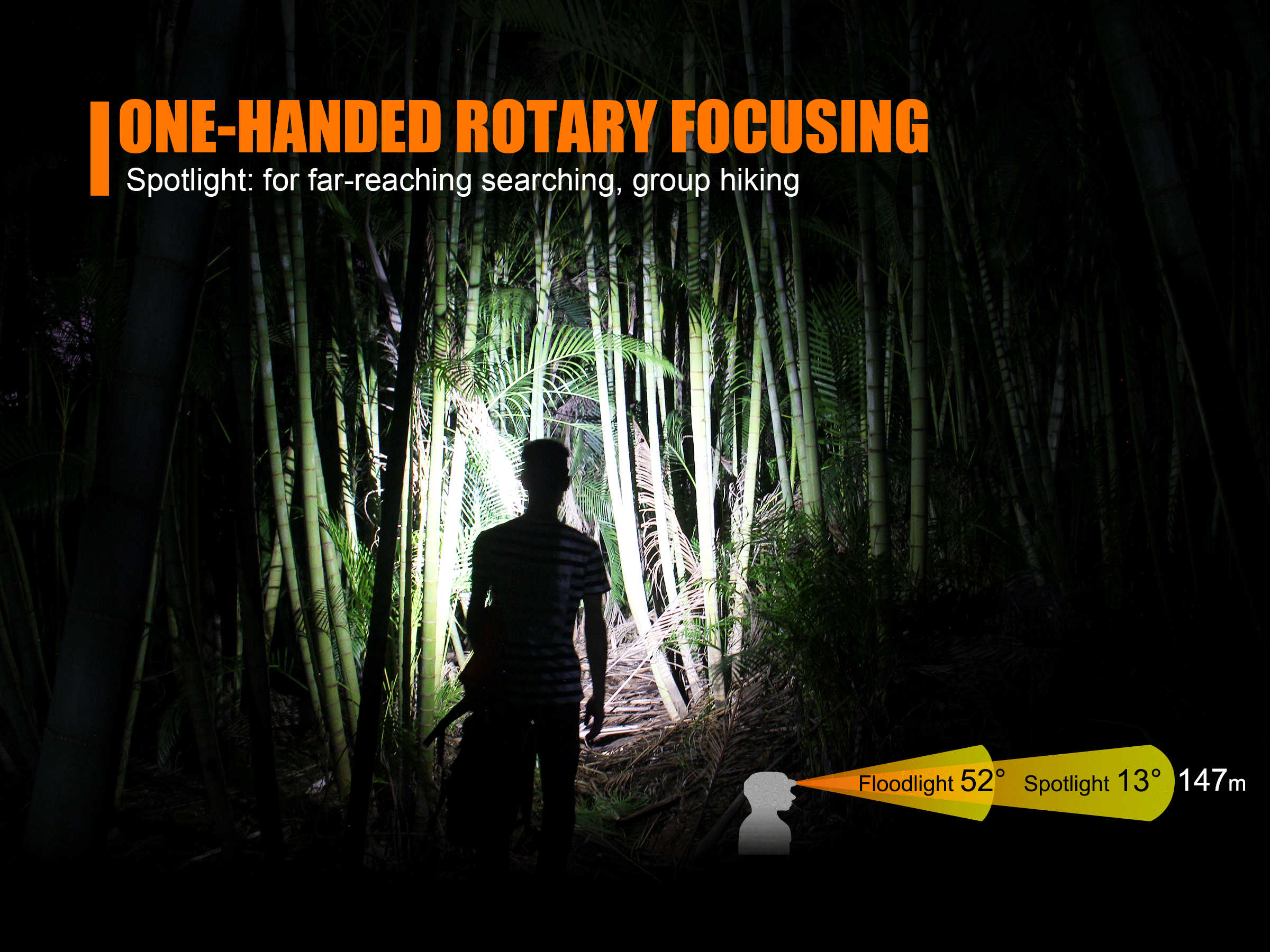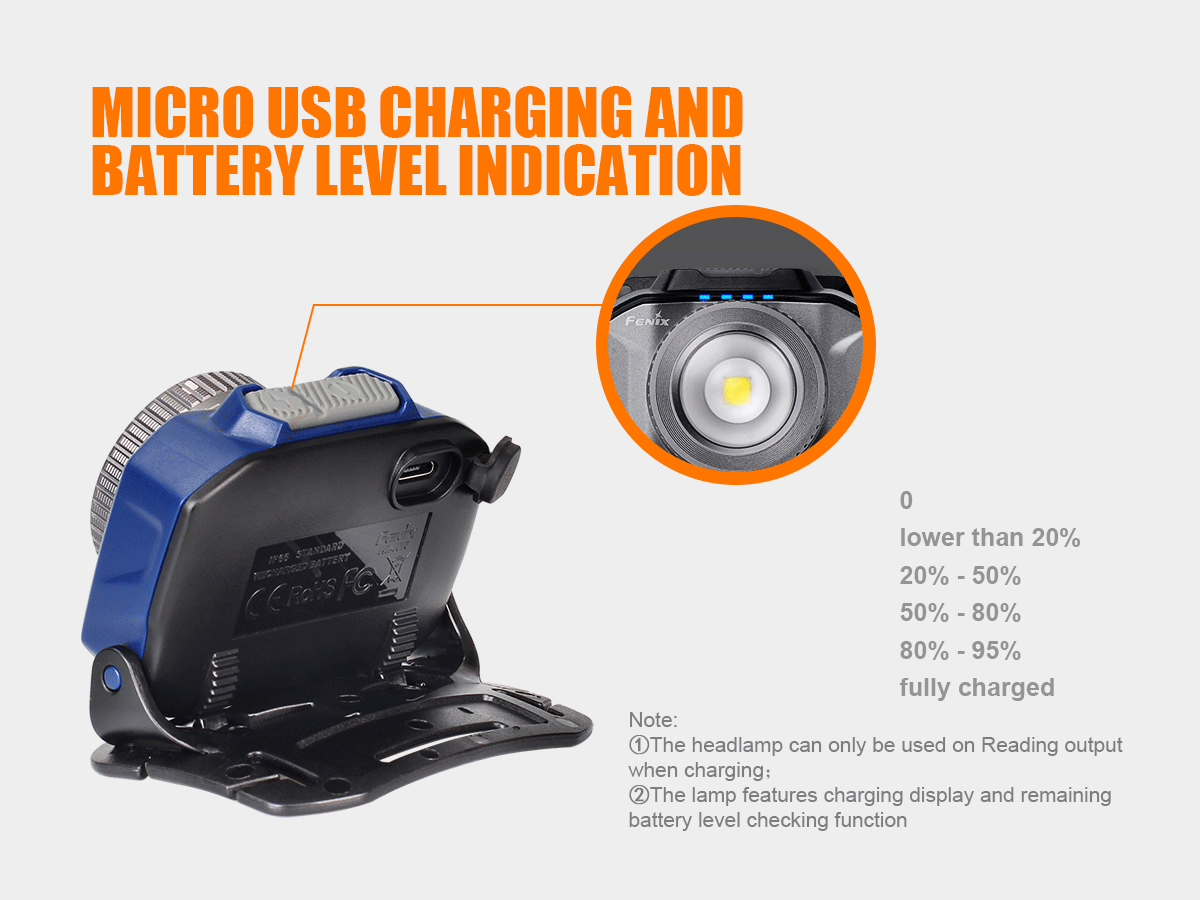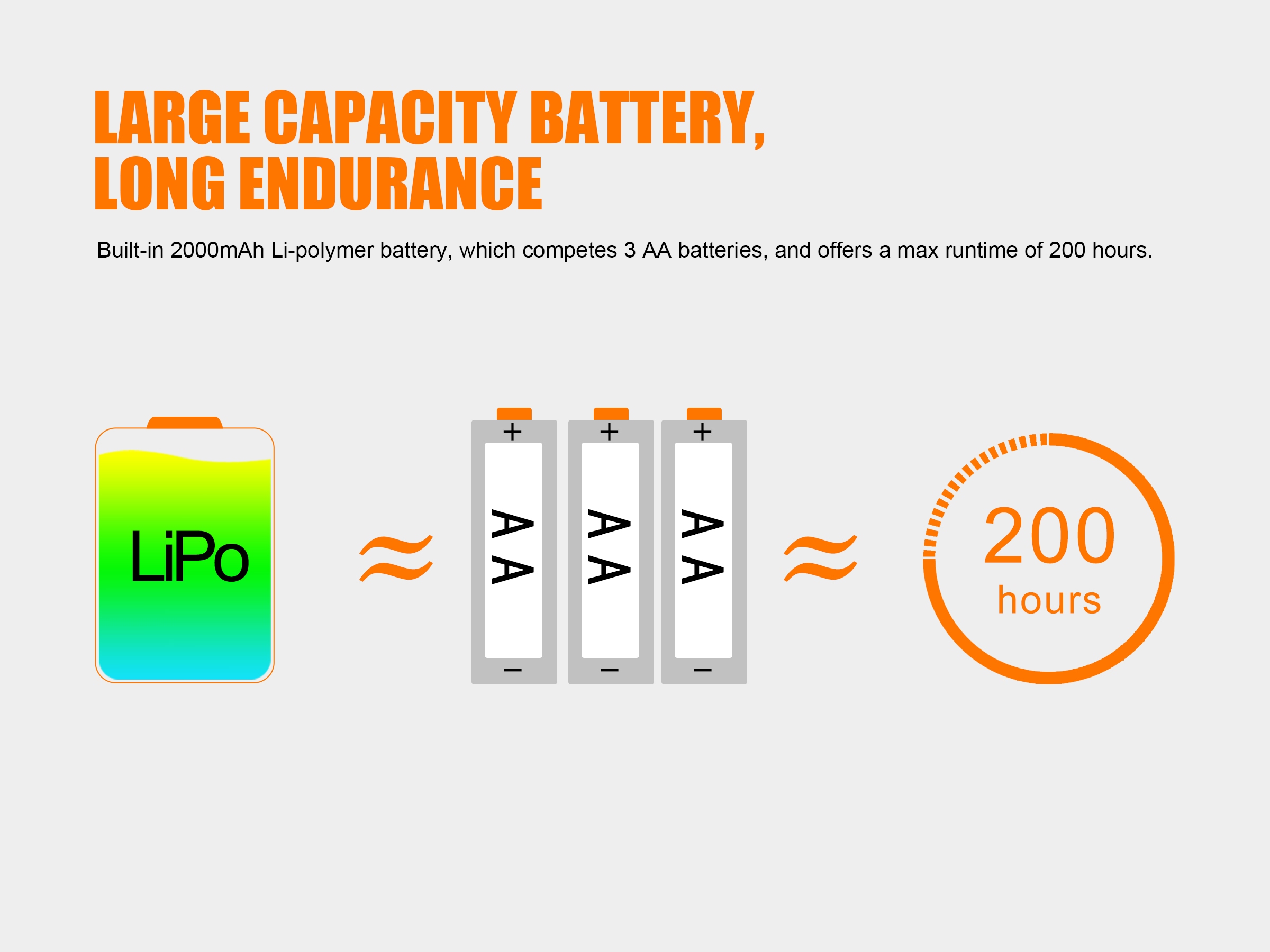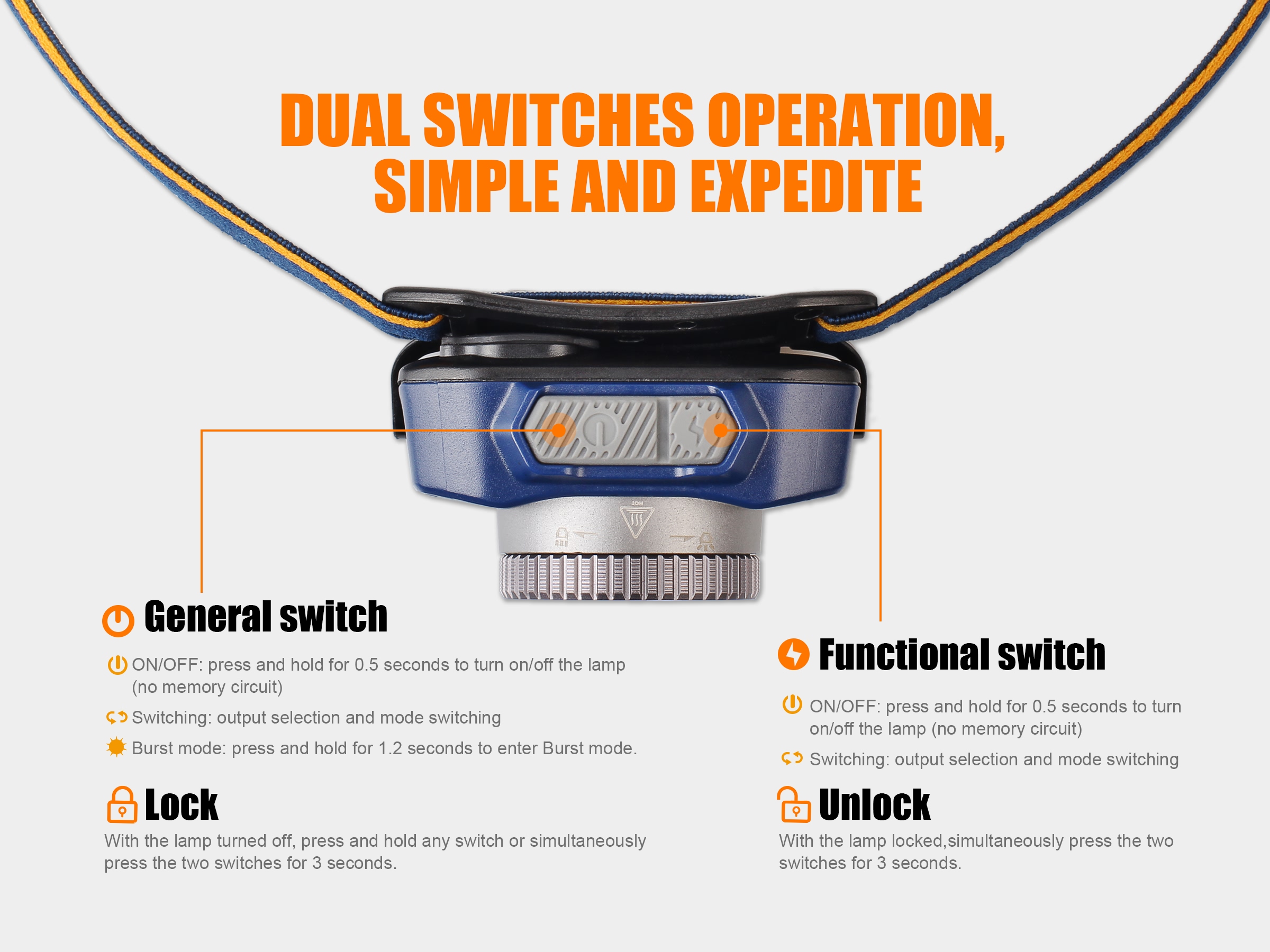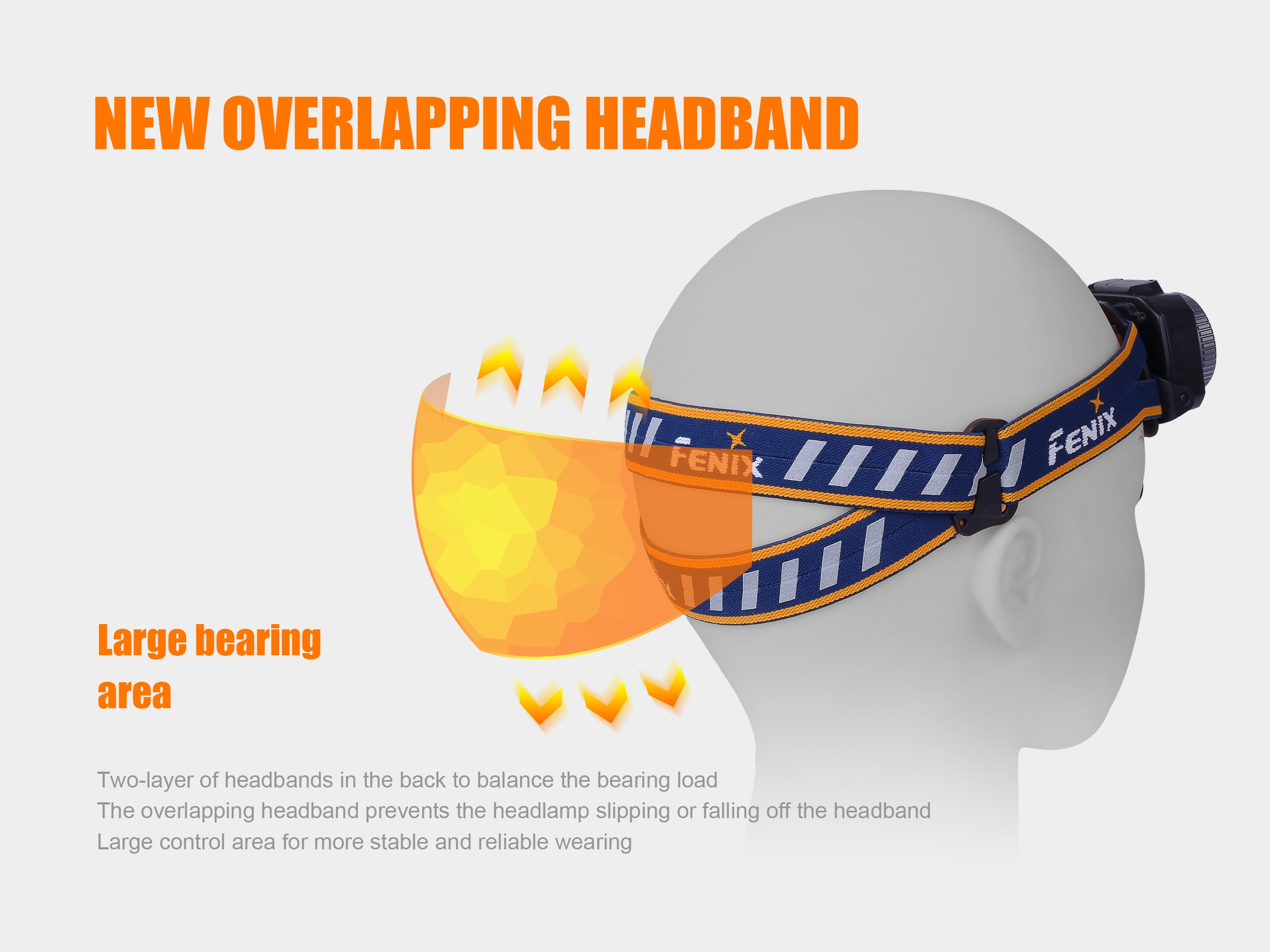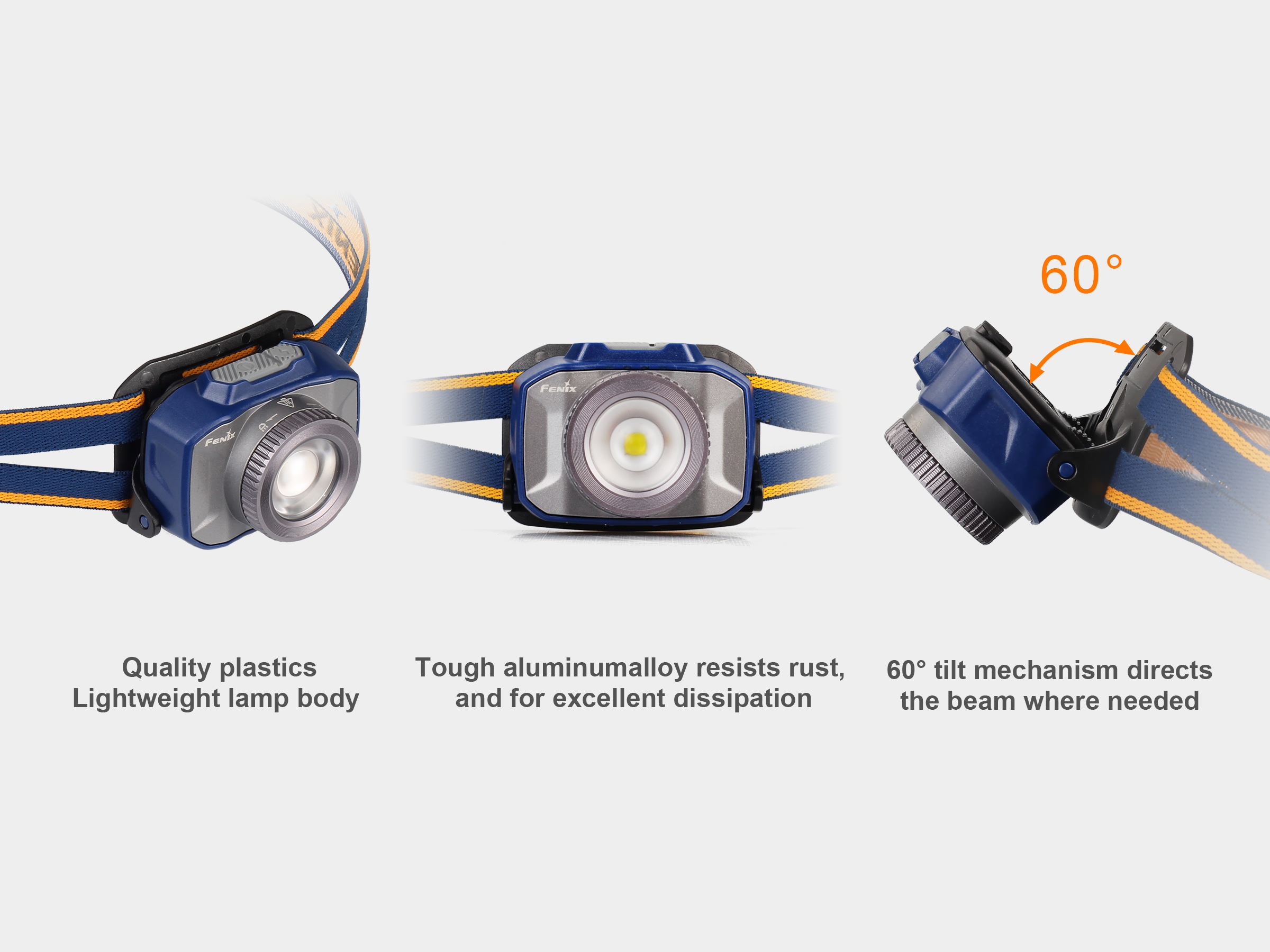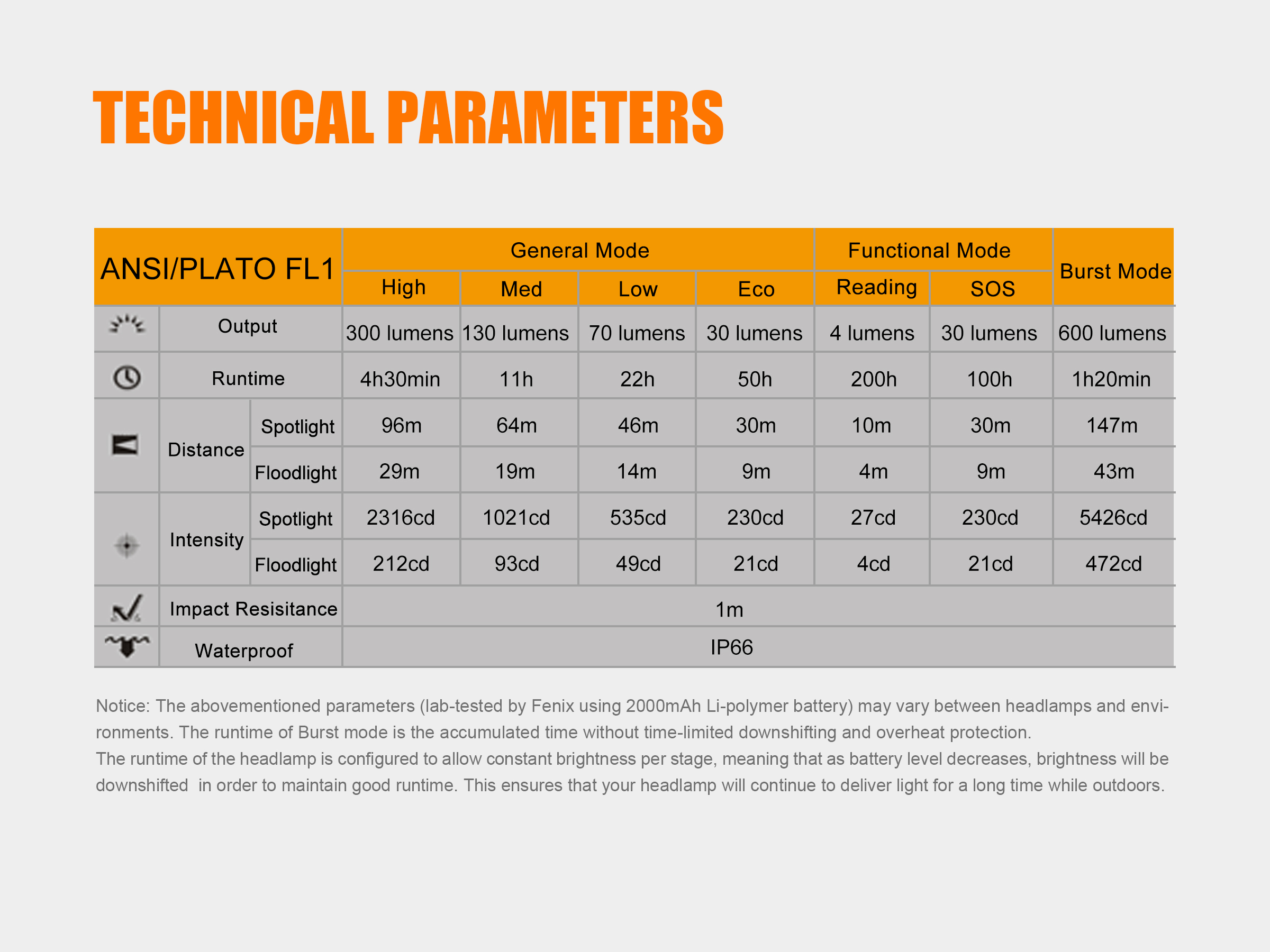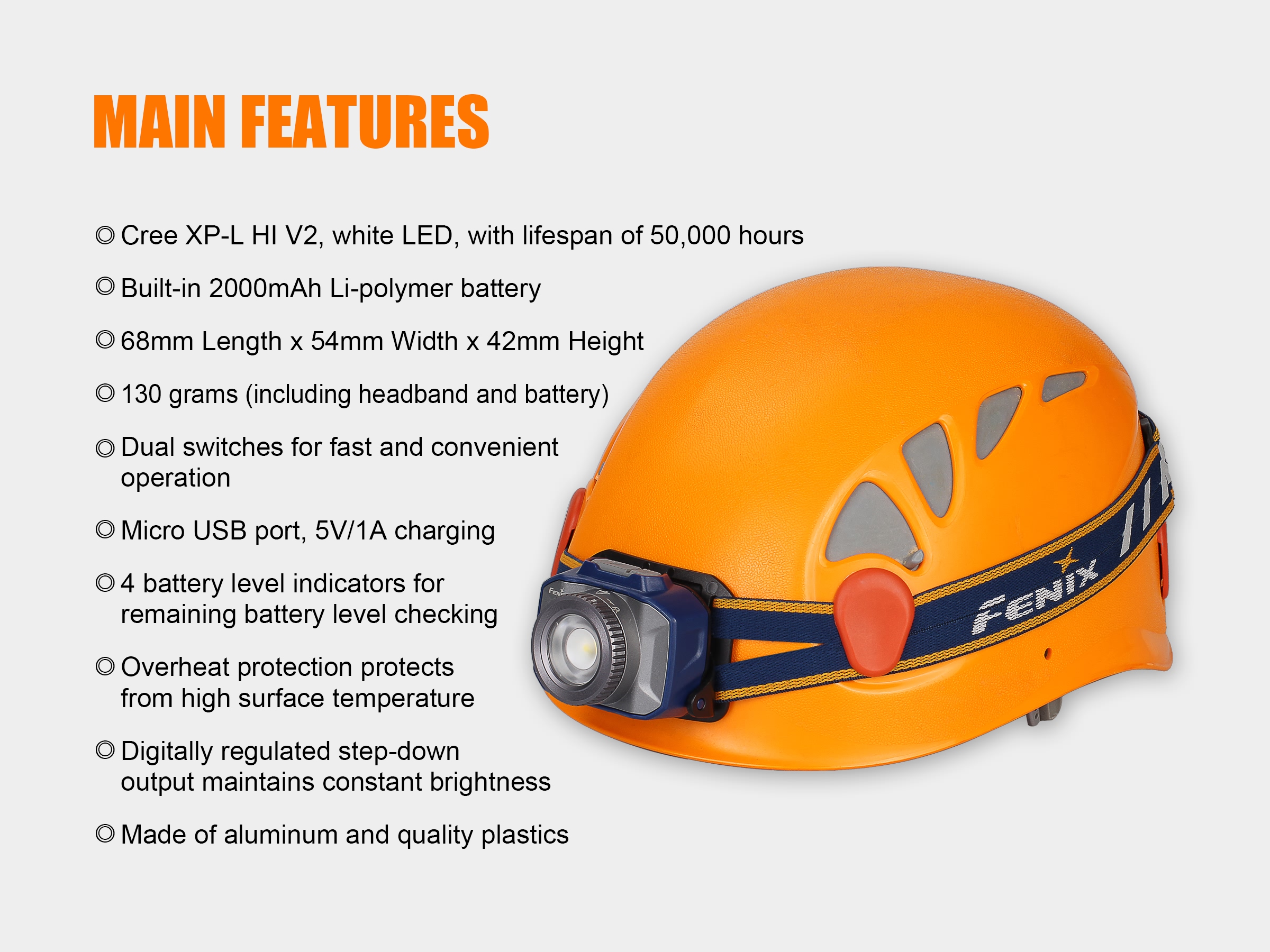 Flashlight Performance
Max Lumens
600 Lumens
Min Lumens
4 Lumens
Modes
6 Brightness Levels + SOS
Flashing Modes(Strobe/SOS)
SOS
Runtimes
Burst(600 Lumens): 1hr20min, High(300 Lumens): 4hr30min, Mid(130 Lumens): 11hrs, Low(70 Lumens): 22hrs, Eco(30 Lumen): 50hrs, Reading(4 Lumen): 200hrs, SOS(30 Lumen): 100hrs,
Beam Distance
147 mts
Peak Beam Intensity
5426 cd
Flashlight Features
Battery Type
Built-in 2000mAh Li-polymer battery
Emitter Type
Utilizes XP-L HI V2 white LED with a lifespan of 50,000 hours
Reflector
Lens Material
Current Regulation
Yes
Smart Circuit for Rechargeable Batteries
Reverse-Polarity Protection
-
Impact Resistance
1 mts
Tail Stands?
WaterProof
Yes (Standard IP66)
Switch Type
Dual Head Switch for On/OFF and for functions
Other Features
Dedicated reflective, sweat-block headband, Adjustable focus
Build
Body Material
Made of durable aircraft-grade aluminum and quality plastics
Color
Blue, Grey
Dimensions
Length x Width X Height: 68mm x 54mm x 42mm
Weight
130 gms (without battery)
In The Box
Included Accessories
Headlamp strap, USB charging cable
Warranty
Manufacturer Warranty
15 Days (Replacement) + 24 Months / 2 Years Free Repair
Lightorati Warranty
15-Day Refund (No Questions Asked), Lifetime Support - T&C apply