Fenix HP30R USB Rechargeable, Spot + Flood LED Headlamp (1750 Lumens)
Fenix HP30R - Powerful USB Rechargeable Multi Source LED Headlamp
- 1750 Lumens - Powered by 2x18650 Li-ion Rechargeable Batteries (2x18650 2600mah batteries included)
- USB Rechargeable, Dual Light Source (Flood & Spot)
- Cree XM-L2 and XP-G2 LEDs with Neutral White Output

Manufacturer Description:
HP30R is a headlamp with separate battery case, powered by two 18650 Li-ion batteries. The belt-worn battery case reduces the load bearing of user's head and maintains optimal performance in cold areas. This headlamp is rechargeable via the Micro USB port in the battery case, and the battery can be used as a power bank. Featuring four white spotlight output levels, and four neutral white floodlight output levels, the spot- and floodlight can be switched on simultaneously to deliver a max output of 1750 lumens, runtime of 400 hours and a far-reaching beam of 202 meters. The HP30R will be an indispensable aid in your mountaineering, searching, snow-hiking or any other challenging outdoor activities.
Features:
- Utilizes Cree XM-L2 and XP-G2 R5 Neutral white LEDs with a lifespan of 50,000 hours
- Powered by two 18650's or four CR123A's (two 2600mAh 18650 Fenix batteries included)
- Features Spotlight Mode plus Floodlight Mode Plus SOS
Spotlight
- Turbo
1000 Lumens (4 hours) - 663 feet/202 meter
- High
400 Lumens (6 hour 30 mins)
- Med
130 Lumens (21 hours)
- Low
30 Lumens (83 hours)
Floodlight
- Turbo
750 Lumens (4 hours) - 200 feet/61 meter
- High
400 Lumens (6 hours)
- Med
130 Lumens (23 hours)
- Low
5 Lumens (400 hours)
- SOS
130 Lumens (46 hours)
- Intelligent memory function - will operate in last used mode when turning like back on
- Available in Black or Iron Grey
- Lockout function for safe and convenient carrying
- Free switching between spot- and neutral white floodlight - or can be used simultaneously
- 90º wide beam floodlight angle
- Belt-worn battery case reduced load bearing on user's head
- Battery case can be used as a power bank WHEN USING 18650'S
- Micro USB rechargeable (ONLY 18650'S)
- Battery status indicator
- 60º tilt mechanism
- Reverse polarity protection to protect from improper battery insertion
- Aluminum alloy die-casting design for security and better heat dissipation
- Toughened ultra-clear glass lens with anti-reflective coating
- IP66 rated for dustproof and waterproof


Dimensions:

Headlamp:
77
mm (length) x 52mm (width) x 34mm (height)
Battery Case: 115

mm (length) x 56mm (width) x 30mm (height)



Weight:
285 gram weight (excluding batteries)
Whats Included:
- HP30R LED Headlamp
- 2x ARB-L18-2600 2600mAh 18650 rechargeable Li-ion batteries
- Cable Clip
- Top Headlamp mount
- Spare O-ring
- Belt Clip
- USB Charging Cable
- 2x Cable Buckle
- User Manual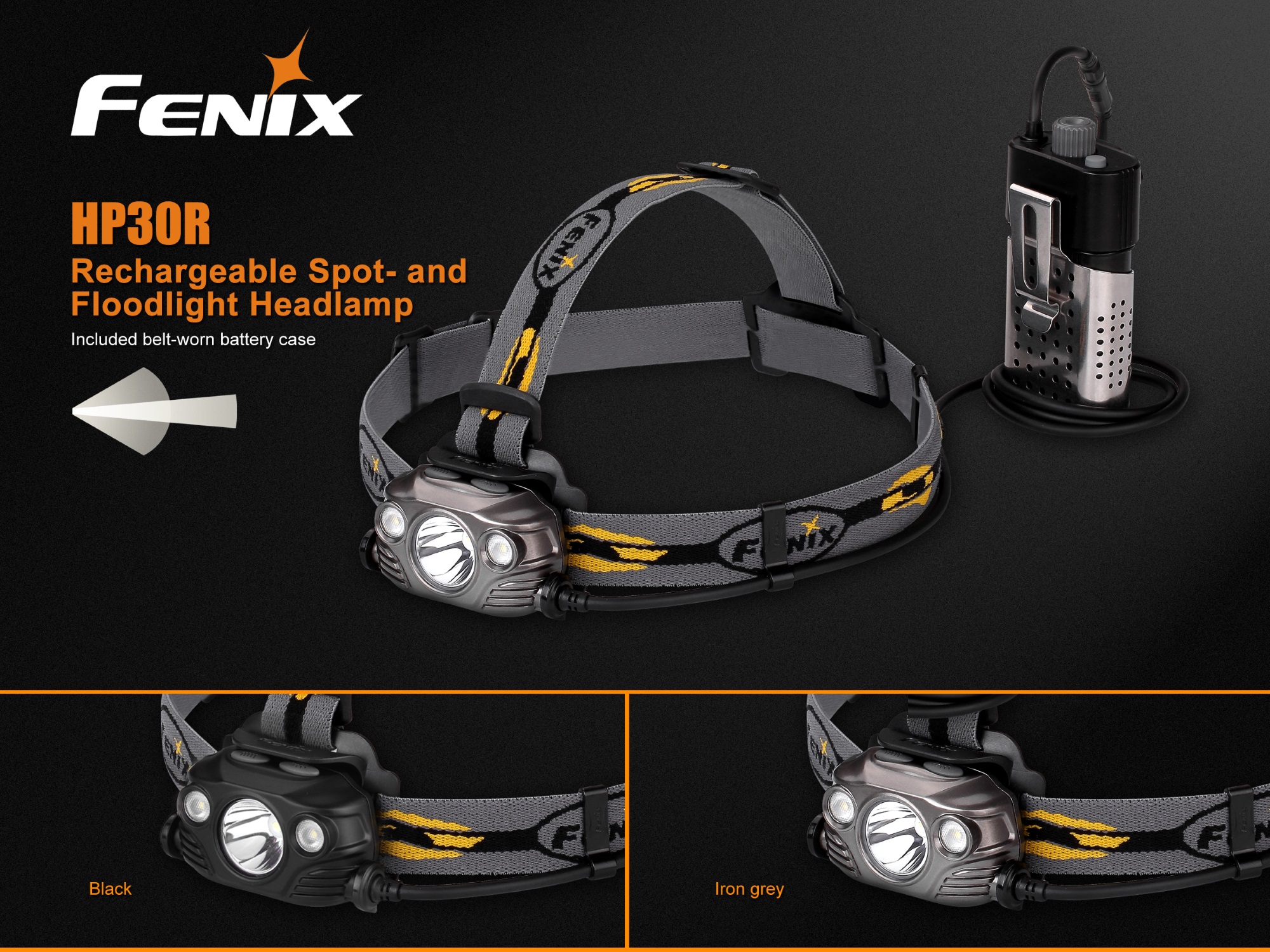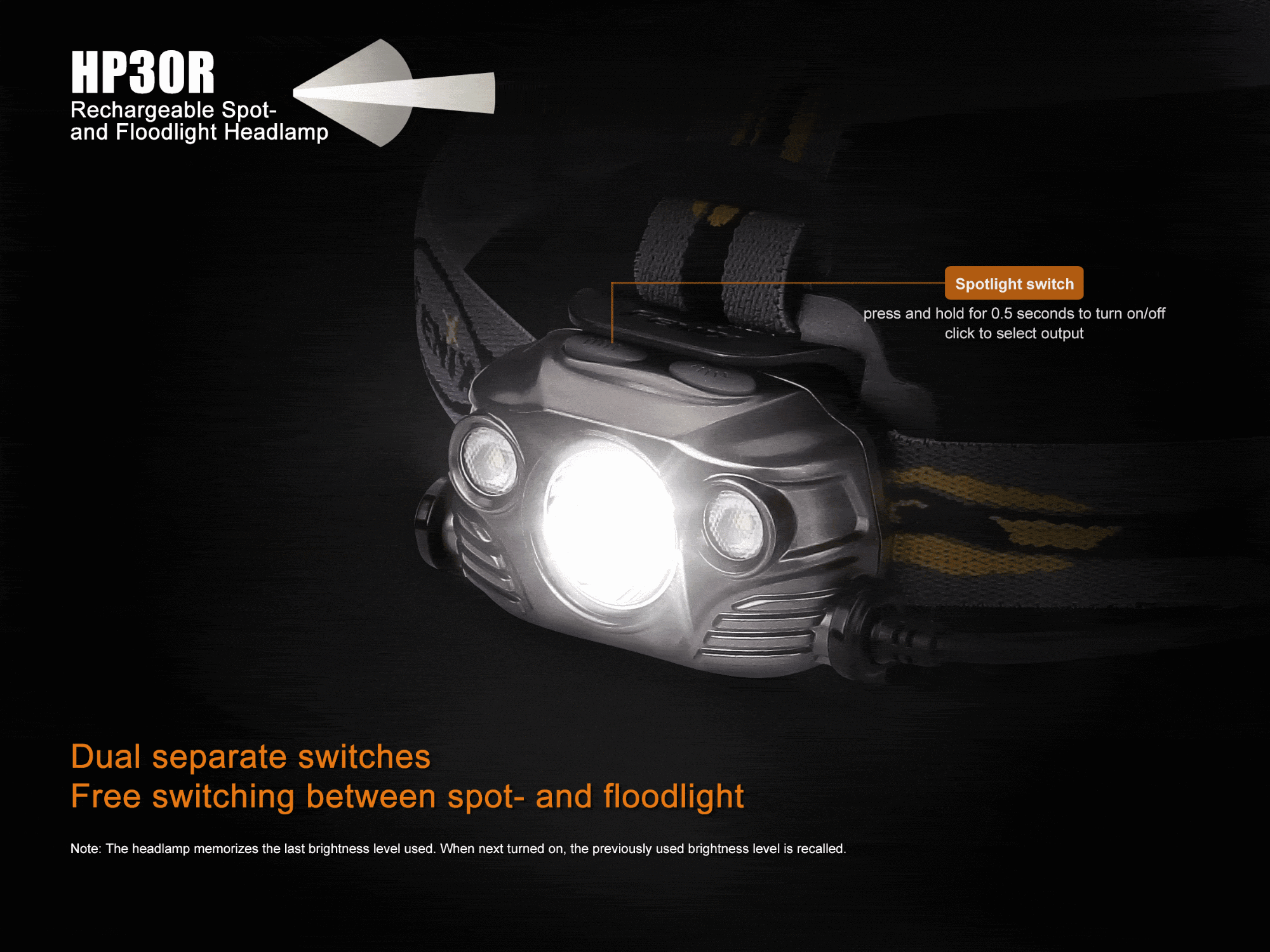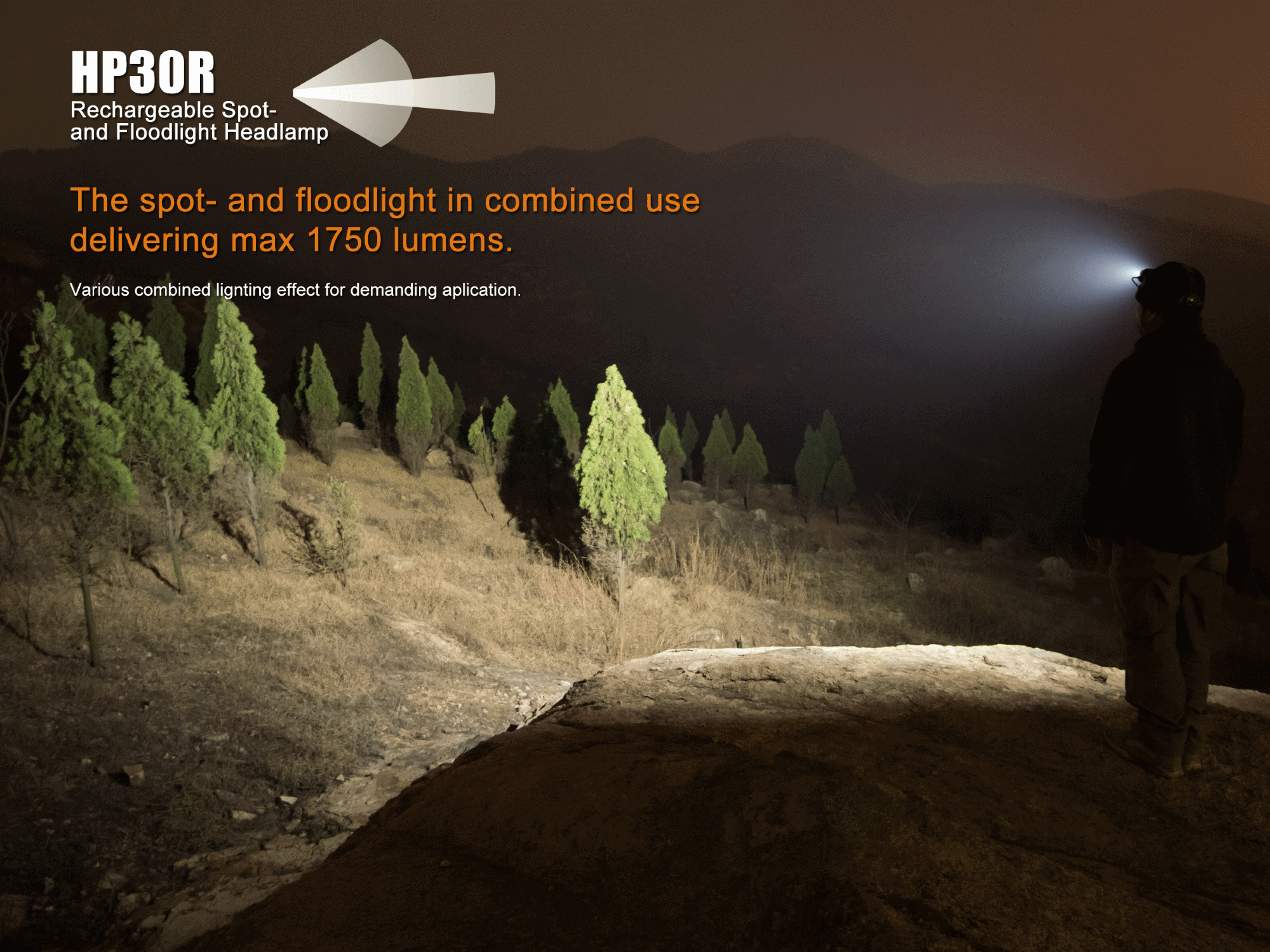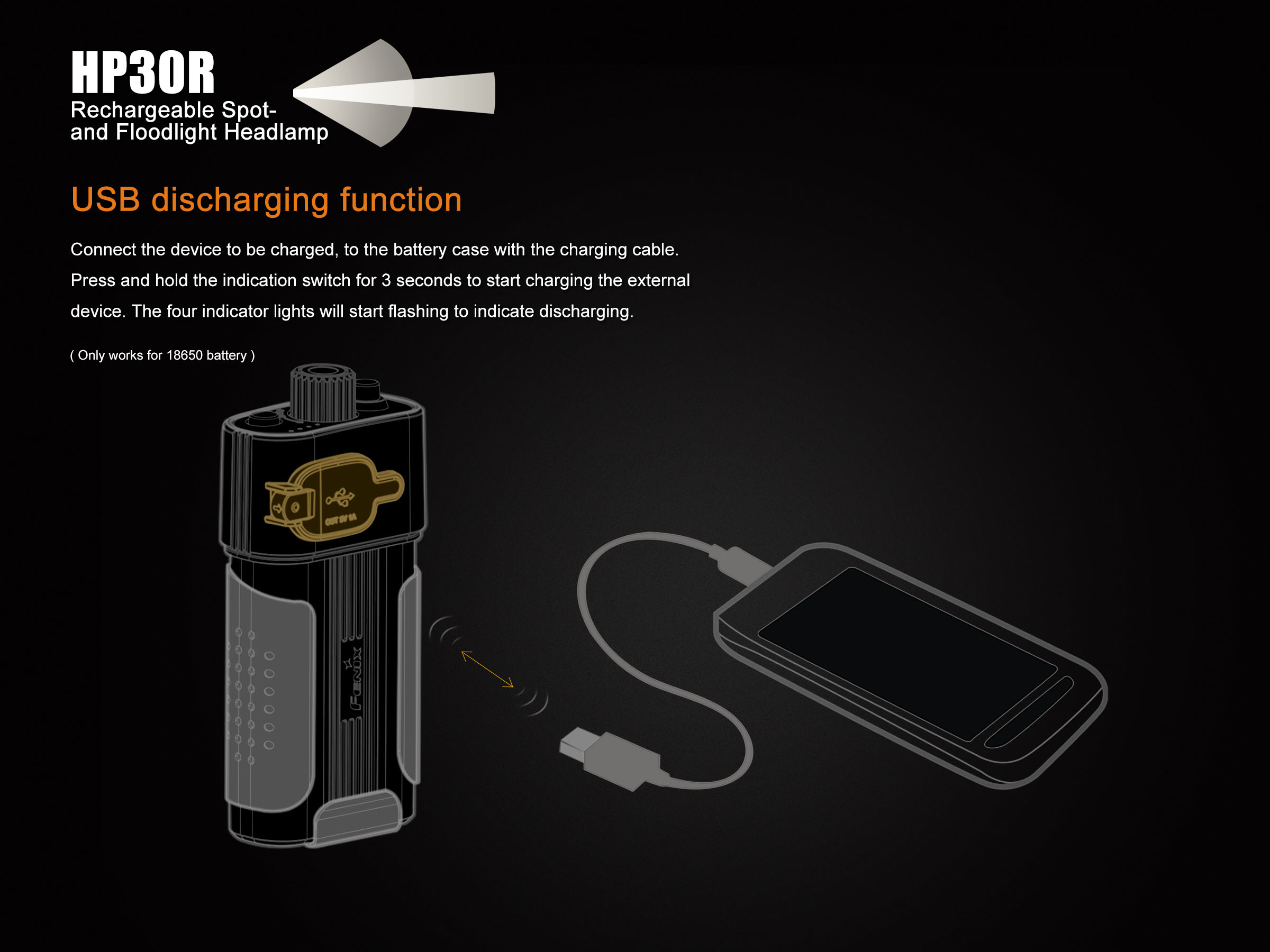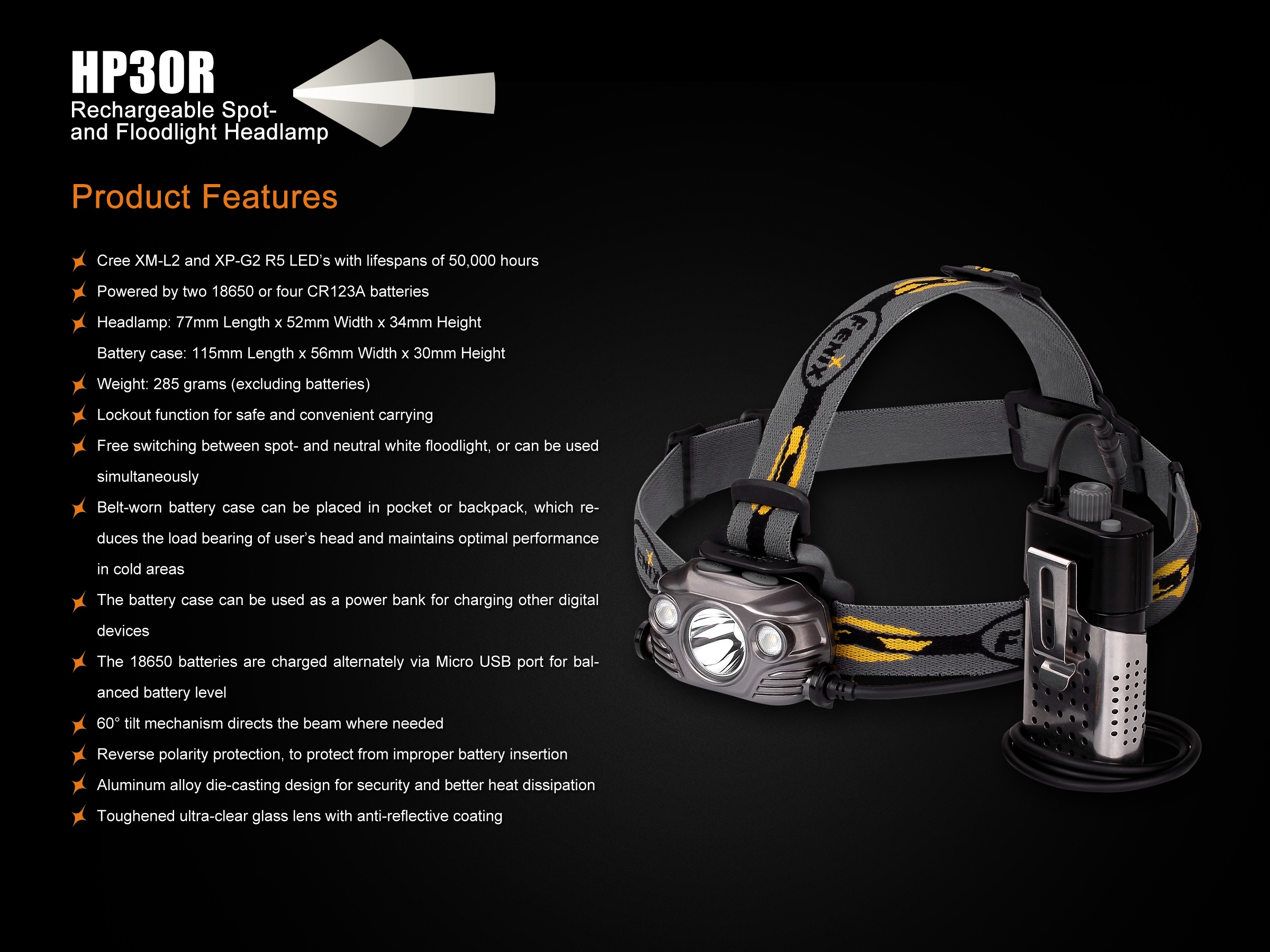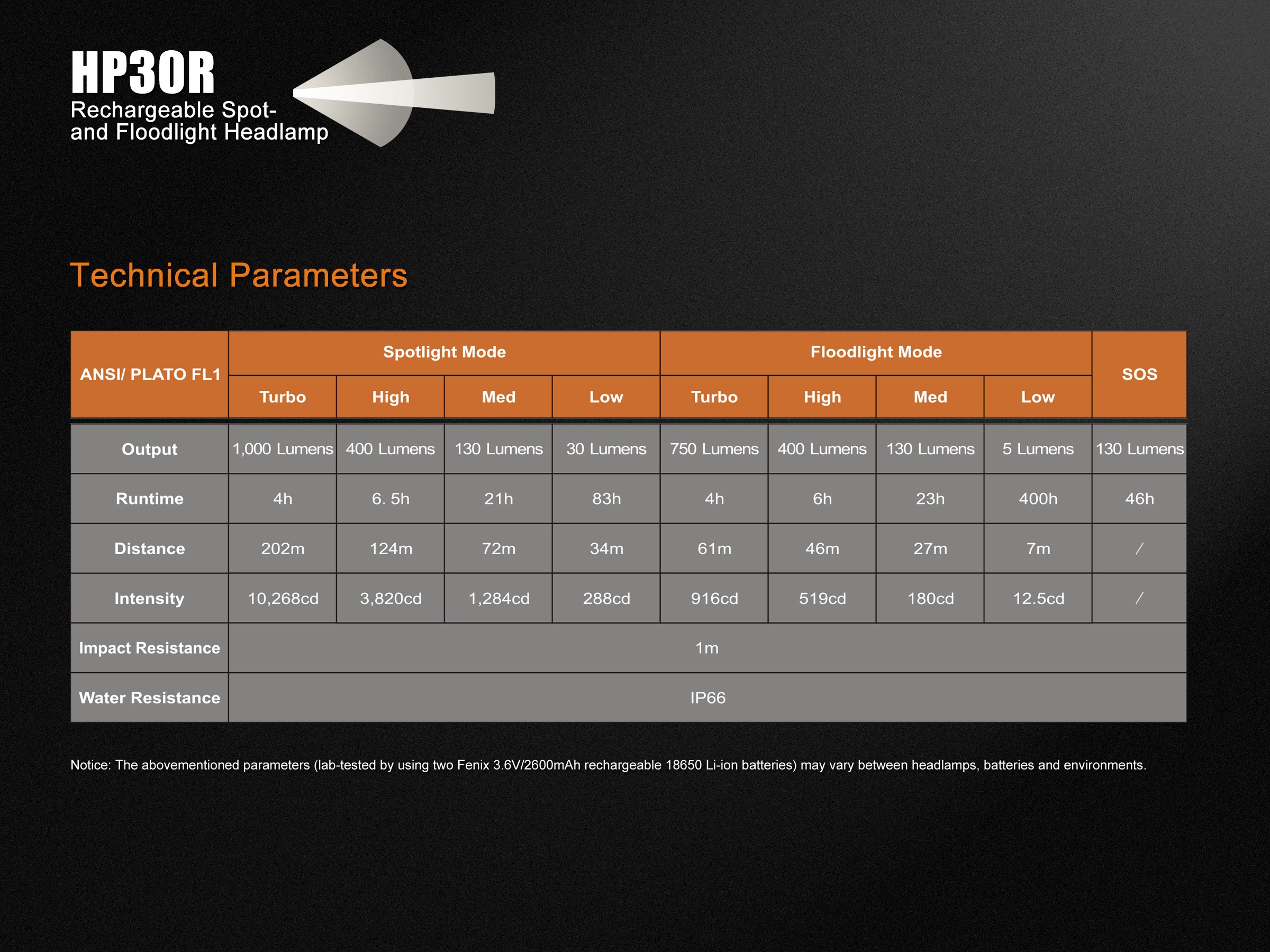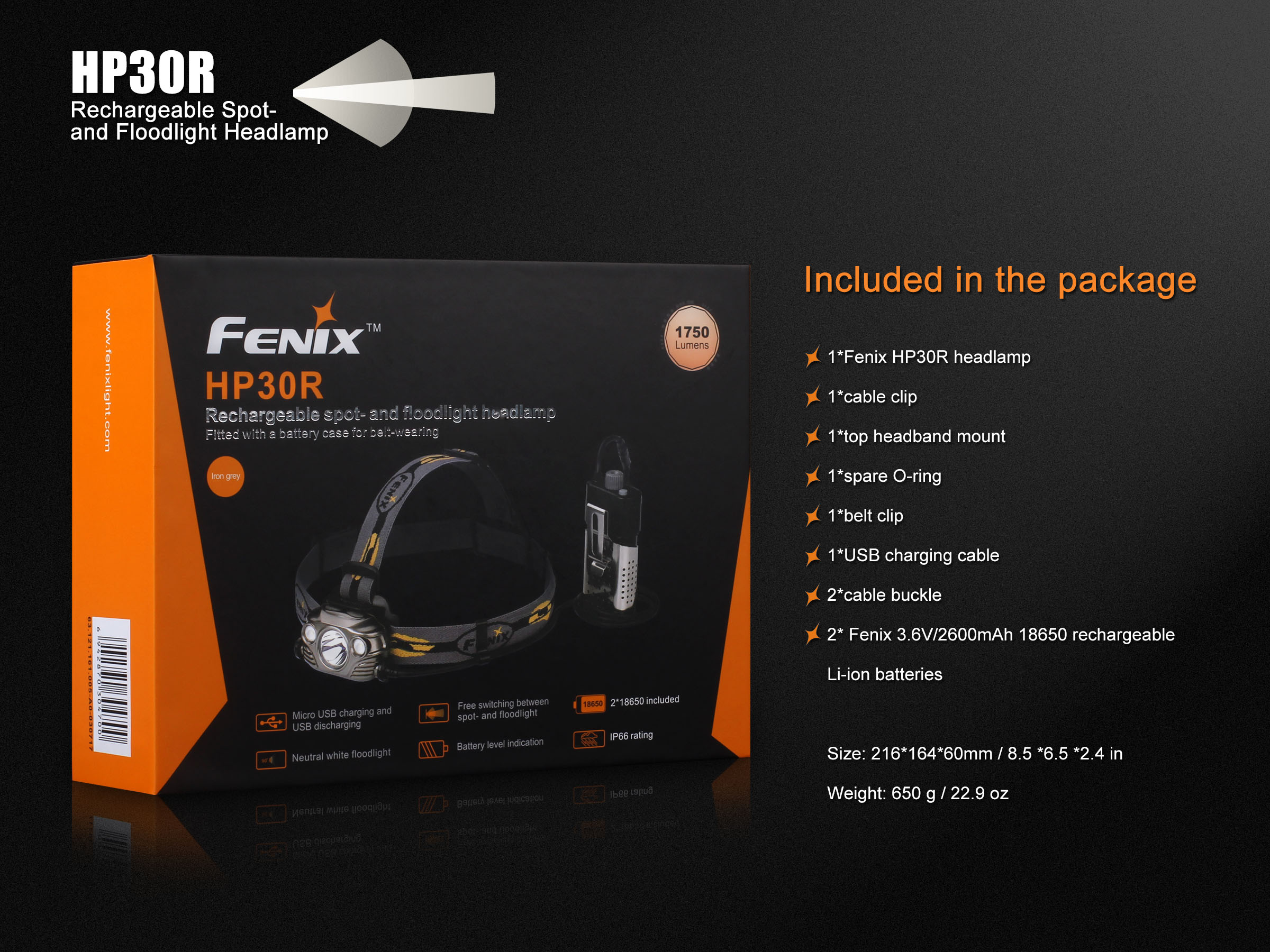 Flashlight Performance
Max Lumens
1750 Lumens
Min Lumens
5 Lumens
Modes
4 Spot Modes, 4 Flood Modes + SOS
Flashing Modes(Strobe/SOS)
SOS
Runtimes
Spot Light Mode: Turbo(1000 Lumens): 4hr, High(400 Lumens): 6hr30min, Med(130 Lumens): 21hr, Low(30 Lumens): 83hrs Floodlight Mode: Turbo(750 Lumens): 4hr, High(400 Lumens): 6hr, Med(130 Lumens): 23hr, Low(5 Lumens): 400hrs, SOS(130 Lumens): 46hrs
Beam Distance
202 mts
Peak Beam Intensity
10268 cd
Flashlight Features
Battery Type
Powered by Two 18650 or Four CR123A batteries
Emitter Type
Cree XM-L2 and XP-G2 R5 Neutral White LEDs with a lifespan of 50,000 hours
Reflector
Lens Material
Current Regulation
Yes
Smart Circuit for Rechargeable Batteries
Yes
Reverse-Polarity Protection
-
Tail Stands?
-
WaterProof
Yes (Standard IP-66)
Switch Type
Two Separate Switches for Spot and Floodlight Modes operation and On/Off
Other Features
Build
Body Material
Color
Black, Iron Grey
Dimensions
Length x Width X Height: 77mm x 52mm x 34mm
Weight
285gms (without batteries)
In The Box
Included Accessories
HP30R LED Headlamp, 2x ARB-L18-2600 2600mAh 18650 rechargeable Li-ion batteries, Cable Clip, Top Headlamp mount, Spare O-ring, Belt Clip, USB Charging Cable, 2x Cable Buckle, User Manual
Warranty
Manufacturer Warranty
15 Days (Replacement) + 24 Months / 2 Years Free Repair
Lightorati Warranty
15-Day Refund (No Questions Asked), Lifetime Support - T&C apply