LiitoKala Engineer Lii-500 Smart Universal Battery Charger, Battery Capacity Tester, Power Bank for Li-ion, Ni-MH, LiFePO4
LiitoKala Engineer Lii-500 USB Charger - Four battery charger
- Highly advanced smart charger with LCD display that gives out a variety of info
- for Li-ion, Ni-MH/NiCd, LiFePO4
- Can be used as Power Bank to discharge 18650 Li-ion batteries via the USB out port to charger Mobile Phones or other devices
- Charging Current for 0.3A / 0.5A / 0.7A / 1A can be selected by user for Slower or Faster charging
- Can test battery capacity (measured in mah) for most battery types


Liitokala Lii-500 is a high-end smart charger with 4 independent charging channels. The highlight of the charger here goes to the LCD display, which will update every second to keep you in the loop on the charging process. The Lii-500 is able to charge a multitude of batteries such as cylindrical Li-ion and AA / AAA cylindrical Ni-MH batteries, which are widely used for flashlights, power tools, instruments and apparatuses, digital cameras and other electronic products. Safe, portable and powerful, the Lii-500 is your good helper when you are at home or traveling.


For Battery Type:
Li-ion: 10440, 14500, 16340 (RCR123), 17355, 17500, 17670, 18350, 18490, 18650, 26500, 22650, 26650
Ni-MH/Ni-Cd: AA, AAA, A, SC

Features:
- 4 independent charging channels with built-in micro-computer management system to ensure the high efficiency
- USB output function: Built with 5V / 1000mAh output
- 300mA / 500mA / 700mA / 1000mA charging current for selection
- CC / CV charge mode to maintain a constant current flow and protect battery and users' safety
- full Fledged LCD display with a variety of info
- Refresh function for 0V battery
- Quick test mode - 4 channels detect the battery capacity quicker than the Nor mode
- Identifies broken batteries, 0V rechargeable battery activation, can't charge 1.65 - 1.85V batteries
- Protections: over-charge, over-discharge, reverse polarity, short circuit protections, temperature control
- Charging between 1.65 - 2.2V / bad battery recognition and activation



Parameters:
- Input voltage: 12V / 2A
- Input current: 2A
- Car charger input voltage: 12V / 1A
- Output voltage: DC 4.2V±1%, DC 5V;
- Power bank output: DC 4.9-5.3V
- Cut-off voltage for output: 3.0 + / - 0.1V
- Standby current: No more than 15mAh
- Output current: 300mA / 500mA / 700mA / 1000mA
- Product Weight: 218gms
- Dimensions: LxWxH: 162 x 96 x 36 mm
Cautions:
- Batteries are not included



Whats Included:

1 x LiitoKala Lii-500 Battery Charger, 1 x EU Plug AC Adapter, 1 x Car charger plug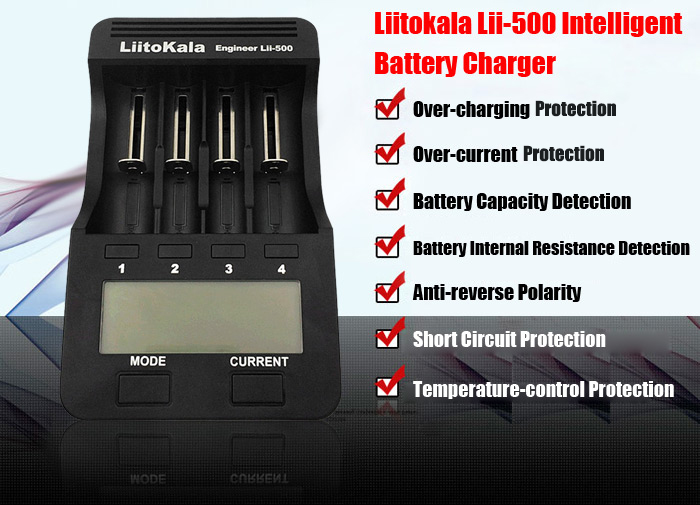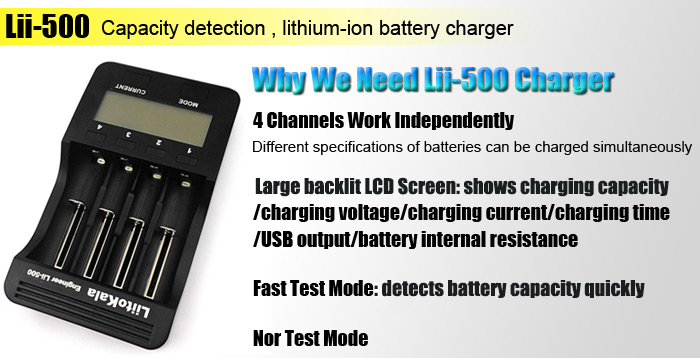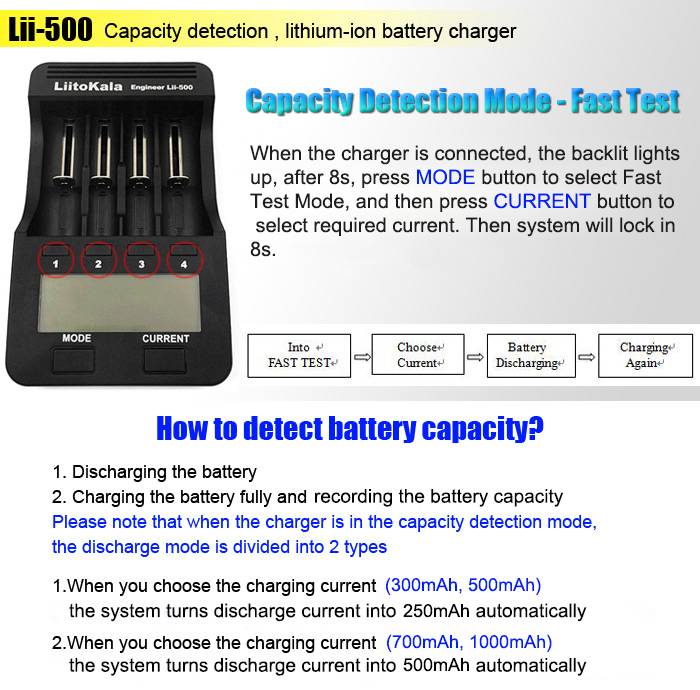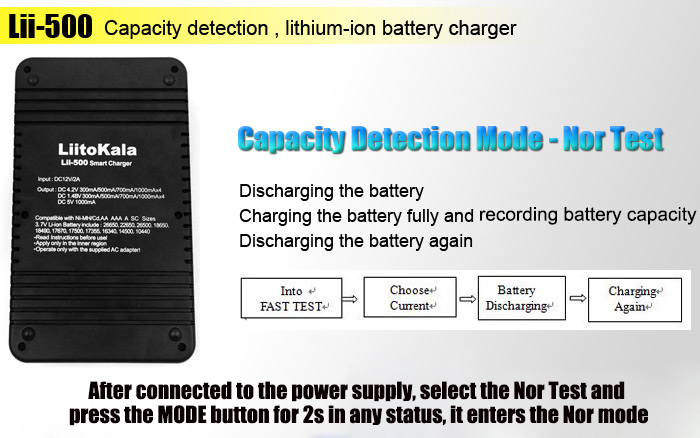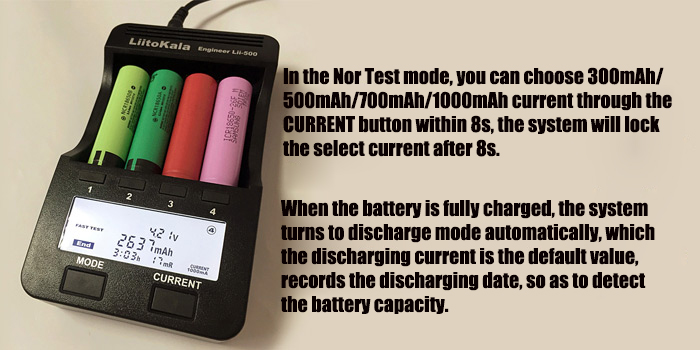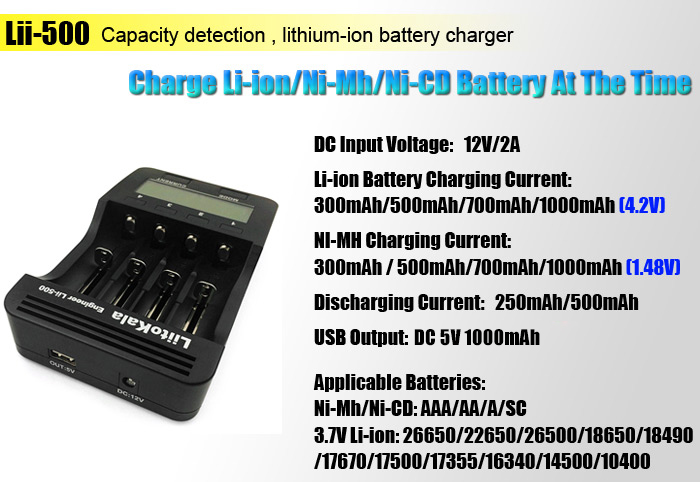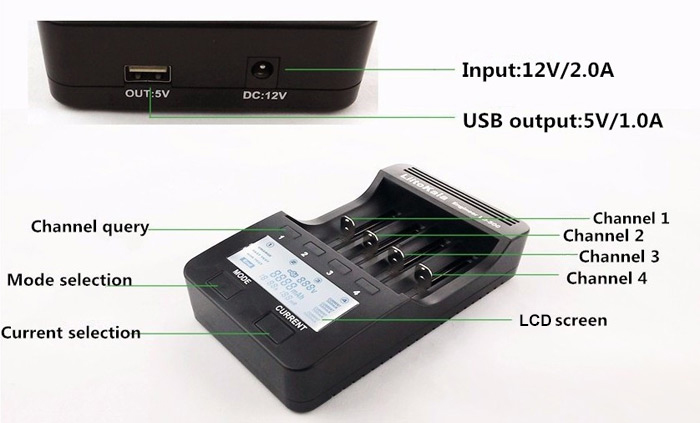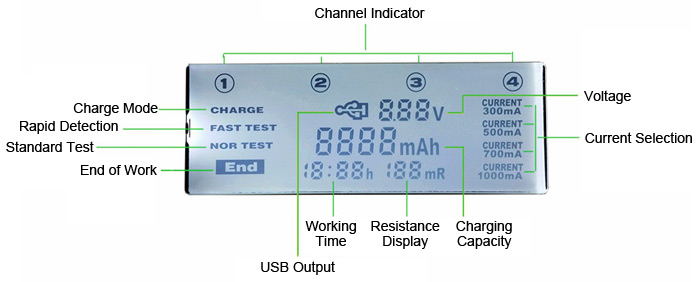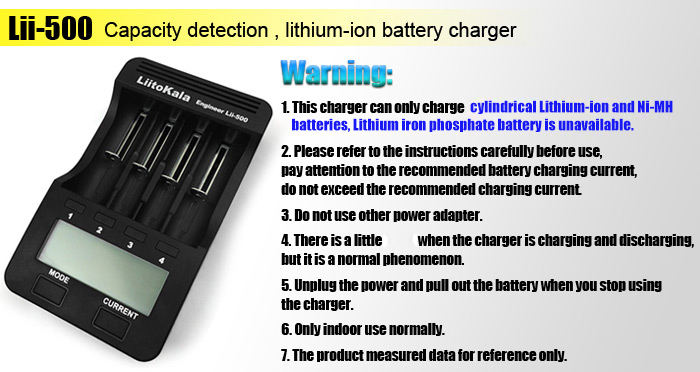 Free Shipping
Free 1-Day Shipping for all orders to Metros and 2-3 Days Priority Shipping to other cities for Orders above Rs.2000/- Details here.
Free Laser Engraving
Free Personalization (Permanant Laser Engraving) for all Flashlights, Knives and Gear. Details here.
Brand: LiitoKala
Product Code:

L17LIITO500

Availability:

In Stock
Tags: Charger, 18650 Charger, Multi-Charger, AA Charger, 26650 Charger, 14500 Charger