Nitecore Intellicharger i8, 8-Battery Smart Charger (for Li-ion, IMR, Ni-MH)
Nitecore Intellicharger i8 - The 8-battery Charging Station!
- Eight Battery Smart Charger that can charge a variety of batteries
- The all-new highly advanced smart charger. It's as simple as insert, detect, and charge.
- Compatible with IMR, Li-ion, Ni-MH, NiCd batteries
- 100% Charging Acceleration, Active current distribution technology
- Expanded compatibility to support 3.7v and 4.35v batteries
- IMR battery restoration


Validate your Nitecore Charger purchased from Lightorati on Nitecore.com Validator for Legitimacy Check


For Battery Type:
Li-ion/IMR/LiFePO4: 10340, 10350, 10440, 10500, 12340, 12500, 12650, 13450, 13500, 13650, 14350, 14430, 14500, 14650, 16500, 16340(RCR123), 16650, 17350, 17500, 17650, 17670, 18350, 18490, 18500, 18650, 18700, 20700, 21700, 22500, 22650, 25500, 26500, 26650
Ni-MH(NiCd): AA, AAA, AAAA, C, D


8-Bay Smart Charger
An all-in-one battery charging station, the Nitecore i8 is a multi-slot intelligent charger that can handle up to 8 batteries at once! Each of the bays of this charger is completely independent, allowing you to charge batteries of various sizes and charge levels in whichever configuration you want. The I8 is capable of charging a wide range of Li-ion and IMR batteries, as well as standard sized NiMH cells. With heavy-duty charging power and 8-bay capacity, you'll never need another charger again!
USB Compatible

The Nitecore I8 isn't just a battery charger, it's an all-inclusive charging station for both batteries and your vital USB powered electronics. The stored energy within charged batteries can be used to power smartphones, tablets and anything else that runs via USB power thanks to the I8's two USB out ports. This makes the I8 great for travel or as an all-in-one power station for work, an office or at home.
Why Nitecore Chargers are the best?
Here is a video where Nitecore Charger takes a competing model to the limits.

Features:
- Twice the charging speed of the i4 Charger
- Active Current Distribution (ACD) technology
- Compatible with 1.2V, 3.7V, 4.2V and 4.35V batteries
- Charging program optimized for IMR batteries
- Automatic current selection based on battery capacity
- Automatic detection of non-rechargeable batteries
- Automatically detects power level of batteries

- Designed for optimal heat dissipation
- Supports USB output
- LED indicator lights
- Reverse polarity protection
- 8 Independent bays
- Please Note: All bays are capable of charging simultaneously, but inside bays may be limited in charging larger batteries simultaneously due to the large size of the cells(26650 and D cells).
Specifications:
- Input Voltage: AC 100-200V 50/60hz 0.6A(Max) 30W DC 12V 3A
- Output Voltage: 4.2V/1.48V - USB 5V
- Output Current: 1.5A x 2 - 1A x4 - 0.75A x 4 - 0.5A x 8
- Compatible with:
Li-ion/IMR/LiFePO4: 10340, 10350, 10440, 10500, 12340, 12500, 12650, 13450, 13500, 13650, 14350, 14430, 14500, 14650, 16500, 16340(RCR123), 16650, 17350, 17500, 17650, 17670, 18350, 18490, 18500, 18650
Ni-MH(NiCd): AA, AAA, AAAA, C, D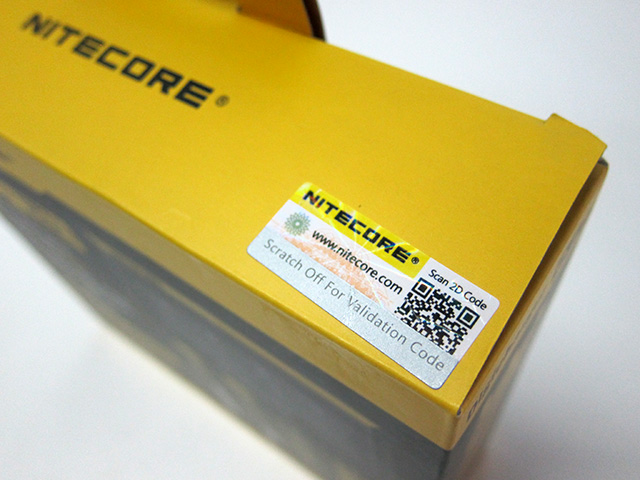 Validate your Nitecore Charger purchased from Lightorati on
Nitecore.com Validator
for Legitimacy Check

Free Shipping
Free 1-Day Shipping for all orders to Metros and 2-3 Days Priority Shipping to other cities for Orders above Rs.2000/- Details here.
Free Laser Engraving
Free Personalization (Permanant Laser Engraving) for all Flashlights, Knives and Gear. Details here.
Tags: Charger, 18650 Charger, Nitecore Charger, Multi-Charger, AA Charger, 26650 Charger, 14500 Charger