Nitecore MH12GT - USB Rechargeable LED Flashlight 320mts (1000 Lumens, 1x18650)
Nitecore MH12GT - USB Rechargeable Flashlight
- Best Everyday Carry Flashlight in the Single 18650 USB Rechargeable category
- Powered by CREE XP-L HI V3 LED
- 1000 Lumens, Powered by 1x18650 (Nitecore 3400mah Battery is included)
- Rated for 320mts beam distance and 1hr15min on High, 6hrs on Mid, 28hrs on Low Mode
NOTE: MH12GT like any other USB rechargeable 18650 Flashlight, can only be recharged internally when equipped with an 18650 battery. DO NOT attempt to recharge when equipped with CR123A or 16340 batteries.


Features:
- Durable anodized aluminum construction
- Diamond knurling for a more secure grip
- Toughened ultra-clear mineral glass lens with anti-reflective coating
- Deep smooth reflector allows for maximum beam distance
- Comes with a trio of tactical outputs:
Strobe Mode: Used to disorient an attacker or other target
S.O.S. Mode: Morse code flash to signal for aid in emergency situations
Location Beacon: Efficient flash to mark current position
- Light operated using a pair of switches
Power Switch: Located on tailcap, used to momentarily / fully activate or deactivate light.
Mode Switch:: Located on body, used to access and cycle through all outputs.
- Mode switch doubles as an LED power indicator, able to display remaining power, battery voltage
- Convenient micro-USB charging port allows included 18650 to be recharged internally
- U-shaped tailcap helps prevent accidental activation
- ATR (Advanced Temperature Regulation) protection helps prevent overheating
- Reverse polarity protection prevents damage caused by improperly inserted batteries
- Compatible with a number of Nitecore weapon mounts and remote switches.


Specifications:
- LED: Premium CREE XP-L HI V3 LED
- Power Source: 1 x 18650 (Included) or 2 x CR123A or 2 x 16340 (RCR123A)
- Peak Beam Distance: 320 meters (1049.9 ft.)
- Peak Beam Intensity: 25700 cd
- Brightness Outputs (Using 1 x 18650):
High - 1000 Lumens - 1 Hour 15 Min.
Medium - 280 Lumens - 6 Hours
Low - 55 Lumens - 28 Hours
Ultralow - 1 Lumen - 520 Hours
- Brightness Outputs (Using 2 x CR123A):
High - 1000 Lumens - 1 Hour
Medium - 280 Lumens - 3 Hours 15 Min.
Low - 55 Lumens - 20 Hours
Ultralow - 1 Lumen - 300 Hours
- IPX Rating: IPX-8 (Waterproof and submersible up to 2 meters)
- Impact Resistance: 1.5 meters (4.92 ft.)


Dimensions: Length x Head Diameter x Tail Diameter: 139.2mm x 25.4mm x 25.4mm
Weight: 87gms (without battery)

Accessories Included:
Nitecore 18650 3400mah battery, USB cable, lanyard, pocket clip, Tactical ring, Holster, Spare USB Port Cover, Spare Switch boot and spare O-rings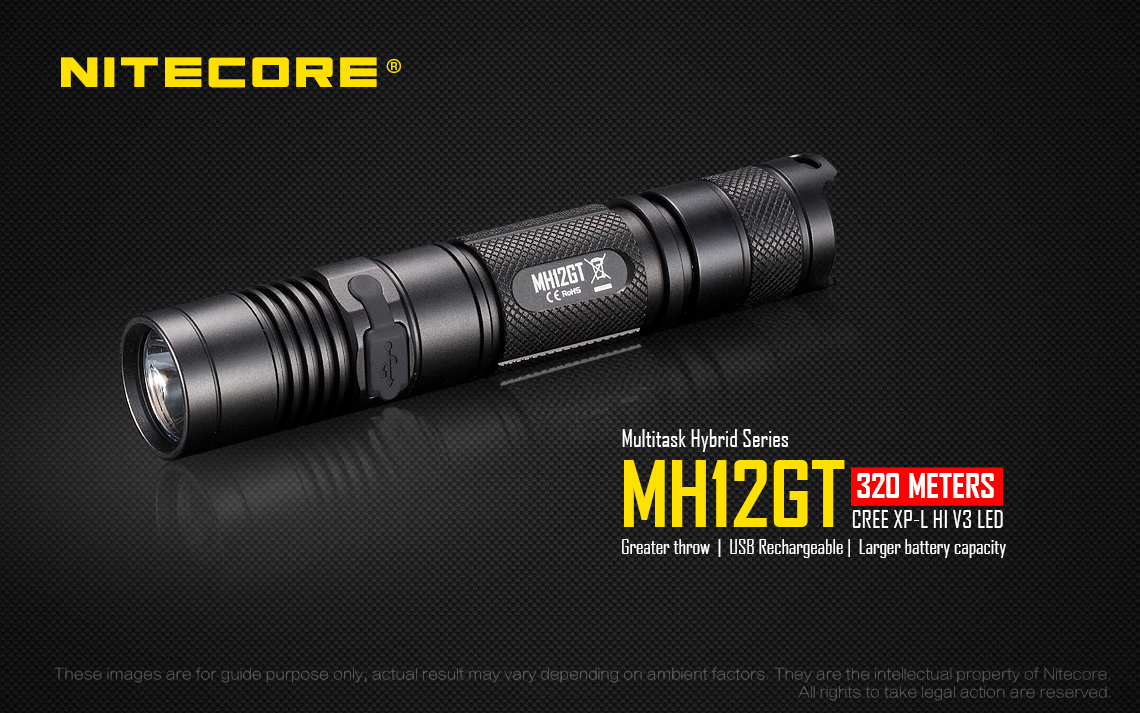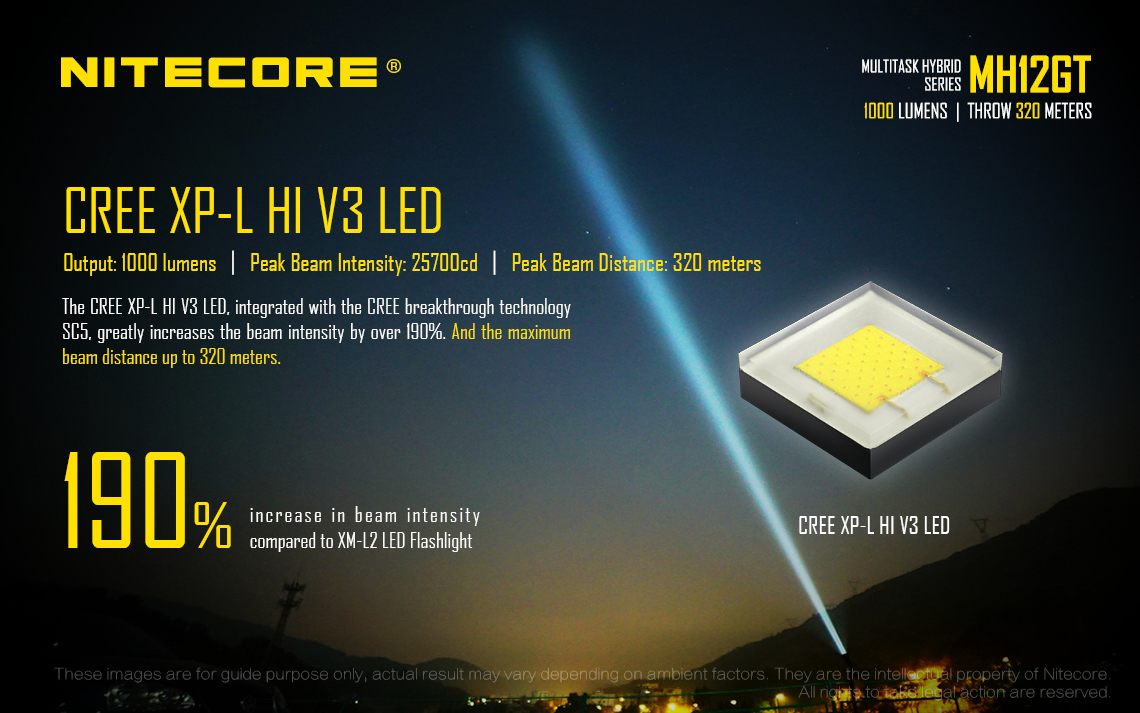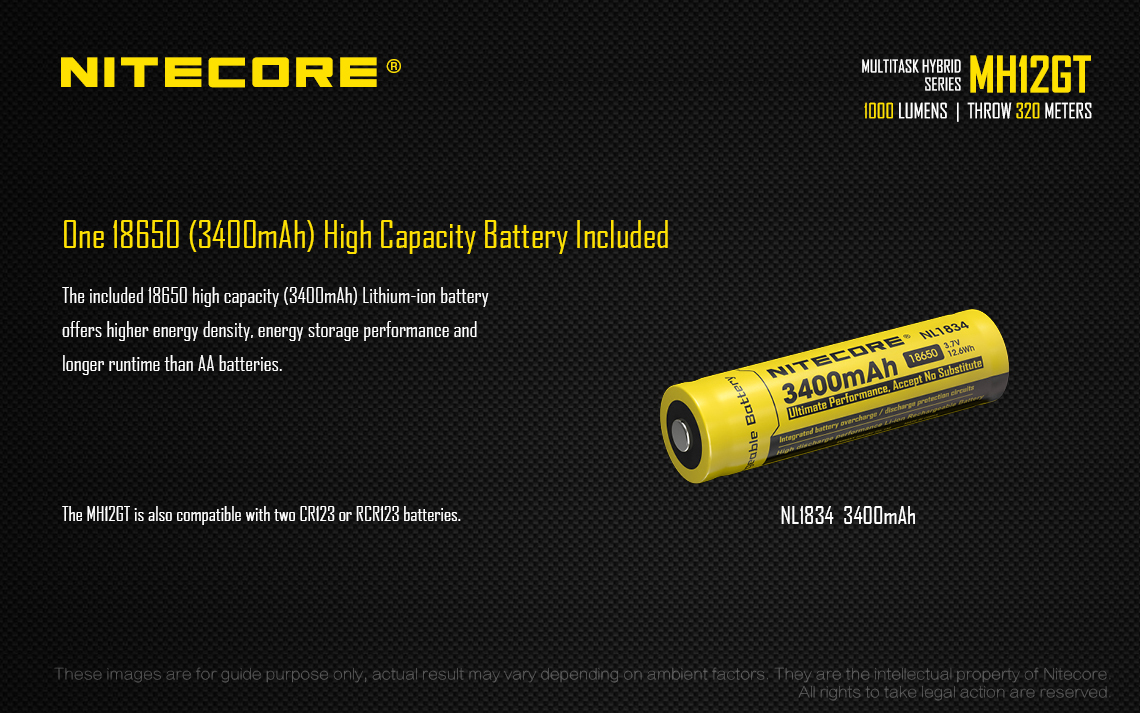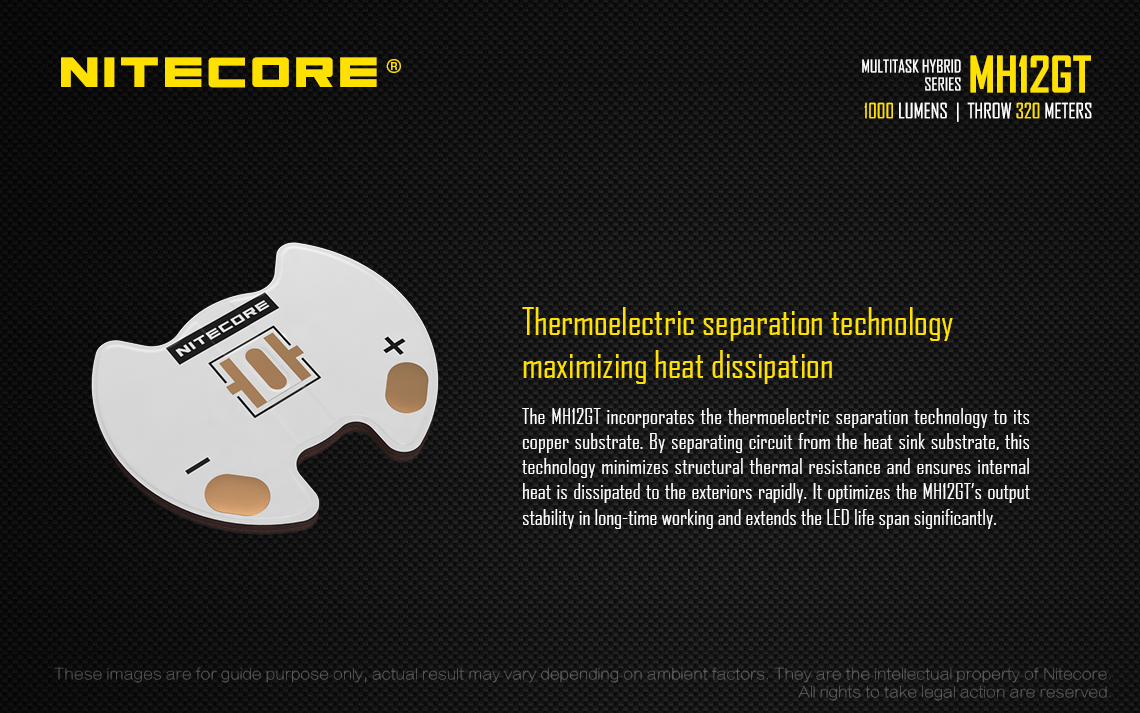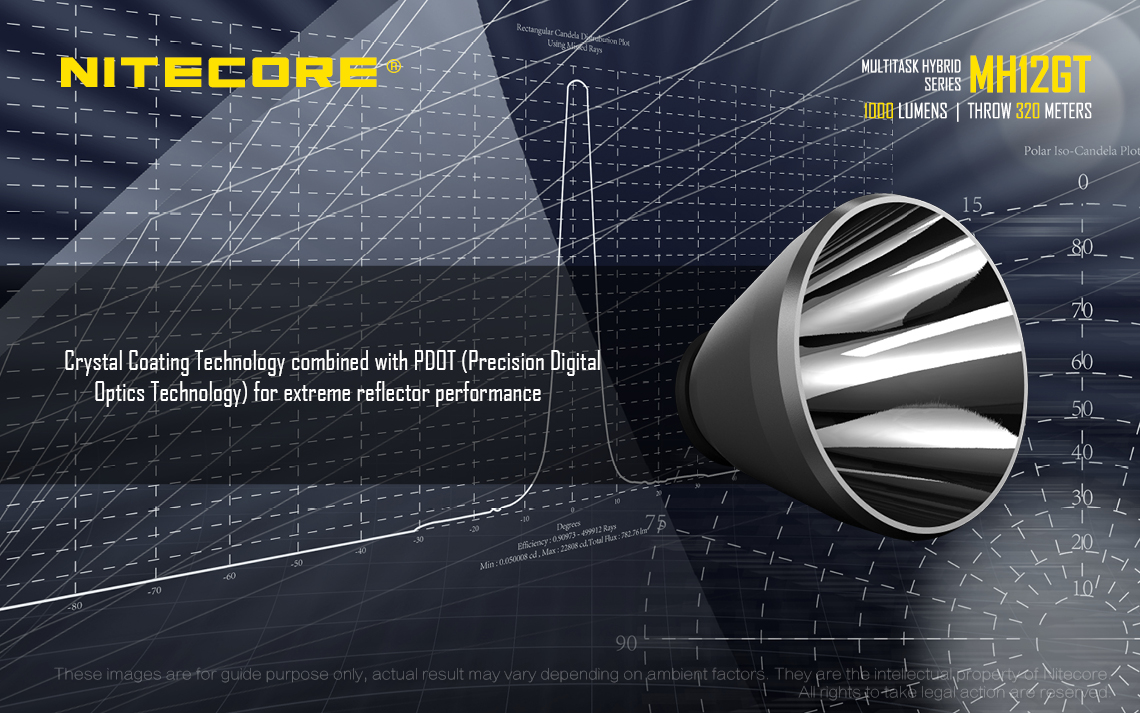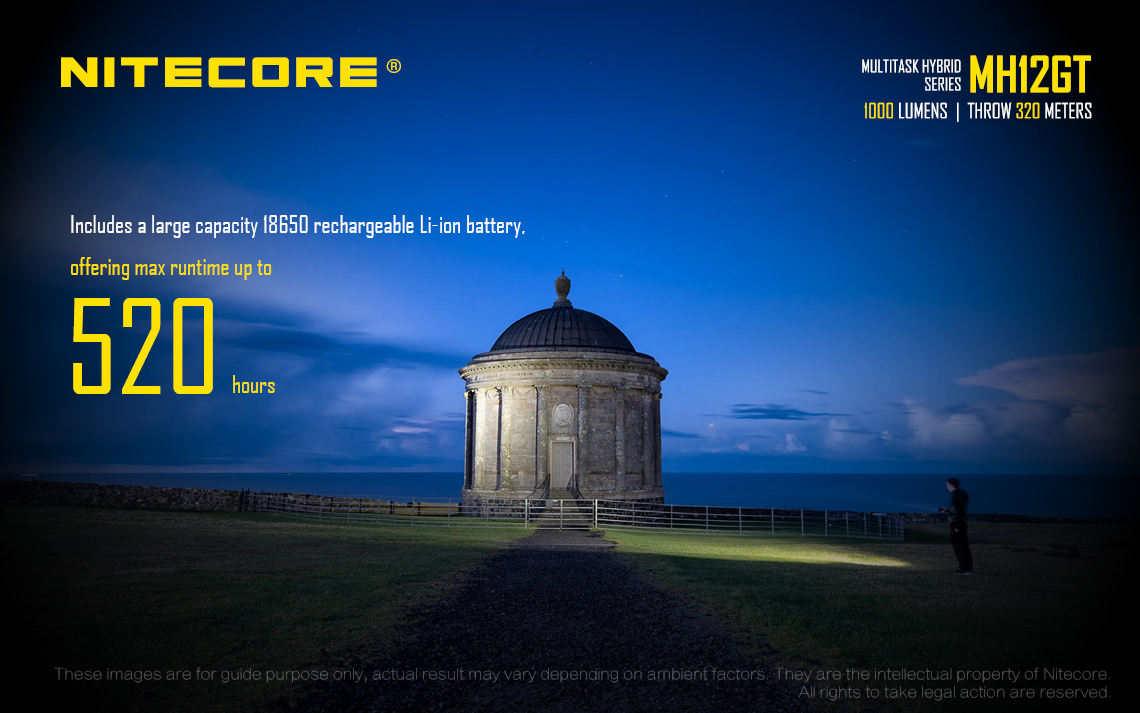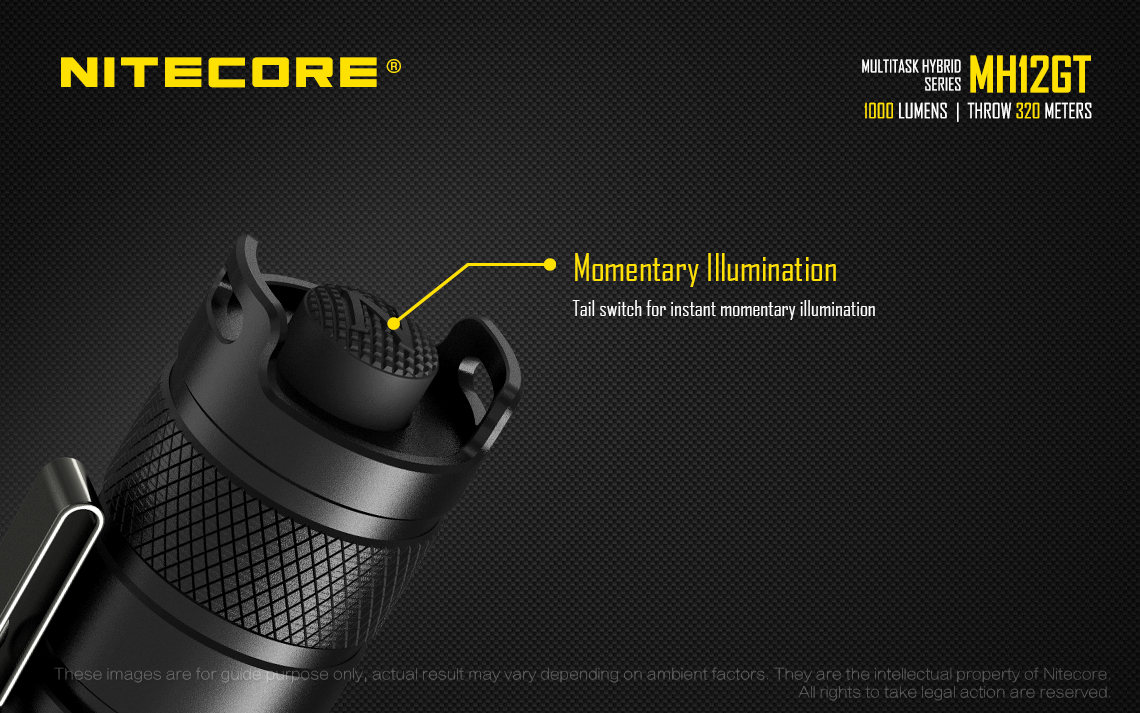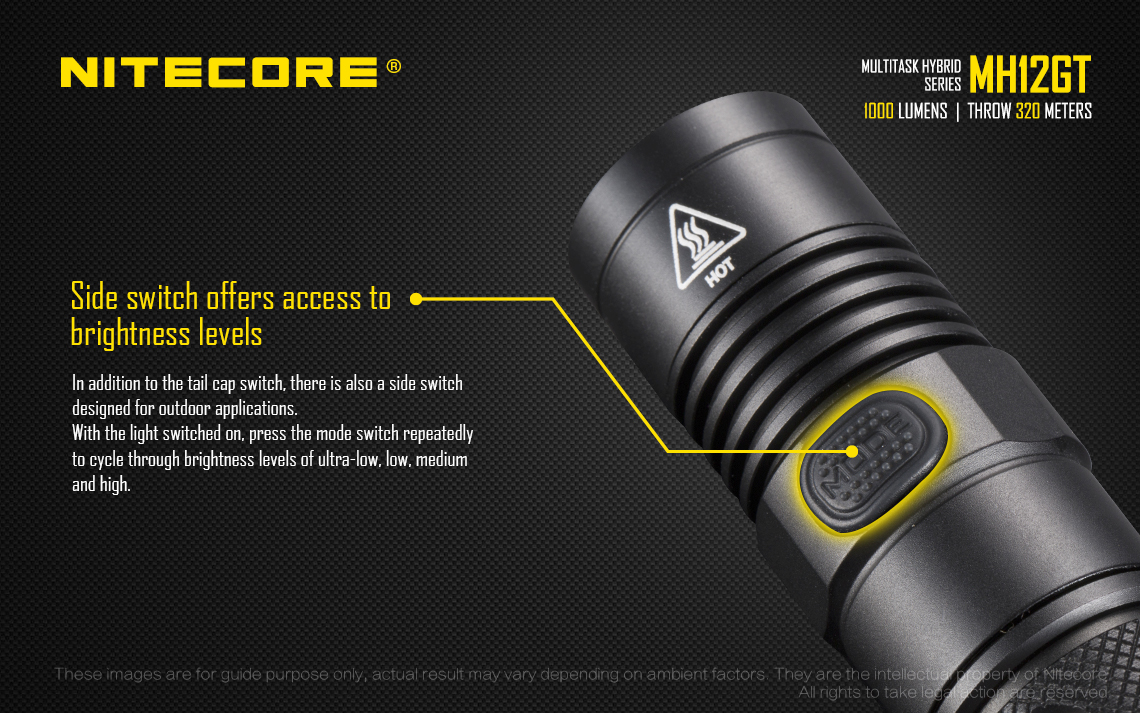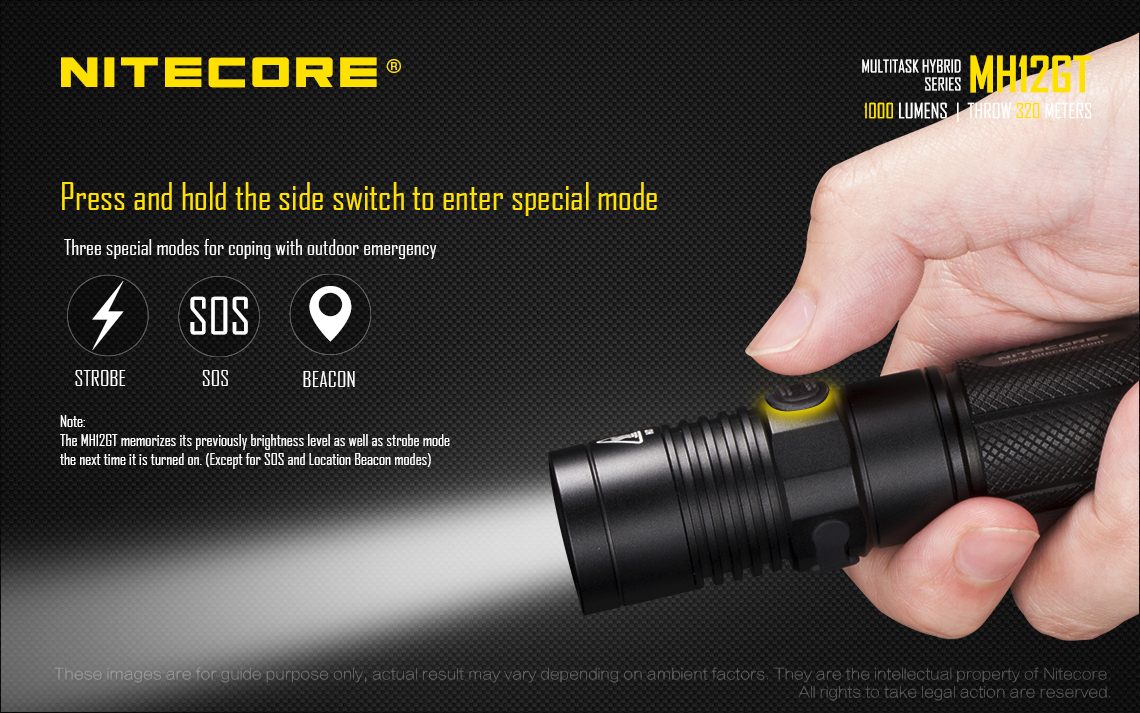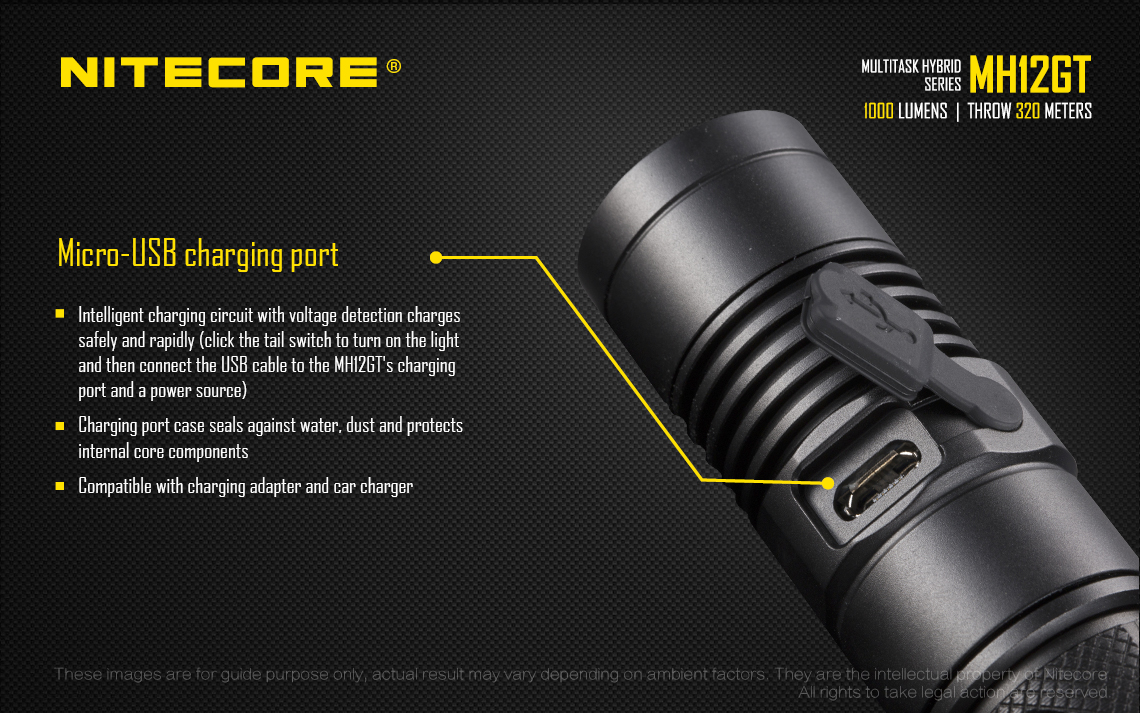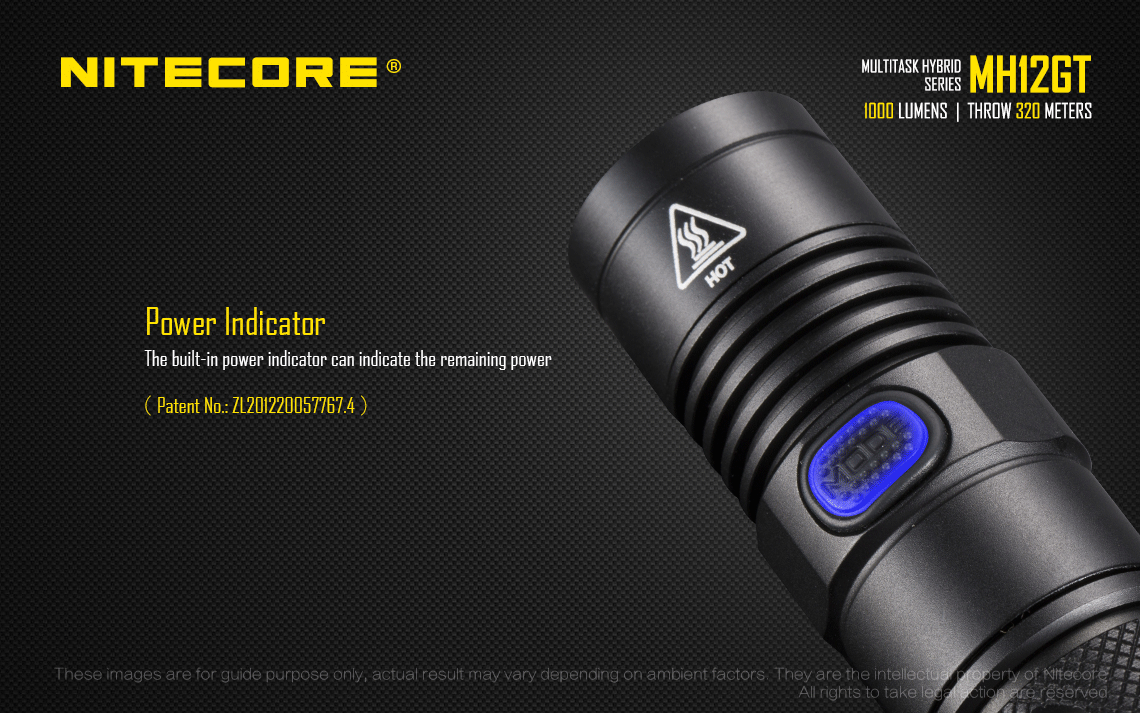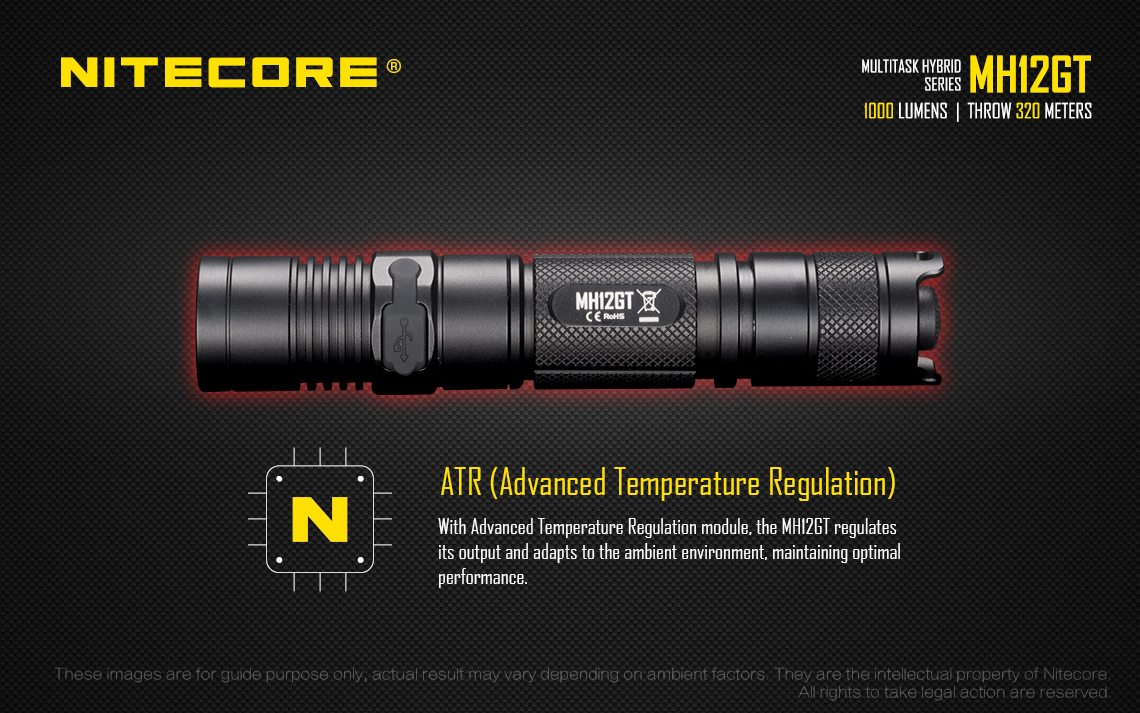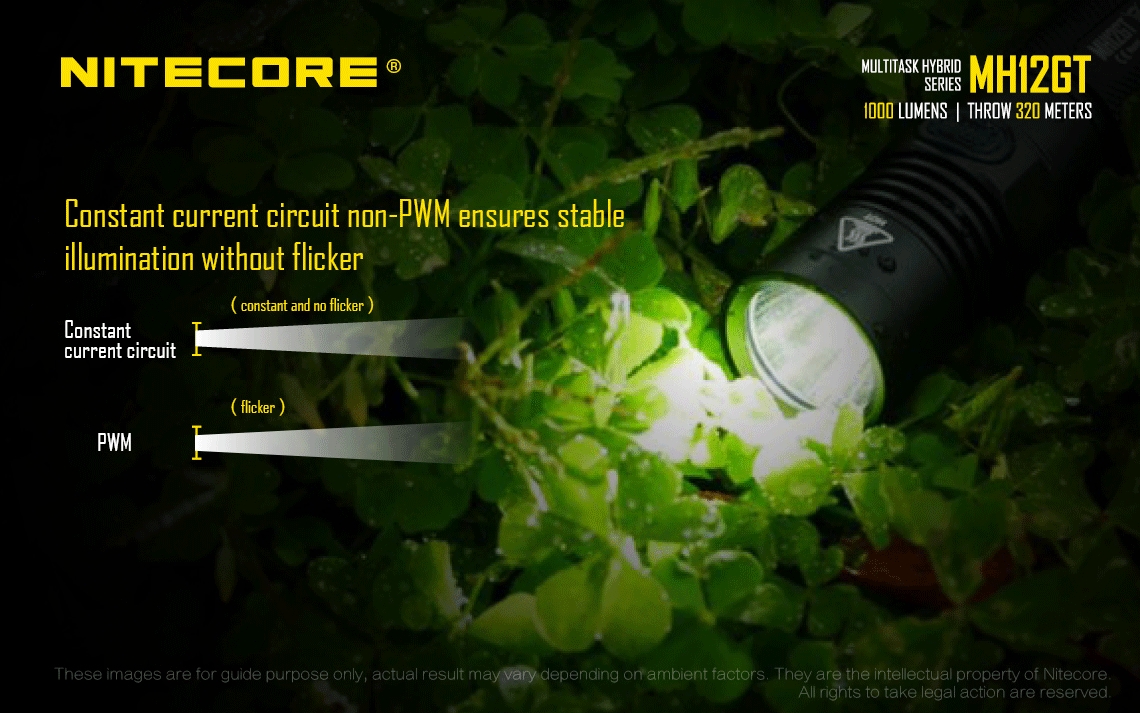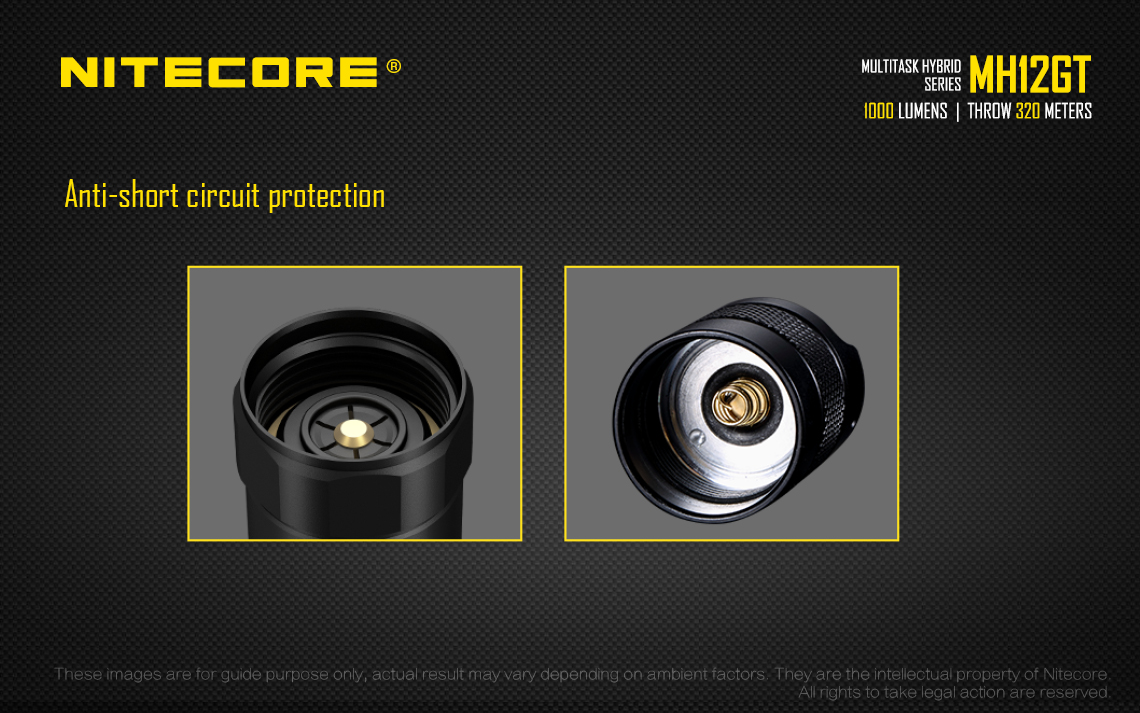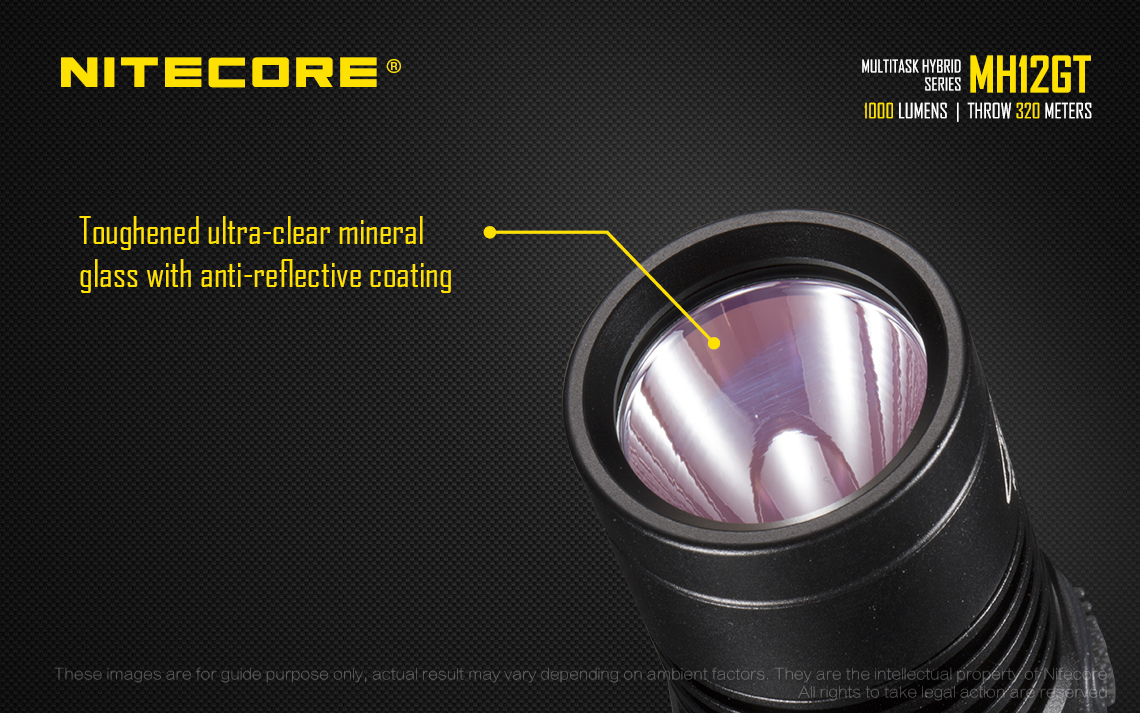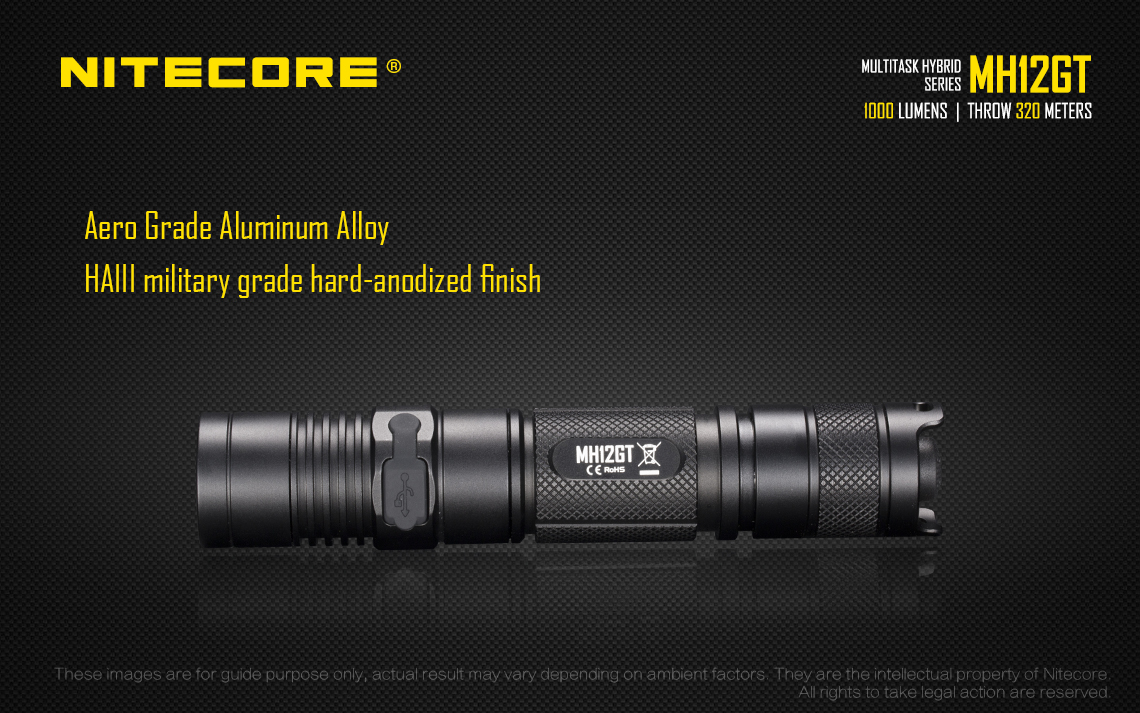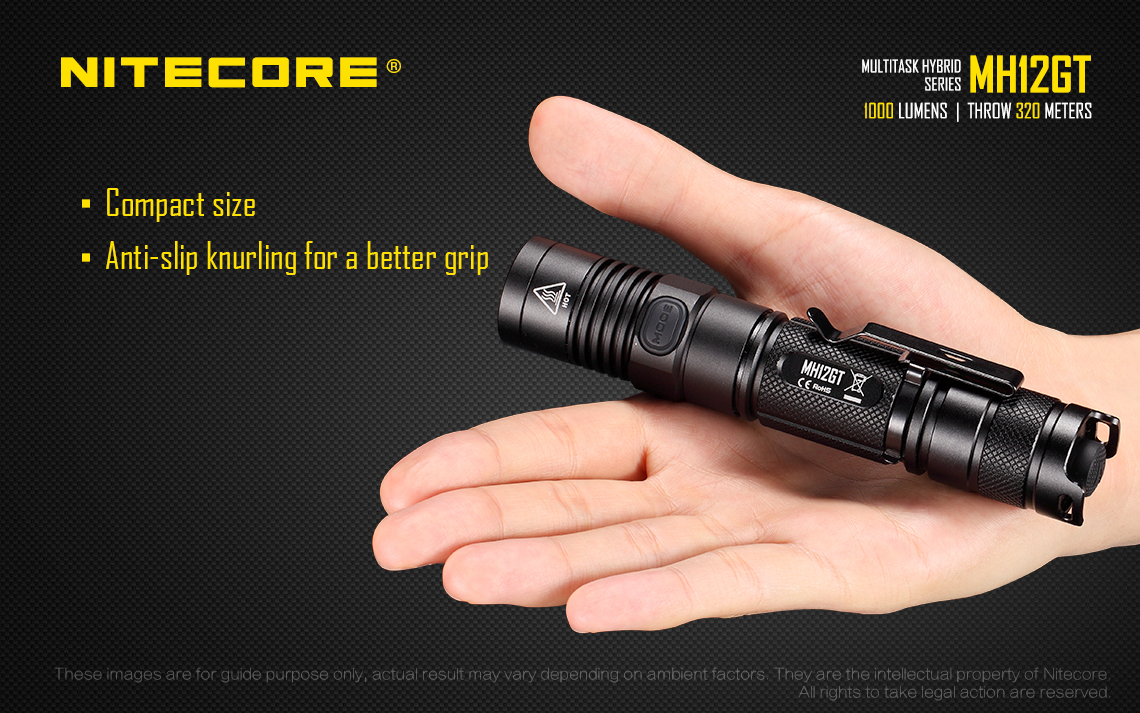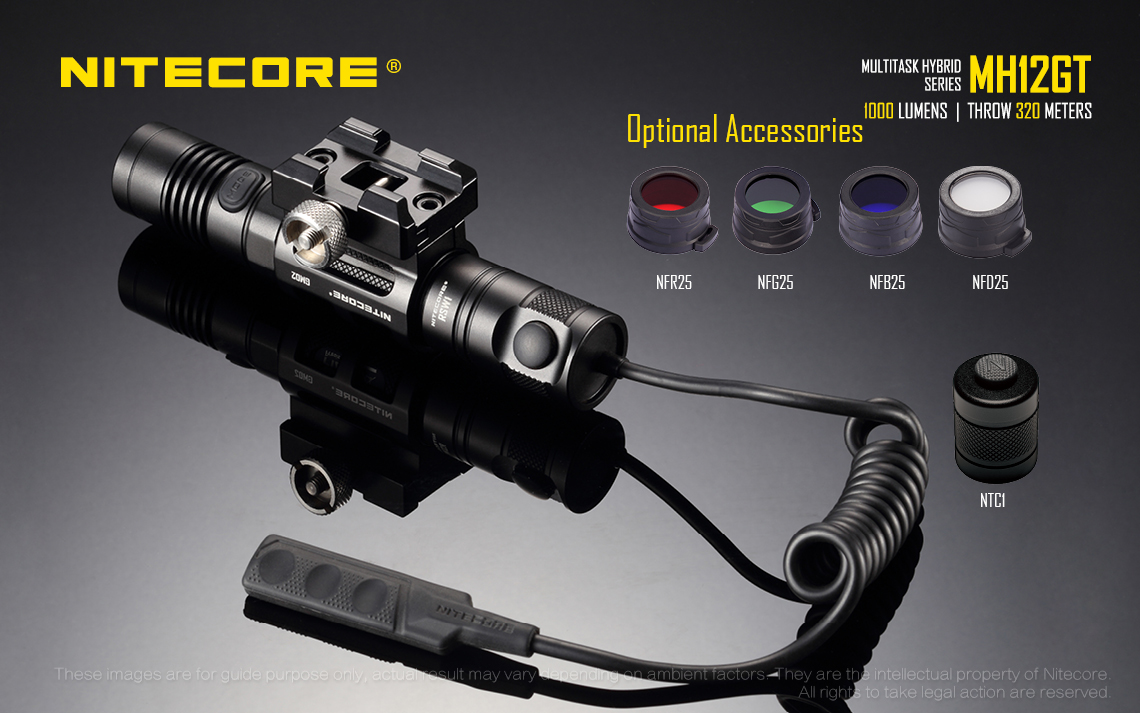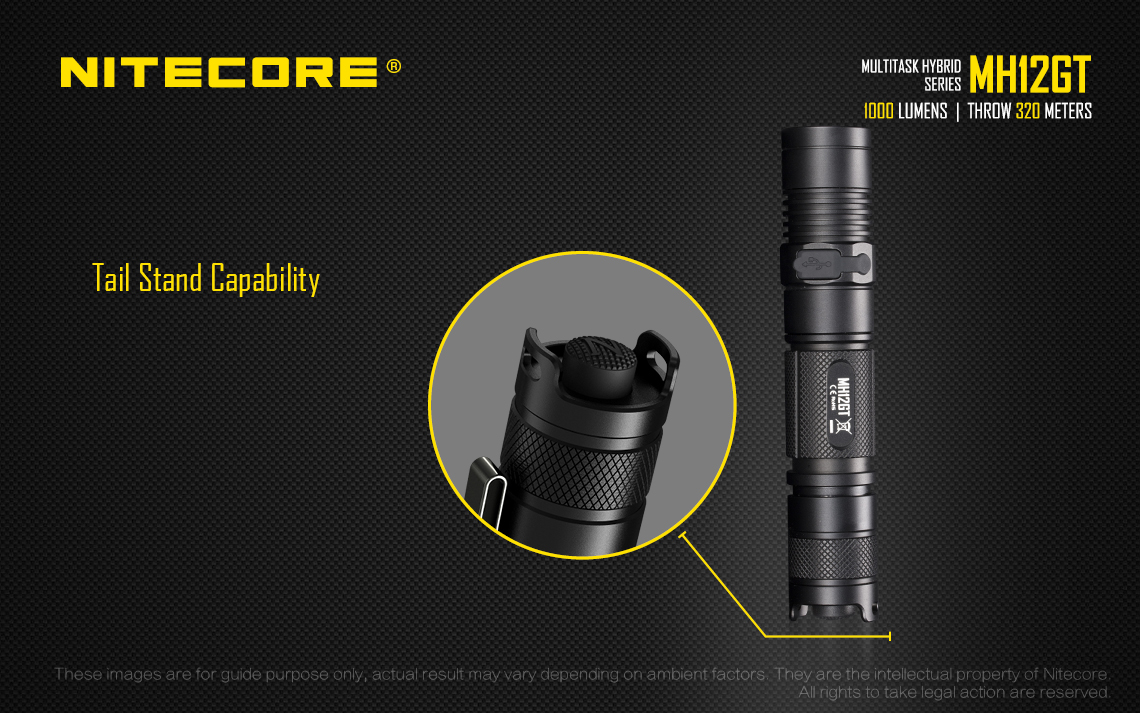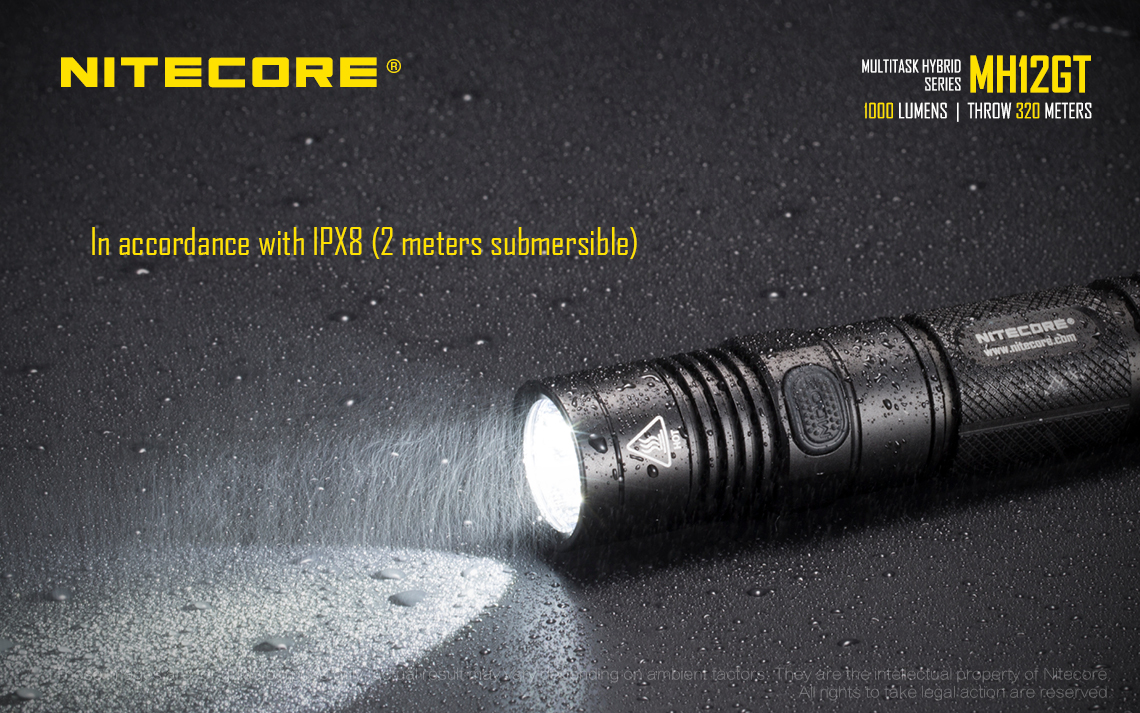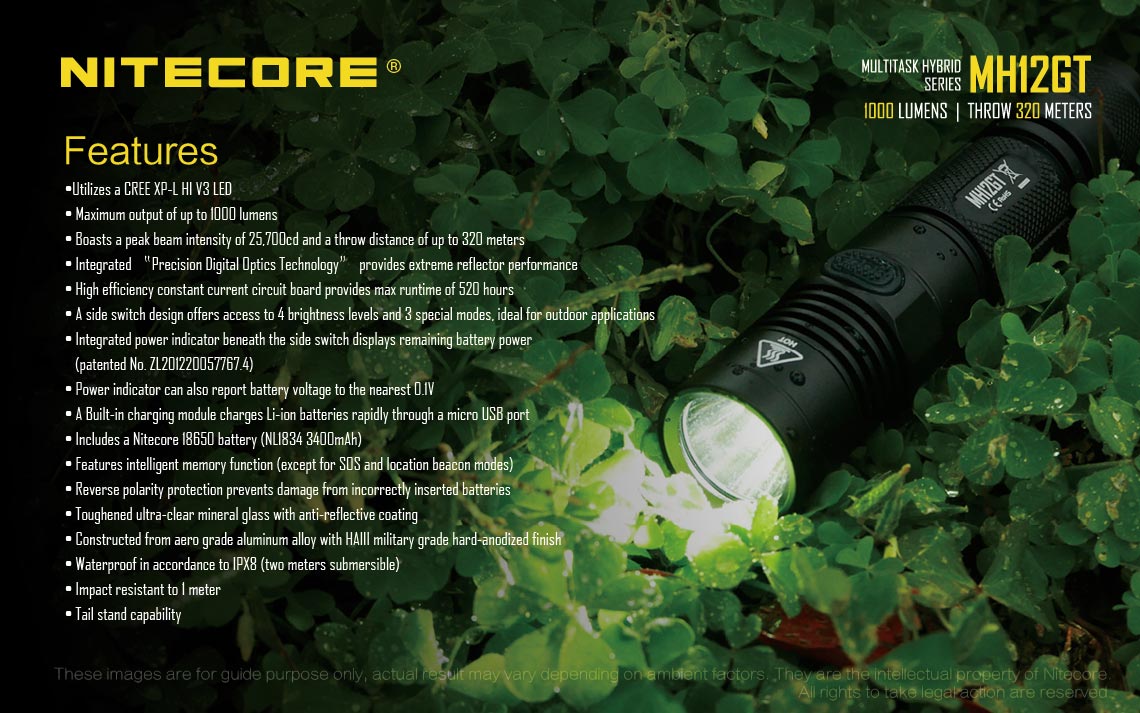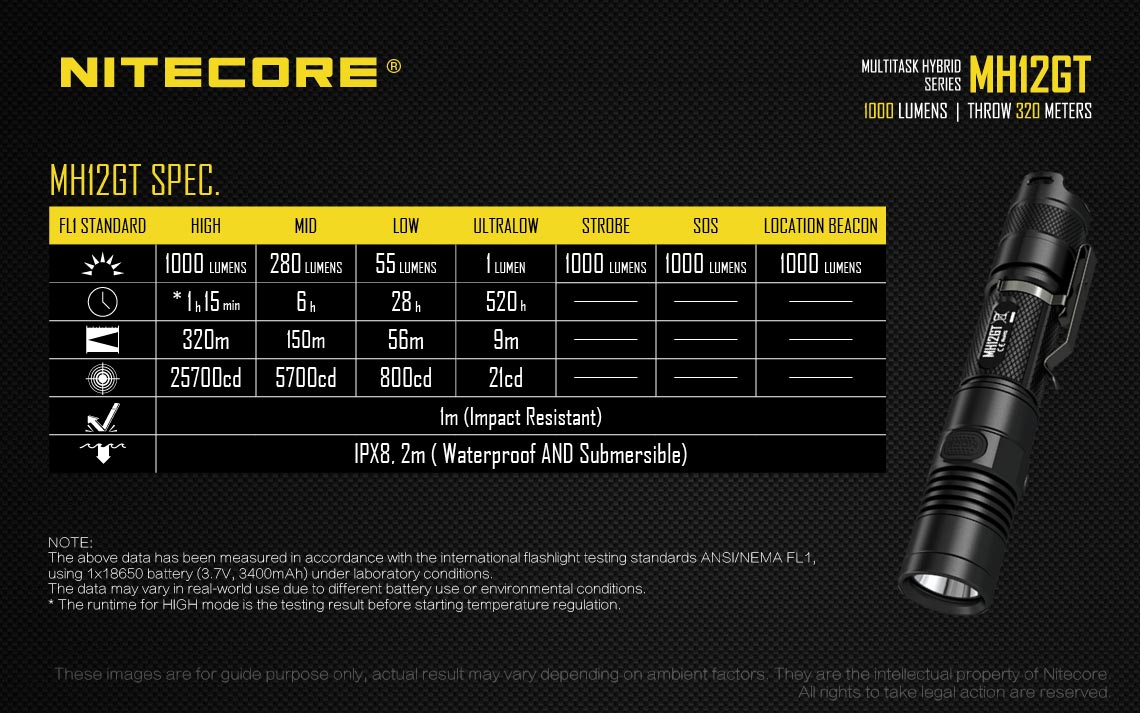 Flashlight Performance
Max Lumens
1000 Lumens
Min Lumens
1 Lumens
Modes
4 Brightness Modes + Strobe, SOS, Beacon
Flashing Modes(Strobe/SOS)
Strobe, SOS, Beacon
Runtimes
High(1000 Lumens): 1hr15mins, Mid(280 Lumens): 6hrs, Low(55 Lumens): 28hrs, Ultralow(1 Lumen): 520hrs
Beam Distance
320 mts
Peak Beam Intensity
25700 cd
Flashlight Features
Battery Type
1x18650 / 2xCR123A (1x18650 3400mah battery included)
Emitter Type
Premium CREE XP-L HI V3 LED
Reflector
Optimized ultra-precise Aluminum reflector ensures a smooth and powerful beam
Lens Material
Toughened ultra-clear mineral glass with anti-reflective coating
Current Regulation
Yes
Smart Circuit for Rechargeable Batteries
Yes
Reverse-Polarity Protection
Yes
Impact Resistance
1mts
Tail Stands?
Yes
WaterProof
Yes (Standard IPX-8) - 2mts Waterproof and Submersible
Switch Type
Tactical Tail Switch for On/Off + Head Switch for modes
Other Features
Build
Body Material
Constructed from Aero grade alluminium alloy, HA III Military grade hard anodized
Color
Black
Dimensions
Length x Head Diameter x Tail Diameter: 111mm x 25.4mm x 25.4mm
Weight
87 gms (without batteries)
In The Box
Included Accessories
Nitecore 18650 3400mah battery, USB cable, lanyard, pocket clip, Tactical ring, Holster, Spare USB Port Cover, Spare Switch boot and spare O-rings
Warranty
Manufacturer Warranty
15 Days (Replacement) + 60 Months / 5 Years Manufacturer Warranty (Free Repair) - T&C apply
Lightorati Warranty
15-Day Refund (No Questions Asked), Lifetime Support - T&C apply