Nitecore Q6 Quick Charger, 6-Bay Smart Charger for Li-ion, IMR batteries
Nitecore Q6 Quick Charger (6-Bay Fast Charger)


With The Newest Innovative Features
The Nitecore Q6 6 bay battery charger offers six independent slots in which you can charge your Li-ion batteries. Each charging bay functions on its own, automatically detecting a battery's power level and selecting the appropriate voltage and charge method. You can, therefore, re-power up to six Li-ion batteries at one time. The Nitecore Q6 is fitted with the Active Current Distribution (ACD) technology that is designed to evenly distribute power across the six charging bays. This means that the more batteries you charge, the less power they will receive individually. To achieve the battery charger's maximum, 2A quick-charging output, it is necessary to only charge one or two batteries at a time. Please note that this 6 bay battery charger is designed to function as three sets of two channels. For best results, when charging only two batteries, it is recommended that you separate the cells into two different pair groups in order for each battery to receive the maximum 2A charge speed. Four active bays deliver 1A per channel, while all six provide a 0.65A current per slot.
Refresh & Recharge Safely
In addition to charging your Li-ion batteries, the Nitecore Q6 is also capable of activating depleted cells that feature built-in protection circuits. Once a depleted battery is inserted into a charging slot, the Q6 charger is able to test and activate the battery prior to re-powering. This 6 bay battery charger also features various safety features and systems to prevent overheating, and prolonged charge times. In fact, the "overtime prevention" technology automatically terminates any charge that exceeds 15 hours. Heat dissipation fins and a polycarbonate construction add to the battery charger's overall safety and performance. Also, as with all Nitecore battery chargers, the Q6 is equipped with reverse polarity protection and short circuit protection to keep you and your equipment safe. This 6 bay Li-ion battery charger is a clearly the perfect quick-charge tool for premium LED flashlight and vape users.

Why Nitecore Chargers are the best?
Here is a video where Nitecore Charger takes a competing model to the limits.
Features:
- 6 charging channels treat each battery independently
- Re-power up to 6 batteries at a time - shorten downtime by charging multiple cells at once
- 2 charge modes: Constant Circuit, Constant Voltage
- Automatically detects batteries' power level to prevent overcharging
- Automatically stops charging when a battery is full for added safety
- Active Current Distribution (ACD) evenly distributes the power among the 6 charging slots
- Reverse polarity protection prevents short circuits and damage to the batteries
- Compatible with 12V DC car charger for charging on the go
- Optimal heat dissipation prevents overheating
- Durable PC construction is long-lasting and lightweight
- Certified by RoHS, CE, FCC, and CEC
- 1-year manufacturer's warranty covers defective product for peace of mind
Specifications:
- Input: DC 12V 2000mA | 24W
- Output: 4.2V±1% | 2A*2, | 1A*4, | 0.65A*6
- Compatible with: Li-ion / IMR: 10340, 10350, 10440, 10500, 12340, 12500, 12650, 13450, 13500, 13650, 14350, 14430, 14500, 14650, 16500, 16340(RCR123), 16650, 17350, 17500, 17650, 17670, 17700, 18350, 18490, 18500, 18650, 18700, 20700, 21700, 22500, 22650, 22700, 25500, 26500, 26650, 26700
- Compatible with Protected Li-ion batteries only, not to be used with unprotected li-ion batteries
Dimensions: Length - 5.22" (132.5 mm), Width - 5.41" (137.5 mm), Height - 1.43" (36.2 mm)
Weight: 8.08 oz (229 gms)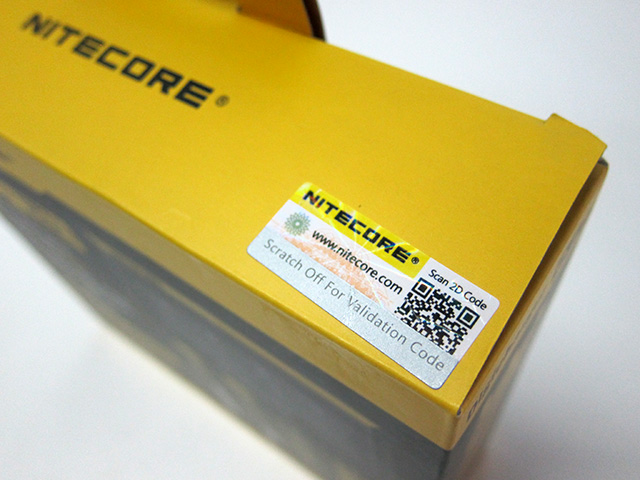 Validate your Nitecore Charger purchased from Lightorati on
Nitecore.com Validator
for Legitimacy Check