Nitecore SC2 - Superb Charger (2 Battery Fast Charger for Li-ion, IMR, LiFePO4, Ni-MH, NiCd)
Nitecore SC2 - Super Fast Charger
- Two Battery Smart Charger that can charge a variety of batteries
- The all-new highly advanced smart charger. It's as simple as insert, detect, and charge.
- Compatible with IMR, Li-ion, Ni-MH, NiCd batteries
- Charging current selection: 0.5A, 1A, 2A, 3A
- Optimised for IMR Battery Charging and Restoration
- Has standard USB output port for using as a Powerbank to charge other devices (2100mA/2.1A current)
Validate your Nitecore Charger purchased from Lightorati on Nitecore.com Validator for Legitimacy Check


For Battery Type:
Li-ion/IMR/LiFePO4: 10340, 10350, 10440, 10500, 12340, 12500, 12650, 13450, 13500, 13650, 14350, 14430, 14500, 14650, 16500, 16340(RCR123), 16650, 17350, 17500, 17650, 17670, 18350, 18490, 18500, 18650, 18700, 20700, 21700, 22500, 22650, 25500, 26500, 26650
Ni-MH(NiCd): AA, AAA, AAAA, C, D


Nitecore's new SC2 charger is their fastest charger yet. Capable of up to a 3A current, this charge can fully power a 3000 mAh Li-ion battery in 1.5 hours. This charger even lets you customize your charging current so you have more control charging speed with ease. The SC2 comes with impressive safety features such as overtime charging prevention and optimal heat dissipation to prevent overheating. If you need power fast, the SC2 is the charger for you.
Why Nitecore Chargers are the best?
Here is a video where Nitecore Charger takes a competing model to the limits.
Features:
- Up to 3A charging speed in a single slot
- 0.5A, 1A, 2A and 3A manually selectable charging current options
- Charging program optimized for IMR batteries
- Automatic current selection based on battery capacity
- Capable of charging two batteries simultaneously
- Each battery slot controls and charges independently
- Automatically detects battery power status and displays charging progress
- Integrated USB port compatible with all USB devices
- Automatically stops charging upon charging completion
- Reverse polarity protection and short circuit prevention
- Li-ion battery restoration ·Overtime charging protection
- Features temperature monitoring to prevent overheating
- Made from fire retardant / flame resistant PC material
- Designed for optimal heat dissipation
- Certified by RoHS, CE, FCC and CEC
- Insured worldwide by Ping An Insurance (Group) Company of China, Ltd.
Specifications:
- Input Voltage: AC 100-240V 50/60Hz 0.9A(MAX) 30W DC 12V 2.5A
- Output voltage: Battery: 4.35V±1% / 4.2V ±1% / 3.7V ±1% / 1.48V ±1% USB: 5V 2.1A
- Output current: 3A+2A MAX
- Compatible with:
Li-ion/IMR/LiFePO4: L10340, 10350, 10440, 10500, 12340, 12500, 12650, 13450, 13500, 13650, 14350, 14430, 14500, 14650, 16500, 16340(RCR123), 16650, 17350, 17500, 17650, 17670, 18350, 18490, 18500, 18650, 18700, 20700, 21700, 22500, 22650, 25500, 26500, 26650
Ni-MH(NiCd): AA,AAA,AAAA,C,D
- Dimensions: 6.10" × 3.16" × 1.73" (155mm×80mm×44mm)
- Weight: 9.28oz (263g) (without batteries and power cord)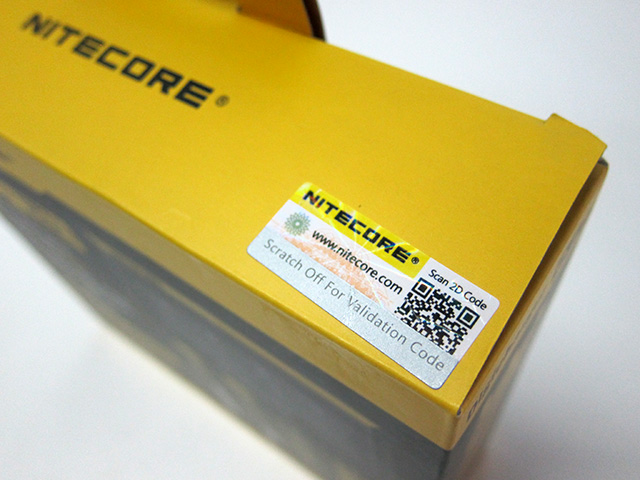 Validate your Nitecore Charger purchased from Lightorati on
Nitecore.com Validator
for Legitimacy Check