Nitecore SRT9 - Smart Ring LED Flashlight, Multi-color, Police Strobe, 246mts (2150 Lumens, 2x18650)
Nitecore SRT9 - Built like a Tank, Good Range, Outstanding features, One-of-a-kind Flashlight
- CREE XHP50 LED - 2150 Lumens and Superb Flood Output
- Multi-color outputs for signaling including police storbe, reading in low light, UV Light included
- Powered by 2x18650 Rechargeable Battery or 2xCR123A Batteries (not included)
- Infinity Brightness Selection(2150 to 0.1 Lumens), Red + Green + Blue + UV + Strobe + Location Beacon + Police Strobe
- Rated for 246 mts beam distance and 1hr on Turbo, 250hrs on low mode

Infinitely Variable Output
Featuring completely customizable brightness and a number of colorful outputs, the Nitecore SRT9 SmartRing Tactical Flashlight is the ultimate combination of power and versatility. Powered by either a pair of rechargeable 18650 batteries or 4 CR123As, this light uses its potent CREE XHP50 LED to produce up to 2150 Lumens of vivid white light that can throw over 800 feet. Unlike most lights, which have only a handful of designated brightness settings, the SRT9 comes with infinitely variable brightness between 0 Lumens and its maximum output, allowing its user to choose the exact level of brightness that suits their needs. Using its dial-like SmartRing interface, a user can adjust the brightness of the light by simply twisting the selector ring around the head, as well as choose from a number of specialized outputs including a tactical strobe and an efficient location beacon.
Colorful Tactical LEDs
Infinitely variable brightness is only the tip of the iceberg when it comes to the SRT9's versatility. In addition to its white LED, the multi-functional light comes with 4 colorful secondary LEDs that produce red, green, blue and ultraviolet light respectively. Red light is perfect for preserving your natural night vision while green light is the most visible to human eyes, perfect for map reading. Both blue light and ultraviolet light are ideal for spotting blood, motor oil, and other substances, ideal for use by law enforcement. Like its white light output, all of the light's colorful outputs are easily accessible using the smart selector ring.
Durable Design
The SRT9 is manufactured to be as durable and long-lasting as it is powerful and versatile. Crafted from aerospace-grade aluminum alloy, the sturdy torch features a unique ""unibody"", where the majority of the body is comprised of one solid piece, improving its structural integrity. The light's bezel is surrounded by a stainless steel retaining ring that helps protect its internal components from damage. The rugged exterior protects the light from impacts as high as 5 feet and allows it to be submerged under over 6 feet of water with no damage, allowing it to be safely used just about anywhere.
Features:

- Die-cast unibody is made from aerospace-grade aluminum alloy
- Double-sided knurling on the handle for improved grip, even when wearing gloves
- Micro-textured metal reflector for a wider, more evenly dispersed beam
- Third generation SmartRing technology allows user to infinitely adjust brightness between 0 and 2150 Lumens
- LED power indicator on body blinks slowly when below 50% power, quickly when power is very low
- ATR (Advanced temperature Regulation) module monitors internal temperature to prevent overheating
- Stainless steel retaining ring protects internal components from damage
- Tail stand capability for candle lighting
- Comes with a trio of special output modes:
Strobe
- Used to disorient an attacker or target
Beacon
- Efficient flash to mark current position
Police Signal
- Alternative flashing of blue and red LEDs
- Comes with Nitecore's 5-Year Warranty
- Spring-loaded absorption mechanism with reverse polarity protection
Specifications:

- LEDs: CREE XHP50 LED, 4 Secondary Color LEDs (Red, Blue, Green, and Ultraviolet)
- Power Source: 2 x 18650 OR 4 x CR123A
(NOT Included, needs to be added separately)
- IPX Rating: IPX-8 (Waterproof and submersible up to 2 meters)
- Impact Resistance: 1 meter (3.28 ft.)
- Brightness Outputs (Using 2 x 18650):
Turbo - 2150 Lumens - 1 Hour
Ultralow - 0.1 Lumens - 250 Hours
Red - 13 Lumens - 50 Hours
Blue - 3 Lumens - 48 Hours
Green - 19 Lumens - 48 Hours
Ultraviolet (UV, 365nm) - 500mW - 48 Hours
- Peak Beam Distance: 246 meters (807.1 ft.)
- Peak Beam Intensity: 15100 cd
Dimensions:
Length x Head Diameter x Body Diameter: 148mm x 40mm x 34.9mm
Weight:
224.3 gms (without battery)
Accessories Included: Holster, Lanyard, Stainless Steel Titanium-Plated Pocket Clip, Spare Rubber Switch

Please note that batteries and charger are NOT included with this flashlight. You need to add them to the cart separately.
Recommended Accessories: Batteries:
Nitecore 18650
2600mah
or
3200mah
or
3400mah
or
3500mah
batteries
(you will need Two 18650 batteries, so you will need to add Two pieces to cart)
Charger:
Nitecore Intellicharger I2
or
Nitecore Digicharger D2
Please check the Batteries and Chargers section for more options.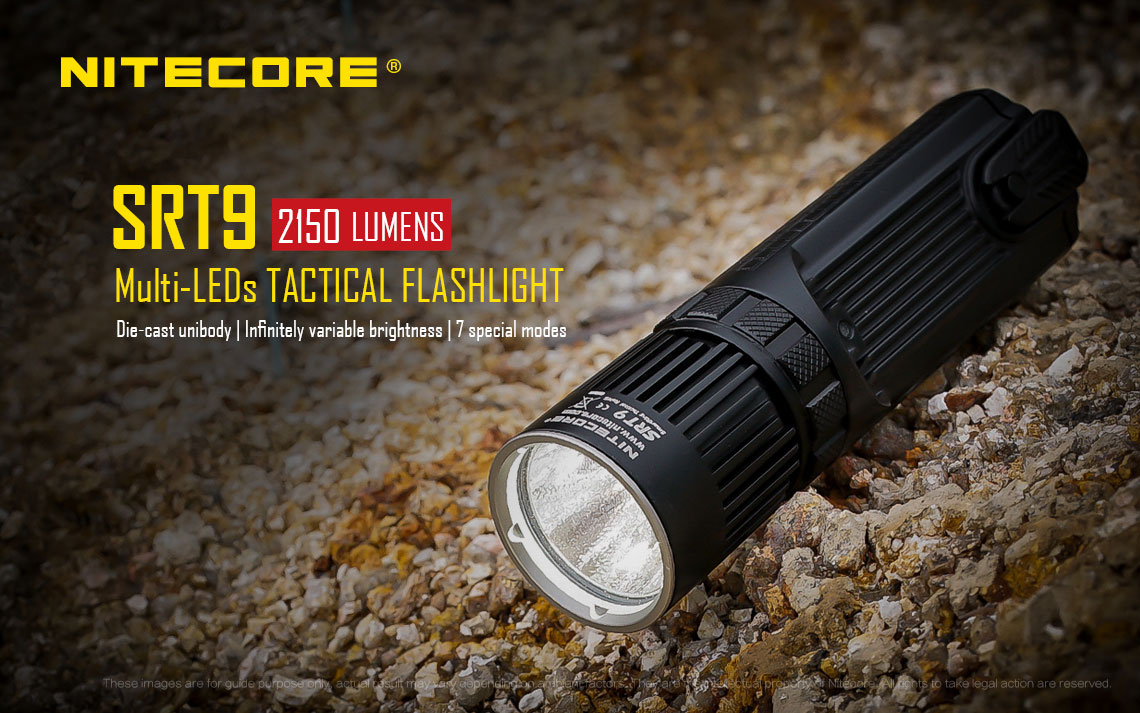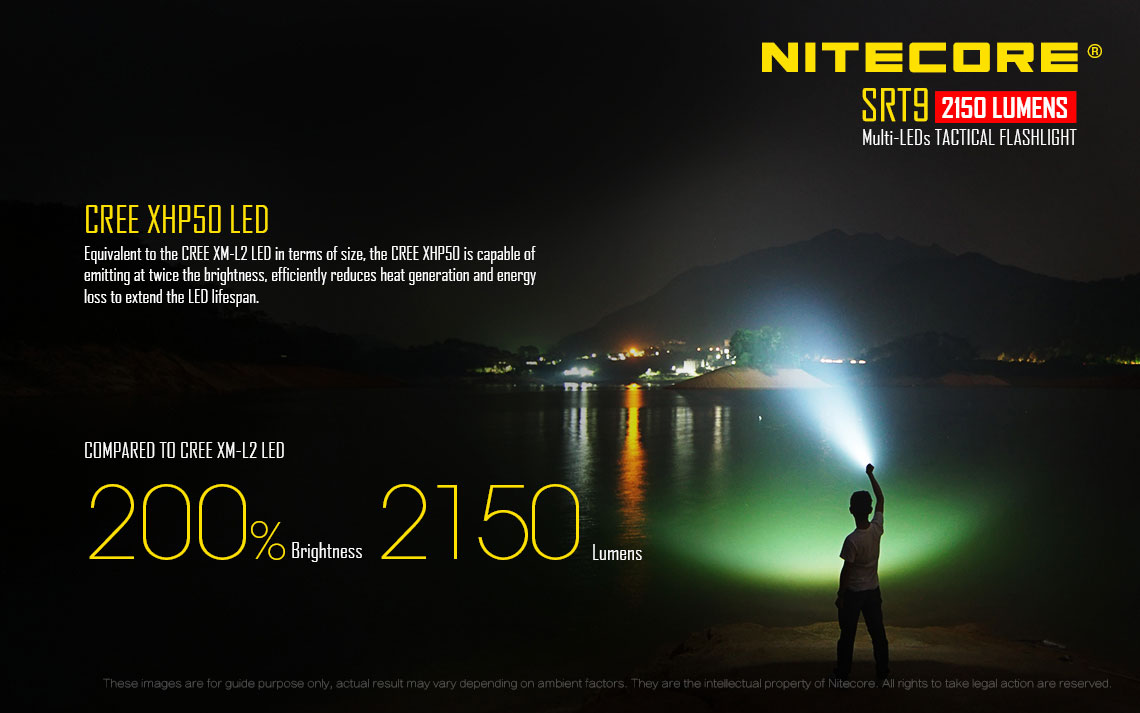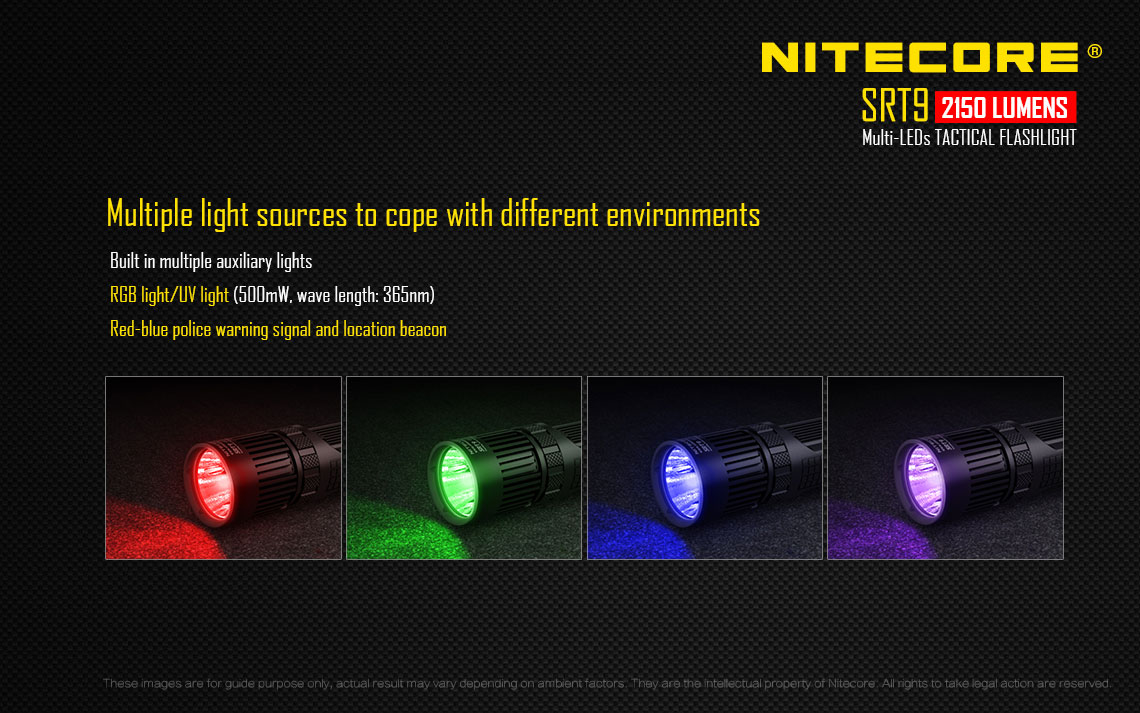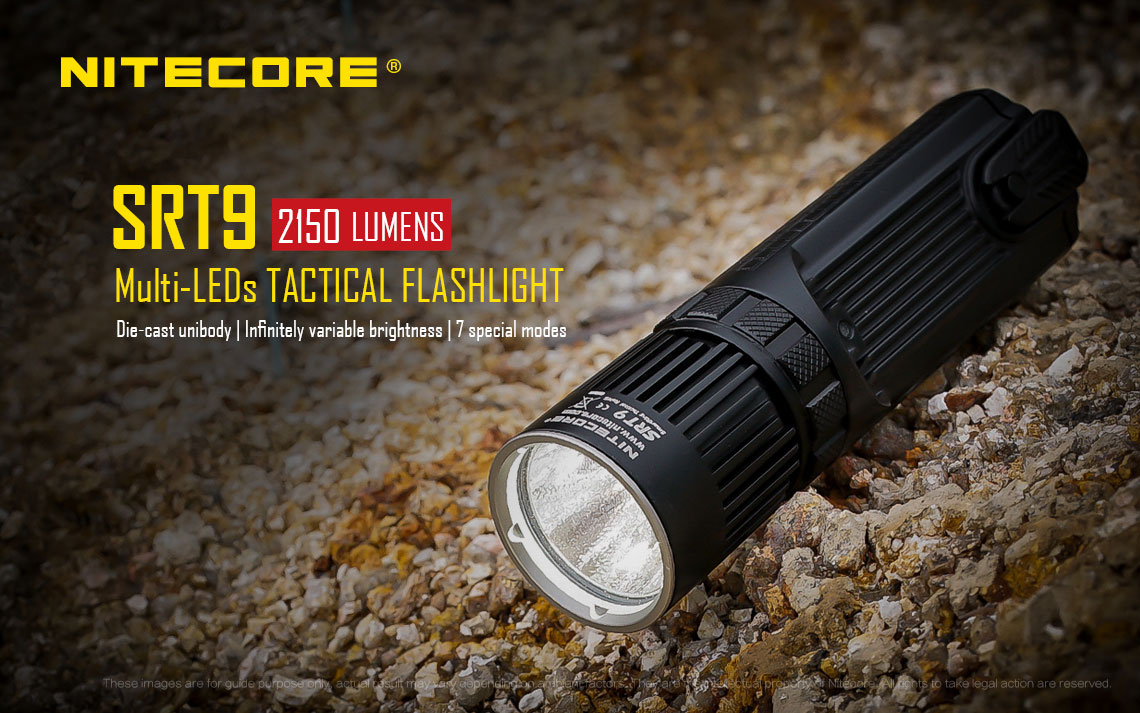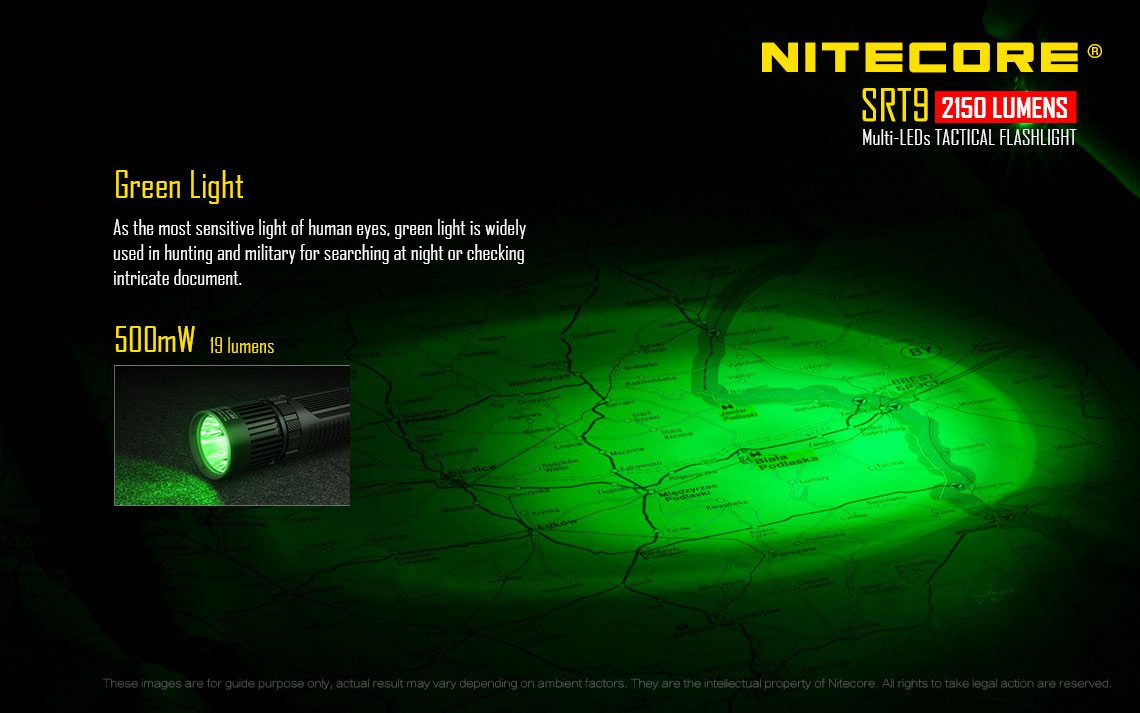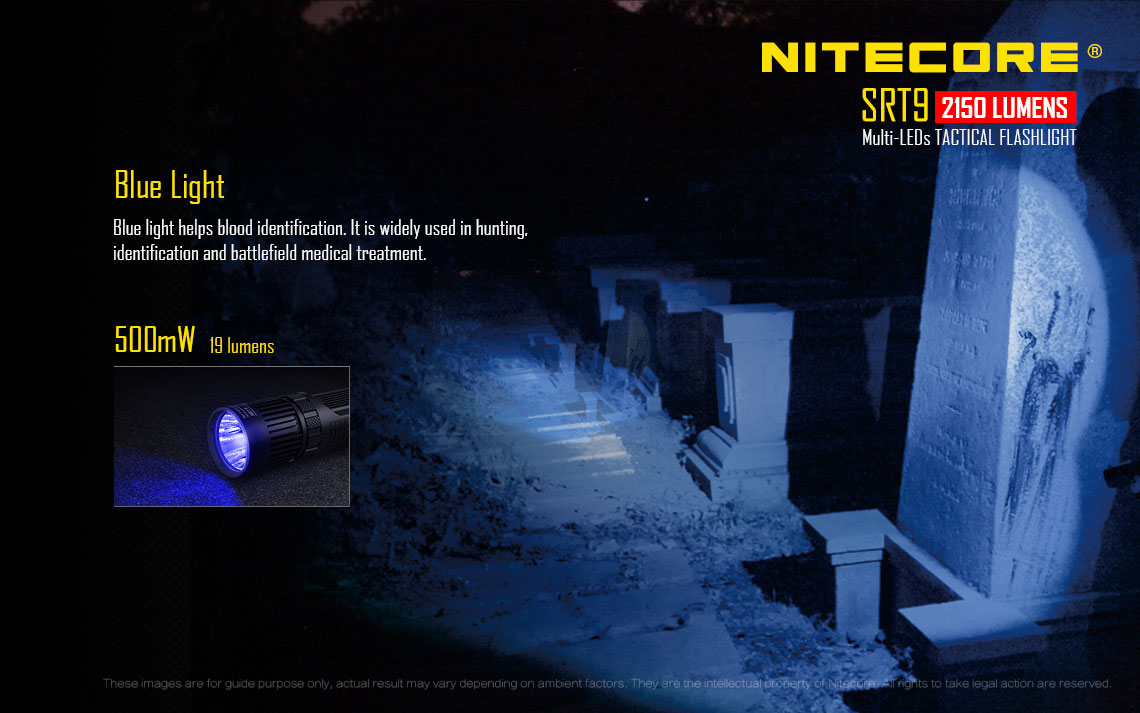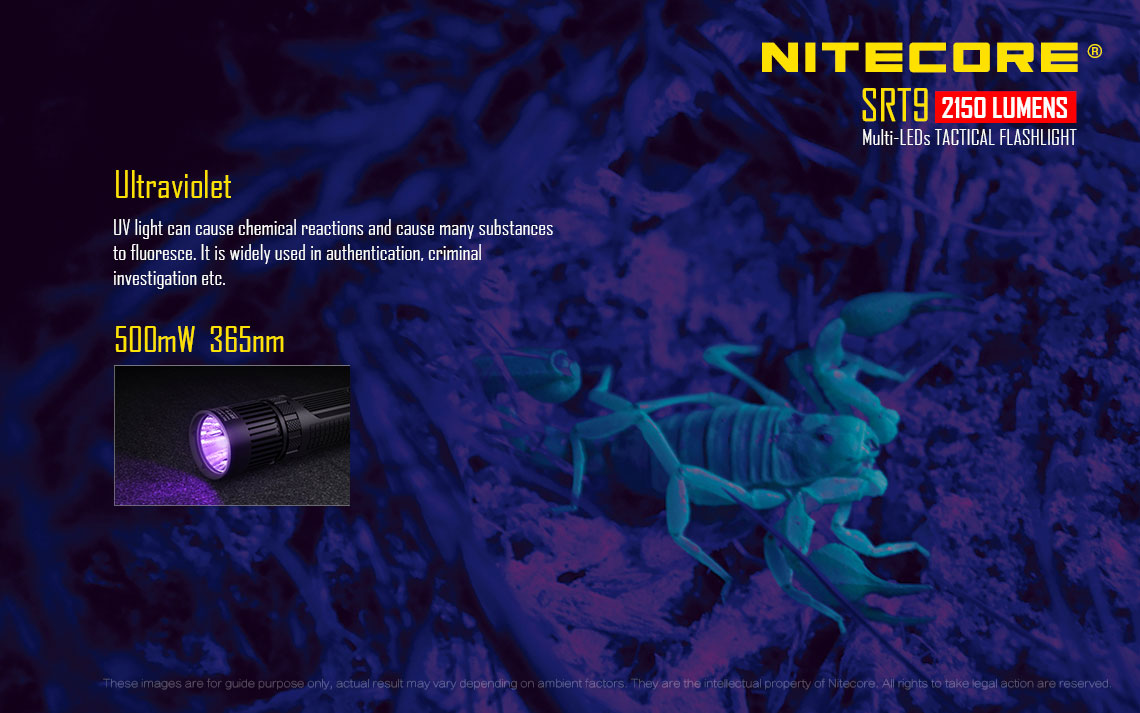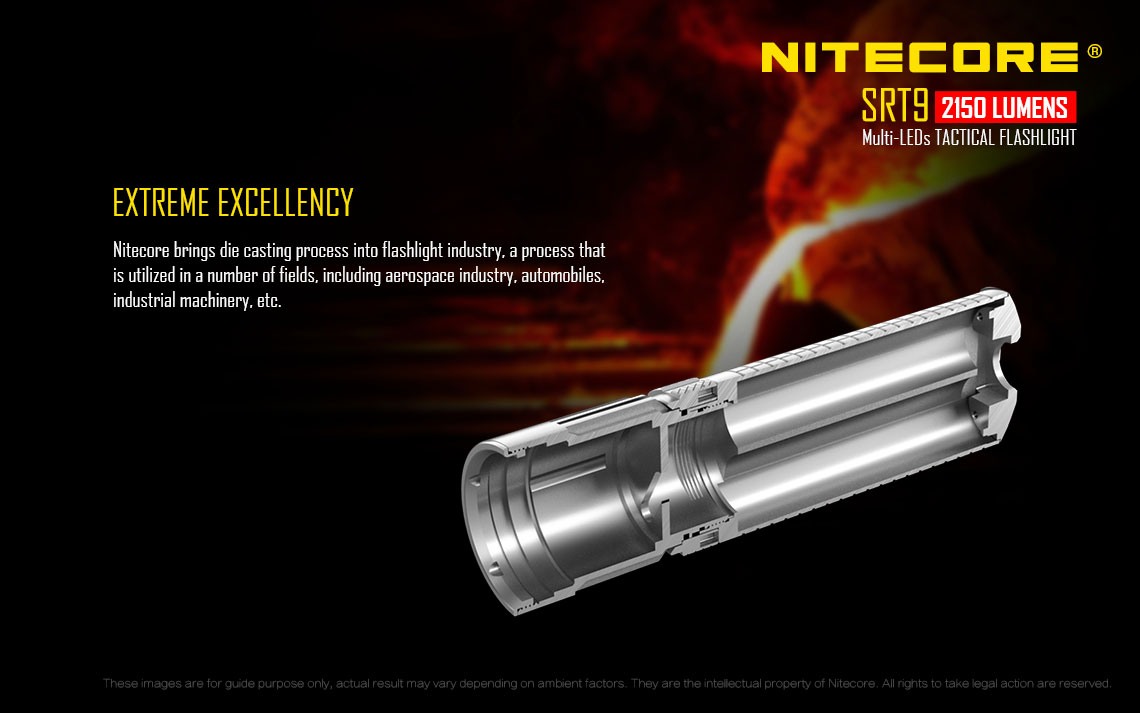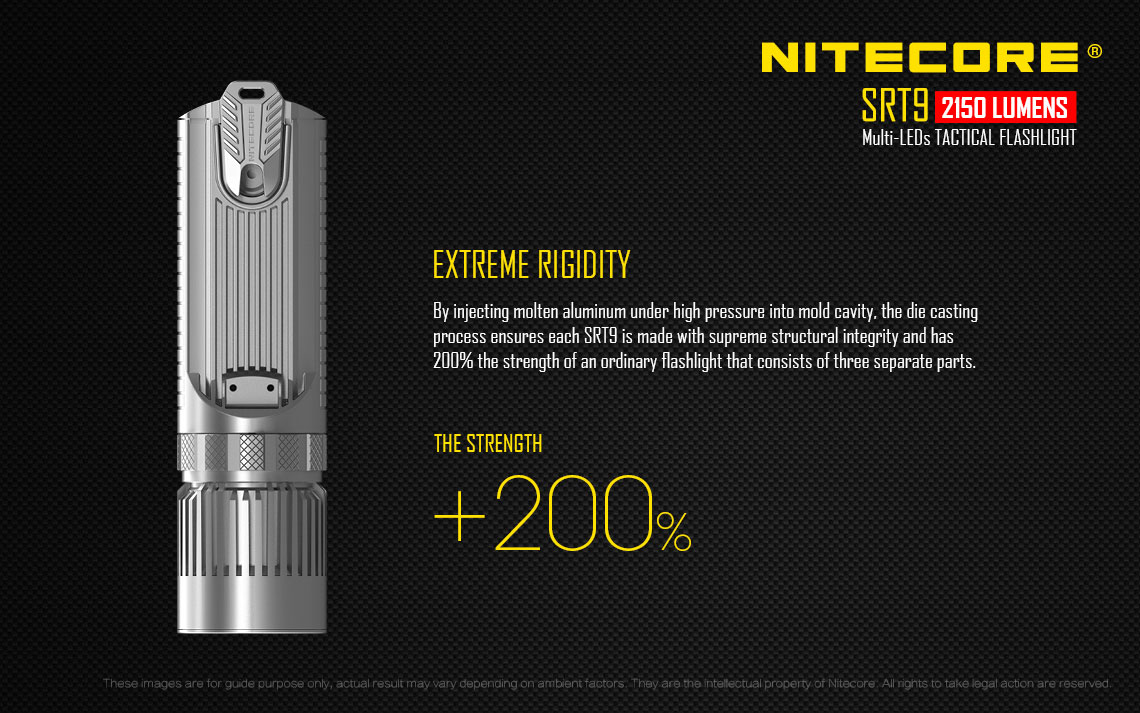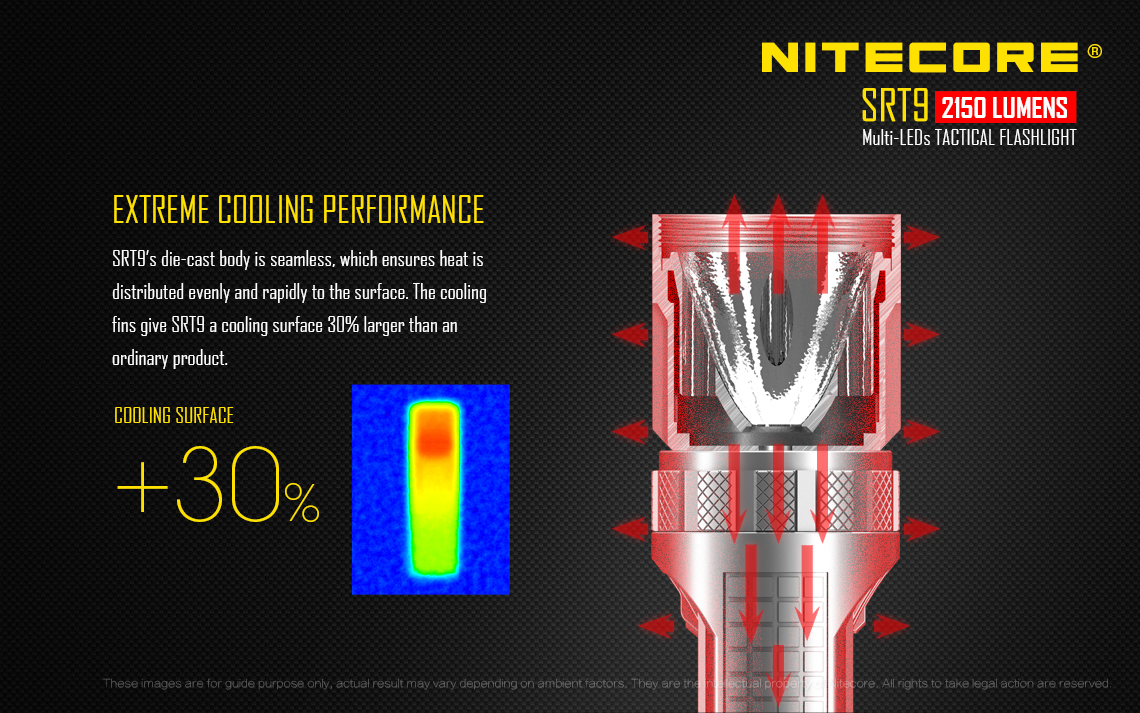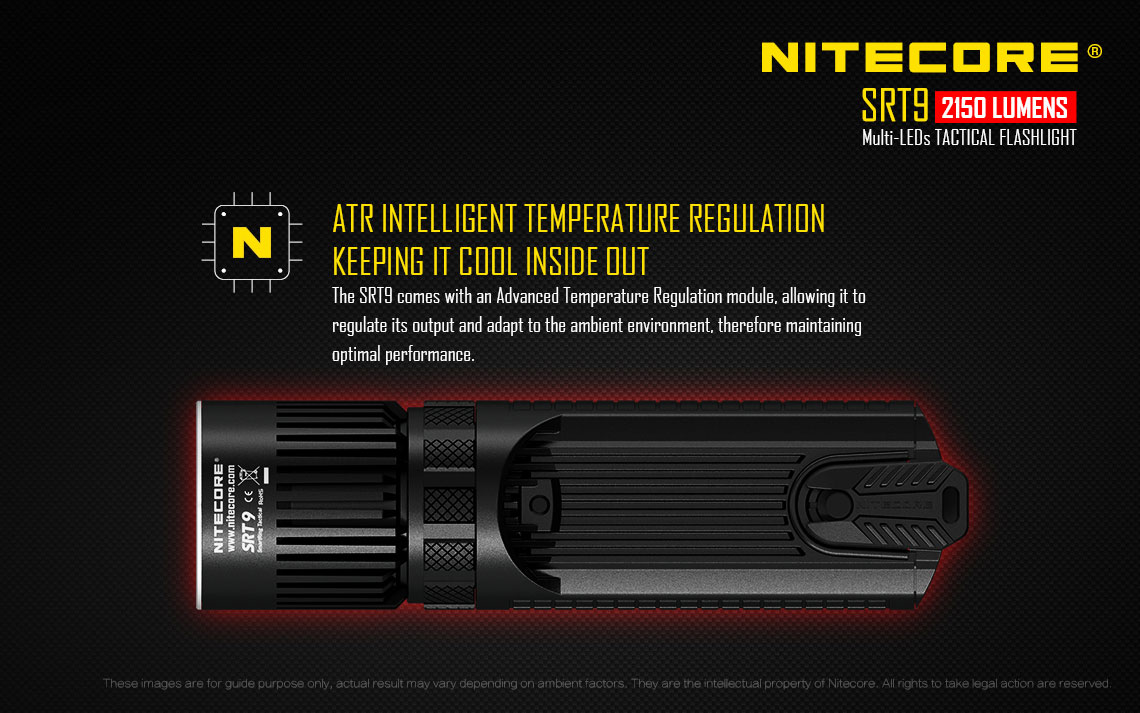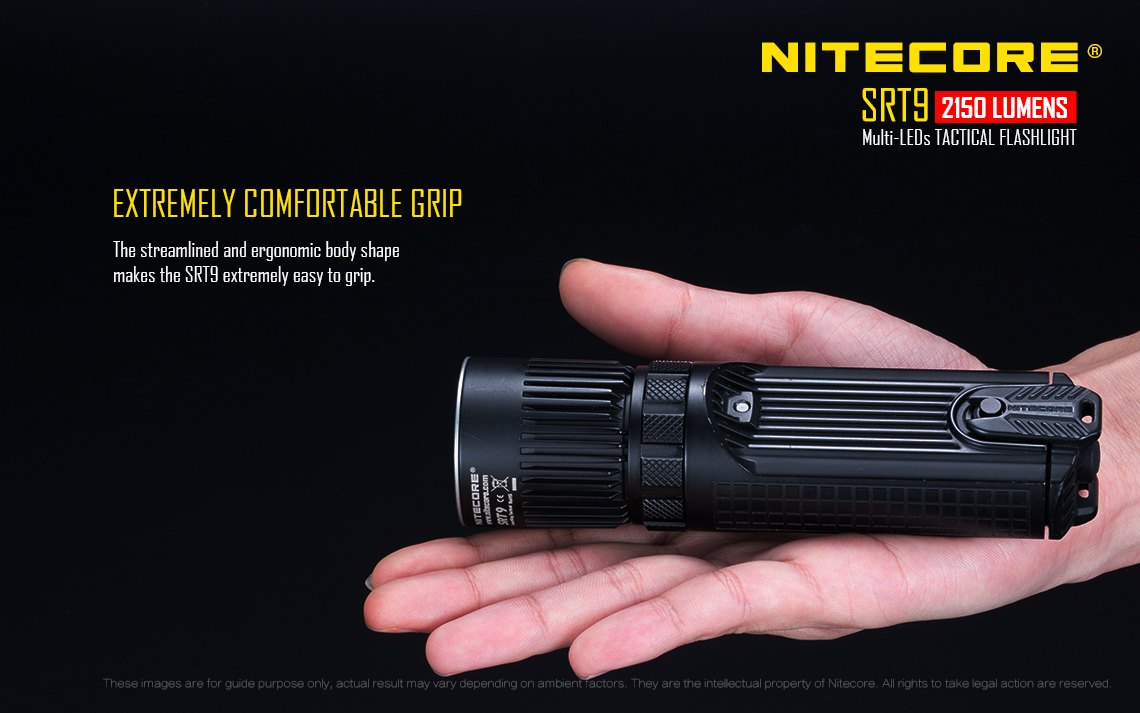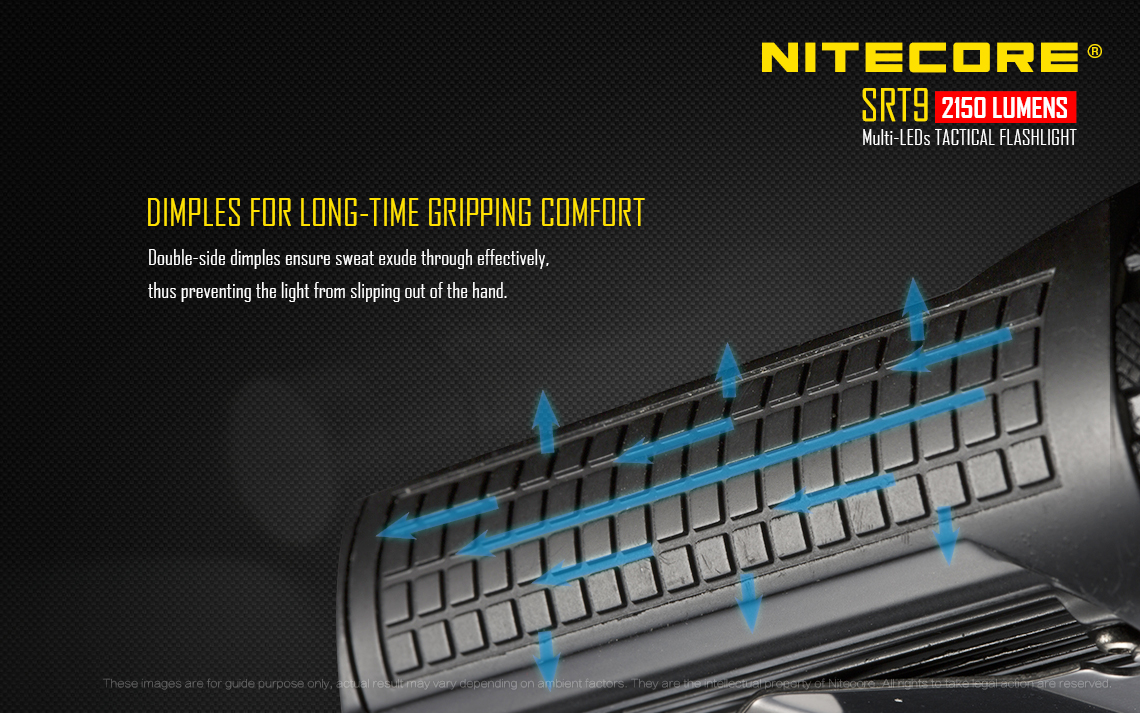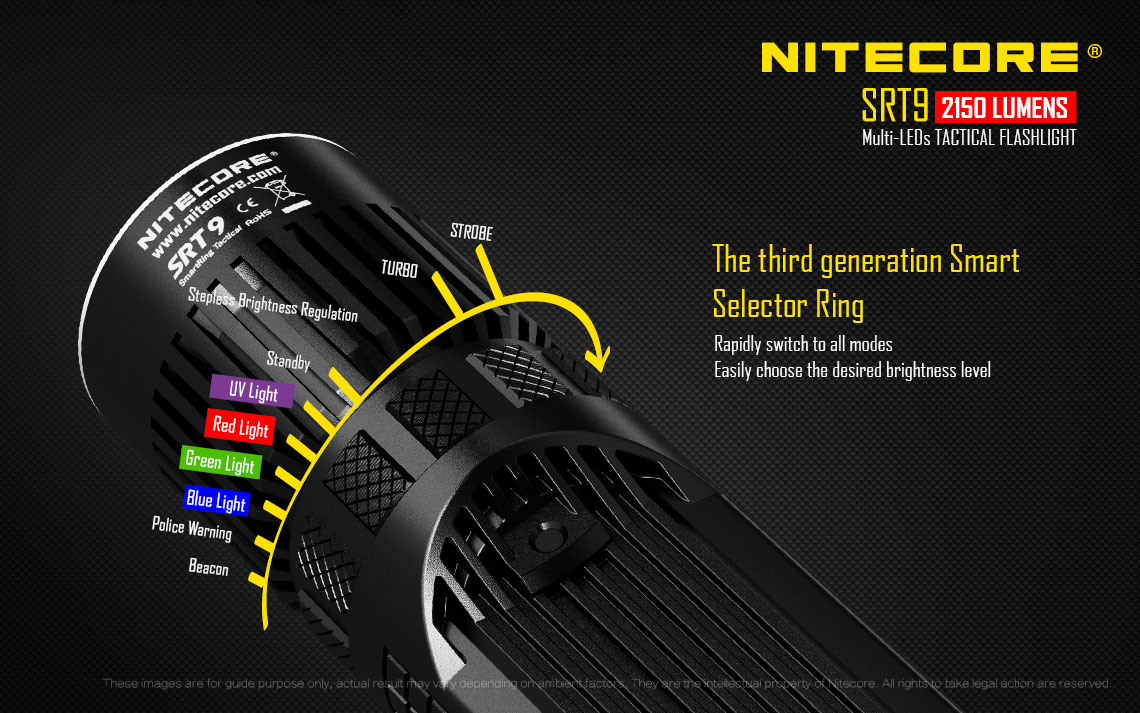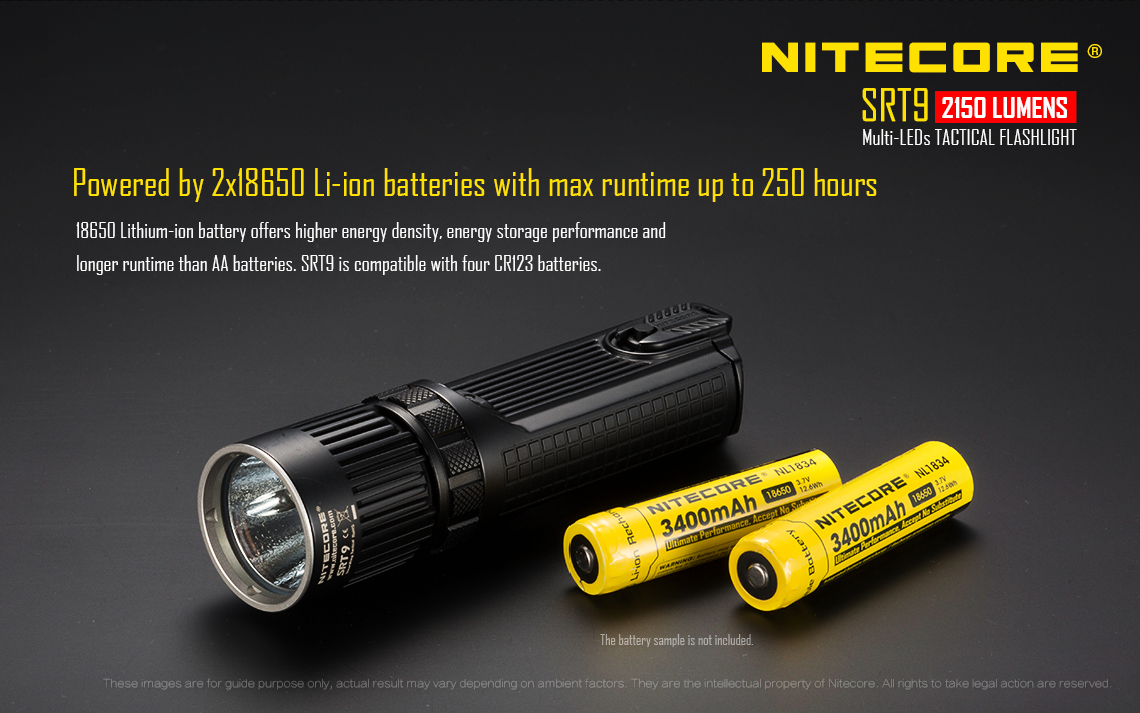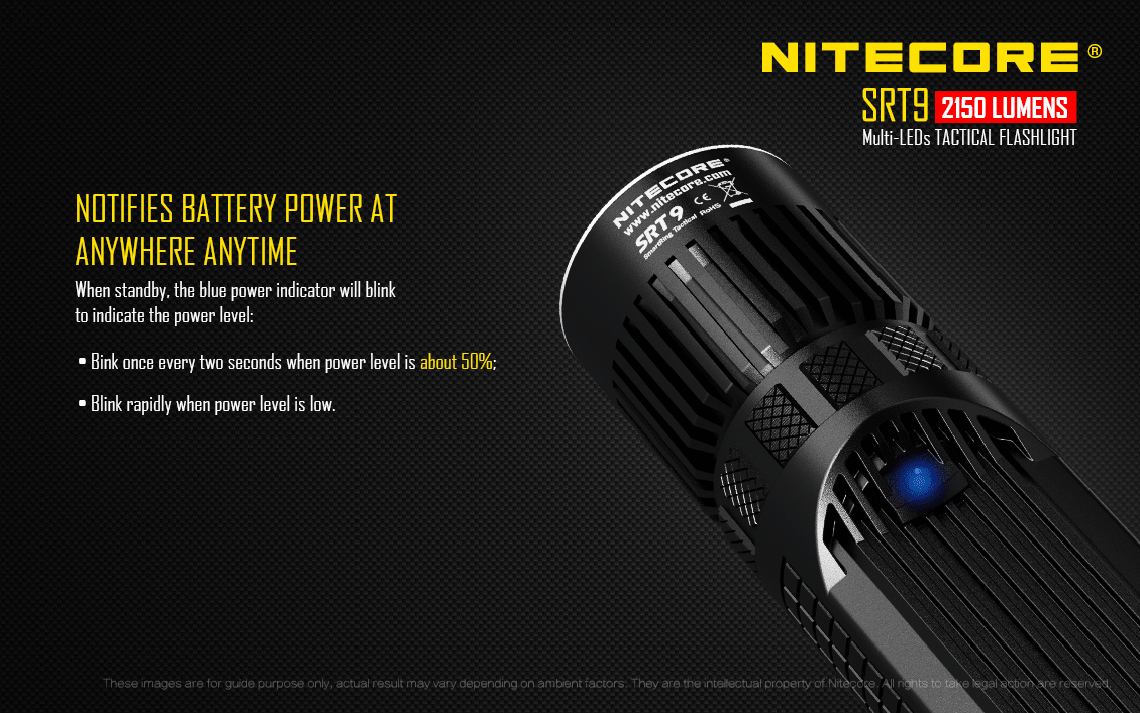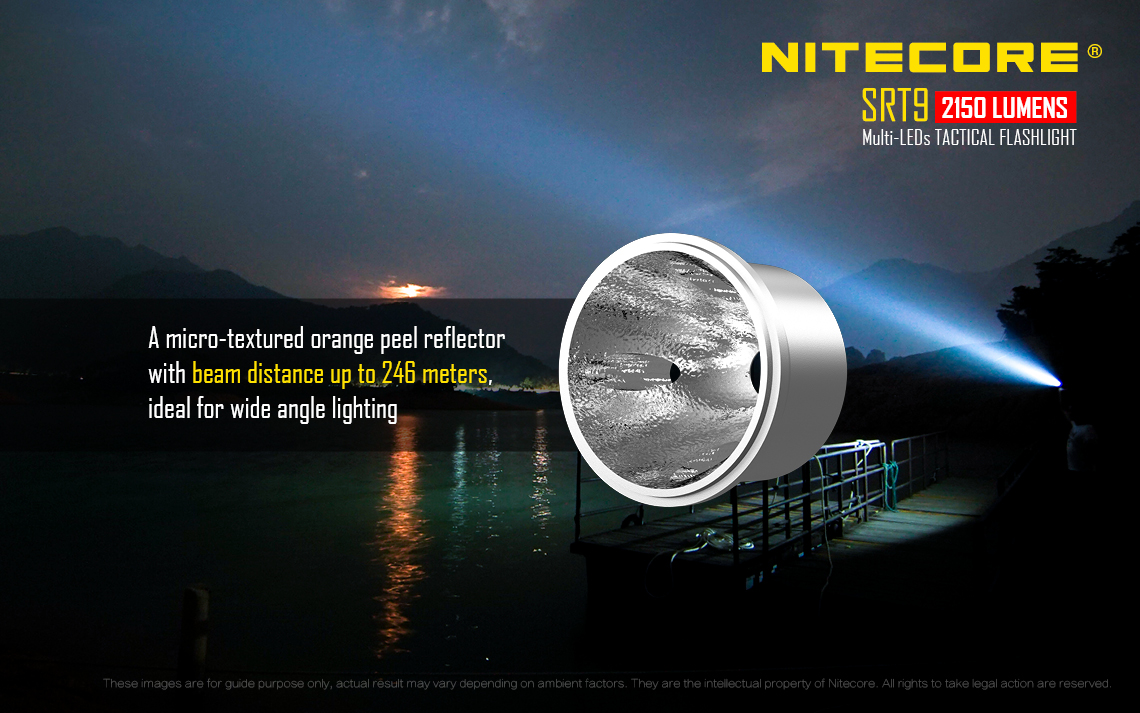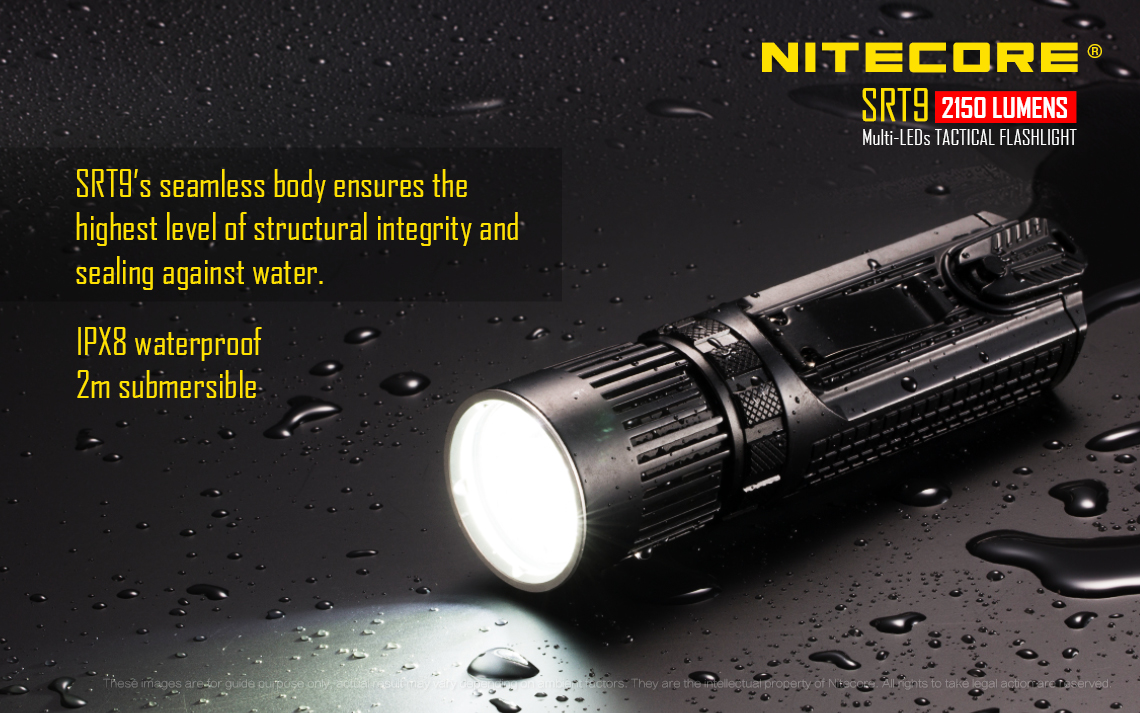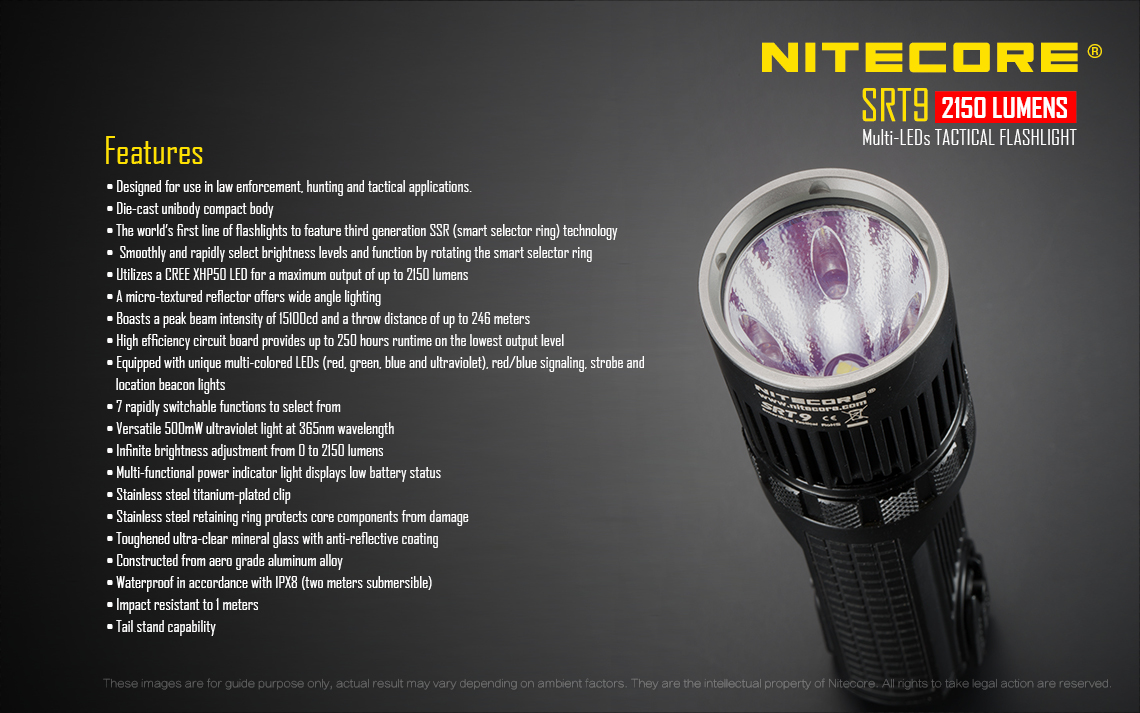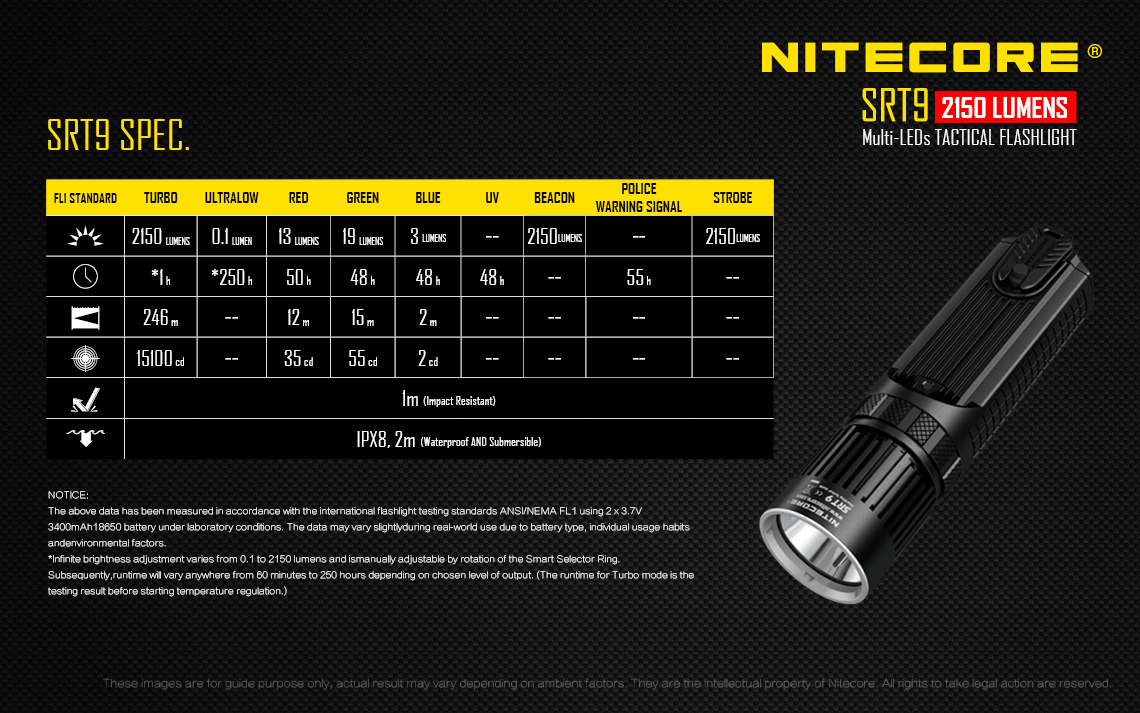 Flashlight Performance
Max Lumens
2150 Lumens
Min Lumens
0.1 Lumens
Modes
Adjustable Brightness + Red + Green + Blue + UV + Strobe + Location Beacon + Police Strobe
Flashing Modes(Strobe/SOS)
Red + Green + Blue + UV + Strobe + Location Beacon + Police Strobe
Runtimes
Turbo(2150 Lumens): 1hr, Low(0.1 Lumens): 250hrs, Red(13 Lumens): 50hrs, Green(19 Lumens): 48hrs, Blue(3 Lumens): 48hrs, UV(- Lumens): 48hrs,
Beam Distance
246 mts
Peak Beam Intensity
15100 cd
Flashlight Features
Battery Type
2x18650 / 4xCR123A
Emitter Type
Premium CREE XHP50 LED
Reflector
Precision aluminum reflector provides clear throw
Lens Material
Toughened ultra-clear mineral glass lens with anti-reflective coating
Current Regulation
Yes
Smart Circuit for Rechargeable Batteries
Yes
Reverse-Polarity Protection
Yes
Impact Resistance
1 mts
Tail Stands?
Yes
WaterProof
Yes (Standard IPX-8) - 2mts (Waterproof and Submersible)
Switch Type
Primary power button tactical tail switch, secondary head smart ring rotatory switch for modes and brightness selection
Other Features
Build
Body Material
Constructed from Aero grade alluminium alloy
Color
Black
Dimensions
Length x Head Diameter x Body Diameter: 148mm x 40mm x 34.9mm
Weight
224.3 gms (without batteries)
In The Box
Included Accessories
Holster, Lanyard, Stainless Steel Titanium-Plated Pocket Clip, Spare Rubber Switch
Warranty
Manufacturer Warranty
15 Days (Replacement) + 60 Months / 5 Years Manufacturer Warranty - T&C apply
Lightorati Warranty
15-Day Refund (No Questions Asked), Lifetime Support - T&C apply