Nitecore TM28 - 6000 Lumens High Power LED Flashlight (655mts, 6000 Lumens, 4x18650 Li-ion/IMR)
Nitecore TM28 Tiny Monster LED Flashlight with Super Floody Throw
- Powered by 4x CREE XHP35 HI LEDs
- 6000 Lumens, Uses 4x18650 Batteries Rechargeable Li-ion/IMR Batteries (not included)
- Rated for 655mts beam distance and 45mins on Turbo, 2hrs on High, 4hr30min on Mid, 11hr15mins on Low
This Listing is the TM28 only without batteries.
If you are looking for the SET which includes TM28 + 4xIMR18650 3100mah batteries from Nitecore.
TM28 comes as both Light only(this listing) and a SET also directly from Nitecore.
TM28 SET(inclusive of High drain IMR batteries).

If you want an extra set of batteries: Nitecore IMR18650 3100mah 10A High Drain batteries for TM28


You Have Found Your Grail
Let's be real: Nitecore's TM28 is the grail of rechargeable LED searchlights. It is possibly too powerful. It can shine a 6,000 lumen beam over 2,000 feet. To put that in context, it is the brightest light in Nitecore's brightest line. It has few peers. We only stock a handful of lights which are brighter, and they're bulky, handle-carried models, powered by dense sealed lead-acid batteries - they're more like a car battery with a flashlight fused on. And even then, the handheld TM28 is brighter than several of those models. So when we say it's the brightest, we want to be clear that this is actually the pinnacle of LED flashlight technology.
Innovative 4x4 Construction
Built for search-and-rescue (SAR) operations, the TM28 achieves its ludicrous outputs with a 4 LED, 4 battery configuration. Two pairs of CREE XHP35 HI LEDs are placed in deep reflector wells, optimized to throw their beam more than 700 yards. The flashlight is capable of operating on 4 ordinary 18650 Li-ion cells, but for optimal output, it is recommended that you use 4 IMR 18650 batteries, available as optional accessories. The light's power source never needs to be removed thanks to its integrated recharging capability, meaning that you never have to disassemble your light, preventing dust and dirt from entry. Five brightness levels let you adjust to different uses, with a max running time of 1,000 hours on the lowest 2 lumen setting. Strobe, SOS, and beacon modes give you the power to defend or identify yourself in an emergency.
Too Big to Fail
The TM28's coolest feature is its onboard OLED readout, which gives you real-time updates about the status of your light. Cycle through stats with a simple click, including your brightness level, battery meter, battery voltage, remaining runtime, and operating temperature. No more memorizing settings or wondering how much juice you have left - it's all there in plain, easy-to-read numbers. Of course, the TM28 continues Nitecore's tradition of near-indestructible hulls. Machined from industry-standard anodized aluminum, the TM28 can withstand a fall from waist height with no interruption of service. That same precision machining gives it the maximum waterproof rating of IPX8, meaning it can operate under 2 meters of water without issue. The TM28 may be high-end professional equipment, but it's built with the understanding that conditions are never ideal out in the field. Grail acquired!
Features:

- One-handed, one-button operation in a class of power that normally requires car batteries and carry handles
- Lockout mode prevents accidental activation
- Temperature regulation prevents overheating
- Onboard tripod receptacle for mounting in a fixed position
- Tail stand capability
- Stows easily in included holster
- Intelligent charging circuit auto-detects battery type and adjusts accordingly
- Mineral glass lenses with anti-reflective coating enable max light throughput
- Advanced heat-sinking and temperature regulation prevents overheating
- Dual-stage mode switch toggles between Everyday and Search-and-Rescue settings


Specifications:
- LED: 4 x CREE XHP35 HI LED
- Power Source: 4 x 18650 Rechargeable Batteries (NOT INCLUDED)
- IPX Rating: IPX-8 (waterproof and submersible up to 2 meters)
- Impact Resistance: 1.5 meters
- Brightness Outputs(4x18650 IMR 3100mah batteries):
Turbo - 6000 Lumens - 45mins
High - 2300 Lumens - 2 Hours
Medium - 1000 Lumens - 4 Hours 30mins
Low - 320 Lumens - 11 Hours 15mins
Ultralow - 2 Lumens - 1000 Hours
- Brightness Outputs(4x18650 Li-ion 3400mah batteries):
Turbo - 6000 Lumens - 1 Hour
High - 2300 Lumens - 2 Hours 15mins
Medium - 1000 Lumens - 5 Hours
Low - 320 Lumens - 14 Hours 30mins
Ultralow - 2 Lumens - 1000 Hours
- Peak Beam Distance: 655 meters
- Peak Beam Intensity: 107200 cd
Dimensions: Length x Head Diameter x Tail Diameter: 142mm x 56.9mm x 50mm
Weight: 414 gms (without battery)
Accessories Included: Charging adapter, Holster, lanyard, spare charging cover and spare O-ring
Please note that even though TM28 has internal charging and comes with charging adapter, batteries are NOT included with this flashlight. You need to add them to the cart separately.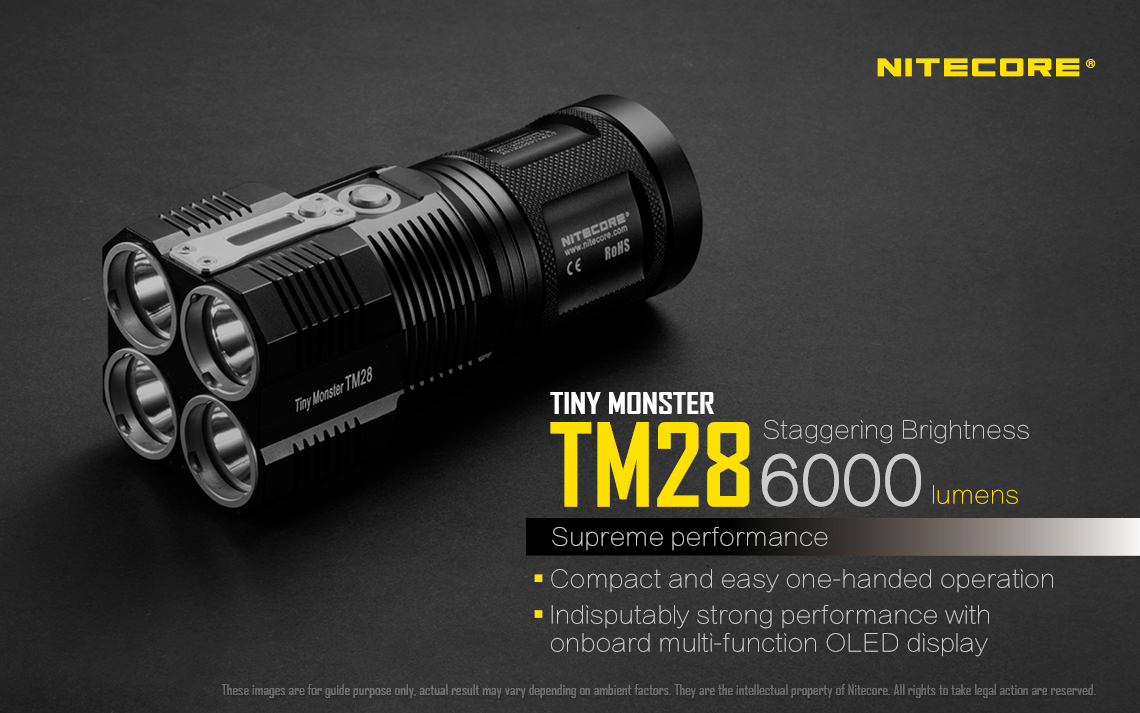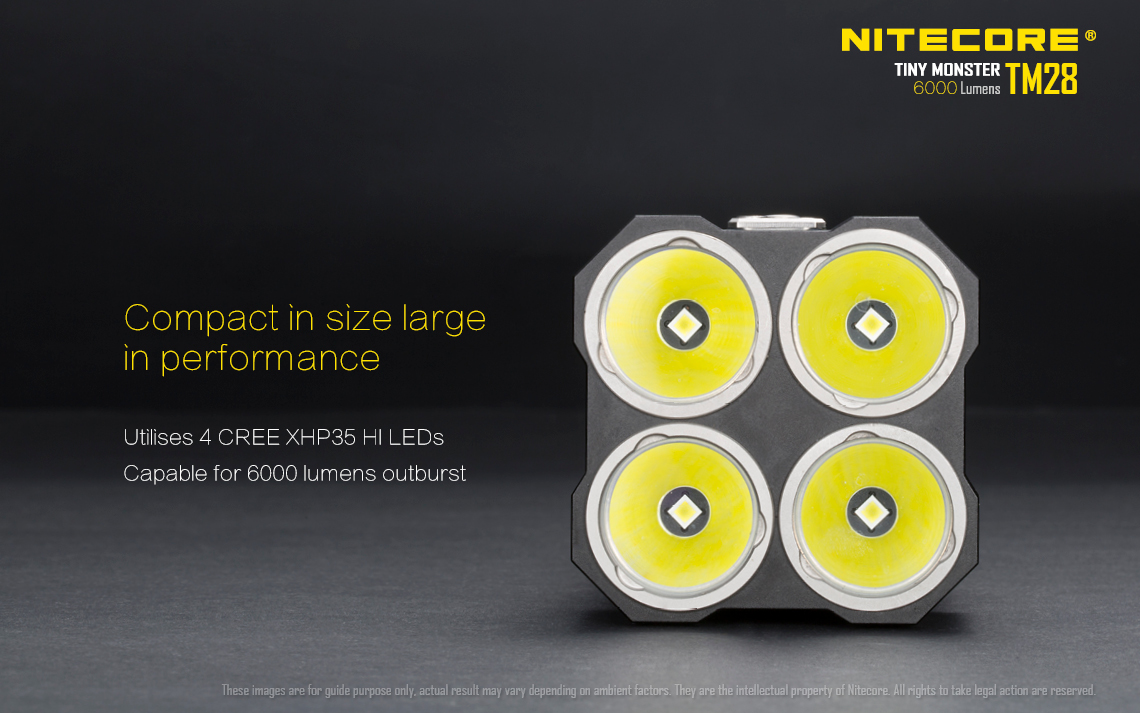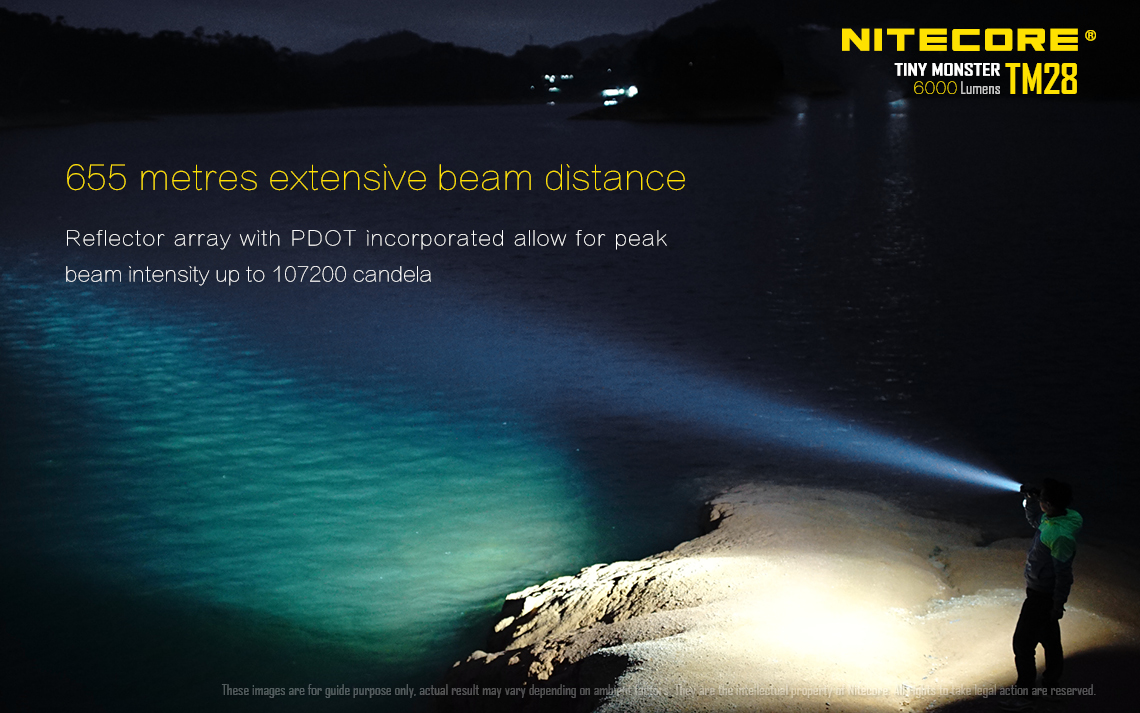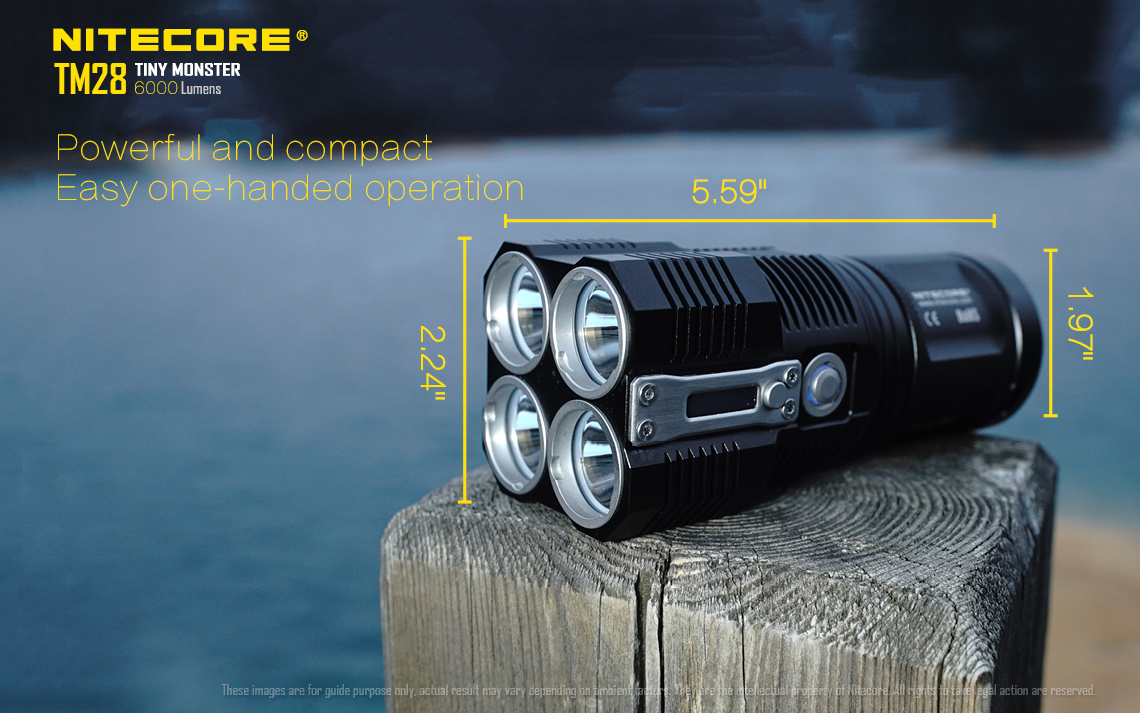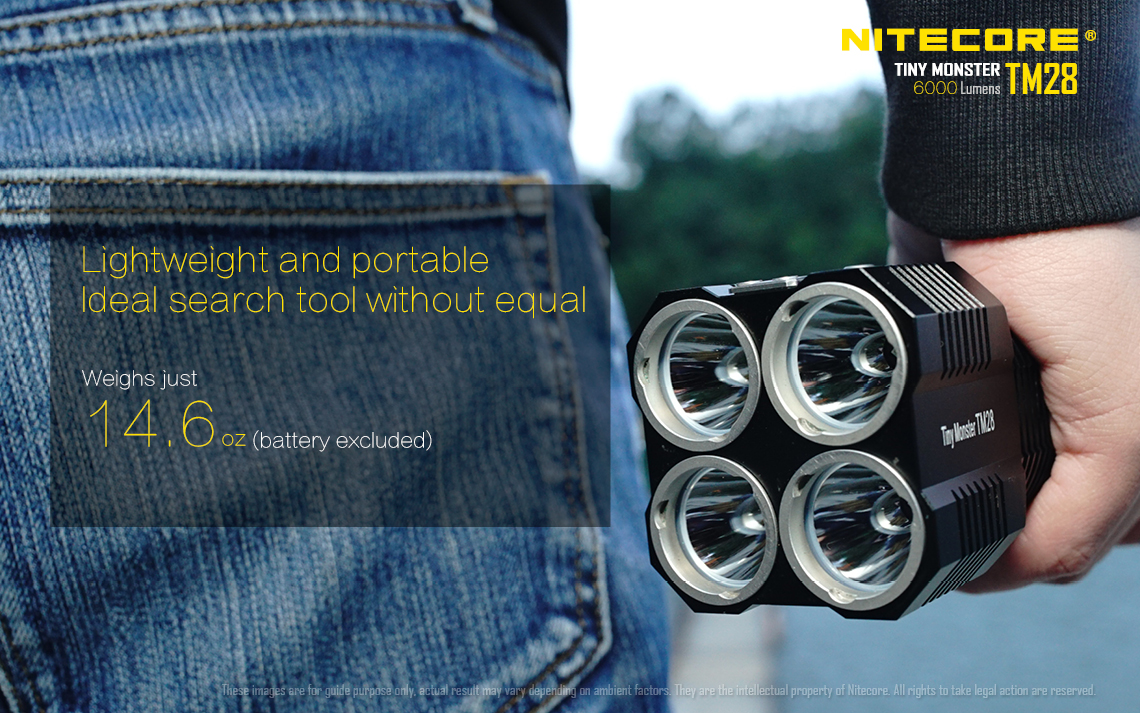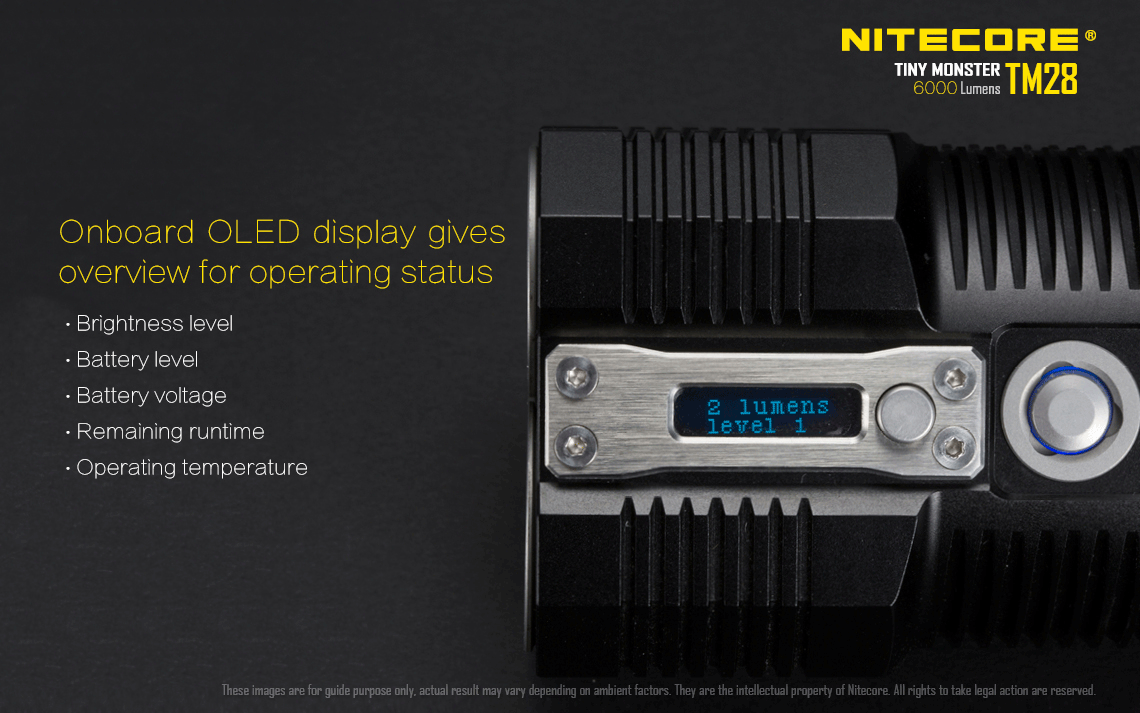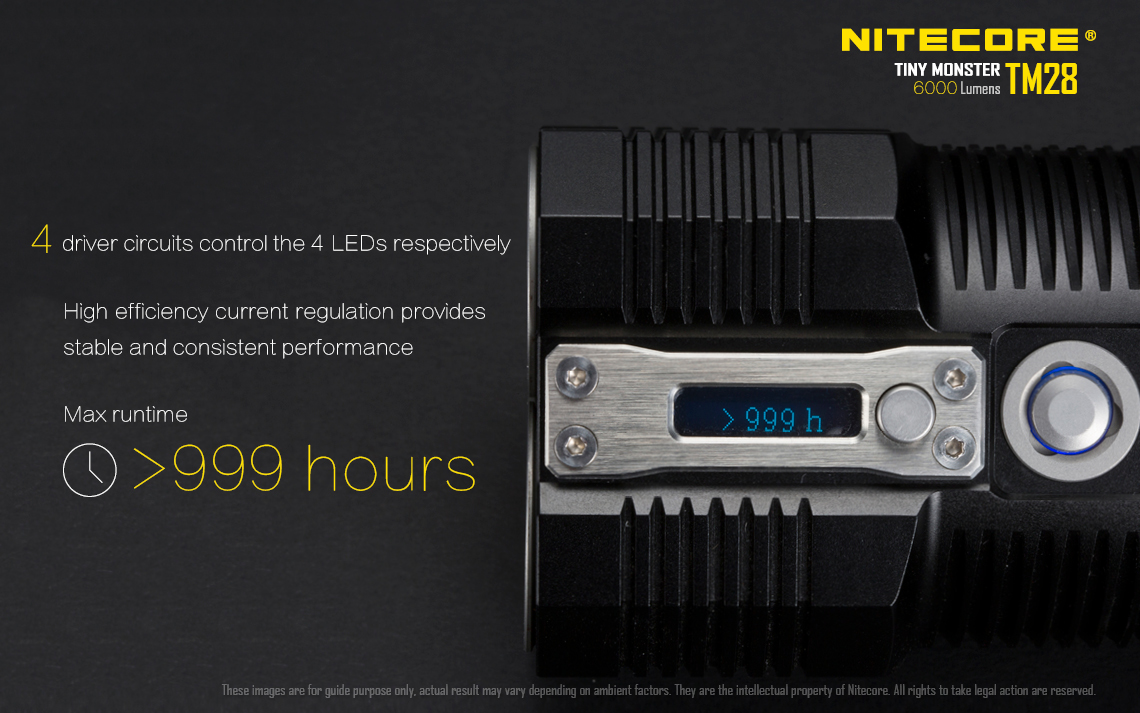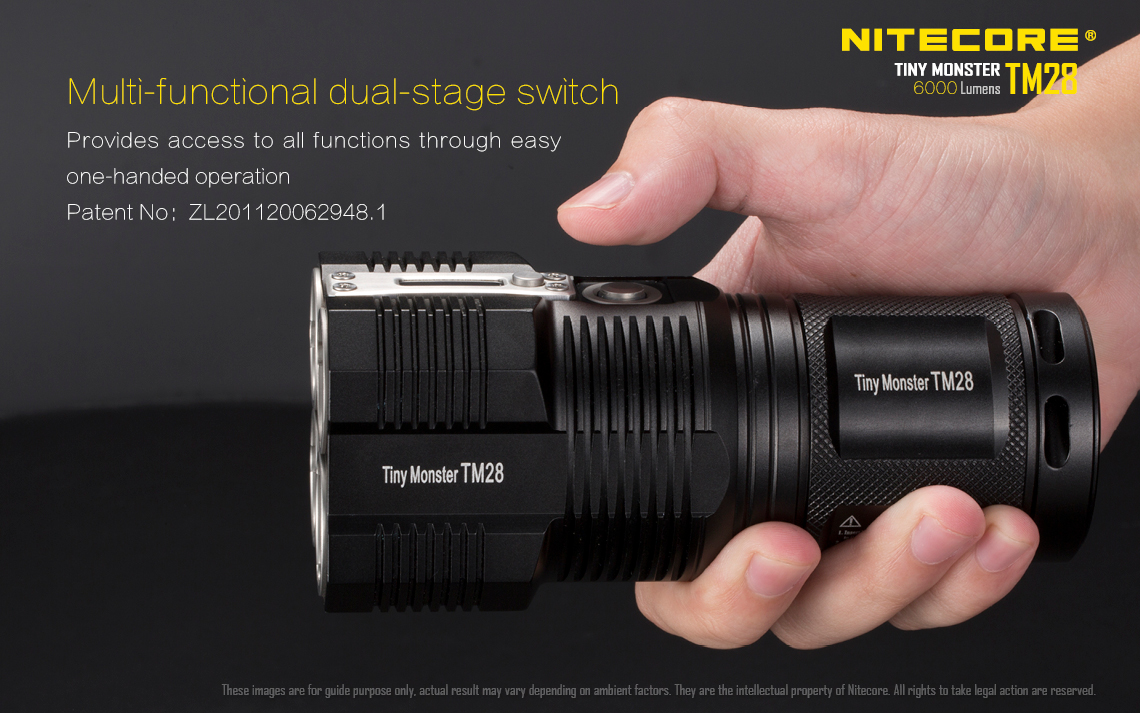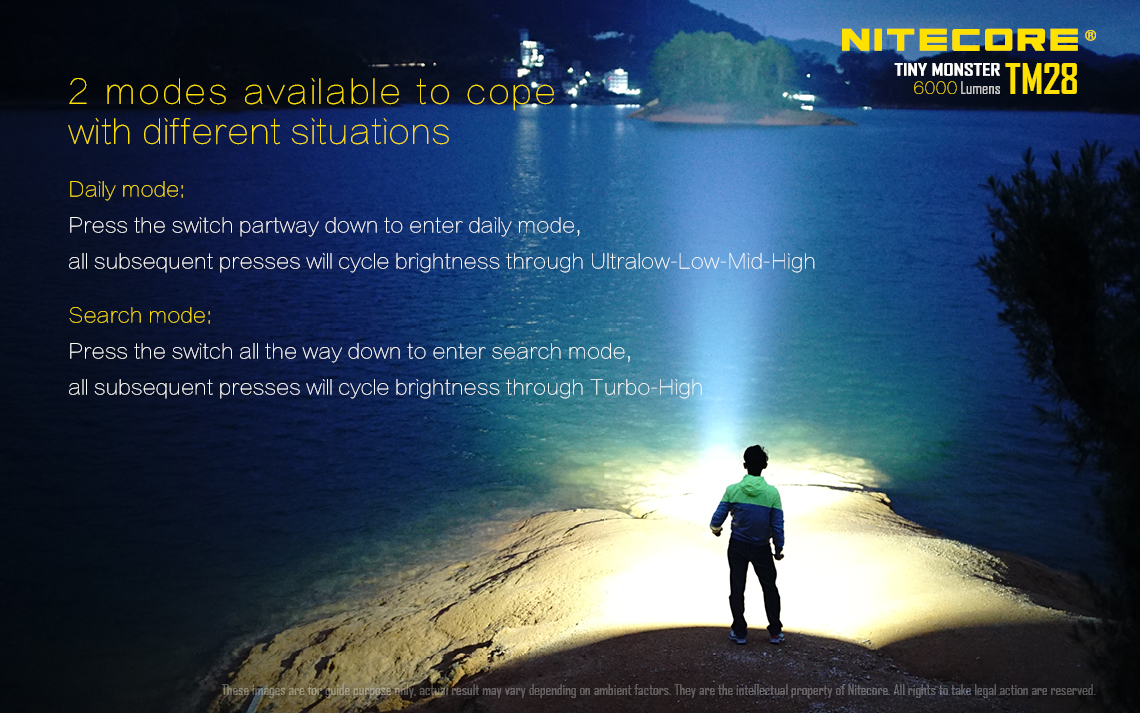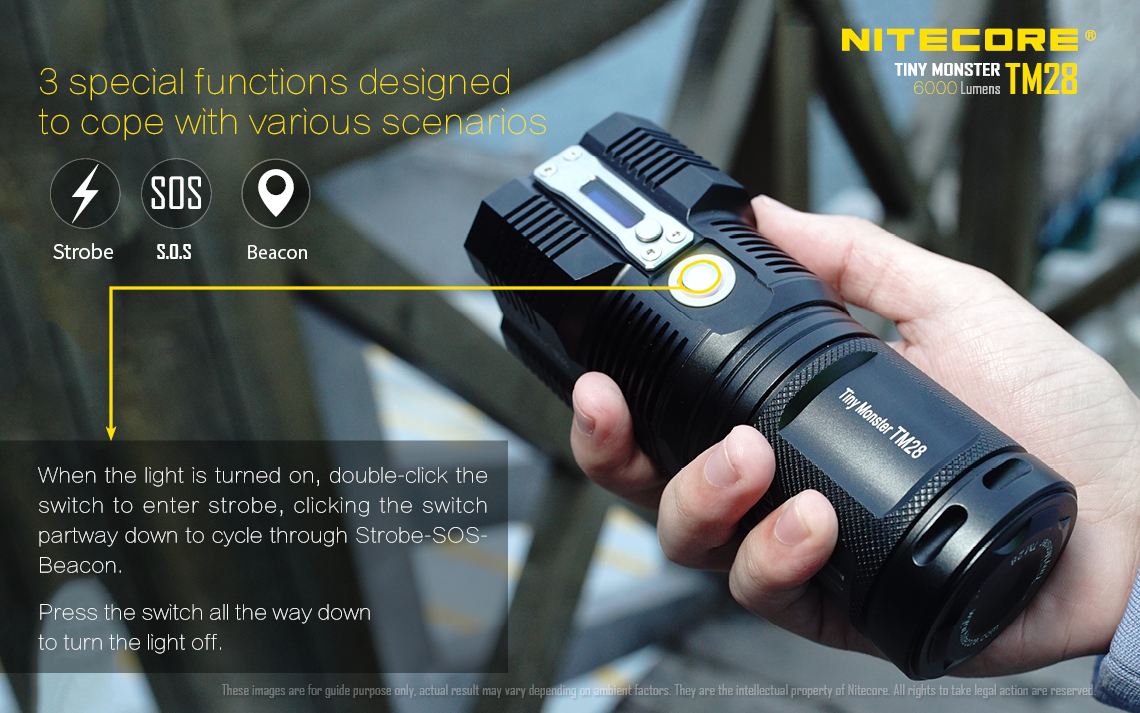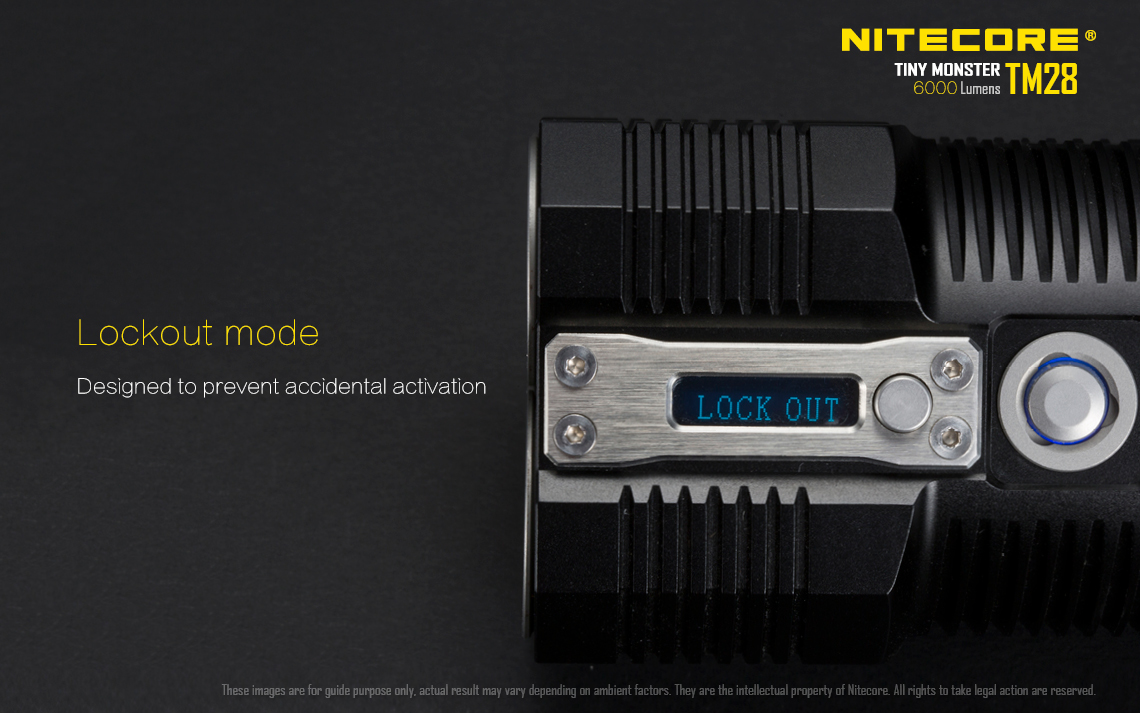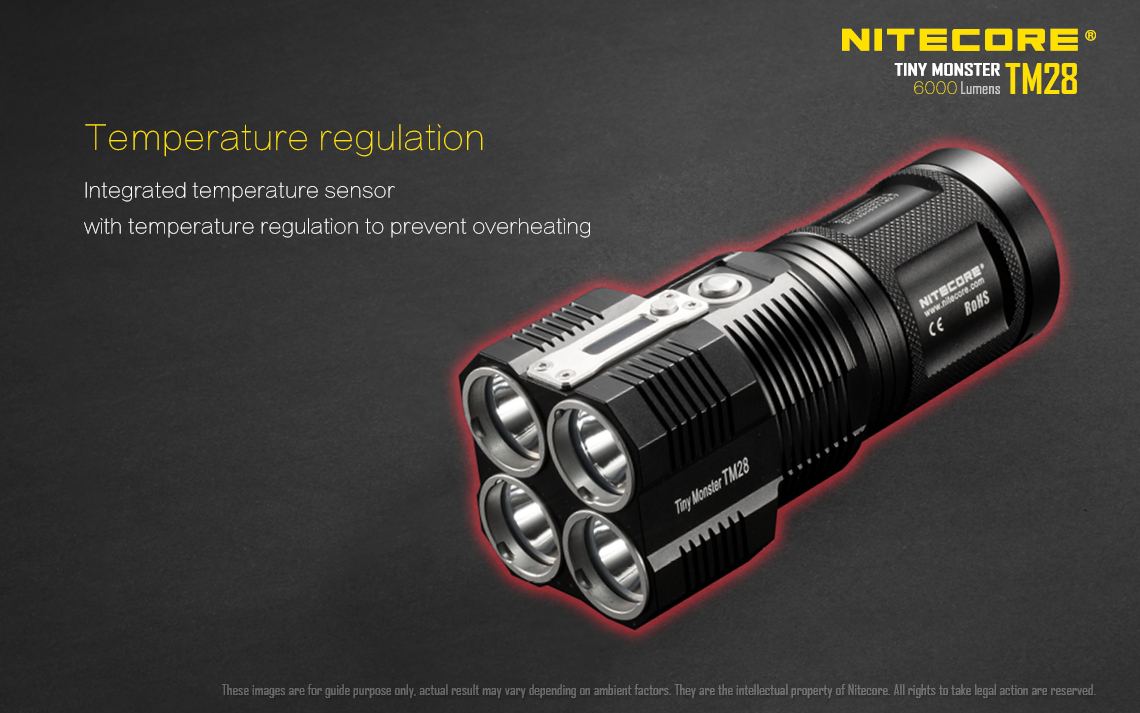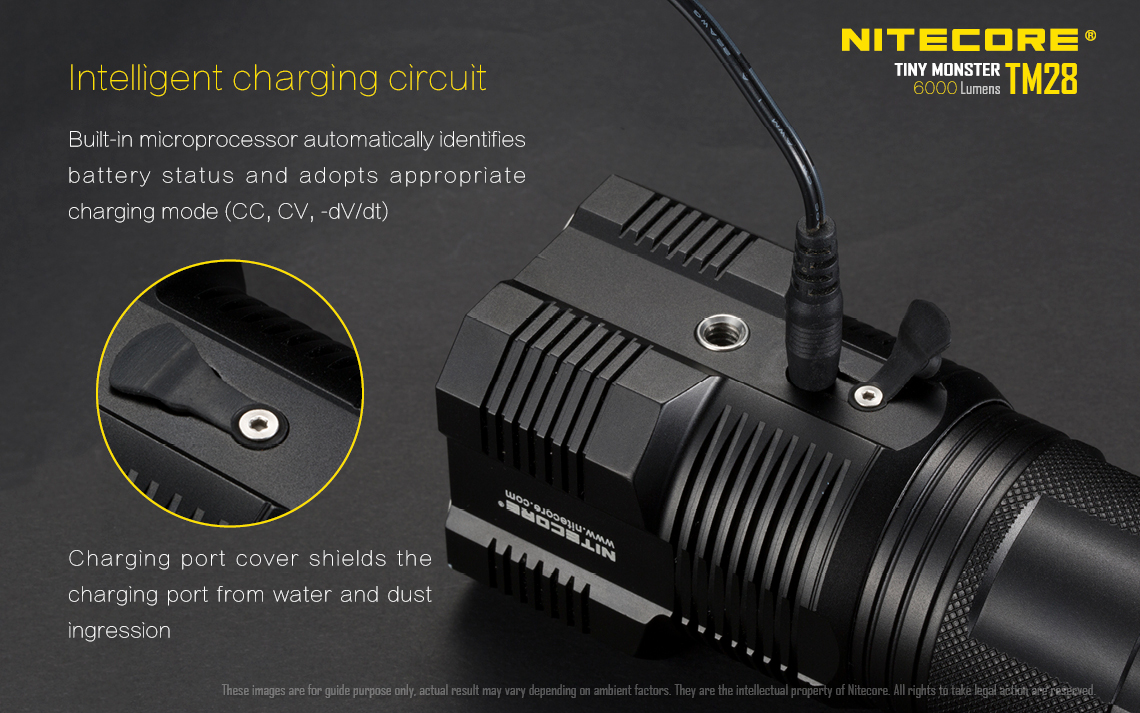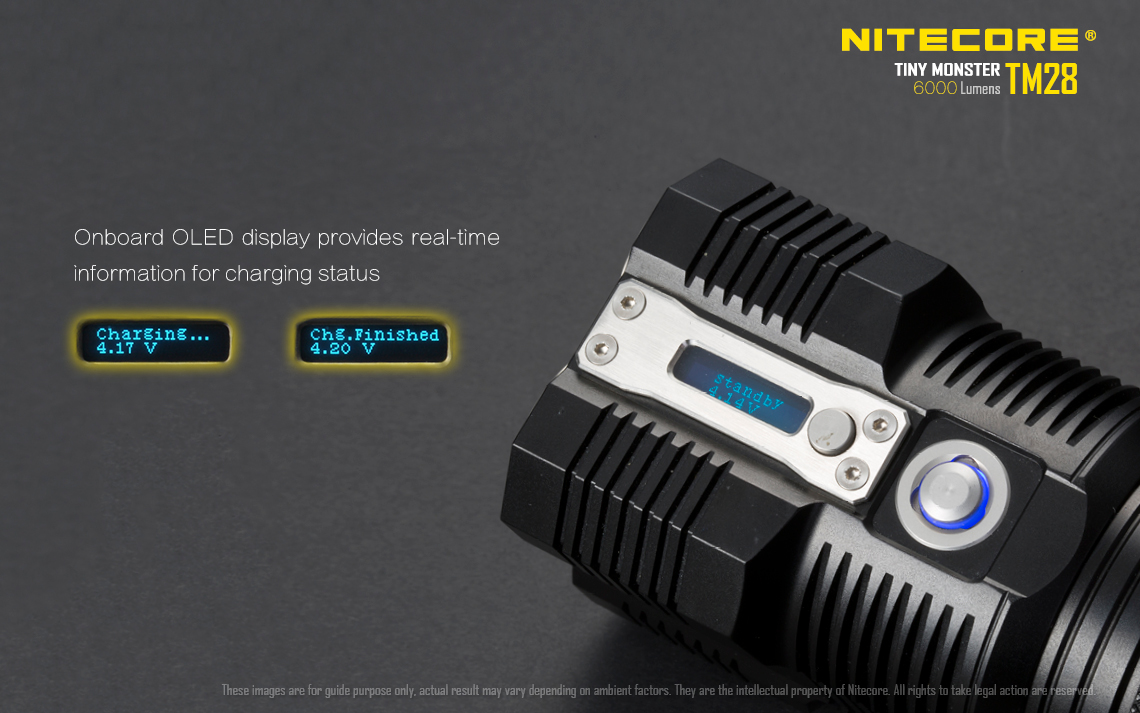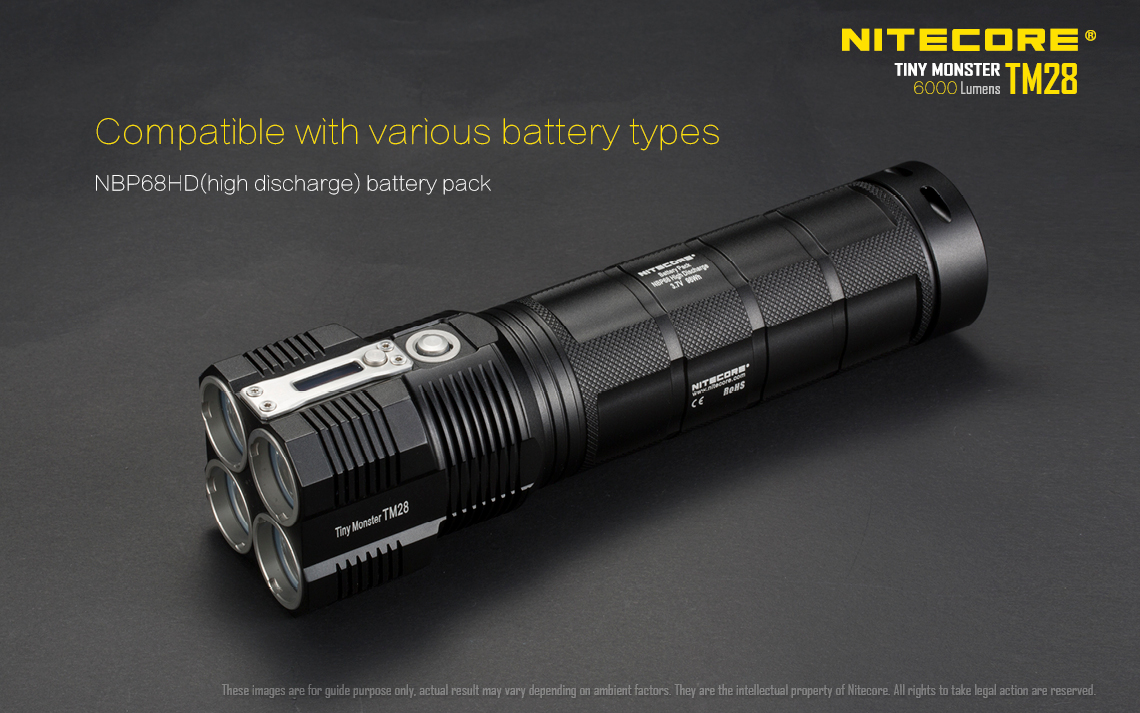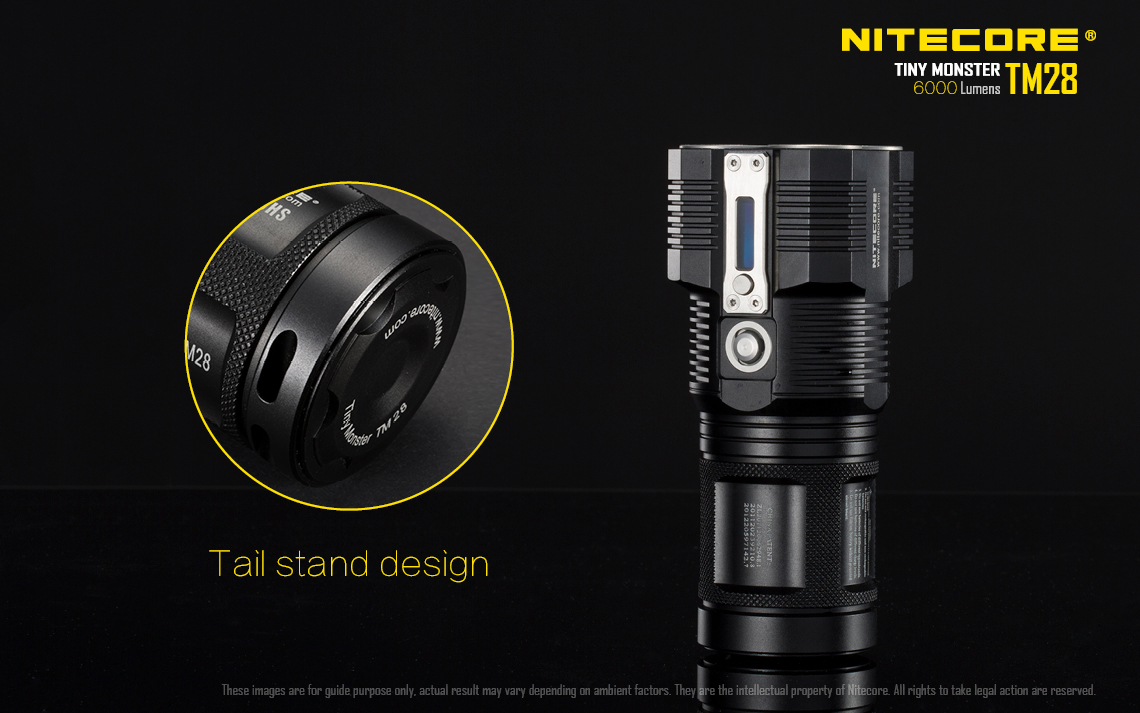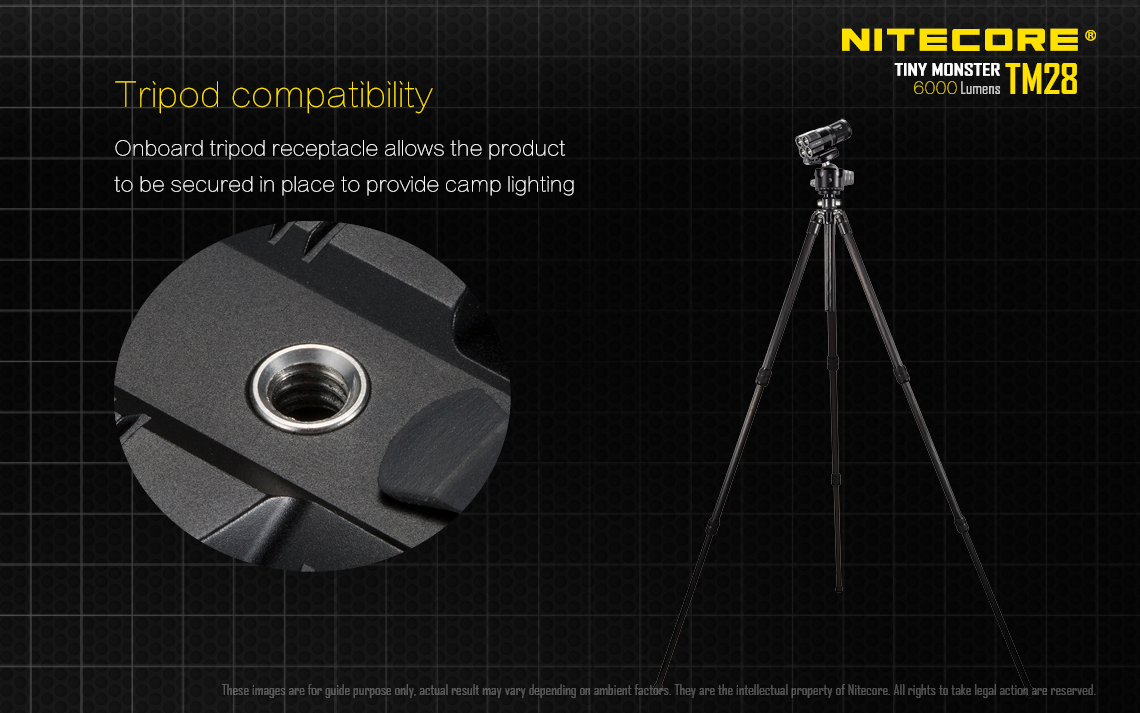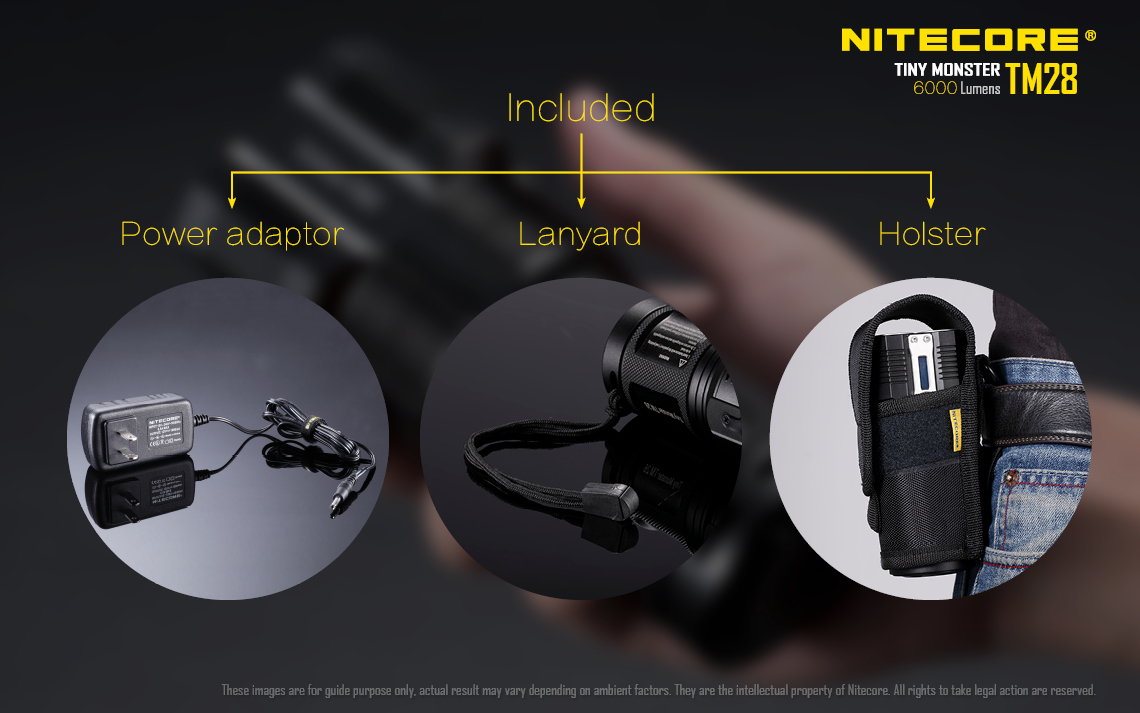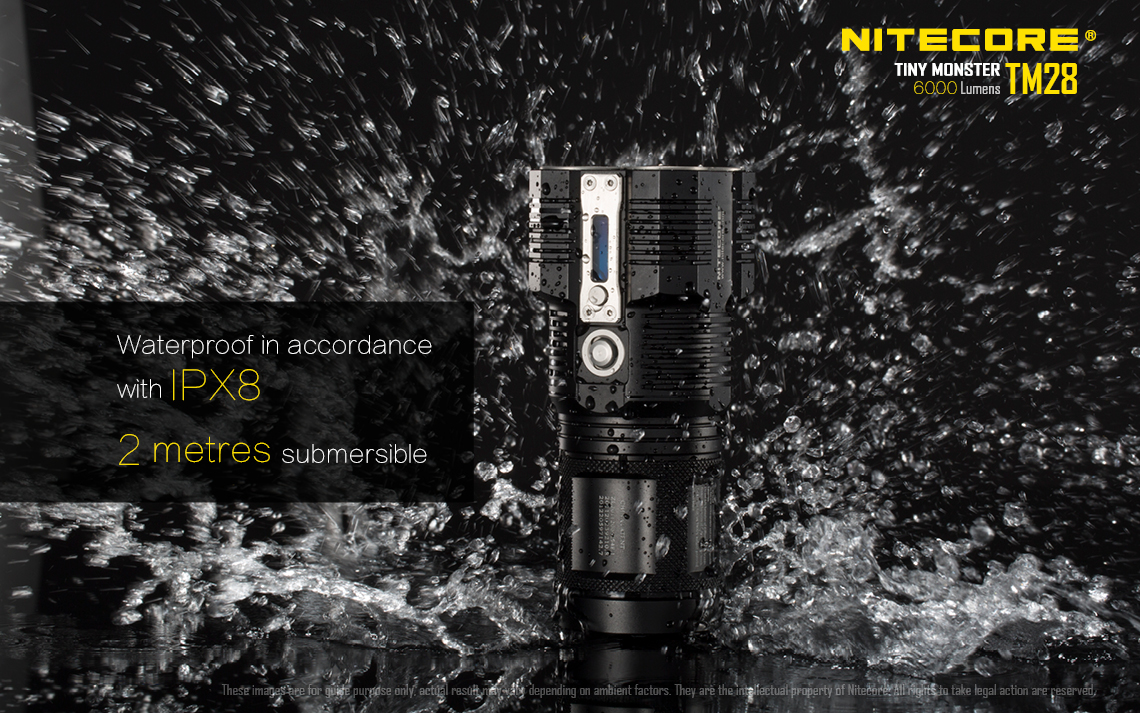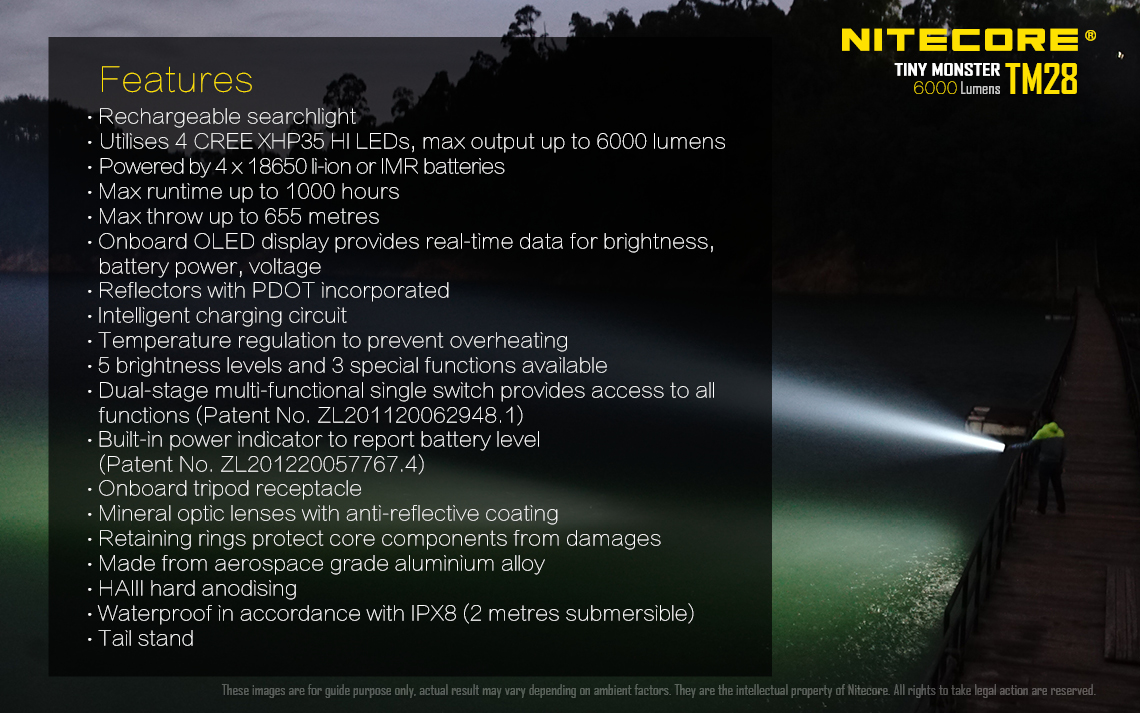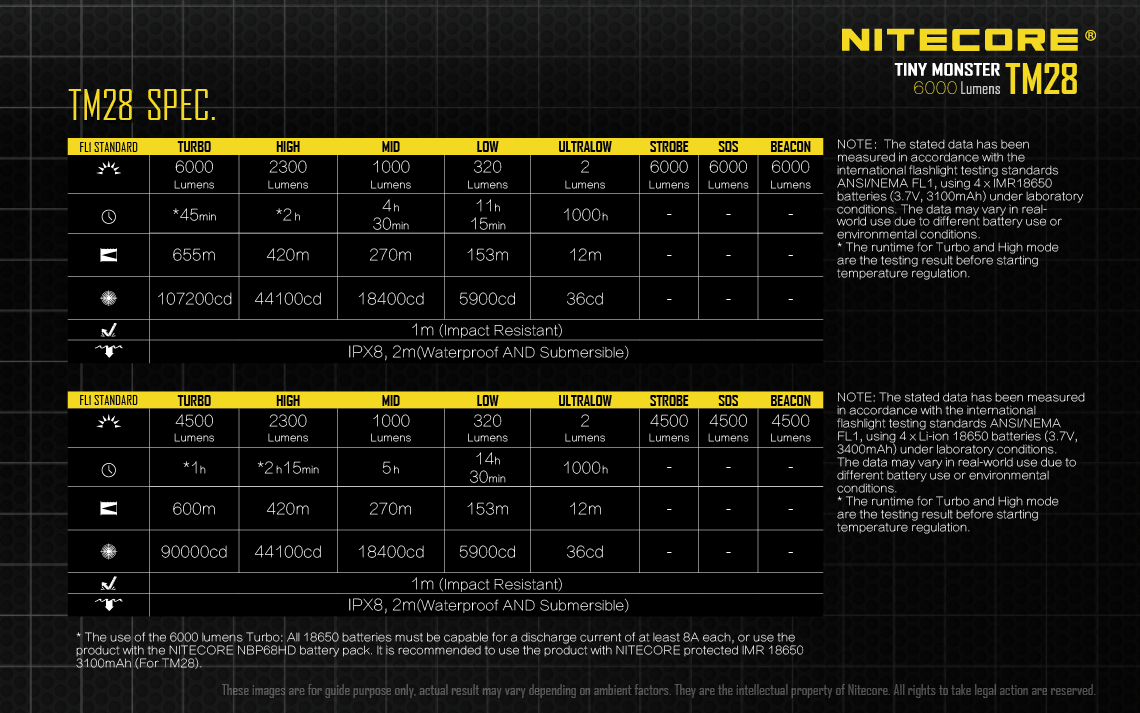 Flashlight Performance
Max Lumens
6000 Lumens
Min Lumens
2 Lumens
Modes
5 Brightness modes + Strobe, SOS, Location Beacon
Flashing Modes(Strobe/SOS)
Strobe, SOS, Location Beacon
Runtimes
on 4xIMR18650 3100mah: Turbo(6000 Lumens): 45mins, High(2300 Lumens): 2hrs, Mid(1000 Lumens): 4hr30min, Low(320 Lumens): 11hr15min, Ultralow(1 Lumens): 1000hrs
Beam Distance
655 mts
Peak Beam Intensity
1,07,200 cd
Flashlight Features
Battery Type
4x18650 Li-ion or IMR / NBP68HD Battery Pack
Emitter Type
4 x CREE XHP35 HI LEDs
Reflector
Integrated 'Precision Digital Optics Technology' for extreme reflector performance
Lens Material
Toughened ultra-clear mineral glass with anti-reflective coating
Current Regulation
Yes
Smart Circuit for Rechargeable Batteries
Yes
Reverse-Polarity Protection
Yes
Impact Resistance
1mts
Tail Stands?
Yes
WaterProof
Yes (Standard IPX-8) - 2mts Waterproof and Submersible
Switch Type
Dual-stage Power/mode switch toggles between Everyday and Search-and-Rescue settings with built-in power indicator
Other Features
Build
Body Material
Constructed from Aero grade aluminium alloy, HAIII Military grade hard anodized
Color
Black
Dimensions
Length x Head Diameter x Tail Diameter: 142mm x 56.9mm x 50mm
Weight
414 gms (without batteries)
In The Box
Included Accessories
Charging adapter, Holster, lanyard, spare charging cover and spare O-ring
Warranty
Manufacturer Warranty
15 Days Replacement + 60 Months / 5 Years Warranty / Free Repair - T&C apply
Lightorati Warranty
15-Day Refund (No Questions Asked), Lifetime Support - T&C apply