Nitecore TUBE UV - Ultraviolet USB Rechargeable LED Keychain Flashlight (365nm, 500mW)
Nitecore TUBE UV - EDC UV LED Keychain Light
- Internal battery with Micro USB Port for Recharging
- built-in charging indicator for charge status


See The Unseen!
One of the most compact ultraviolet lights on the market, the Nitecore Tube Rechargeable UV LED Keylight is a potent combination of power and portability. Equipped with a 365 Nanometer Ultraviolet LED, the keylight delivers an intense 500 milliwatt UV output that can run for up to an hour on a single charge. Ideal for checking currency and identity cards for counterfeits, this handy-sized light is an effortless addition to any keychain, making it as convenient to carry as it is effective to use. And with its sturdy polycarbonate body, it can withstand the bumps and bruises that come with regular use.
Internally Rechargeable using USB chargers or computer USB port
Changing batteries for such a compact light could get monotonous and expensive. To avoid the frustration and the expense, the Tube UV is designed with an integrated intelligent Li-Ion battery charging circuit with a micro-USB charging port for quick and easy recharging. To display the charging progress, the keylight features a blue power indicator light that glows when the light is charging and shuts off once charging is complete. Between its compact size, its tough body, and its practical rechargeable battery, the Nitecore Tube UV is the most convenient UV light on the market today!

Features:

- Perfect for verifying money, identity cards and other items with verification marks
- Body crafted from strong but lightweight polycarbonate materials
- Integrated intelligent Li-Ion battery charging circuit with micro-USB charging port
- Integrated blue power indicator lights up while charging and goes out upon completion
- Single body switch allows for easy one hand operation
- Special Lockout Function prevents accidental operation
- Stainless steel key ring connector able to withstand 77lbs(35kgs) of weight
- Comes with key ring for convenient carry
Specifications:
- LED: 365 Nanometer UV LED
- Power Source: Built-in Micro-USB Rechargeable Lithium Ion Battery
- Impact Resistance: 1.5 meters
- Output / Runtime: 500mW (Power) / 1 Hour
Dimensions: Length: 56.5mm, Width: 21mm, Depth: 8mm
Weight: 9.6g
Accessories included: Key chain ring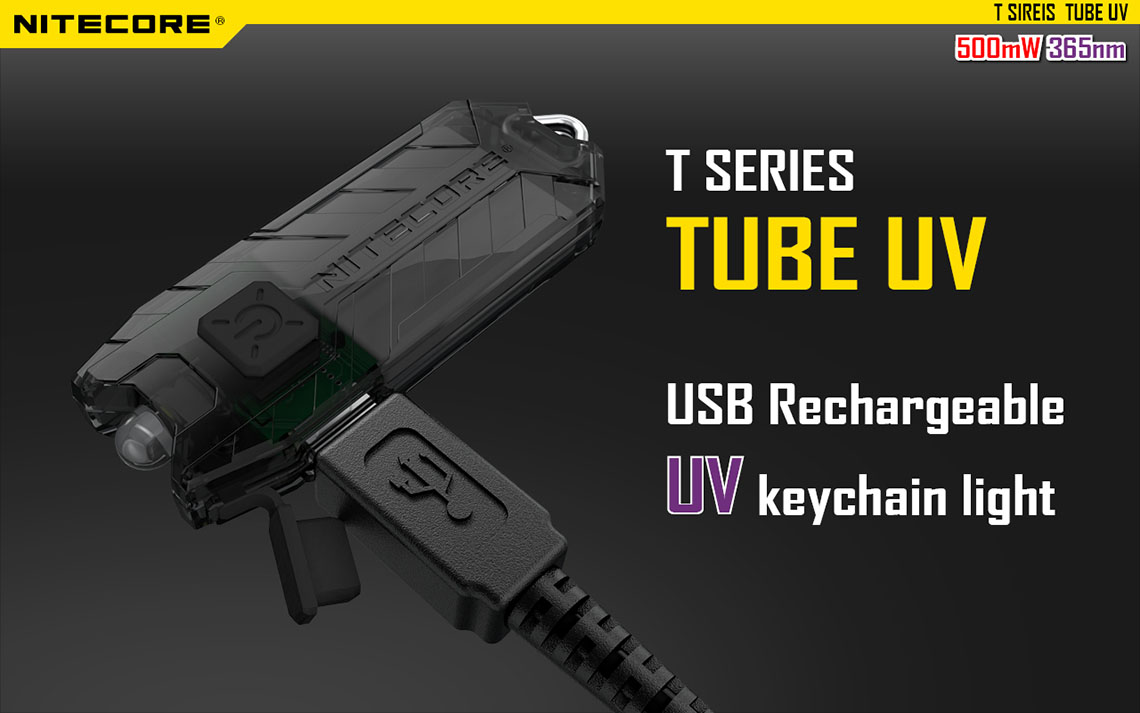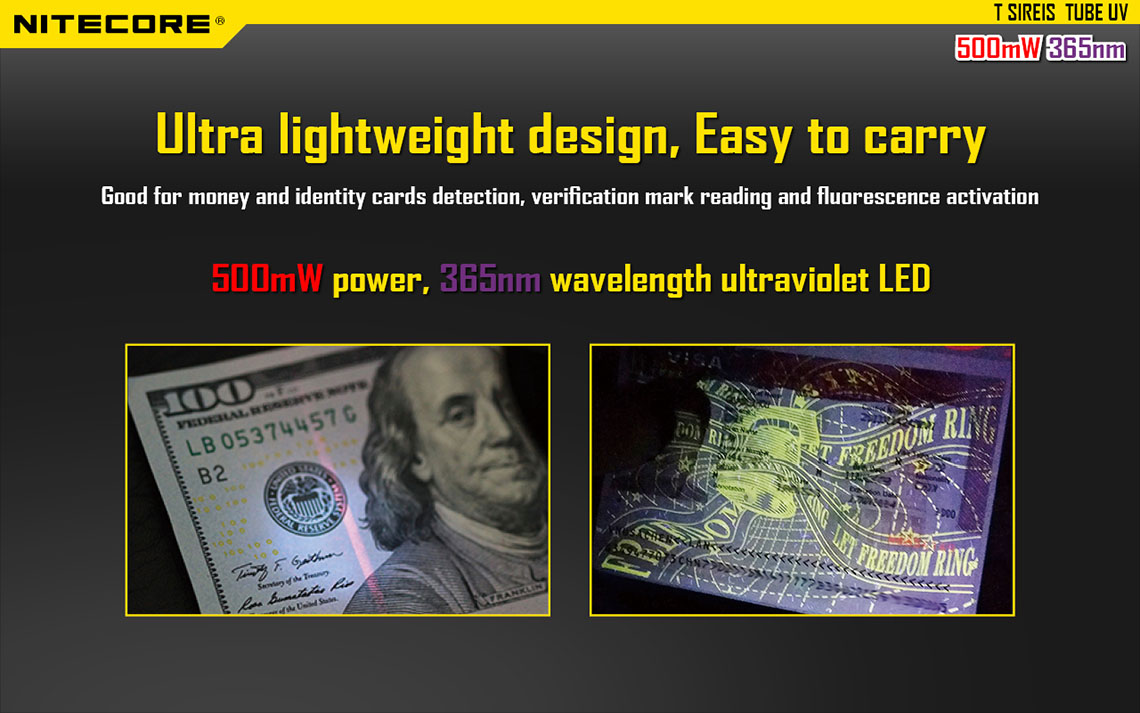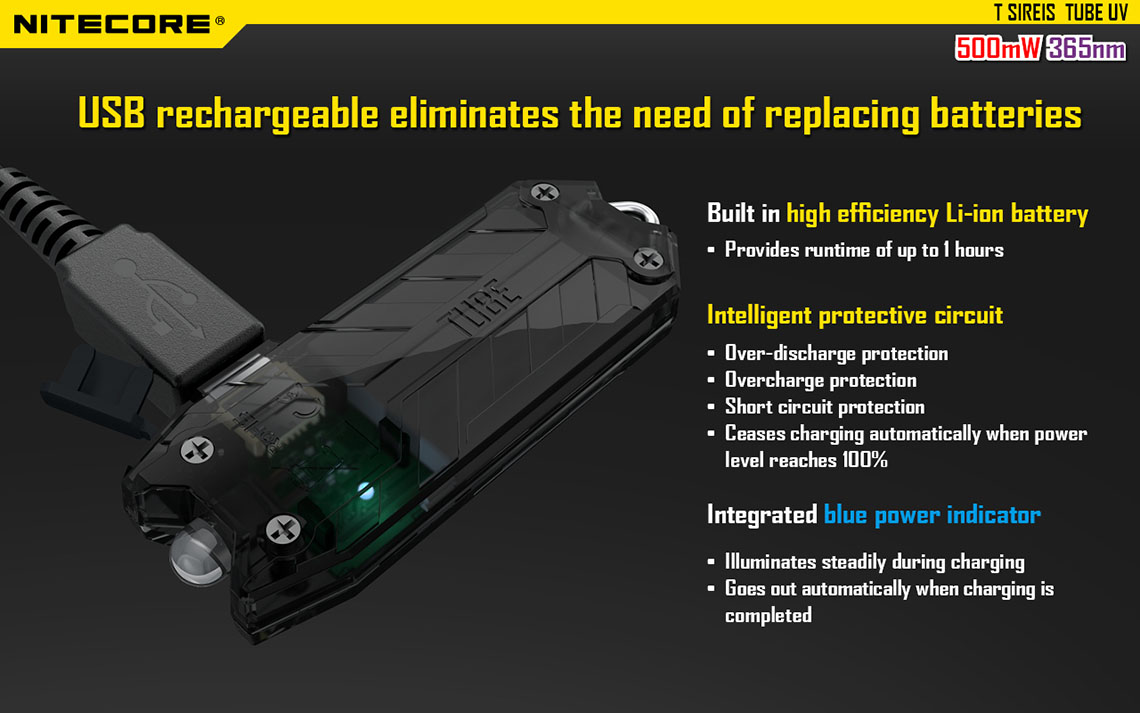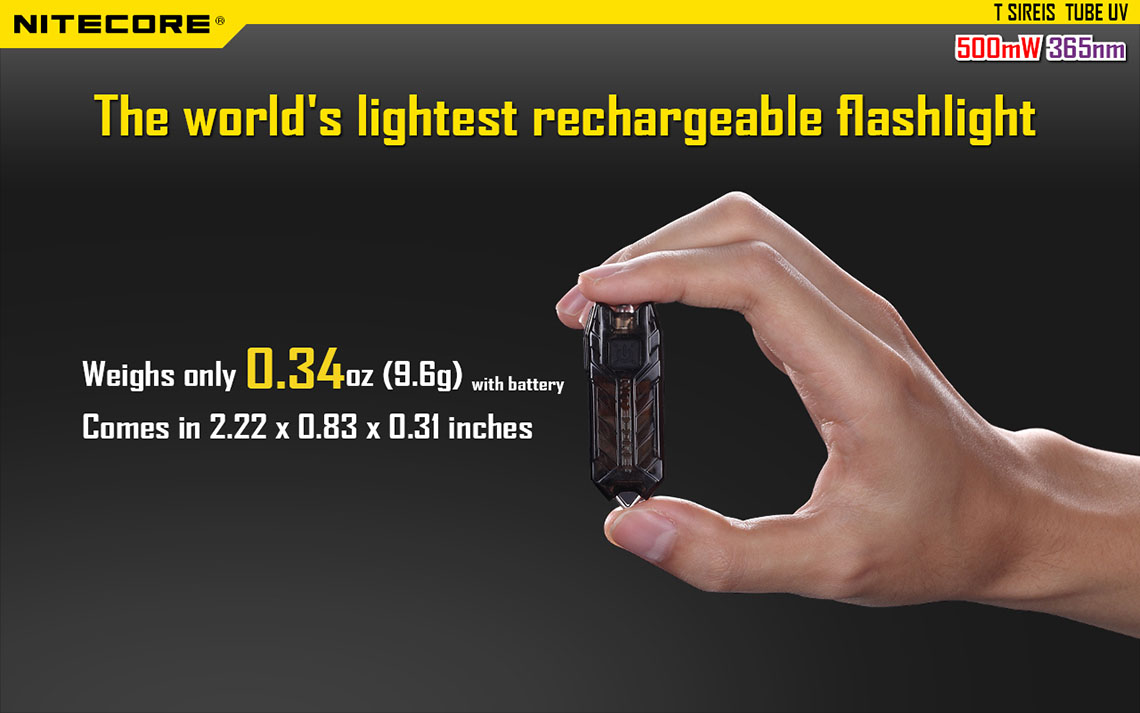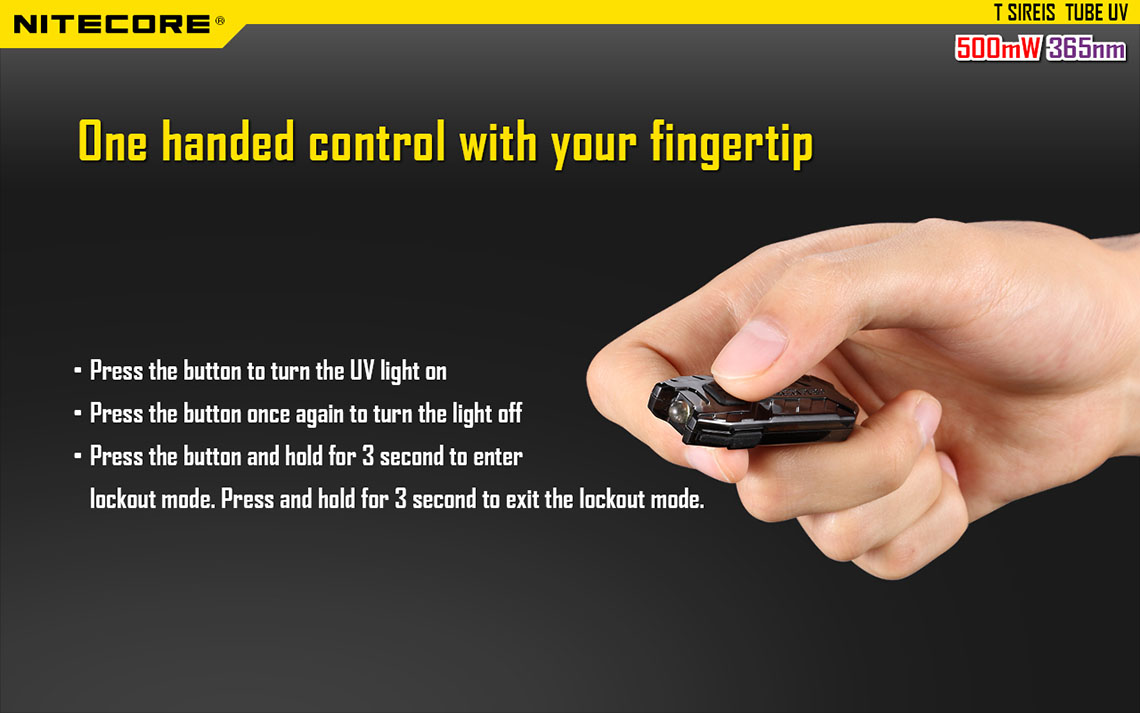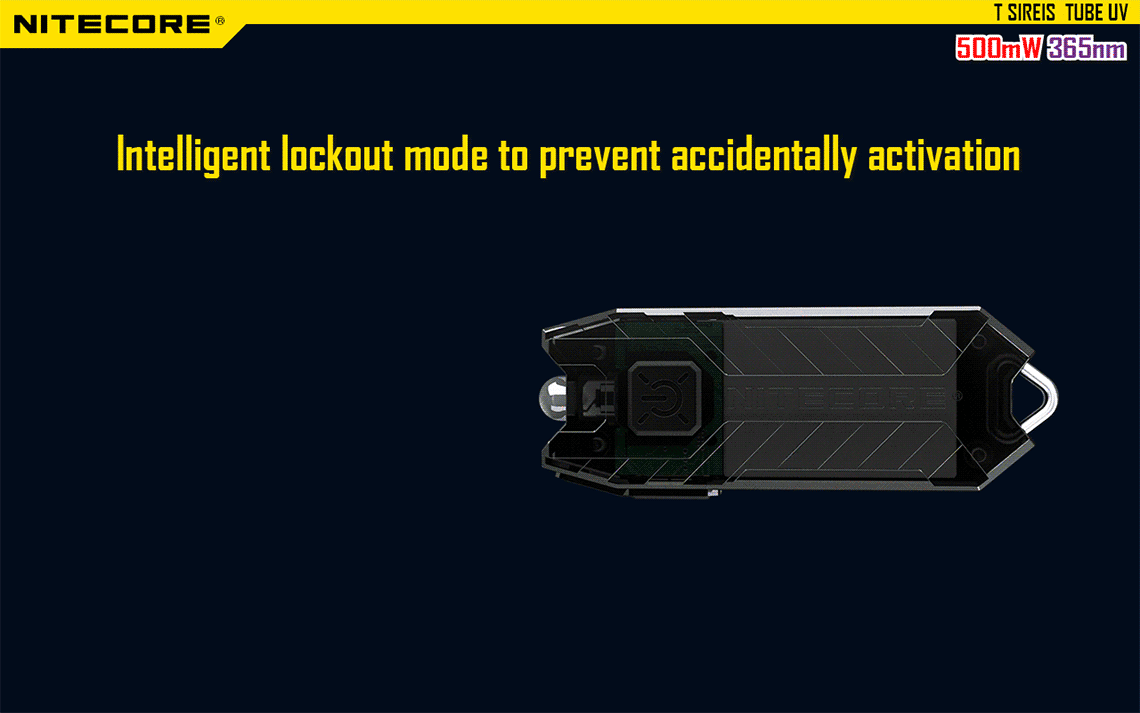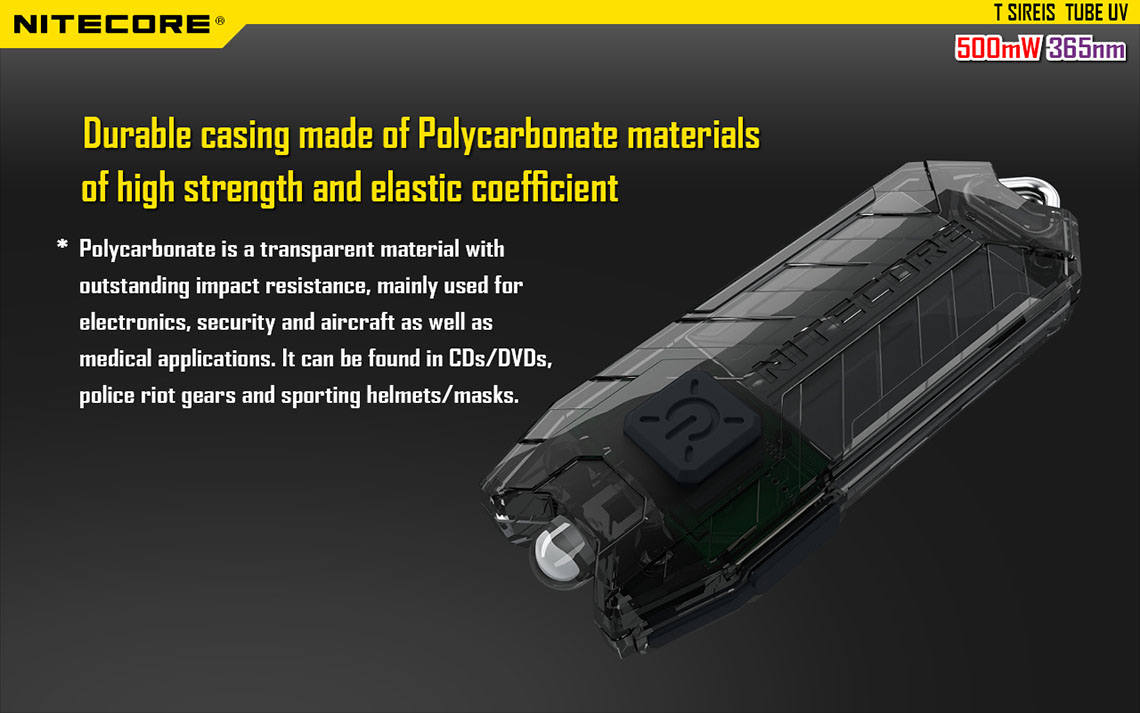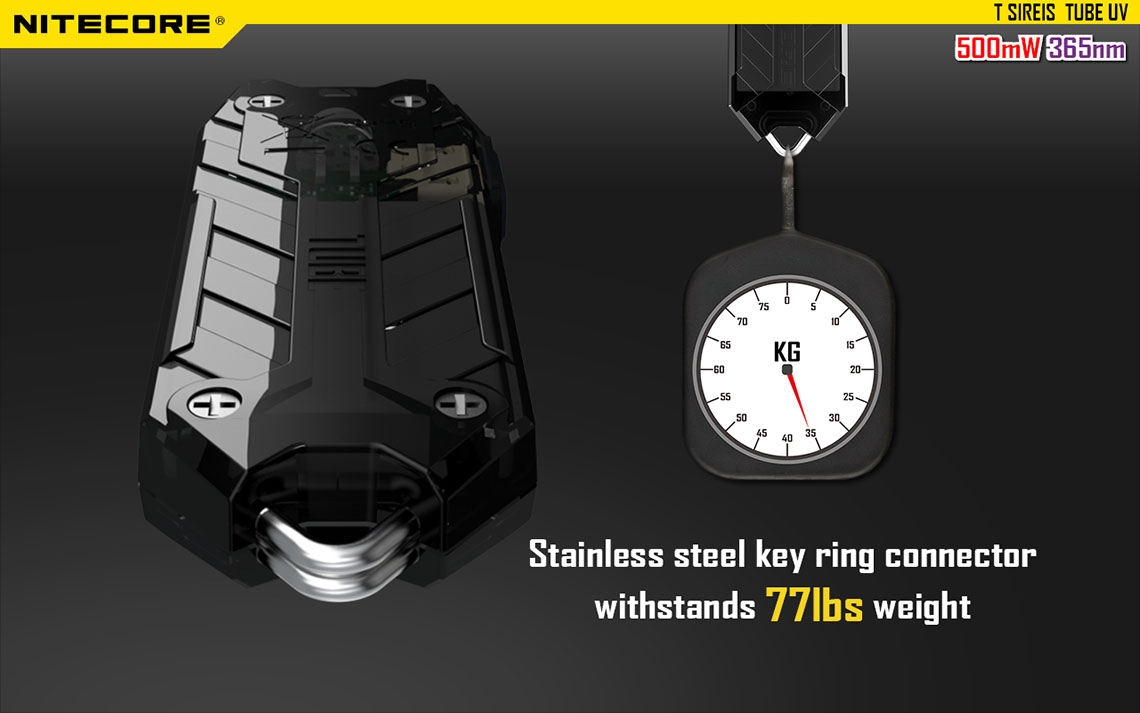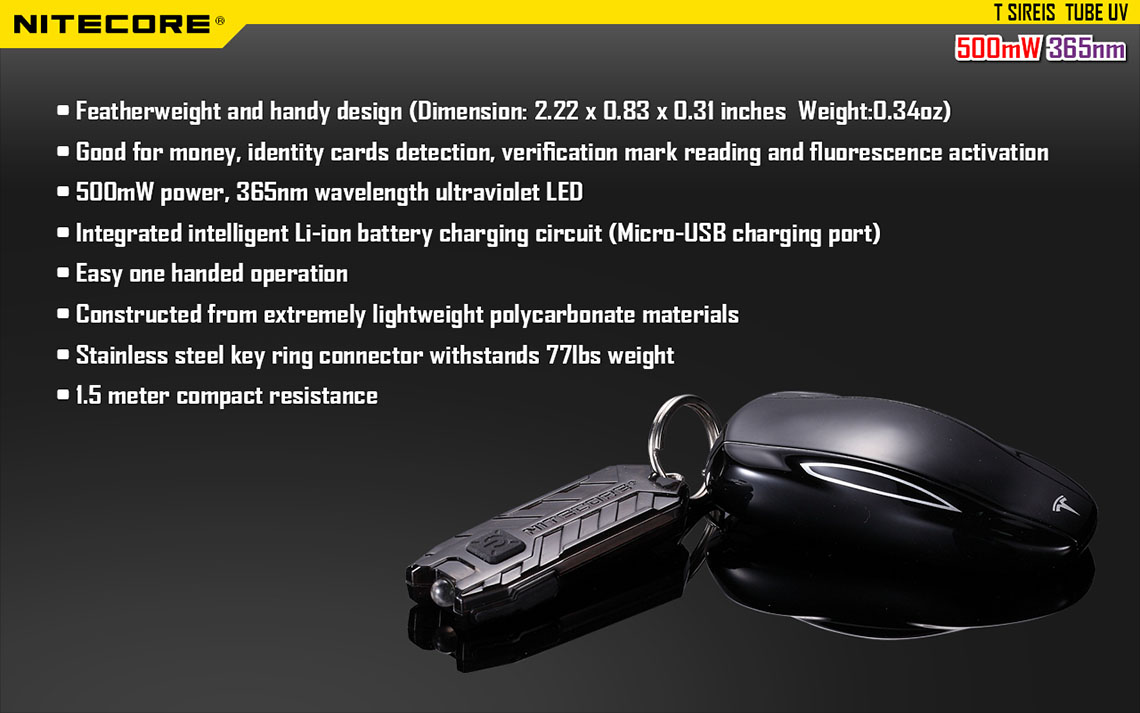 Free Shipping
Free 1-Day Shipping for all orders to Metros and 2-3 Days Priority Shipping to other cities for Orders above Rs.2000/- Details here.
Free Laser Engraving
Free Personalization (Permanant Laser Engraving) for all Flashlights, Knives and Gear. Details here.