Nitecore UM2, 2-Slot Intelligent USB Quick Charger with Digital Display (for Li-ion, IMR, Ni-MH, LiFePO4 Batteries)
Nitecore UM2 USB Smart Charger with Quick Charge Feature
- Two Battery Smart Charger that can charge a variety of batteries
- The all-new highly advanced smart USB charger. It's as simple as insert, detect, and charge.
- Compatible with IMR, Li-ion, LiFePO4, Ni-MH, NiCd batteries
- Quick Charge Input with a Total Max Output of 1500mA with single Slot
- Full Scale Digital Display with Real-Time Charging Information
- Can be charged from USB adapter, Powerbank or Portable Solar Panels
- Manual Charging Voltage Selection (if needed): 3.7V / 4..2V / 4.3V
- Manual Charging Current Selection (if needed): 100mA - 1500mA
- IMR/Li-ion Battery Restoration

Validate your Nitecore Charger purchased from Lightorati on Nitecore.com Validator for Legitimacy Check

For Battery Type:
Li-ion/IMR/LiFePO4: 10440, 14500, 14650, 16500, 16340(RCR123), 16650, 17350, 17500, 17650, 17670, 17700, 18350, 18490, 18500, 18650, 18700, 20700, 21700, 22500, 22650, 25500, 26500, 26650, 26700
Ni-MH(NiCd): AA, AAA, AAAA, C, D

Why Nitecore Chargers are the best?
Here is a video where Nitecore Charger takes a competing model to the limits.

Features:
- Intelligent USB Dual-Slot Charger
- QC 2.0 Input available
- Capable of charging 2 batteries simultaneously and controlling each slot independently
- Up to 1,500mA charging speed in a single slot
- Compatible with Li-ion and Ni-MH/Ni-CD batteries with automatic detection
- Automatic detection of battery power level and automatic selection of the appropriate voltage and charging mode
- Automatic selection between 3 charging modes (CC, CV, and -dV/dt
- Energy-efficient LCD display for real-time charging information
- Capable of manually selecting the charging cut-off voltage and the charging current
- Automatic detection of large/small capacity batteries and automatic selection of appropriate charging current
- Automatic termination upon charging circuit protection
- Reverse polarity protection and short circuit protection
- Over-discharged battery activation
- Li-ion/IMR battery restoration
- Overtime charging protection
- Made from durable and fire-retardant PC materials
- Optimal heat dissipation design
- Certifed by RoHS, CE, FCC, and CEC
Specifications:
- Input Voltage: DC 5V/2A 9V/2A 18W (Max)
- Output Voltage: 4.35V±1% / 4.2V±1% / 3.7V±1% / 1.48V±1%
- QC Mode - 1,500mA*2 (MAX)
- Standard Mode - 1,000mA*2 (MAX)
- Output Current: 1.5A x 2 - 1A x4 - 0.75A x 4 - 0.5A x 8
- Compatible with:
Li-ion/IMR/LiFePO4: 10440, 14500, 14650, 16500, 16340 (RCR123), 16650, 17350, 17500, 17670, 17700, 18350, 18490, 18500, 18650, 18700, 20700, 21700, 22500, 22650, 25500, 22650, 25500, 26500, 26650, 26700
Ni-MH(NiCd): AA, AAA, AAAA, C, D
Dimensions: Length x Width x Height: 152mm x 73mm x 40mm
Weight: 148.3gms (without battery)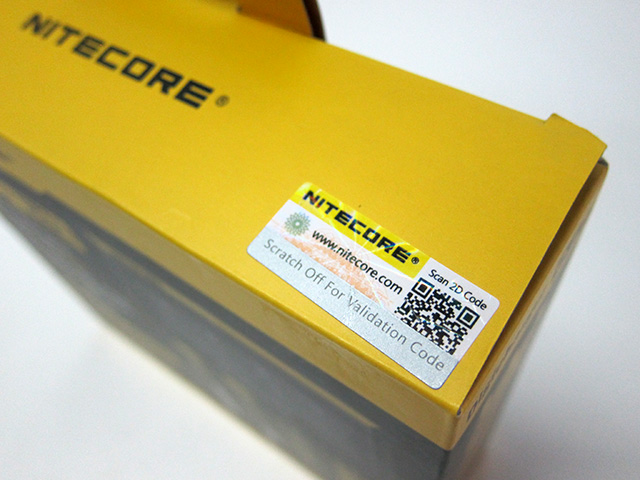 Validate your Nitecore Charger purchased from Lightorati on Nitecore.com Validator for Legitimacy Check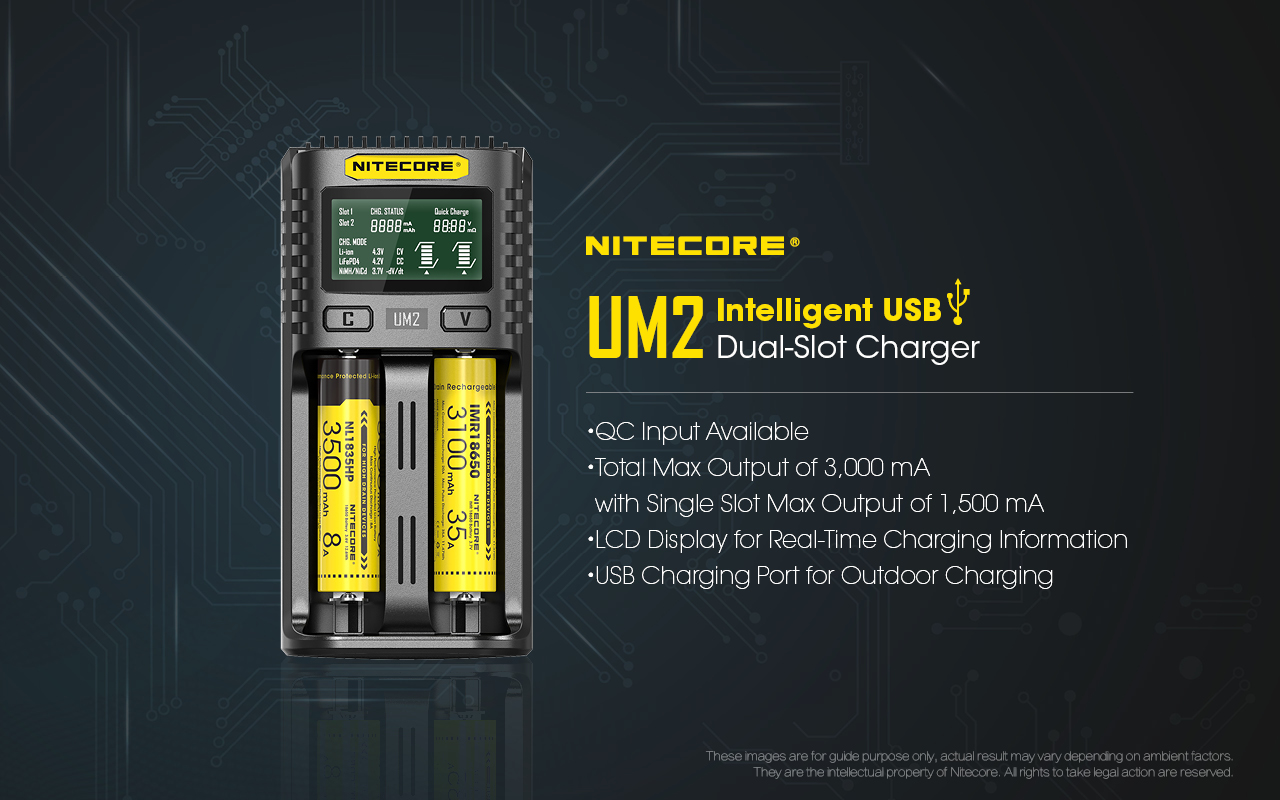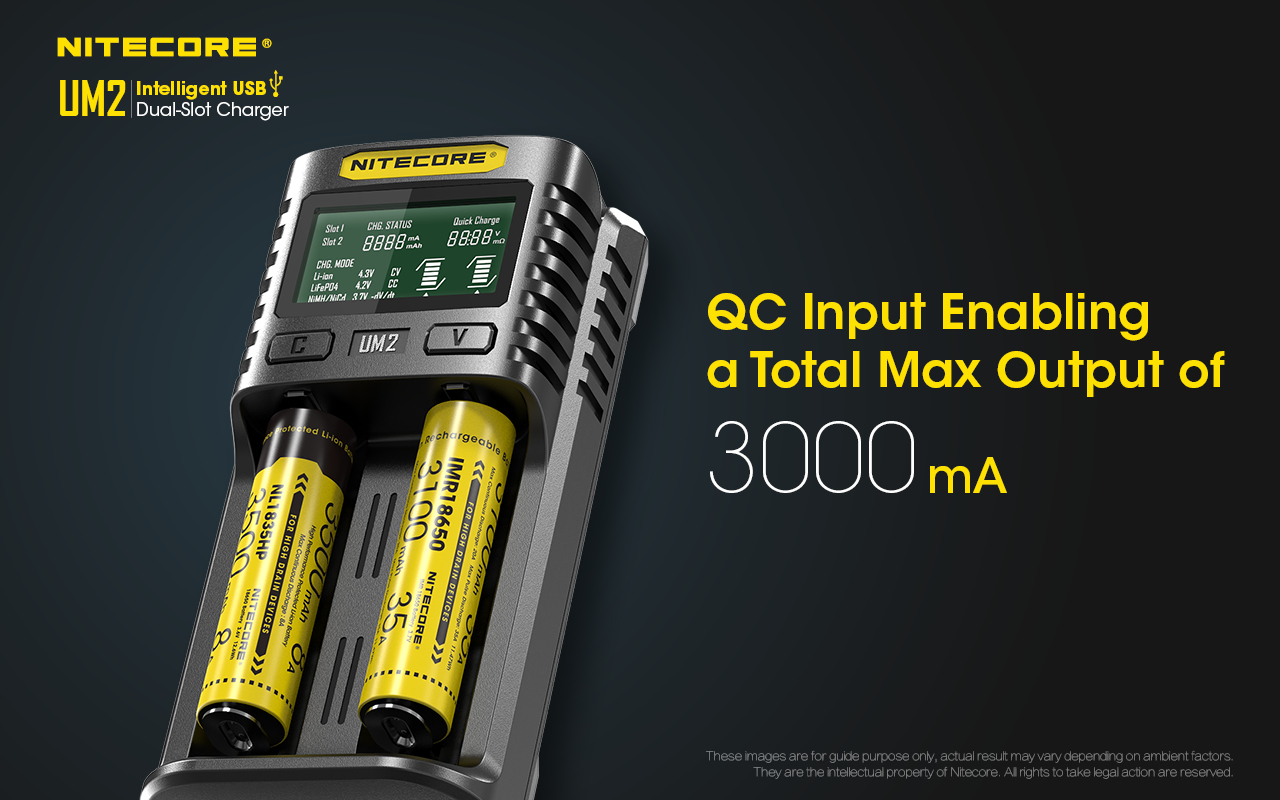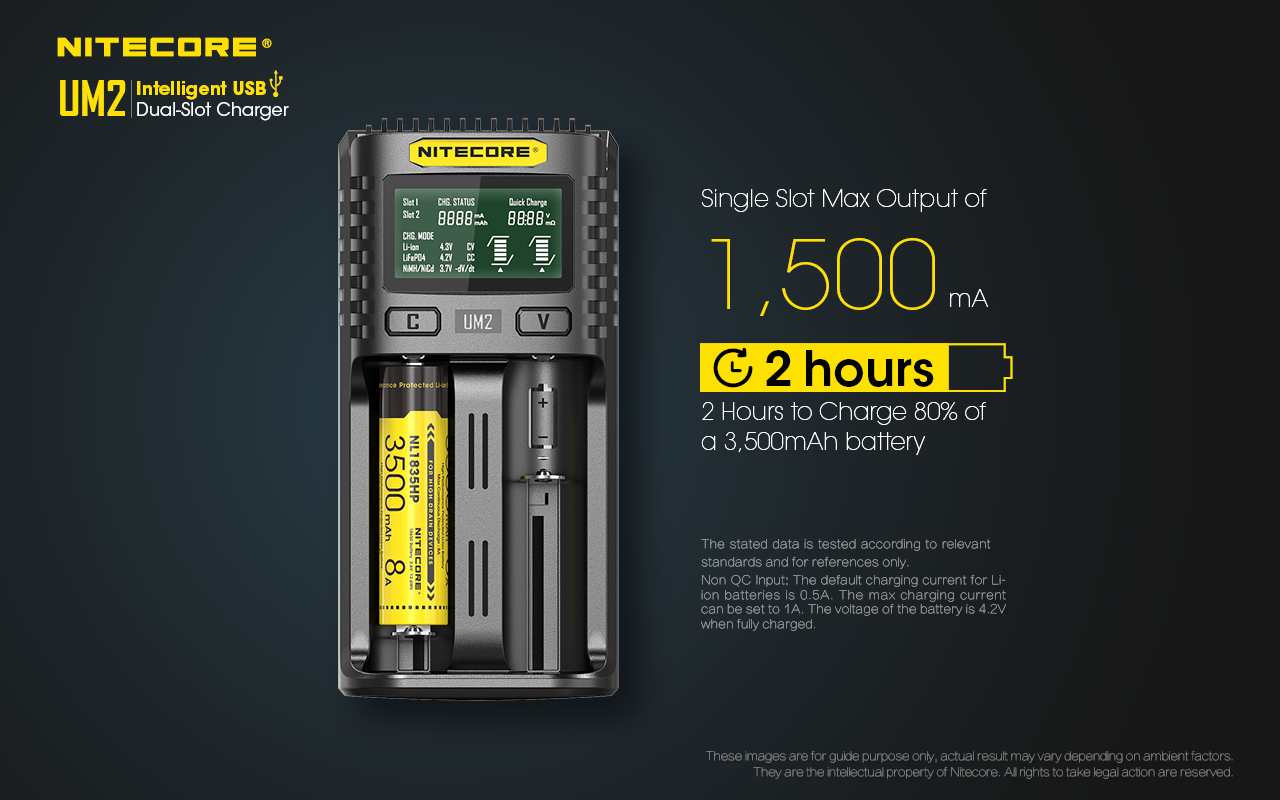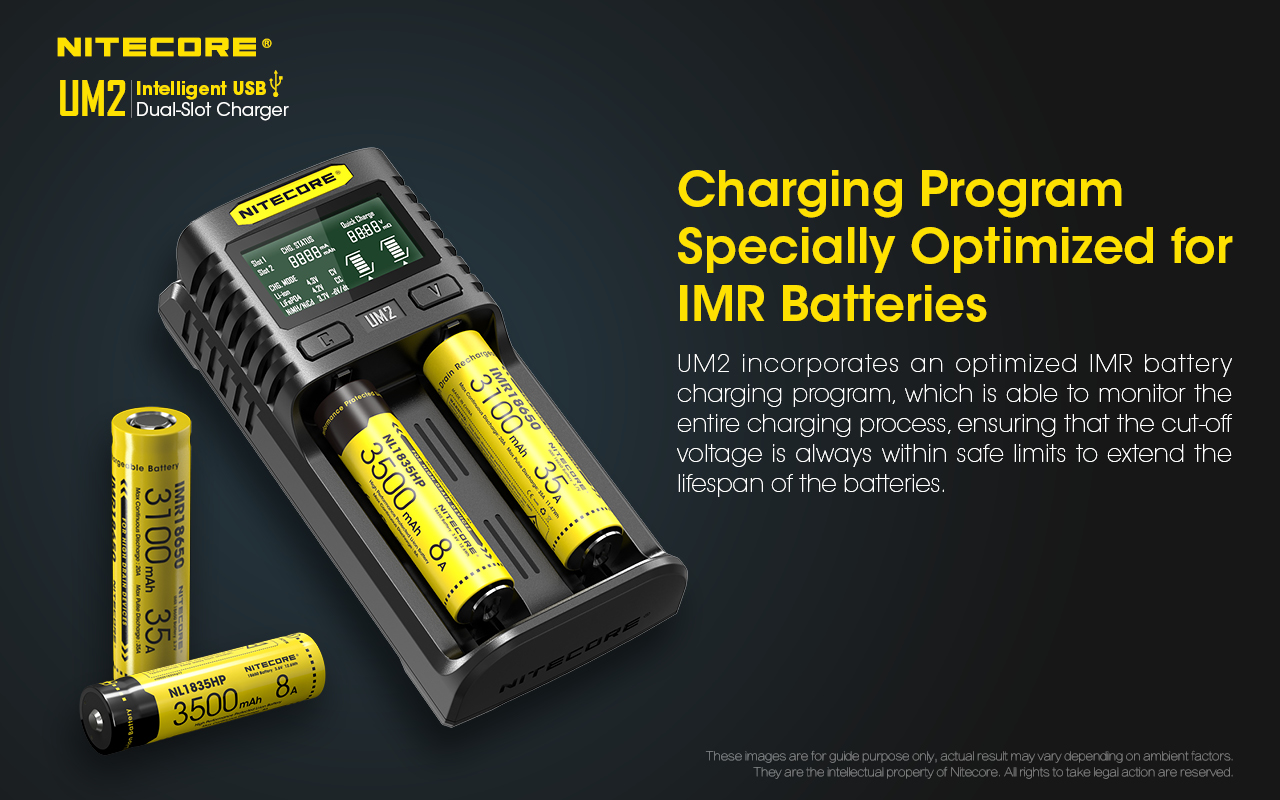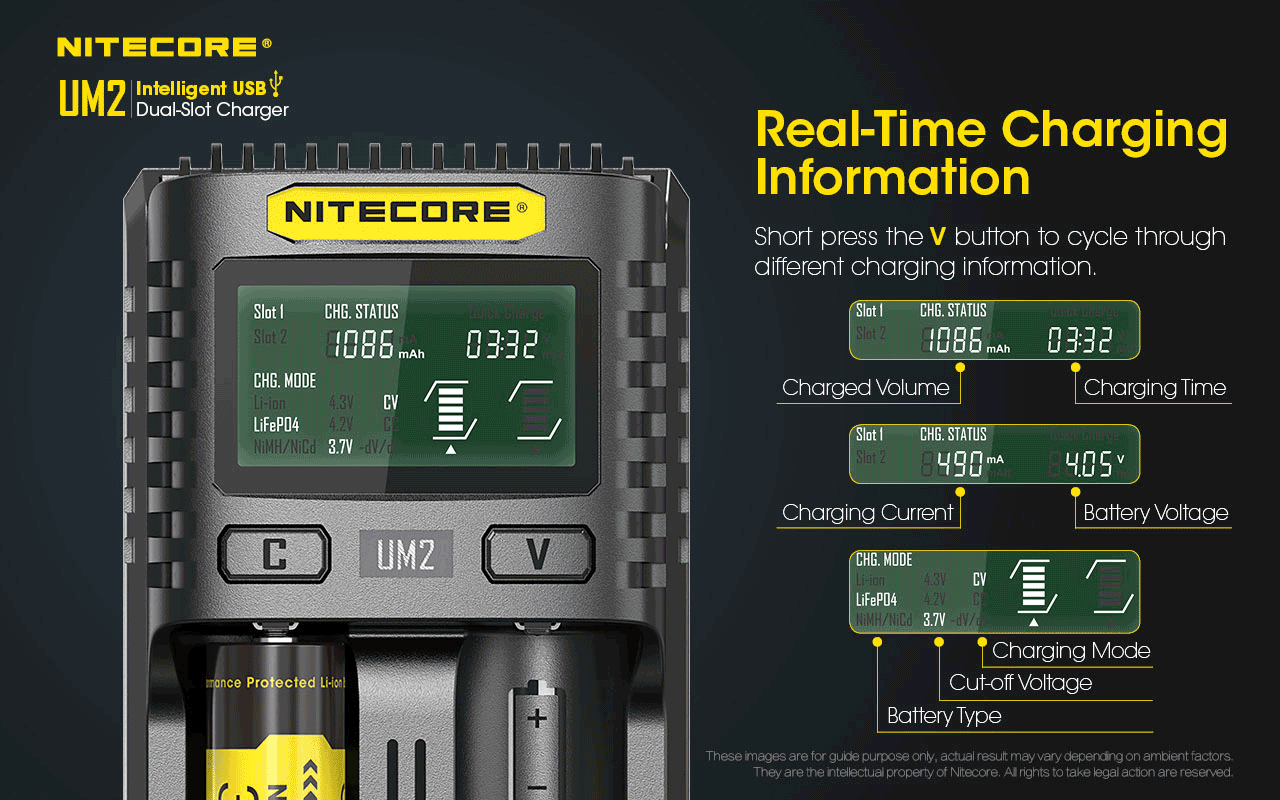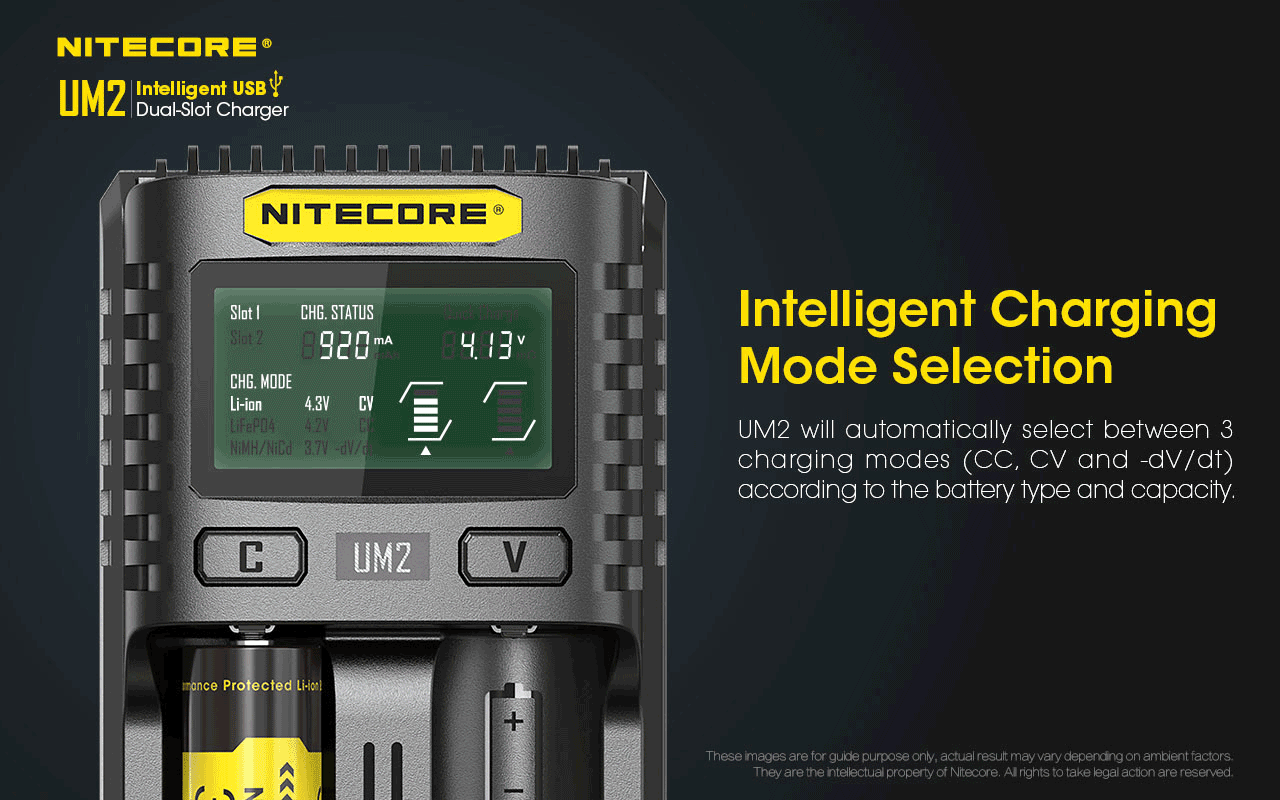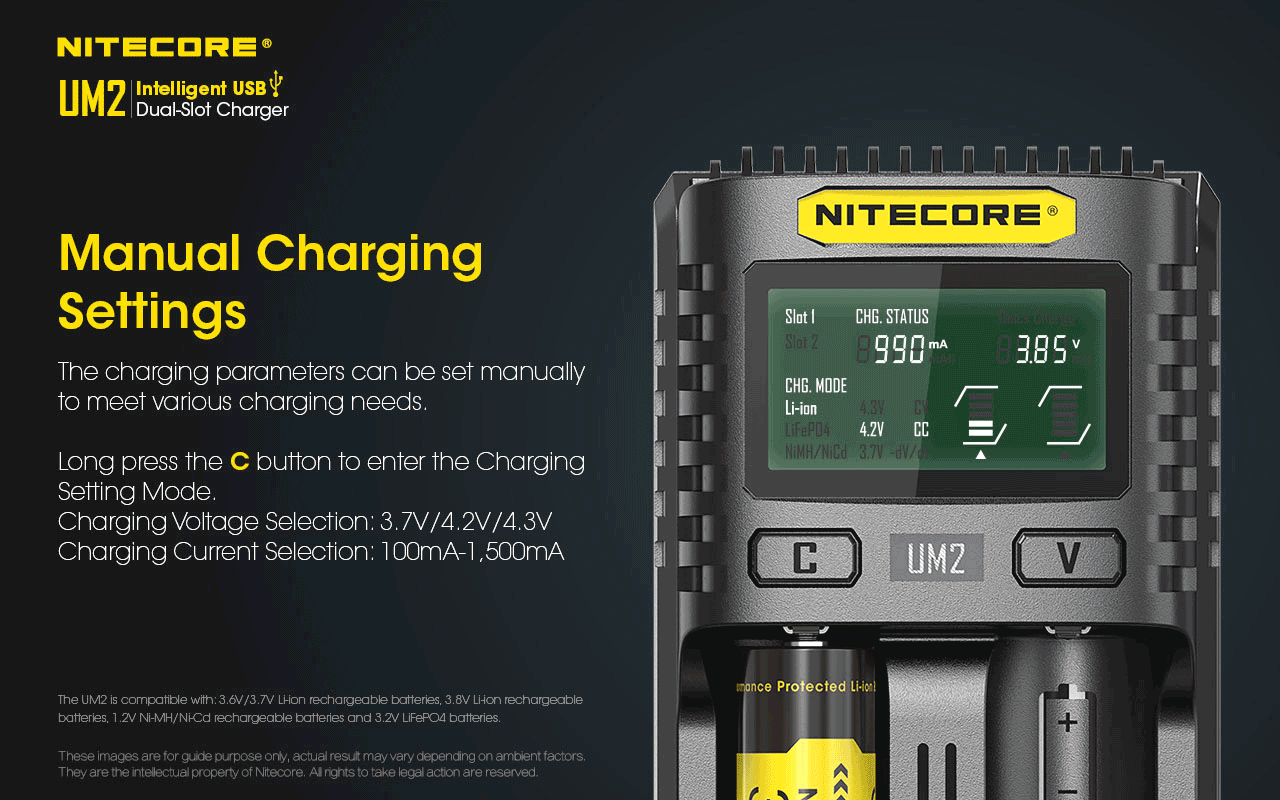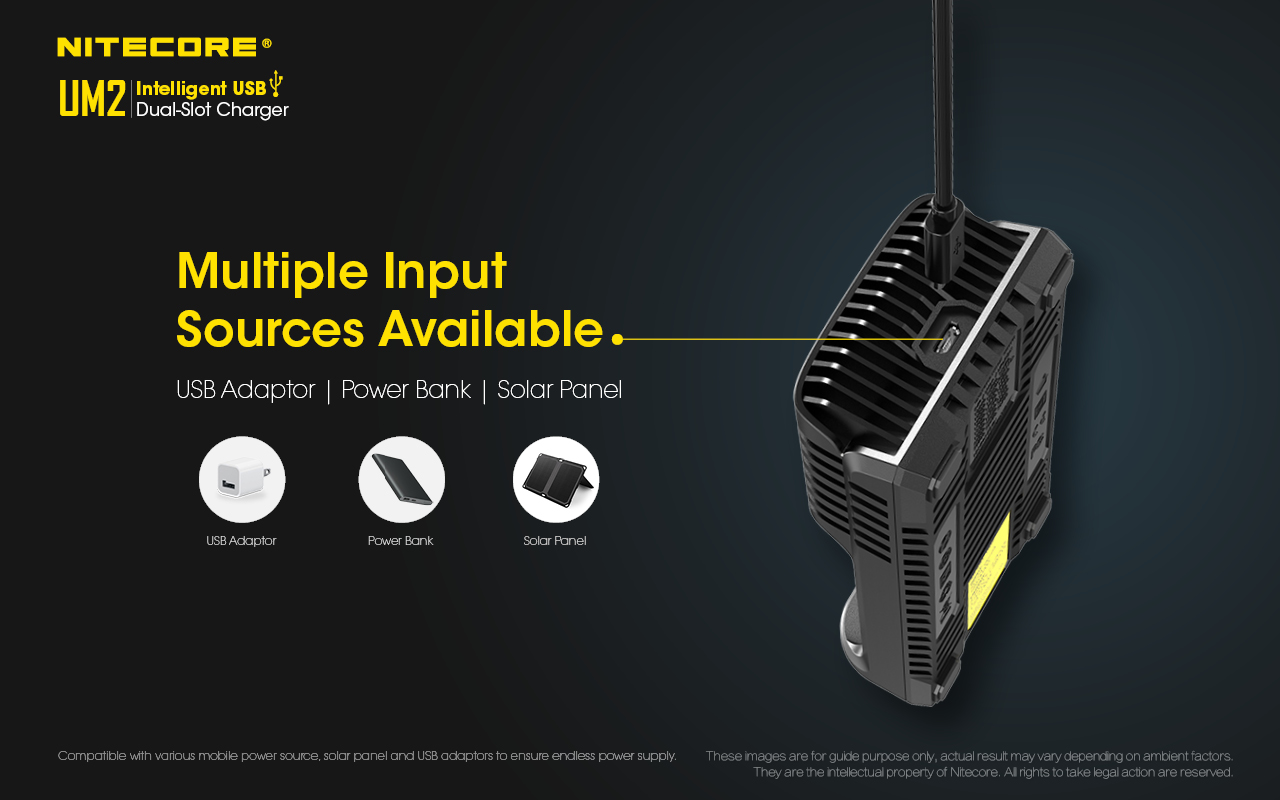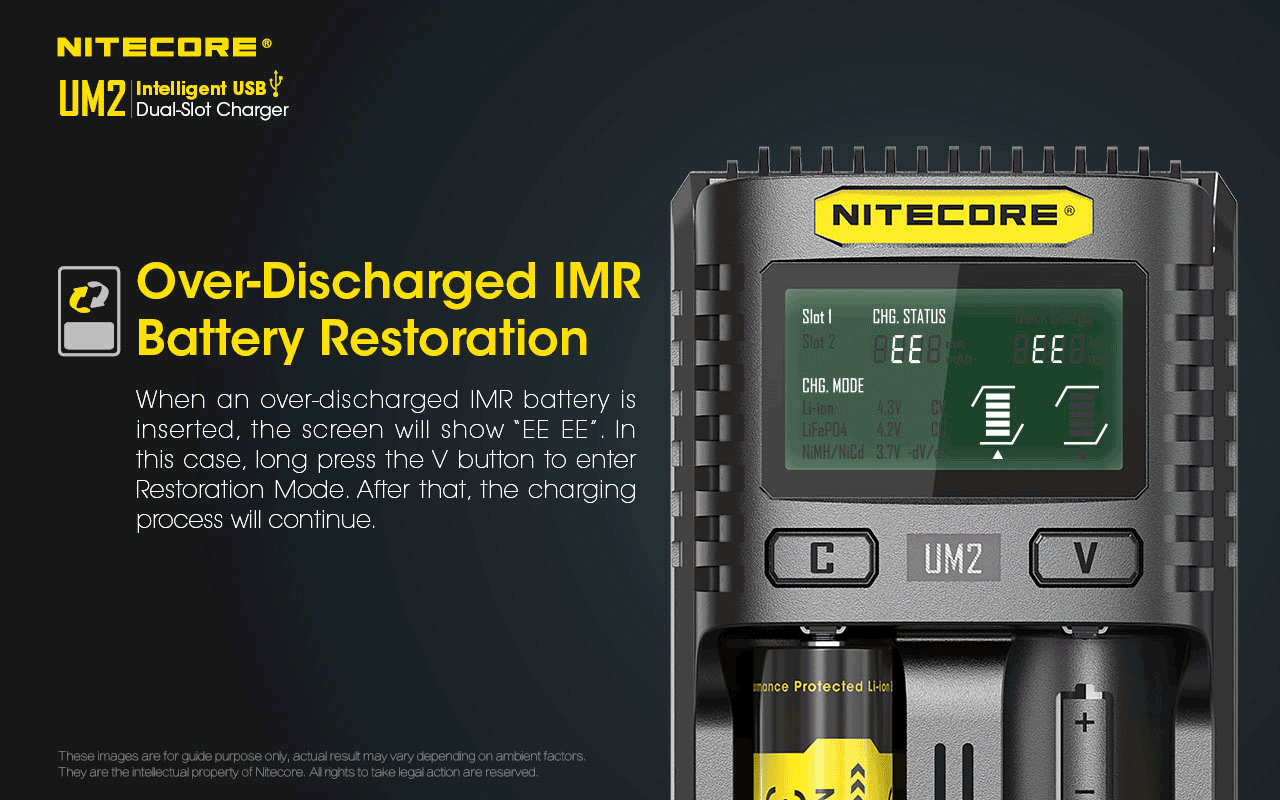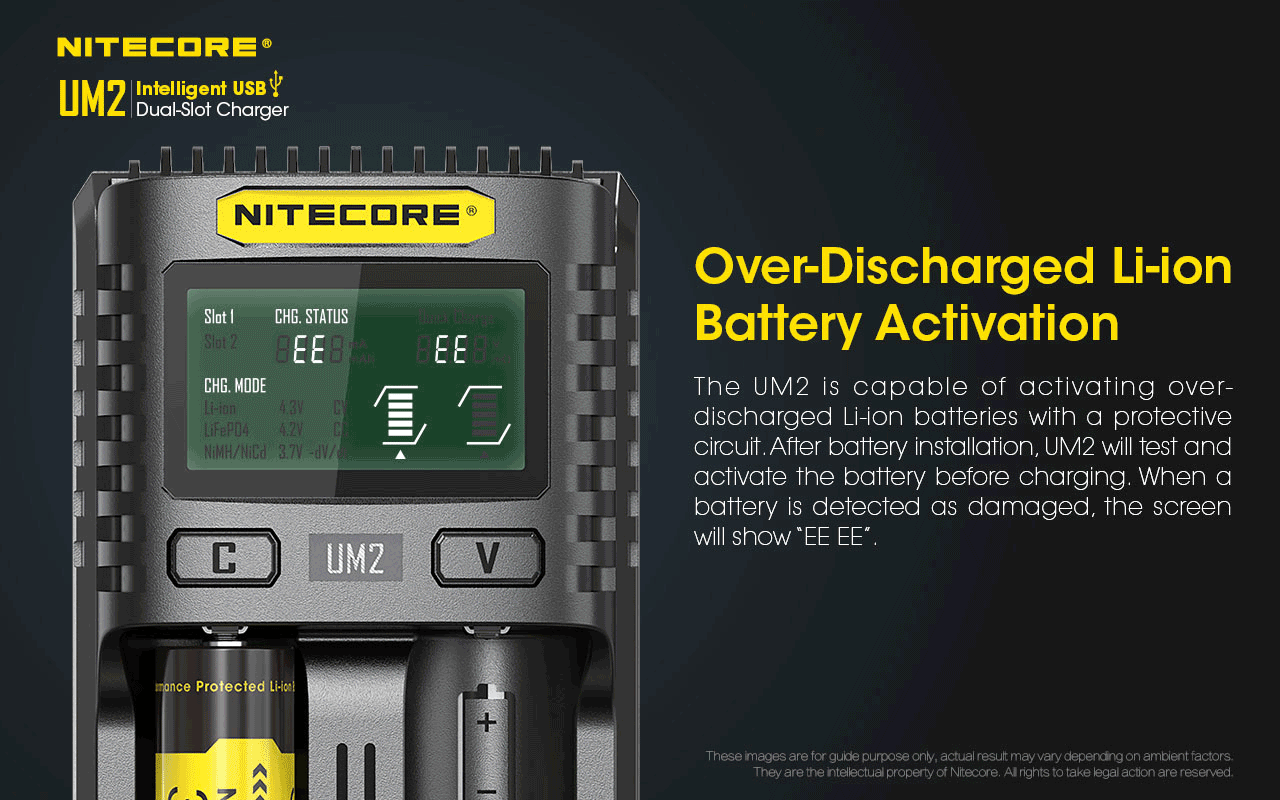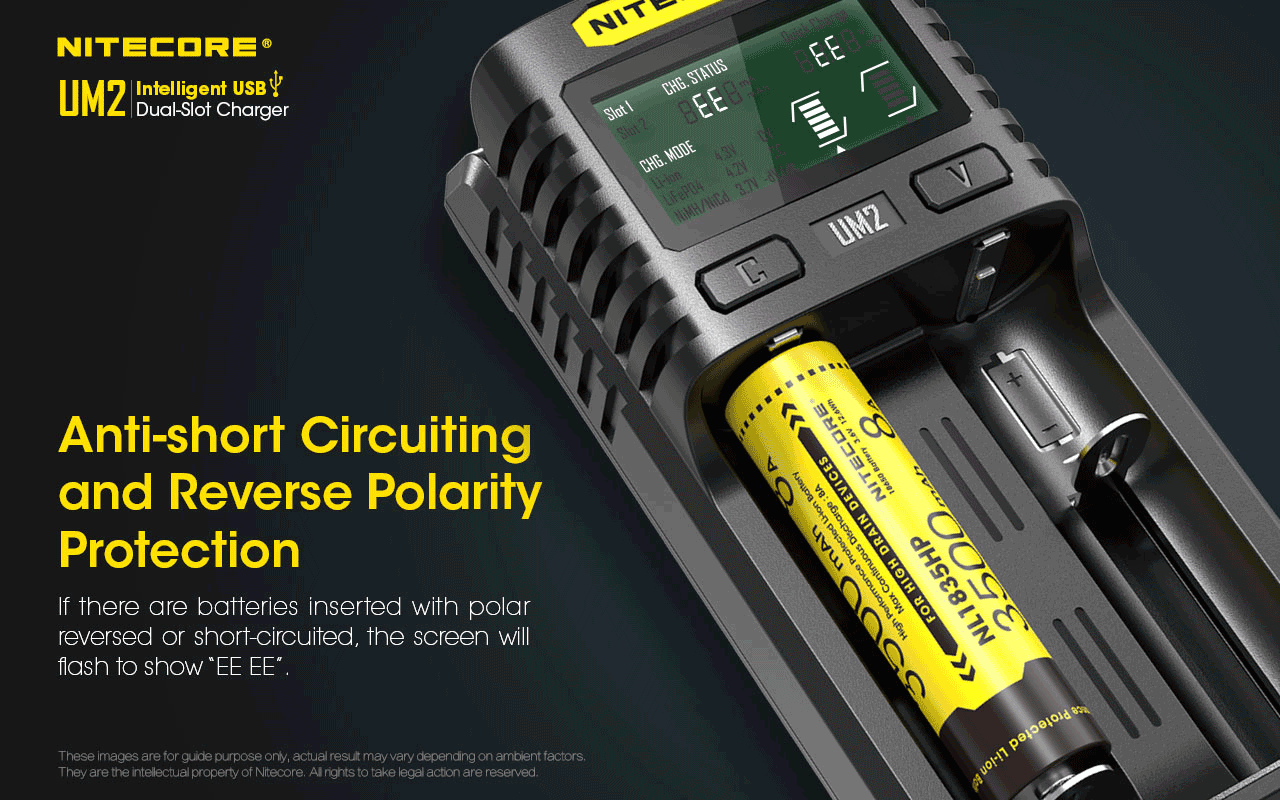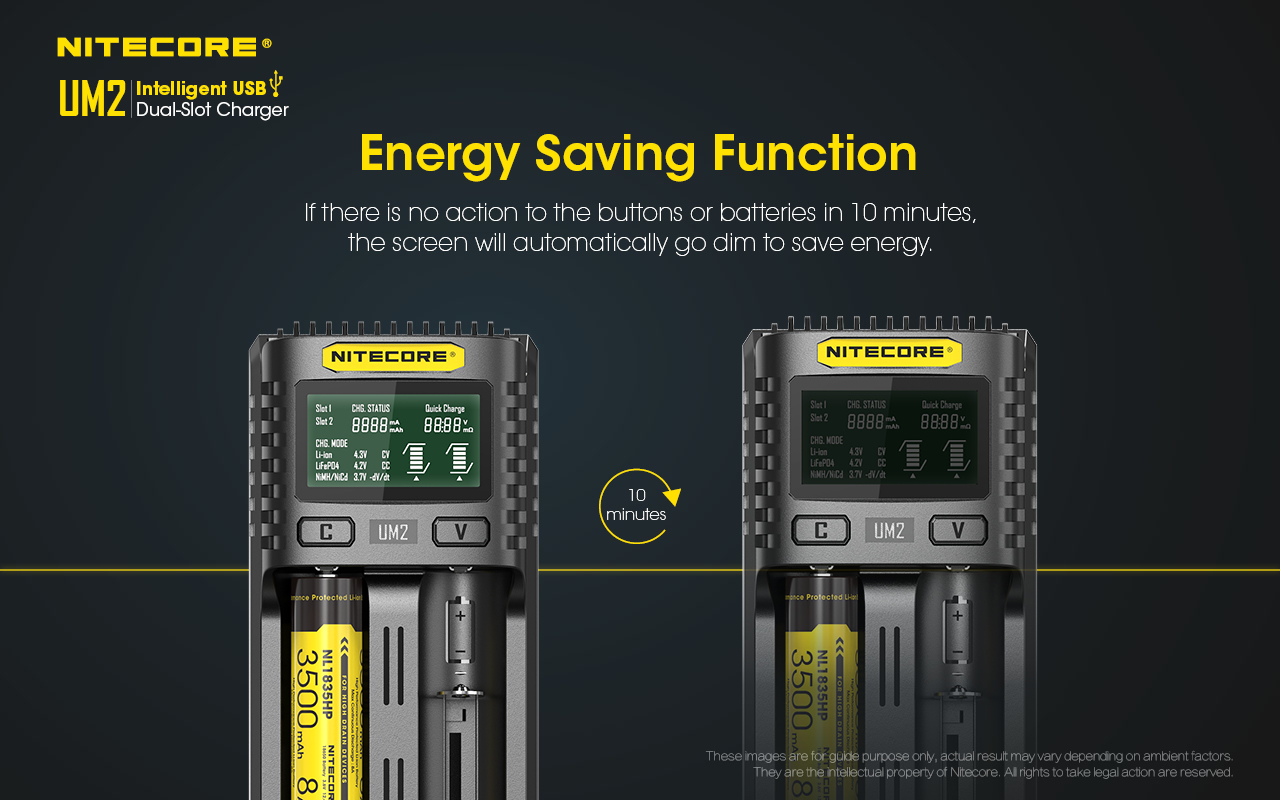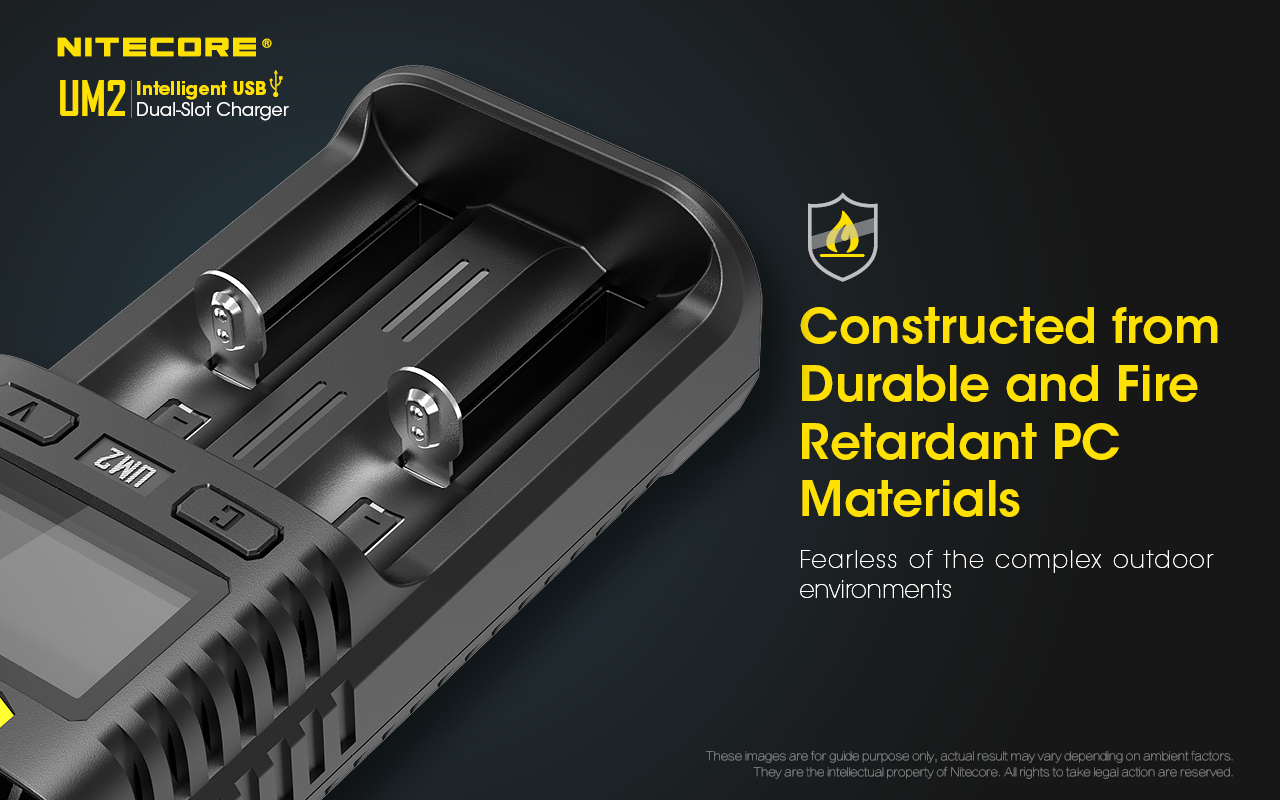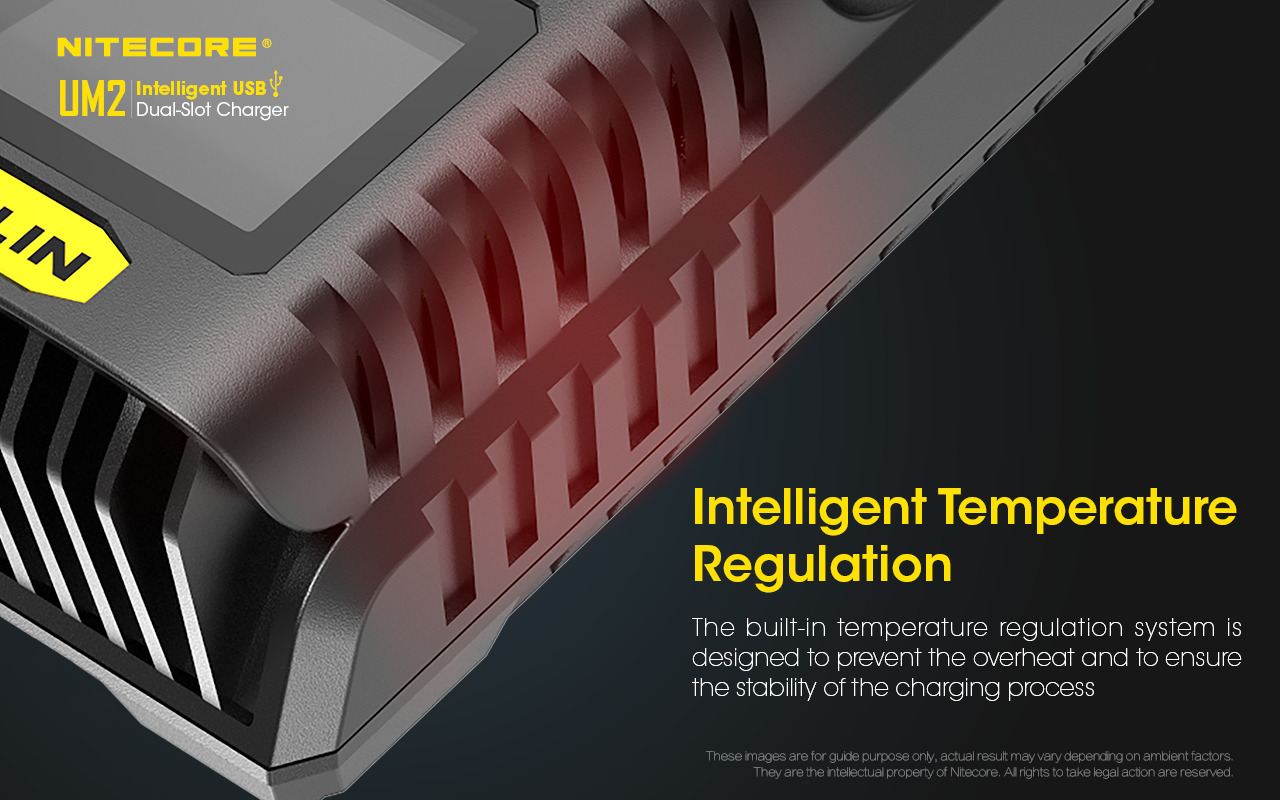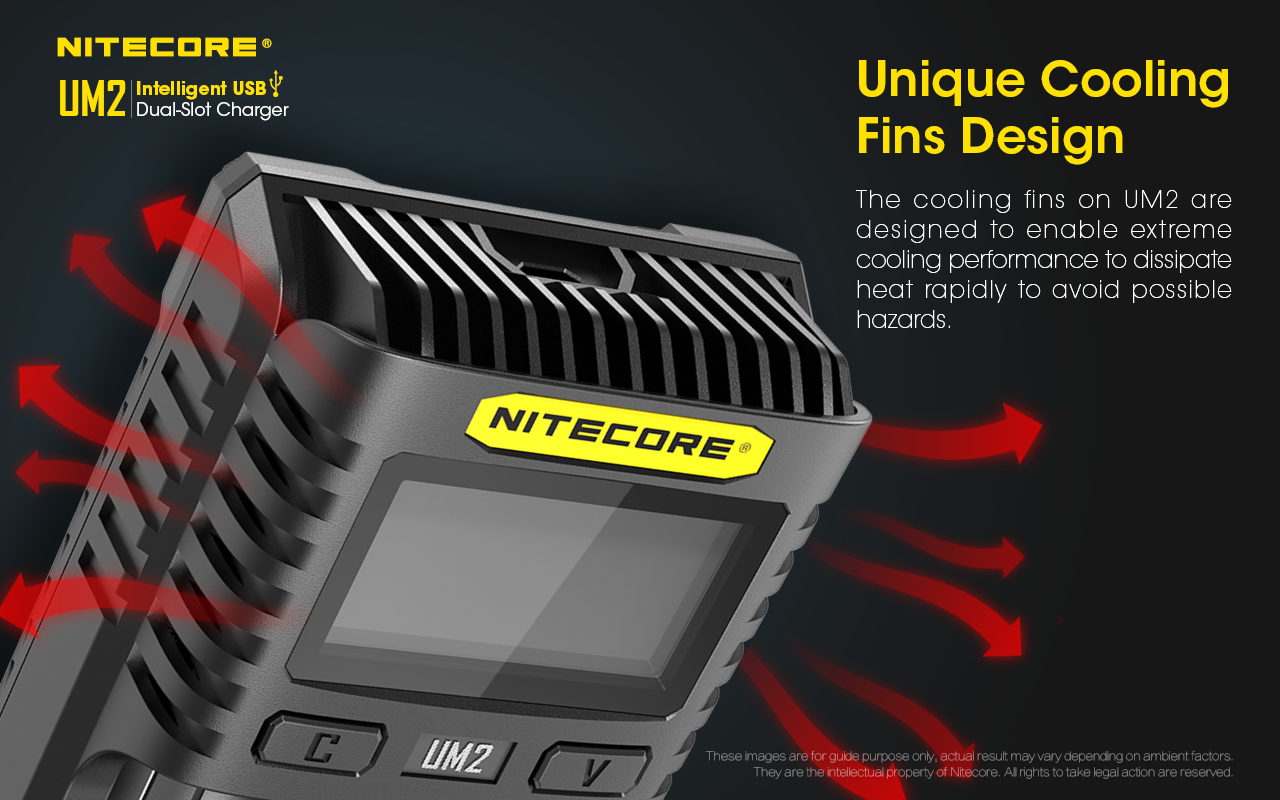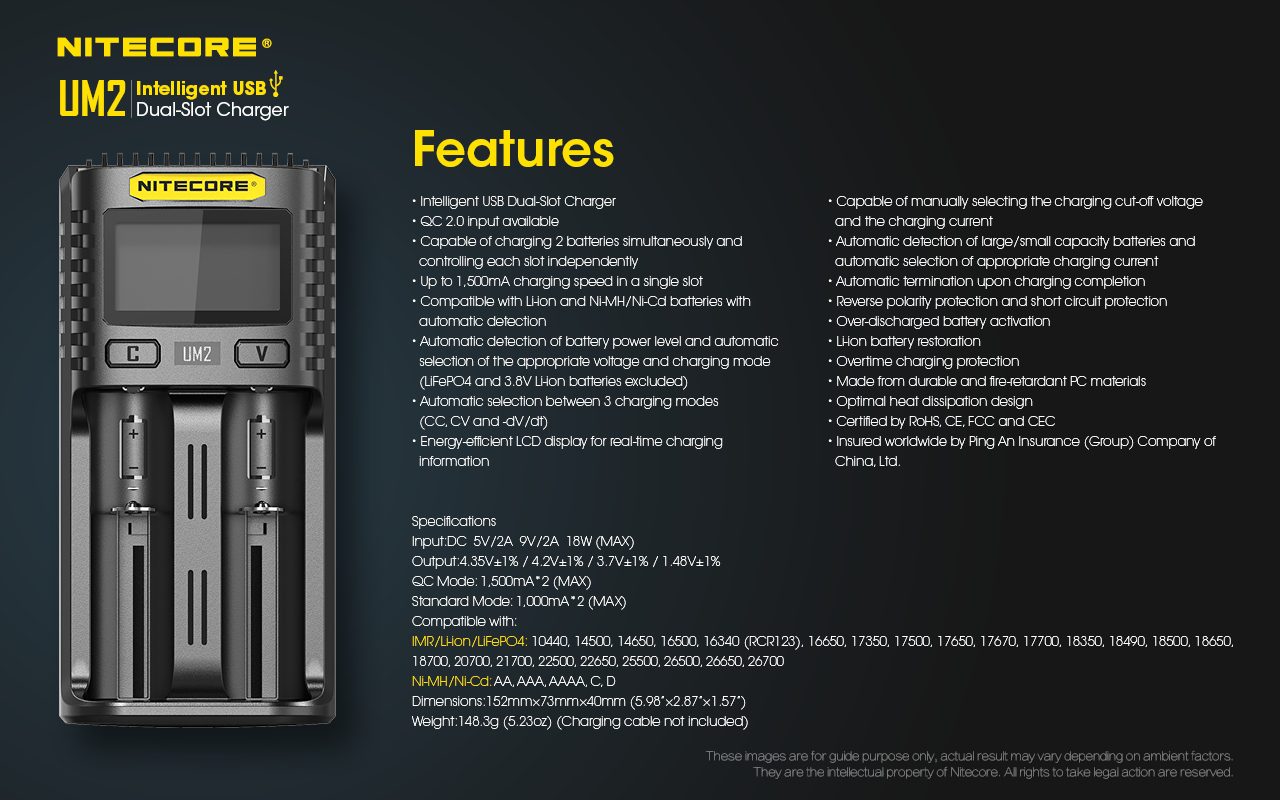 Free Shipping
Free 1-Day Shipping for all orders to Metros and 2-3 Days Priority Shipping to other cities for Orders above Rs.2000/- Details here.
Free Laser Engraving
Free Personalization (Permanant Laser Engraving) for all Flashlights, Knives and Gear. Details here.