Nitecore VCL10 - Award Winning Car Charger with Glass Breaker, Reading and Repair Light, emergency and warning lights
The Nitecore VCL10 - The Last Vehicle Charger you will need. Ever!
- Over Voltage Protection, Over Current Protection, Short Circuit Protection, Under Voltage Protection
- Quick Charge 3.0 and 2.0 with 2.4A Max Current Output
- Tungsten Steel Glass Breaker Tail Design (fits perfectly in the hand giving great grip)
- Hands free Magnetic body for mounting for repair work and as emergency warning light in case of Vehicle breakdown
- Built-in battery to power the built-in lights for disconnected use
- Red Warning light for vehicle breakdown signal
- Oncoming Vehicle detection - changes red warning pattern from blinking to fast strobe (
you have to see it to believe it
)
- Warm white diffused main output for in-car reading or repair work (extremely easy on eyes)
- Tilt head for adjusting angle of the light
Lightorati's Note on the VCL10:
I think Nitecore has come a long way really and the VCL10 is one of those products that without doubt showcases Nitecore's Innovation at its best. Beautifully designed and executed is this little gadget. This is a must-have for all types of vehicles. Whether you are into city driving or highway driving, the VCL10 can come into handy at times you do not expect but those are the times you should always be prepared for. Add this to your vehicle and forget it. You will always have something to rescue you when things go south in the middle of a trip and in the middle of no where. You are welcome(in advance).
Why Nitecore Chargers are the best?
Here is a video where Nitecore Charger takes a competing model to the limits.
Features:
- Multi-functional USB QC vehicle charger
- Transformer loss compensation (TLC) enabling automatic adjustment of output voltage
- Multi protection for overload, short-circuit and overheating
- White beam and red warning light controllable with one button
- Built-in photo-detector enabling quickened flashes when detecting oncoming vehicles
- 90 degree tilt-able head
- Stainless steel glass breaker tail design
- Strong Magnetic body
- 1 Meter impact resistance
- Certified by RoHS, CE, FCC and CEC
Specifications:
- White Beam: 25 Lumens - 3 Hours
- Red Warning Light: 350mW - 20 Hours
- Beam Distance: 7 Meters
- Peak Beam Intensity: 12cd
- Input: DC 12V 2.5A (MAX)
- Output: DC 5V 2.4A (MAX)
- Quick Charge 3.0: DC 3.6V-12V 2.4A (MAX)
- Quick Charge 2.0: DC 5V / 9V / 12V 2.4A (MAX)
Dimensions: Length x Width x Height: 78.5mm x 24.5mm x 23mm
Weight: 1.57oz(44.5g)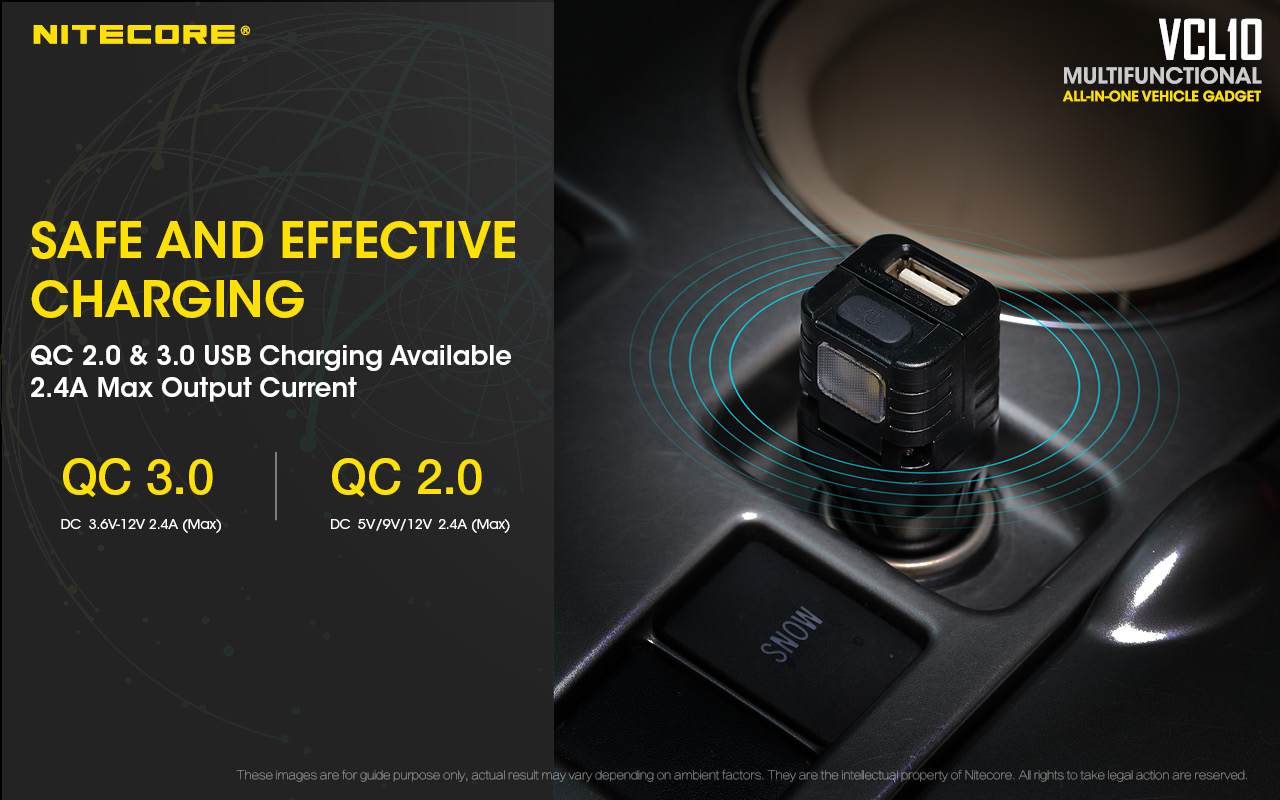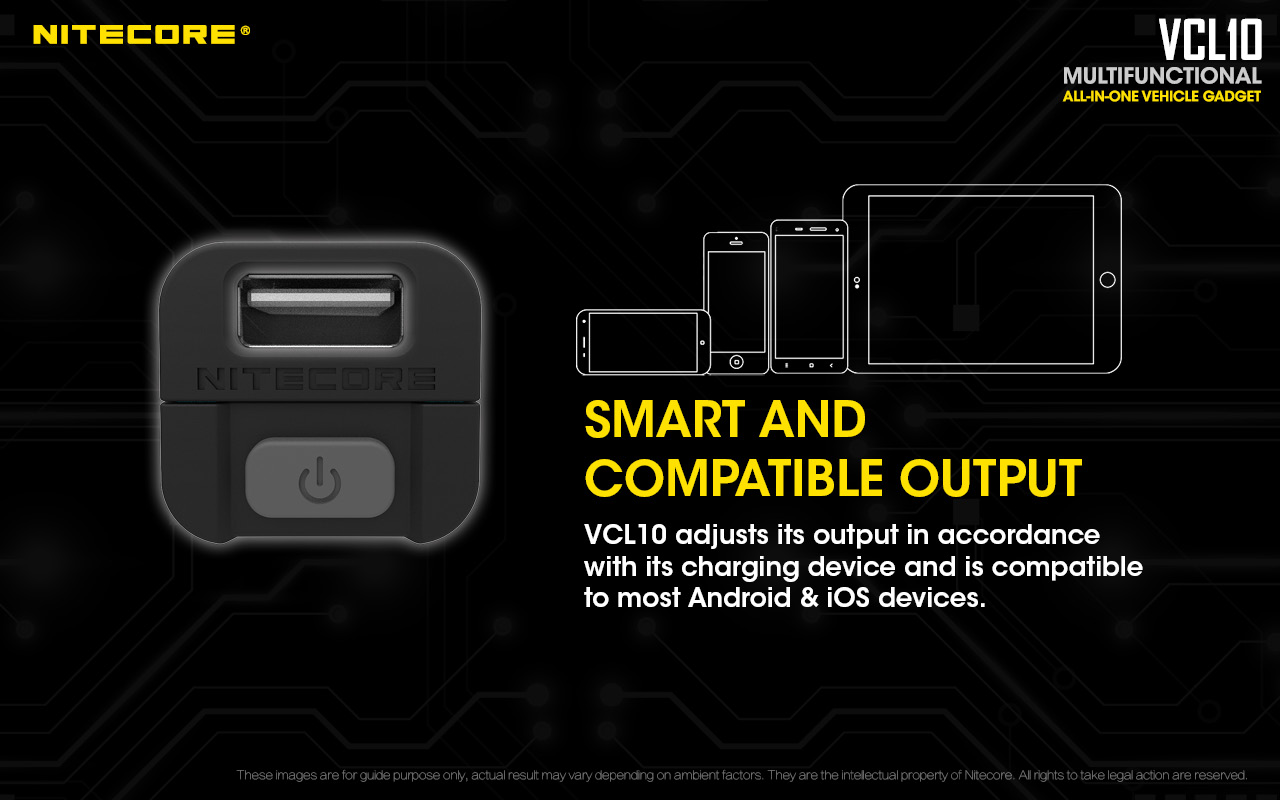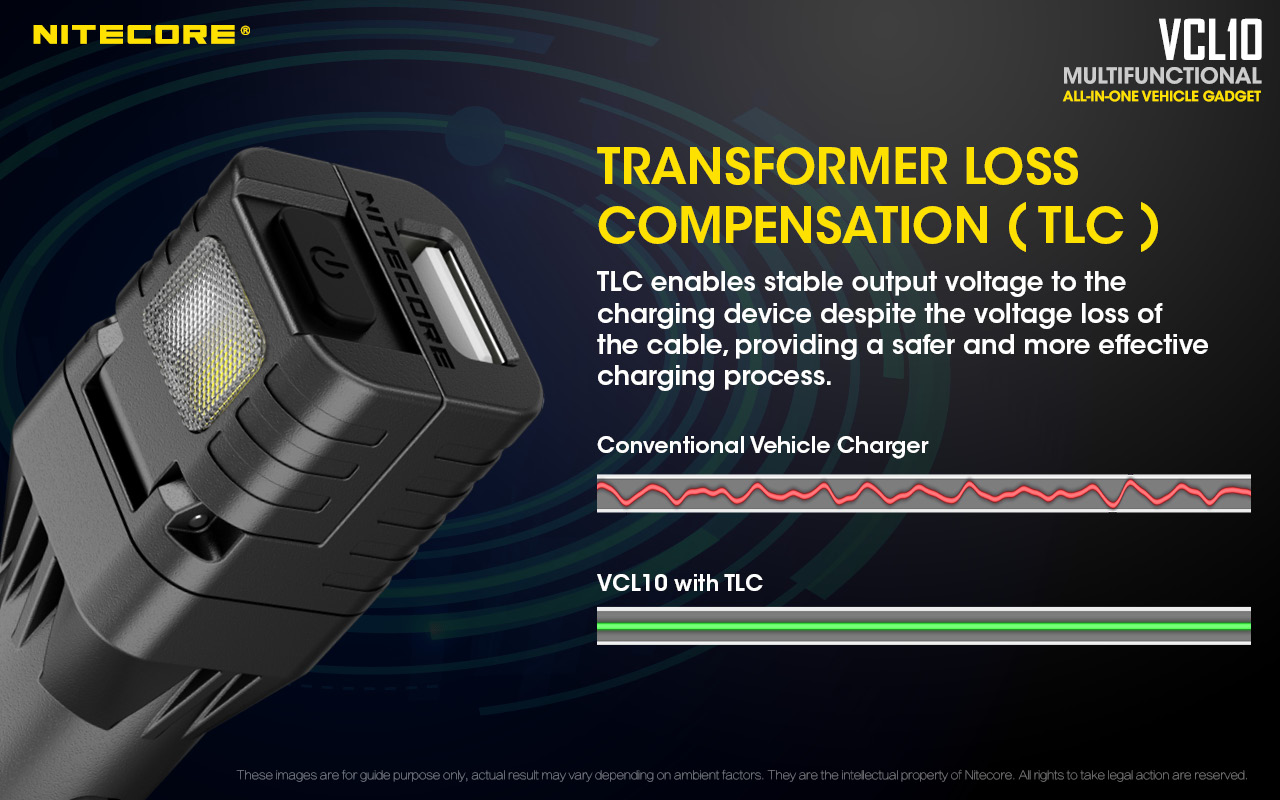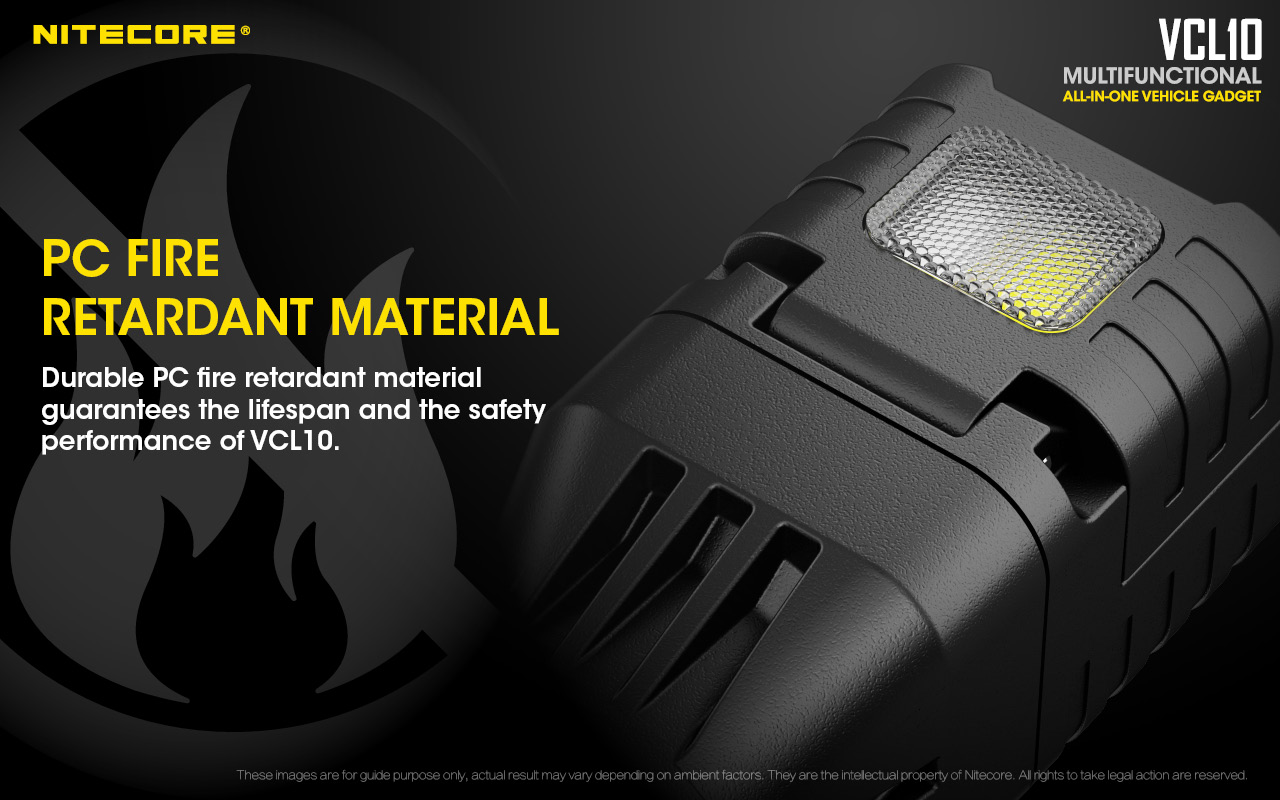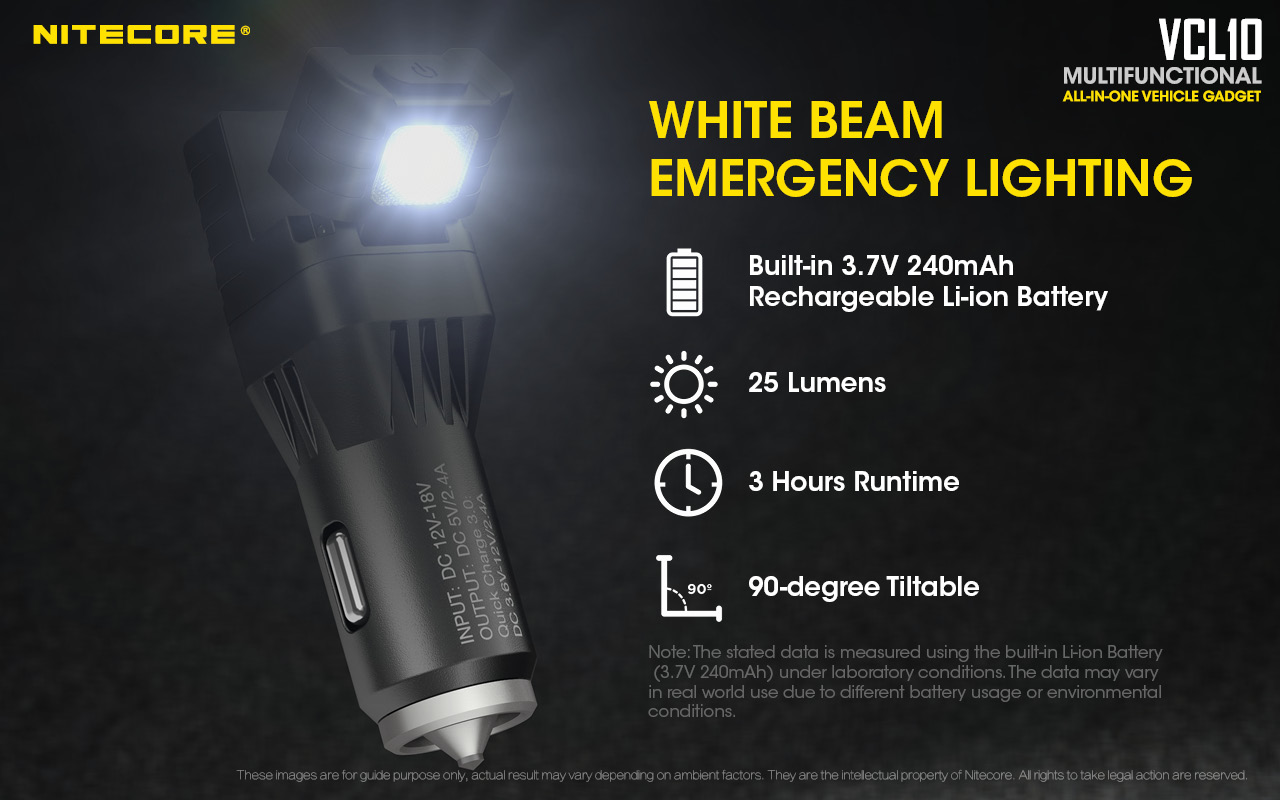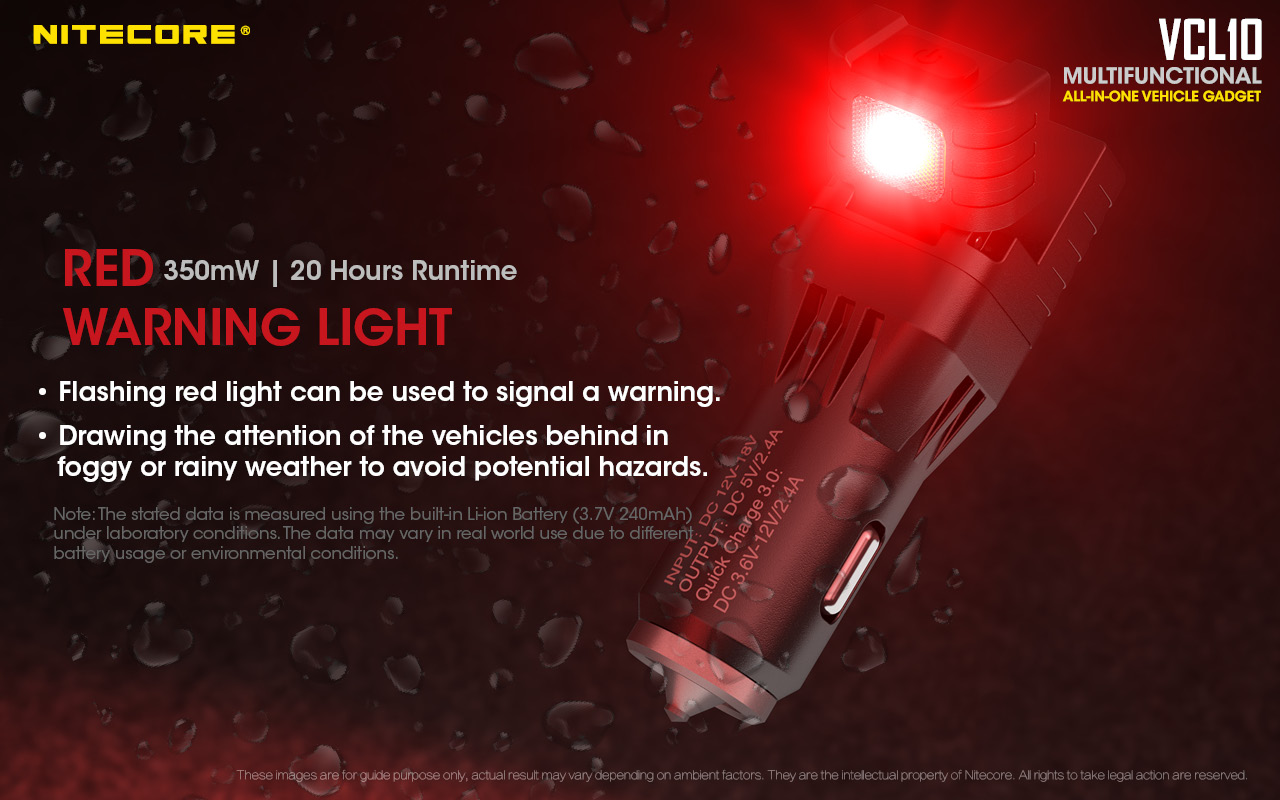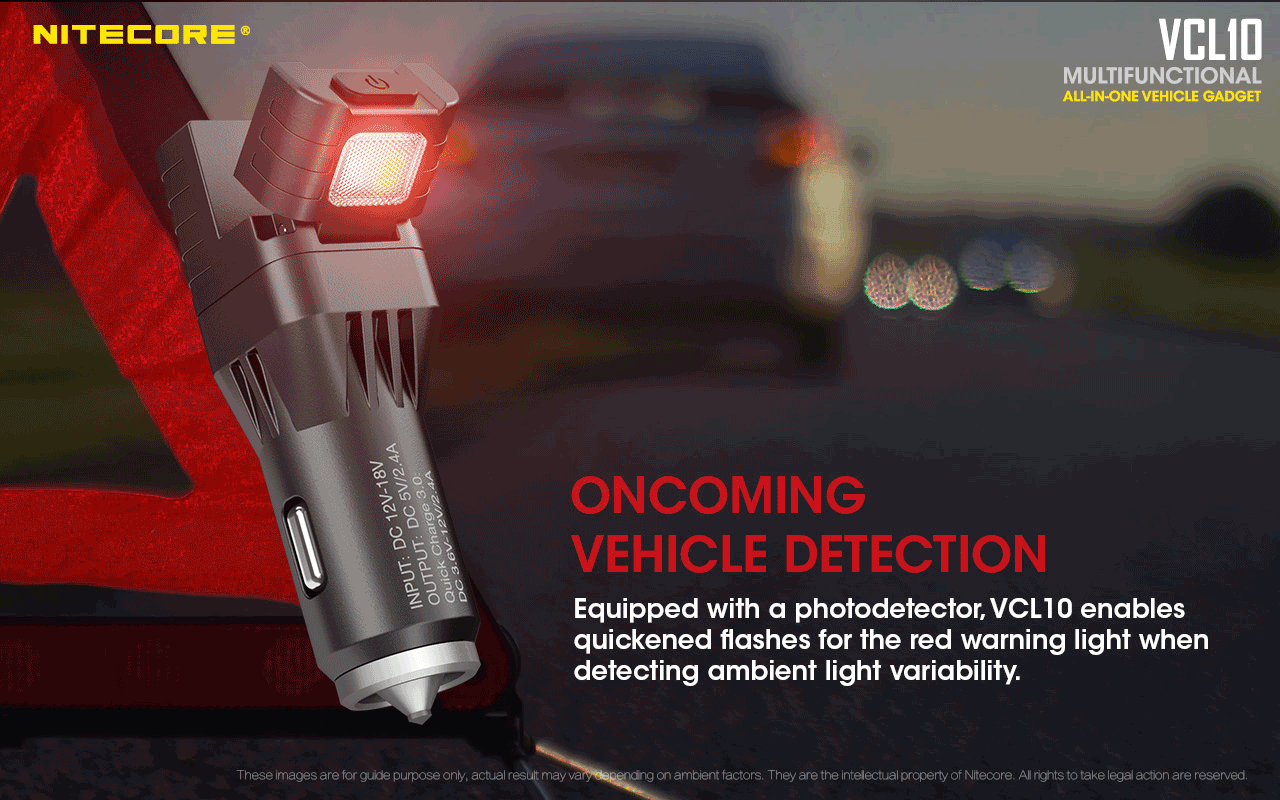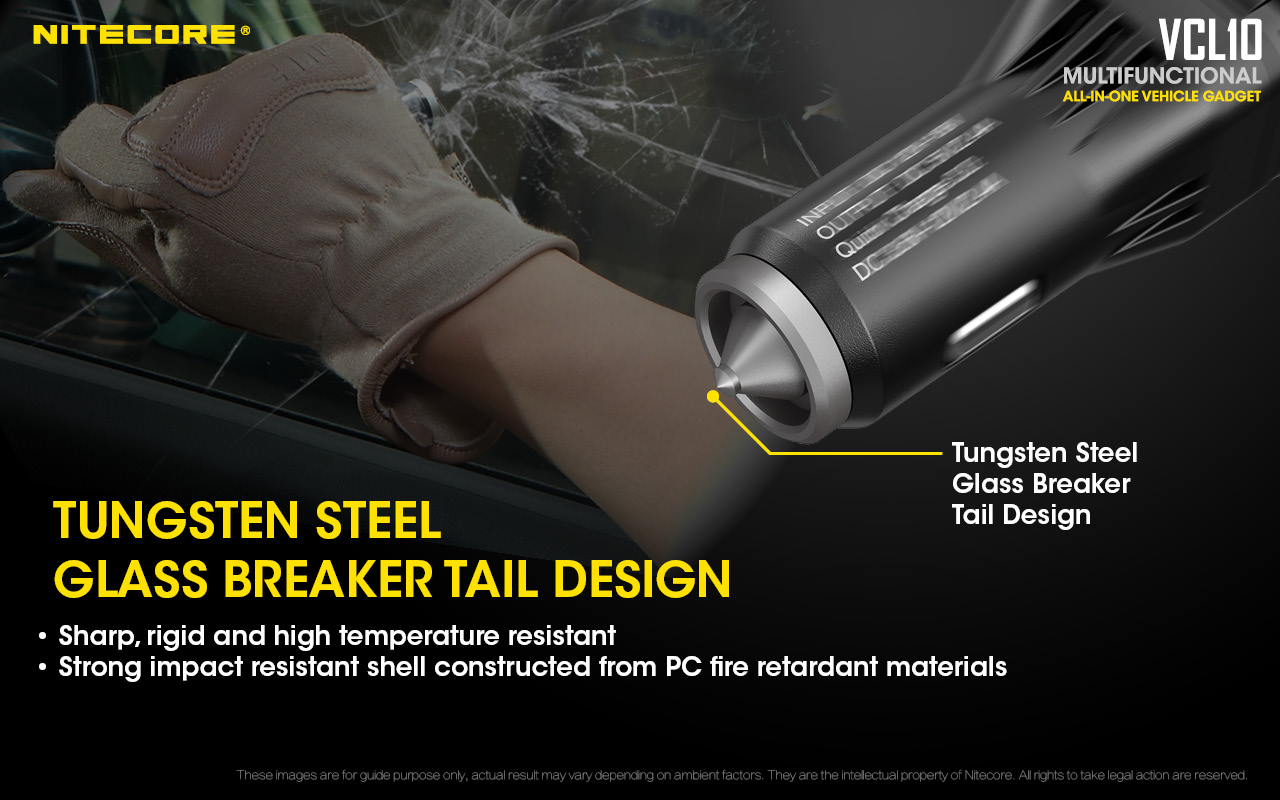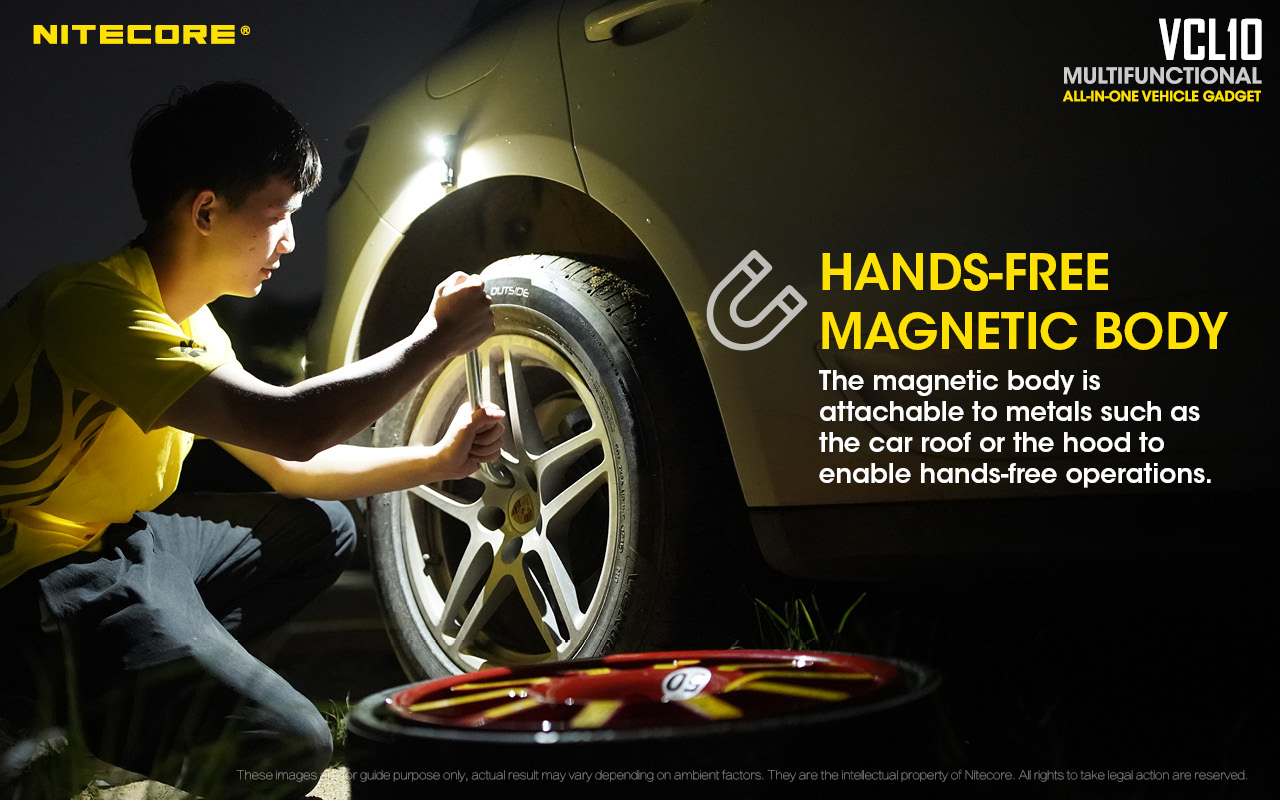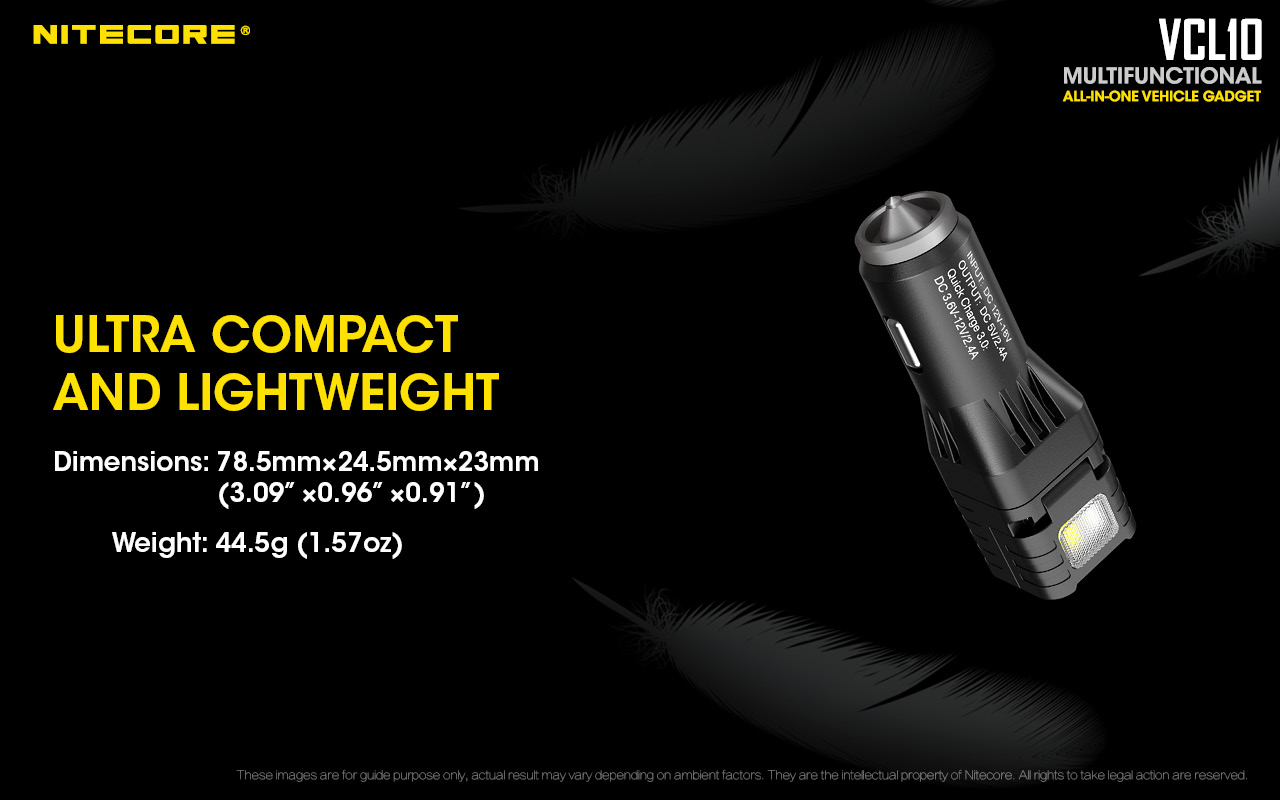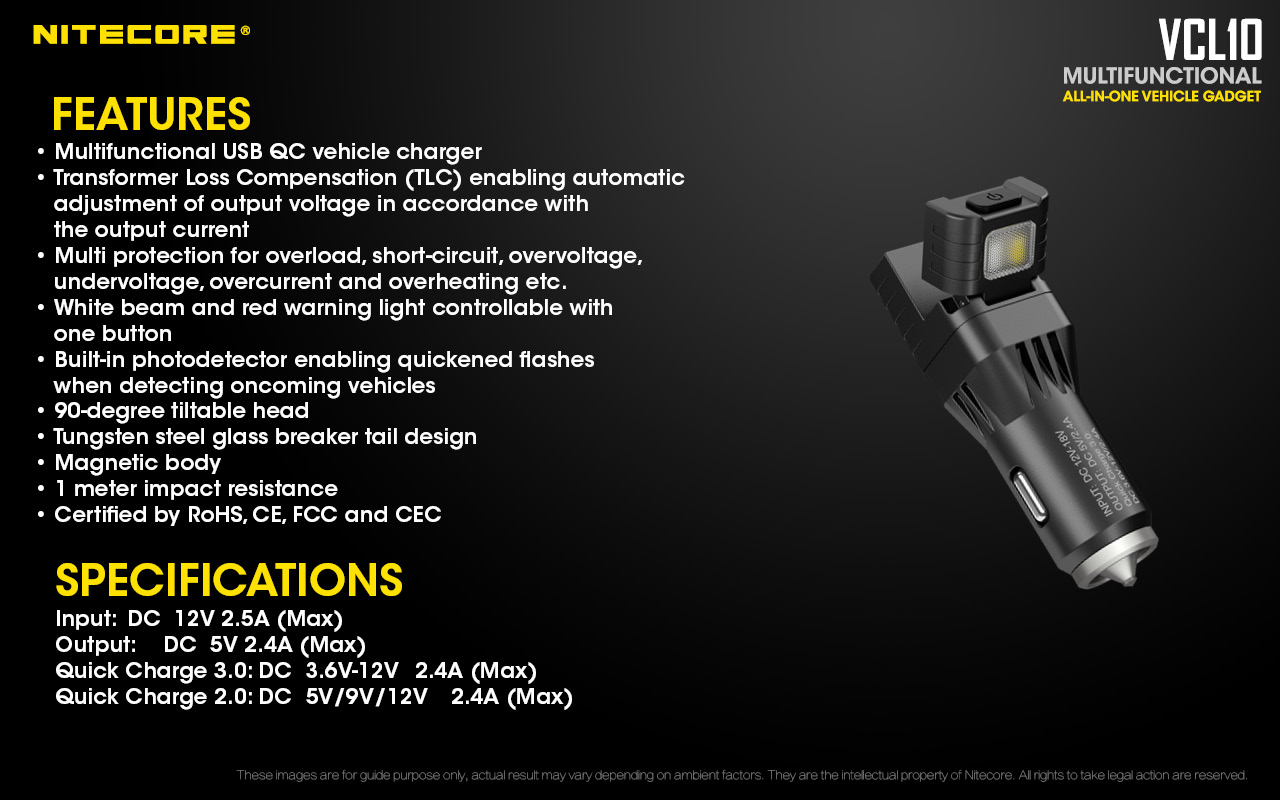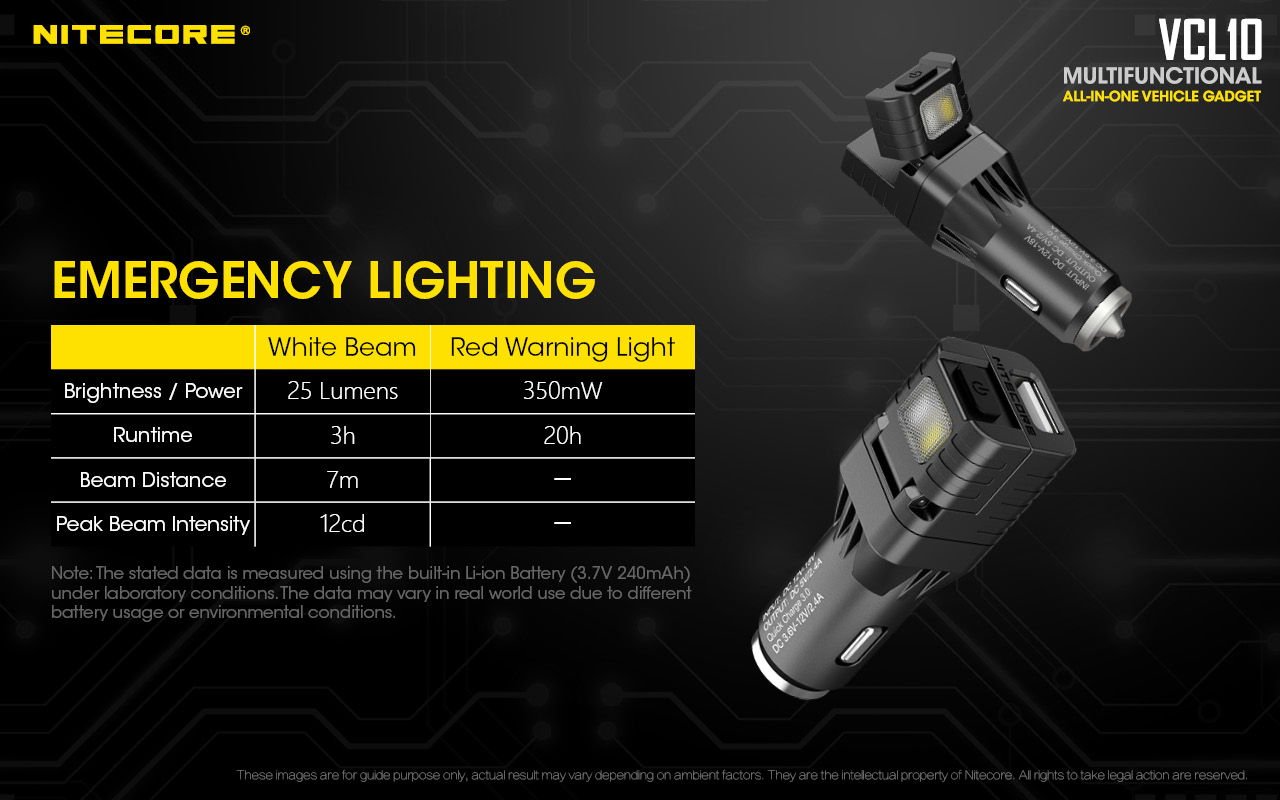 Free Shipping
Free 1-Day Shipping for all orders to Metros and 2-3 Days Priority Shipping to other cities for Orders above Rs.2000/- Details here.
Free Laser Engraving
Free Personalization (Permanant Laser Engraving) for all Flashlights, Knives and Gear. Details here.