LiitoKala Lii-402 USB Smart Universal Battery Charger, Power Bank for Li-ion, IMR, Ni-MH, LiFePO4
LiitoKala Lii-402 USB Charger - Four Battery Charger
- New 2017 Version, highly advanced smart USB charger with small footprint thats easy to carry
- for Li-ion, Ni-MH/NiCd, LiFePO4
- Can be used as Power Bank to discharge a single 18650 Li-ion battery (4th slot) via the USB out port to charger Mobile Phones or other devices
- Charging Current for 0.5A, 0.7A, 1A or 2A can be selected by user for Slower or Faster charging
LiitoKala Lii-402 is a smart universal charger that is capable of charging almost all Li-ion, Ni-MH, NiCd batteries. It can detect battery type and charge the battery automatically under your selected charging current. The Lii-402 features a Micro USB input port and a general USB output port. With LED indicators, you can read the charging process clearly. The built-in protection circuit allows you to charge your batteries without considering safety problems. Designed for portable, flexible and multifunctional, the LiitoKala Lii-402 is your smart assistant when you are at home or traveling.


For Battery Type:
Li-ion / IMR: 10440, 14500, 16340 (RCR123), 17500, 17670, 18350, 18490, 18650
Ni-MH/Ni-Cd: AA, AAA, A, SC

Features:
- 4 independent charging channels with built-in micro-computer management system to ensure the high efficiency
- USB output function: Built with 5V / 1000mAh output
- Flexible size: One-slot charging and management system, Micro USB DC 5V input port, portable to carry around
- 500mAh, 700mAh, 1000mAh, 2000mAh charging current for selection
- CC / CV charge mode to maintain a constant current flow and protect battery and users' safety
- LED indicators display the charging status 25% - 50% - 75% - 100%
- When you charge LiFePO4 or 3.85V battery, must fix the charging mode: Identifies 1.2V Ni-MH / 3.7V Li-ion batteries automatically and select manually for 3.85V Li-ion batteries and LiFePO4 battery
- Refresh function for 0V battery
- Identifies broken batteries, 0V rechargeable battery activation, can't charge 1.65 - 1.85V batteries
- Protections: over-charge, over-discharge, reverse polarity, short circuit protections
- 5V USB adapter (adaptor current 2A) is recommended


Parameters:
- Constant charging with cut-off current less than 100mAh
- Input voltage: DC 5V
- Input current: 2A
- Output voltage: DC 4.2V±1%, DC 5V;
- Power bank output: DC 4.9-5.3V
- Cut-off voltage for output: 3.0 + / - 0.1V
- Standby current: No more than 15mAh
- Output current: 500mAh / 700mAh / 1000mAh / 2000mAh
- Product Weight: 100gms
- Dimensions: LxWxH: 112 x 90 x 30 mm
USB Output Function:
- Open-circuit voltage of USB output : 4.9-5.3V; and the 4th slot is fixed for the USB discharge power source
- Output current: 1000mAh
- Open circuit current: <1 mAh
- The corresponding voltage is 4.75-5.25V under 1000mAh current
- Cut-off voltage for discharge protection: 3.0±0.1V
Li-ion / IMR: 18650, 18490, 18350, 17670, 17500, 16340(RCR123), 14500, 10440
Compatibility: Li-ion/IMR: 18650, 18490, 18350, 17670, 17500, 16340(RCR123), 14500, 10440

Cautions:
- Can't charge battery type of 1.6-1.85V
- Batteries are not included



Whats Included:
1 x LiitoKala Lii-402 Battery Charger, 1 x USB Cable, User Manual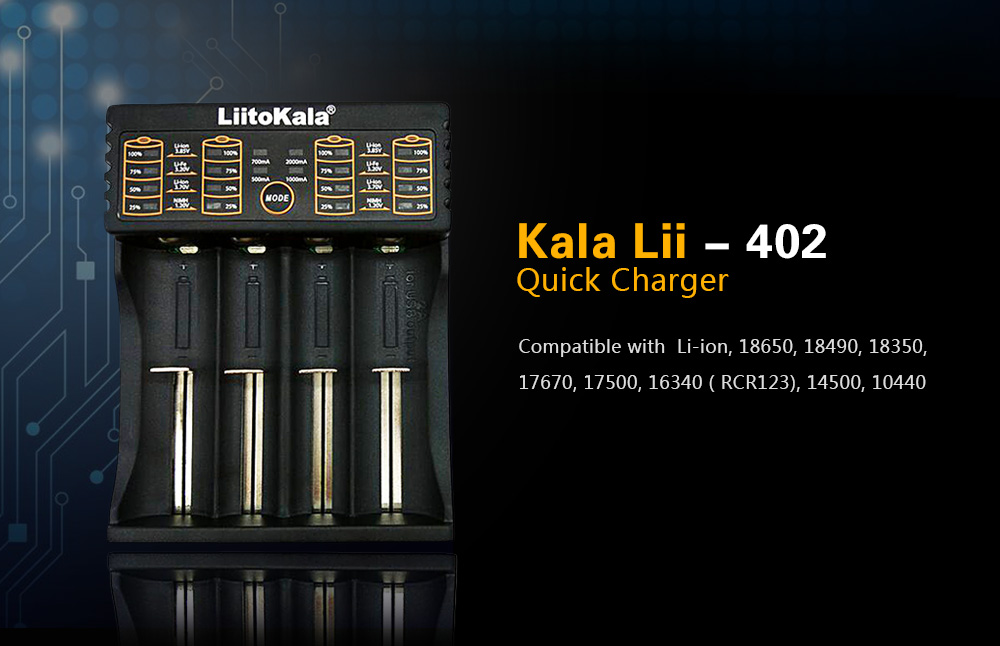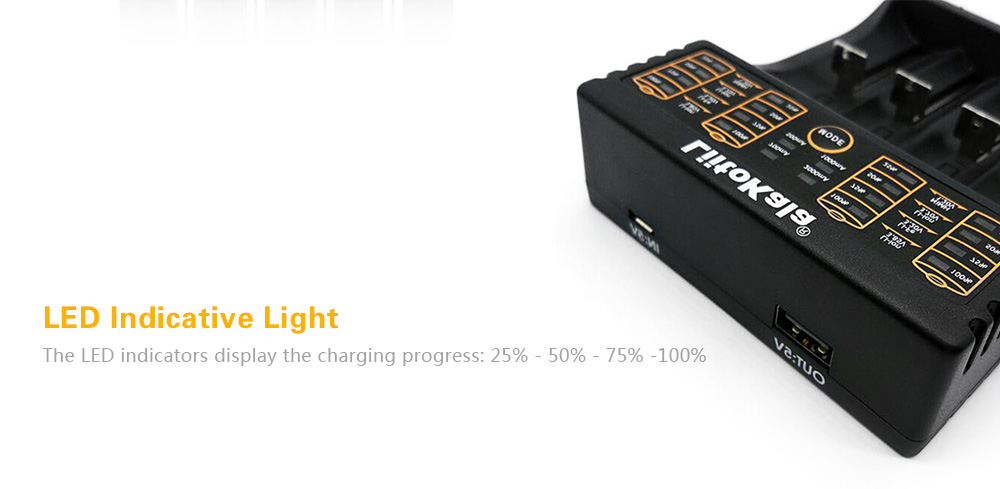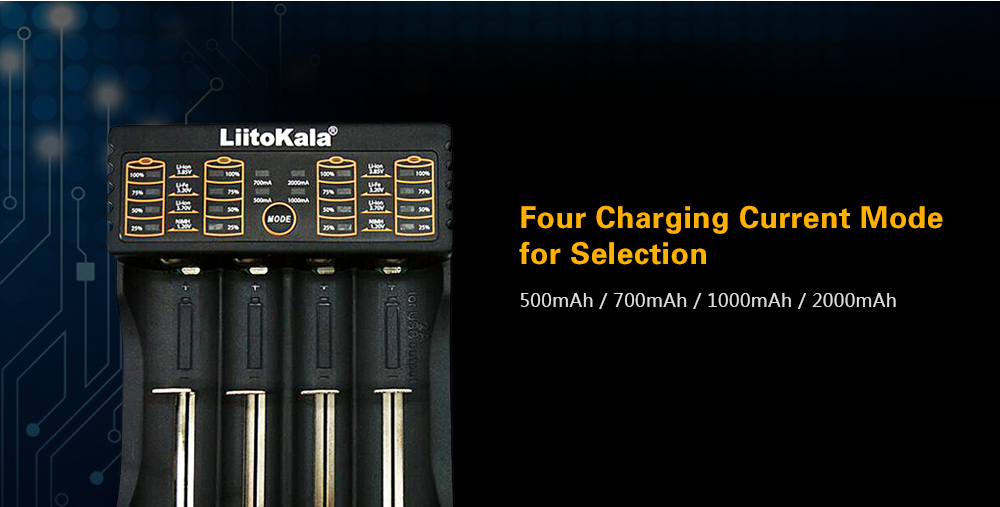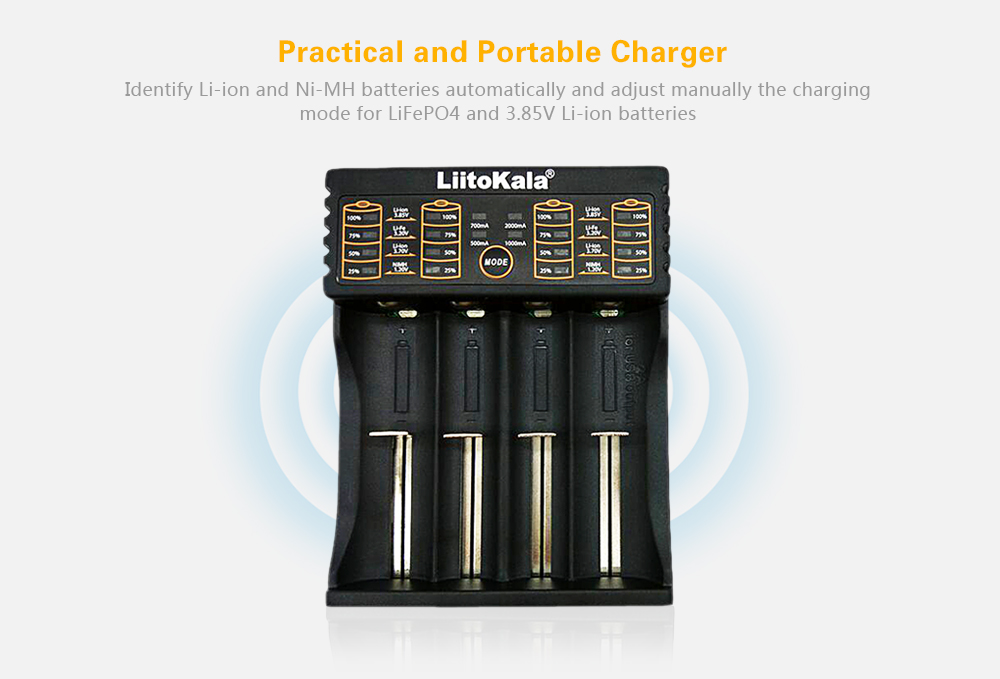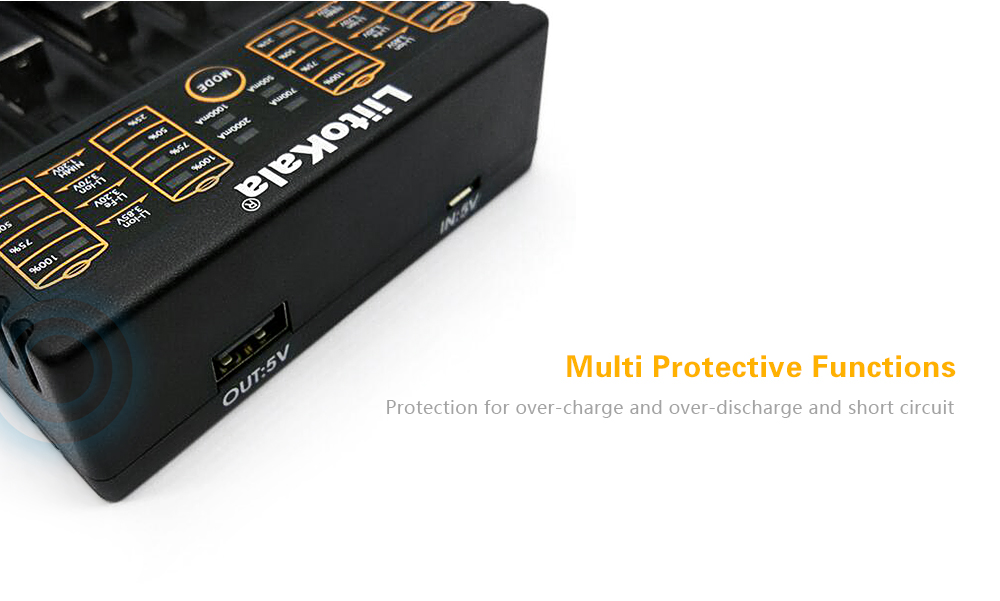 Free Shipping
Free 1-Day Shipping for all orders to Metros and 2-3 Days Priority Shipping to other cities for Orders above Rs.2000/- Details here.
Free Laser Engraving
Free Personalization (Permanant Laser Engraving) for all Flashlights, Knives and Gear. Details here.
Brand: LiitoKala
Product Code:

L17LIITO402

Availability:

In Stock
Tags: Charger, 18650 Charger, Multi-Charger, AA Charger, 14500 Charger, USB Charger