Nitecore HC70 Powerful USB Rechargeable LED Headlamp for Caving Explorers, Doctors (1000 Lumens, 2x18650)
Nitecore HC70 USB Rechargeable LED Headlamp
- Outstanding Headlamp with outstanding backup and runtimes
- Light weight, Excellent Flood+Throw output, full metal body
- Rated for 182mts beam distance and 2hrs15mins on the highest mode(1000 Lumens)
- Powered by 2x 18650 Rechargeable Li-ion battery or 4xCR123A batteries (Batteries not included, you can select batteries while adding to cart)
- 5 Brightness modes, Caution Light, SOS and Location Beacon modes


Specifically Designed For Caving
The Nitecore HC70 is engineered to be the perfect cave exploration LED headlamp. This caving headlamp comes with a separate battery pack connected by a nylon cable that is impervious to wear and tear. The nylon cable therefore will not rip or shred under extreme circumstances in while cave spelunking. The Lithium Ion batteries which power your LED headlamp are encased in a metal battery pack made of an aero-grade aluminum which prevents damage if dropped. Additionally, the Nitecore HC70 caving headlamps battery pack can be used as an emergency power bank. If an emergency situation develops then you will be able to charge your flashlight or a cell phone right off the battery pack. These durable features make the HC70 headlamp one of the most valuable LED caving lamps you could own because it offers hands-free, reliable, and long-lasting light options that are essential to outdoor enthusiasts.
Moreover, the HC70 LED headlamp provides extremely bright outputs. The LED headlamp comes with 8 different lighting modes which include: Turbo, High, Medium, Low, Ultra-Low, Caution, SOS, and a Beacon output. The caving lamp has a maximum output of 1000 Lumens and a maximum runtime of 220 hours which makes it the perfect tool for long cave explorations or hiking trips. The HC70 comes with an IP67 rating protecting it from outside dust and moisture. The high IP67 rating means you will not have to worry about getting lost in a cave forever if your headlamp or battery pack gets wet! Stay safe and get ready to have some exciting adventures with the new Nitecore HC70 headlamp.

Features:

- 5 brightness outputs and 3 special light outputs which include: Caution light, SOS, and Beacon
- Advanced Temperature Regulation technology to prevent your lamp from overheating
- The separate battery can act as a power back and can charge 2 devices at once
- The cable is constructed of a durable nylon material making it wear-and-tear-resistant
- LED battery indicator shows you remaining power
- Special battery tail cap prevents water and dust from entering your battery pack
- 90-degree flood illumination creates a wide beam of bright light
- Micro-USB rechargeable
- Battery pack is constructed from an aero-grade aluminum alloy with an HAIII military grade hard-anodized aluminum alloy finish
Specifications:

- LED: CREE XM-L2 U2 white Output LED
- Power Source: 2 x 18650 Lithium-Ion batteries
- Peak Beam Distance: 182 meters (597.113 ft.)
- Peak Beam Intensity: 8,300 cd
- Brightness Outputs:
Turbo 1000 Lumens - 2.25 Hours
High 550 Lumens - 4 Hours
Medium 240 Lumens - 10 Hours
Low 65 Lumens - 30 Hours
Ultralow 1 Lumen - 220 Hours
- IPX Rating: IP67
- Impact Resistance: 1.5 meters (4.92 ft.)
Dimensions: Length x Height x Width: 64 mm x 56 mm x 36 mm
Weight: 97.8 gms (excluding battery)
Accessories Included:
1 x Headband, 2 x Cable buckles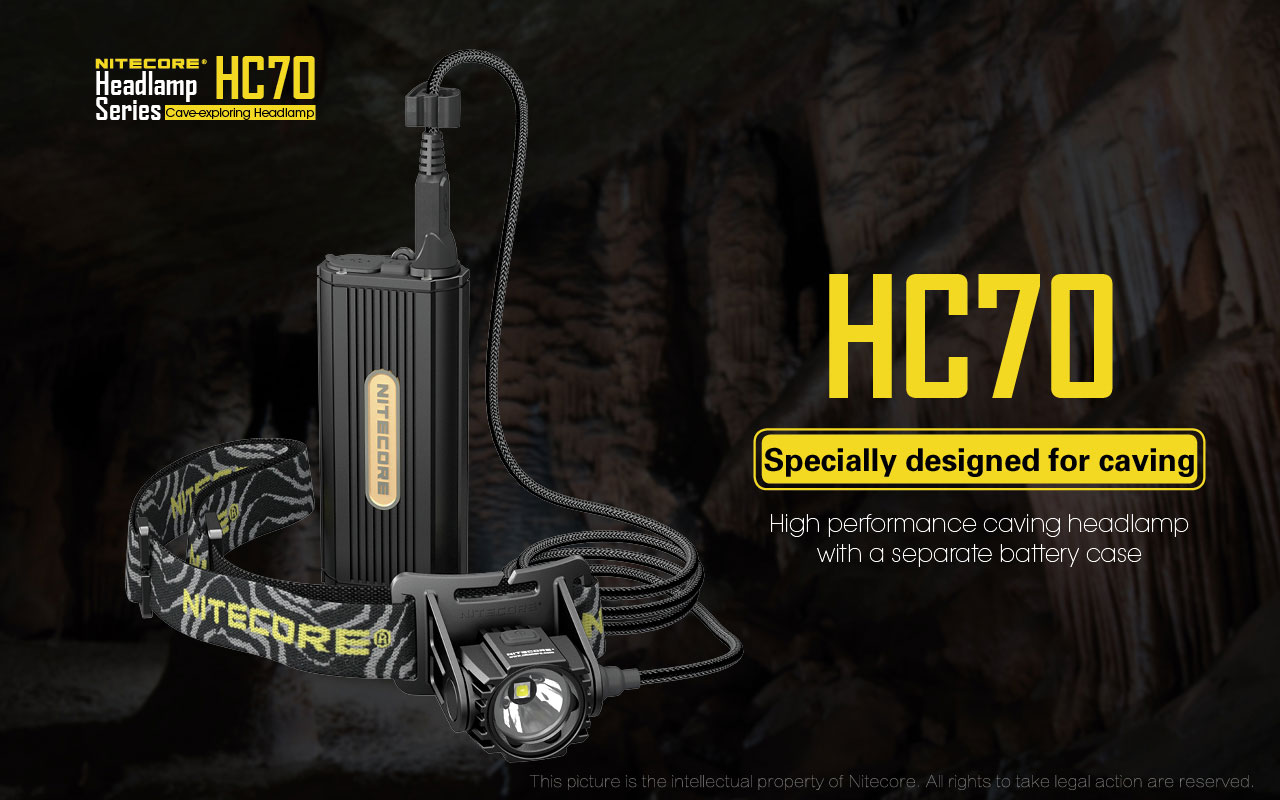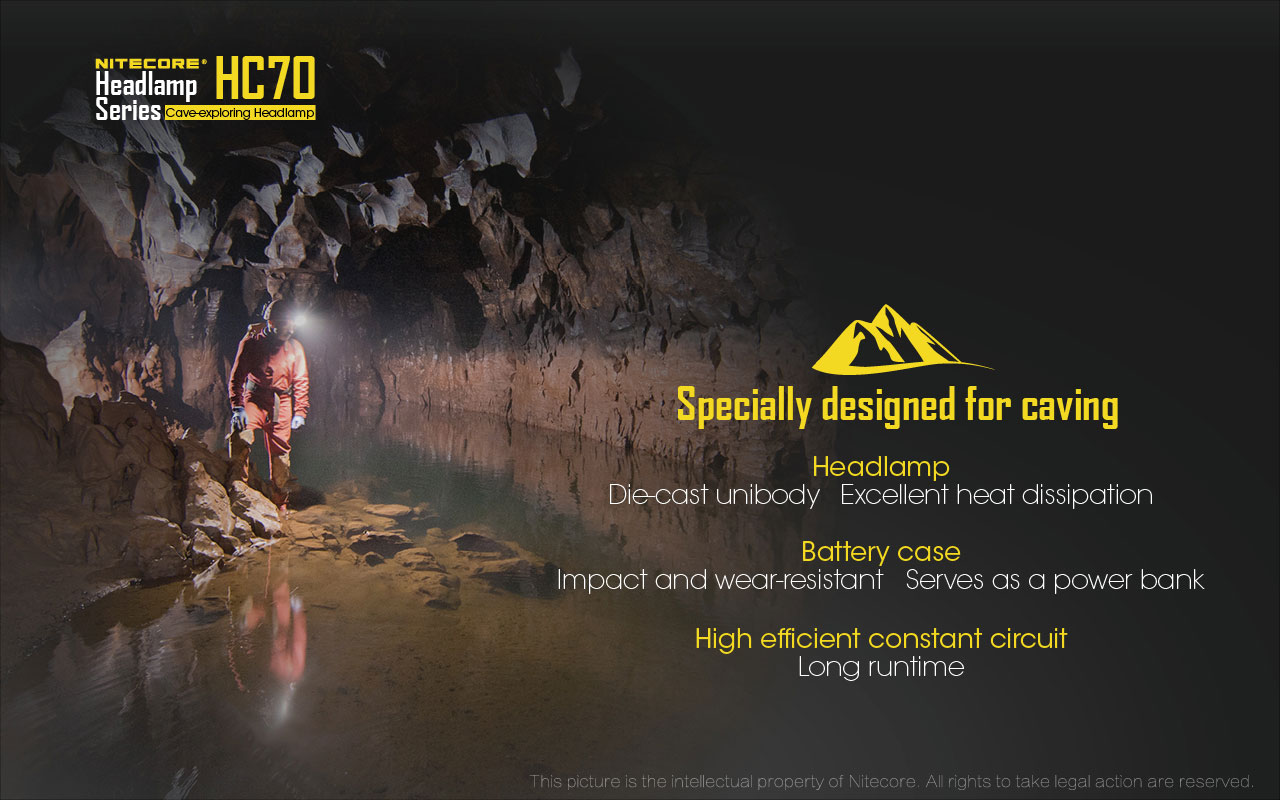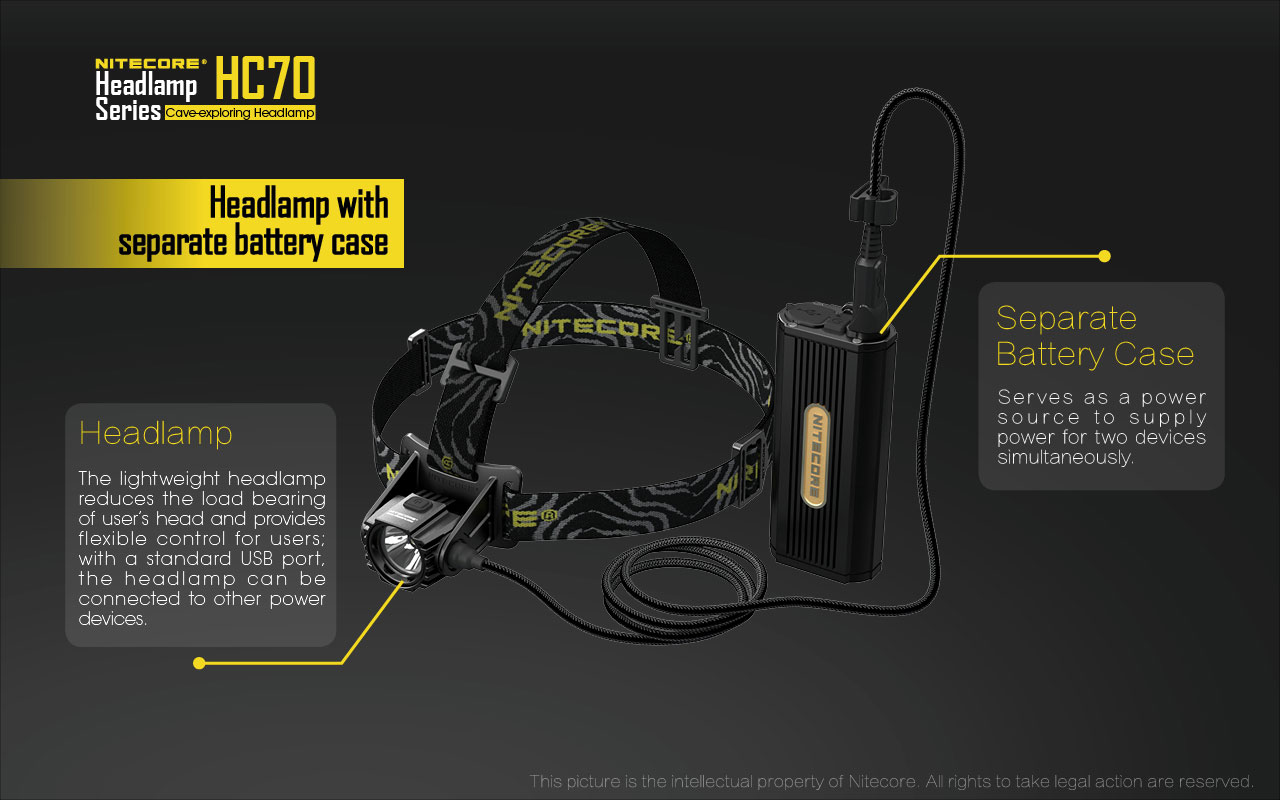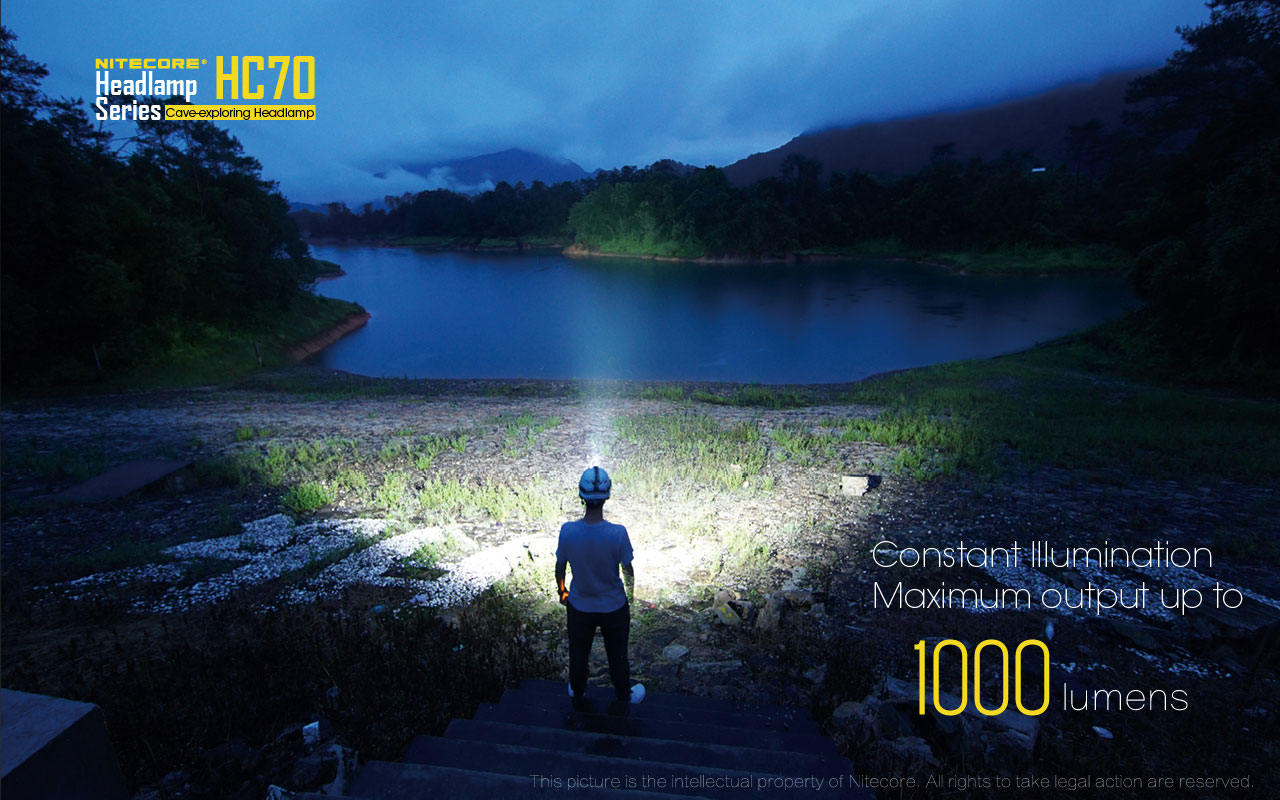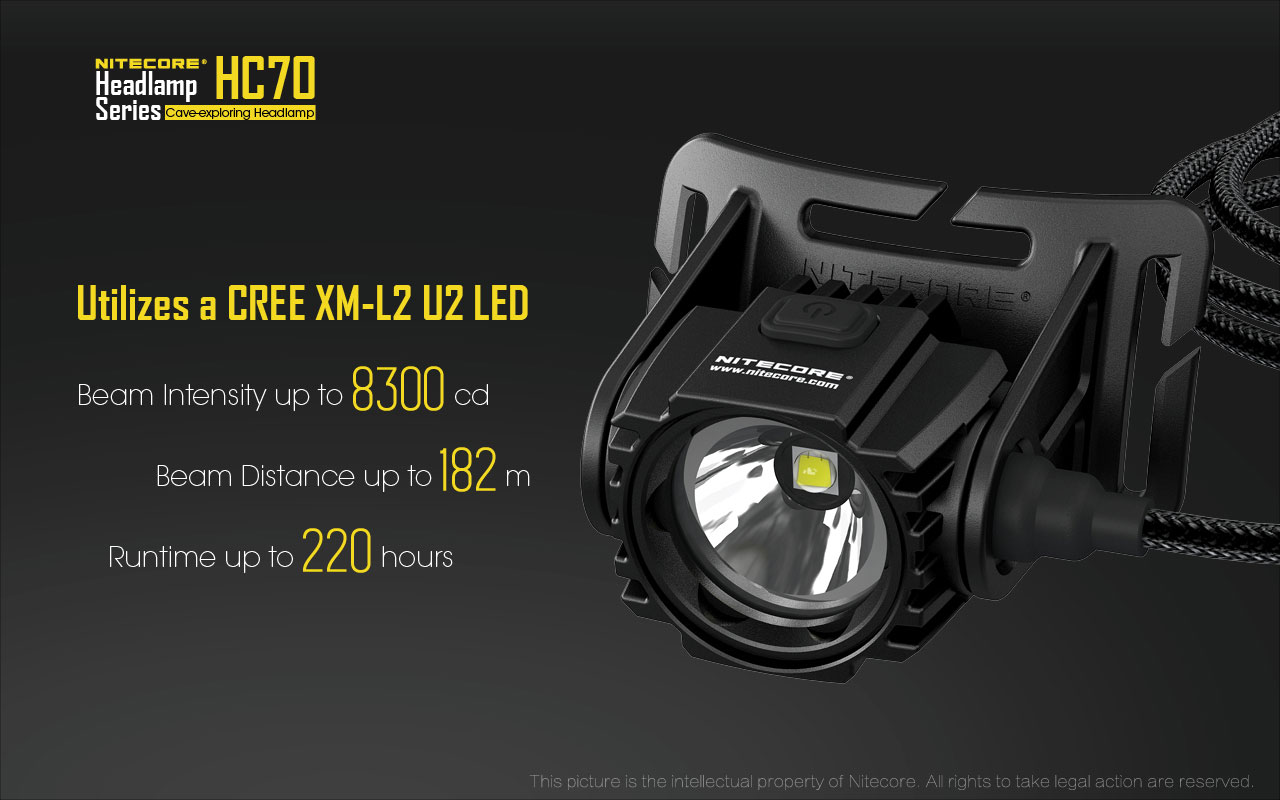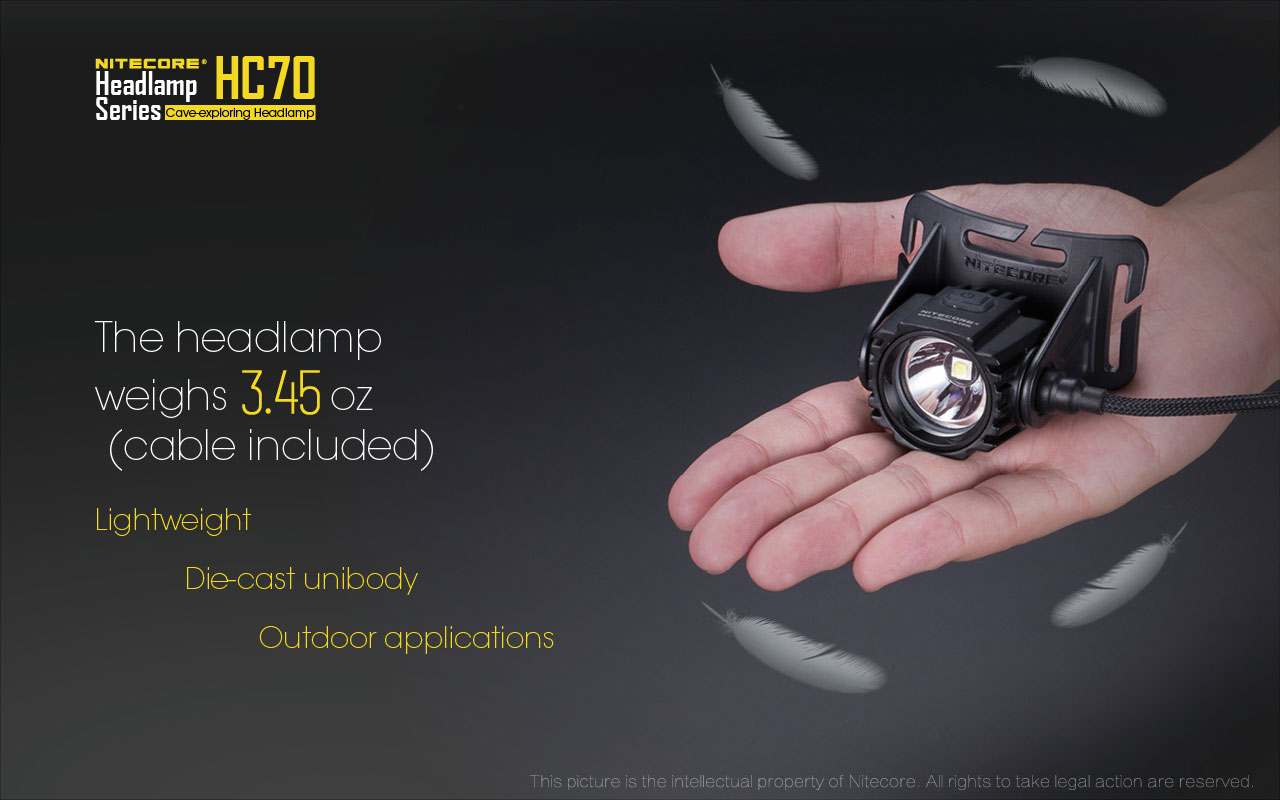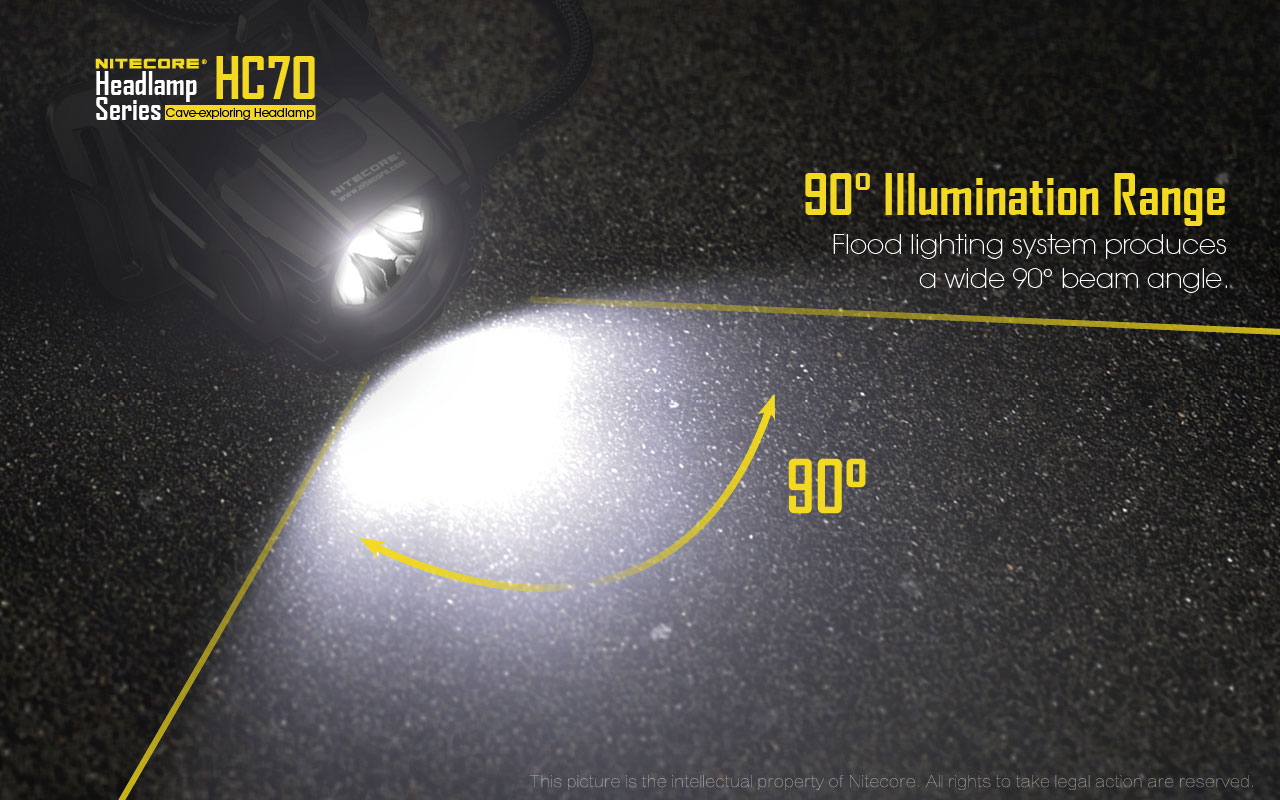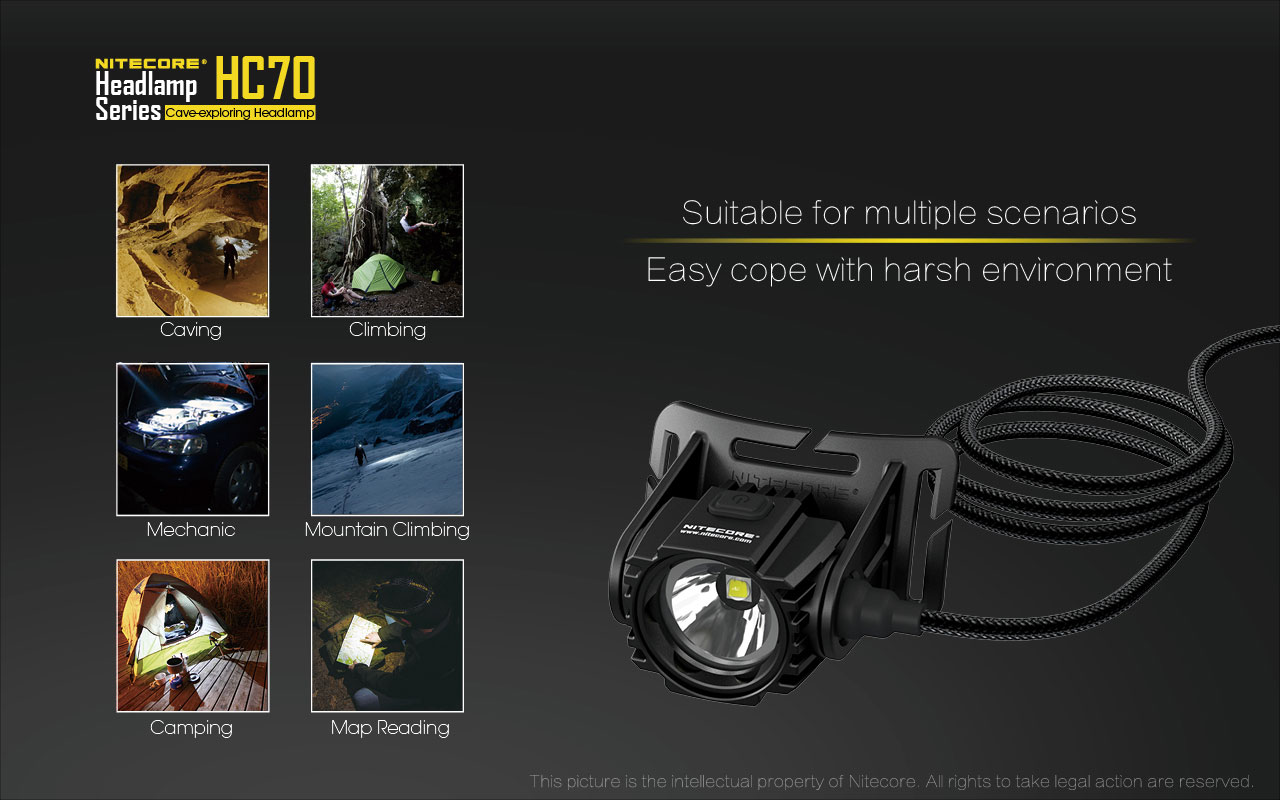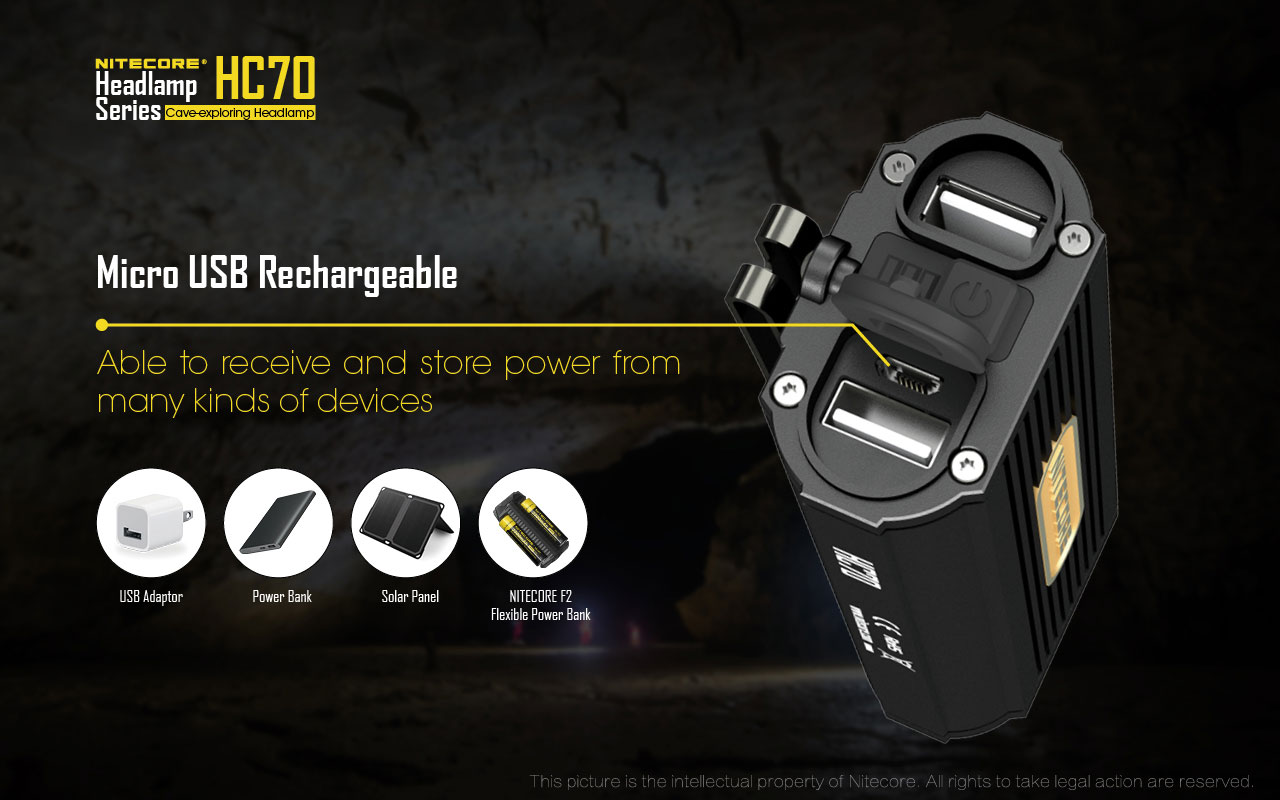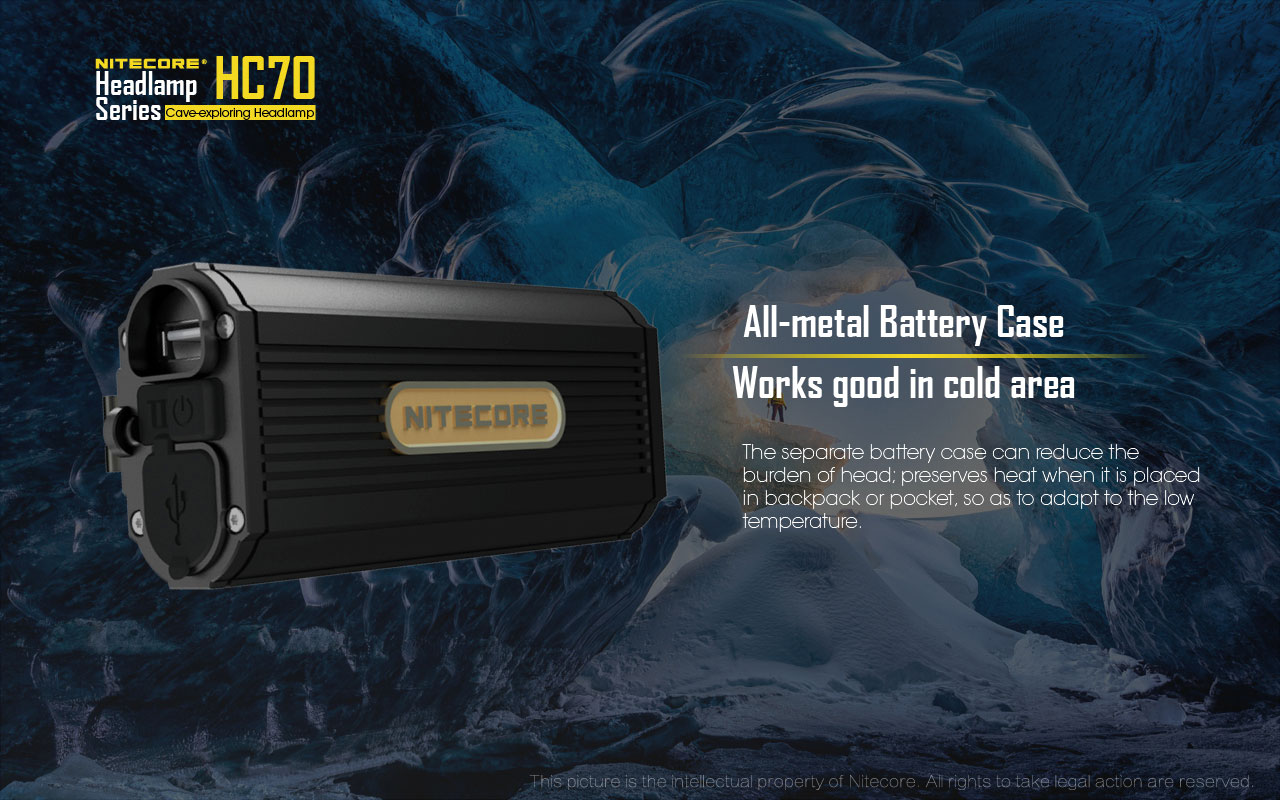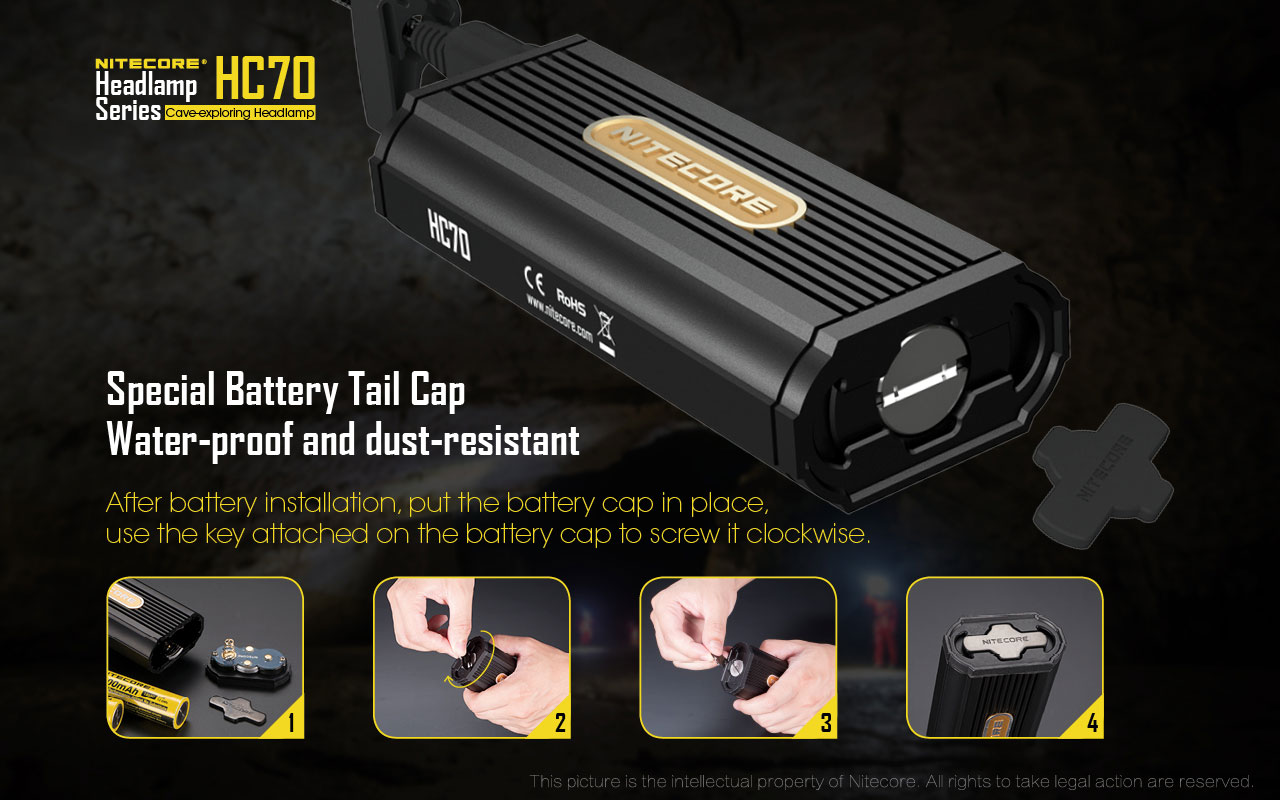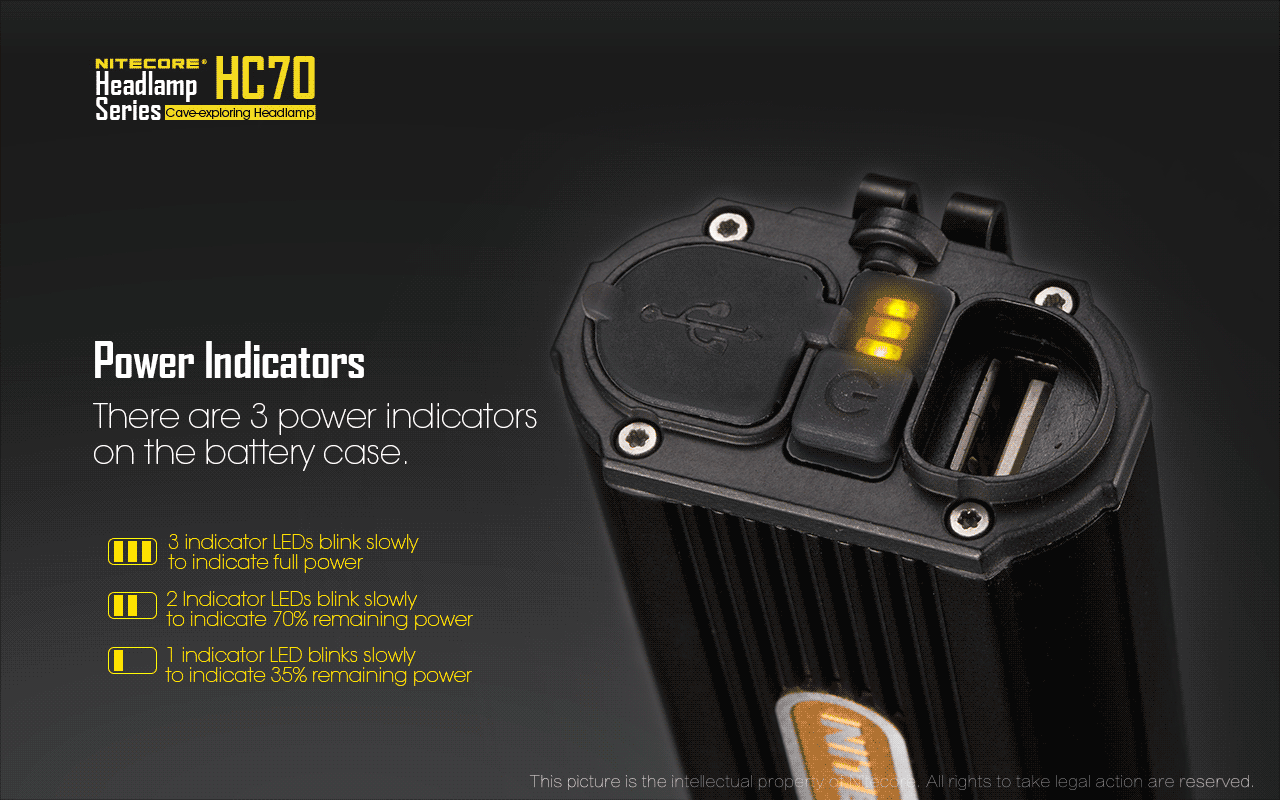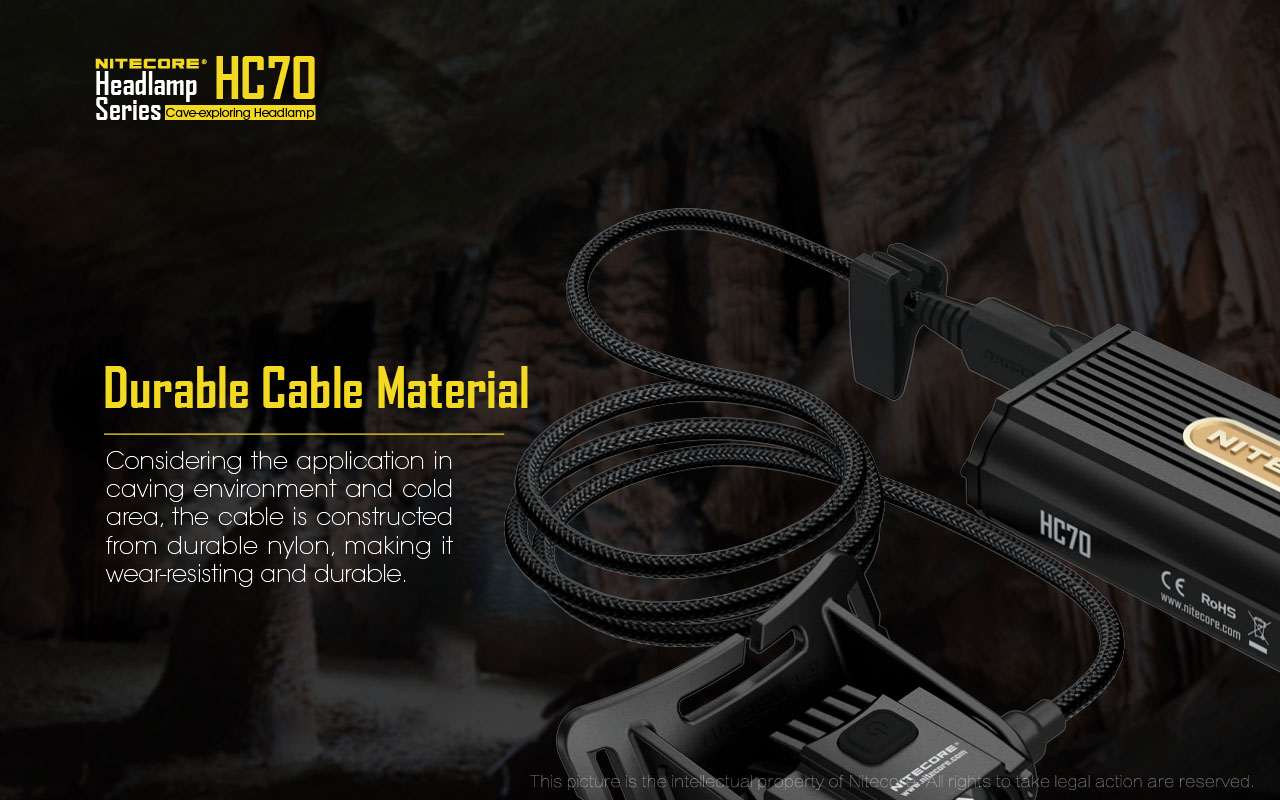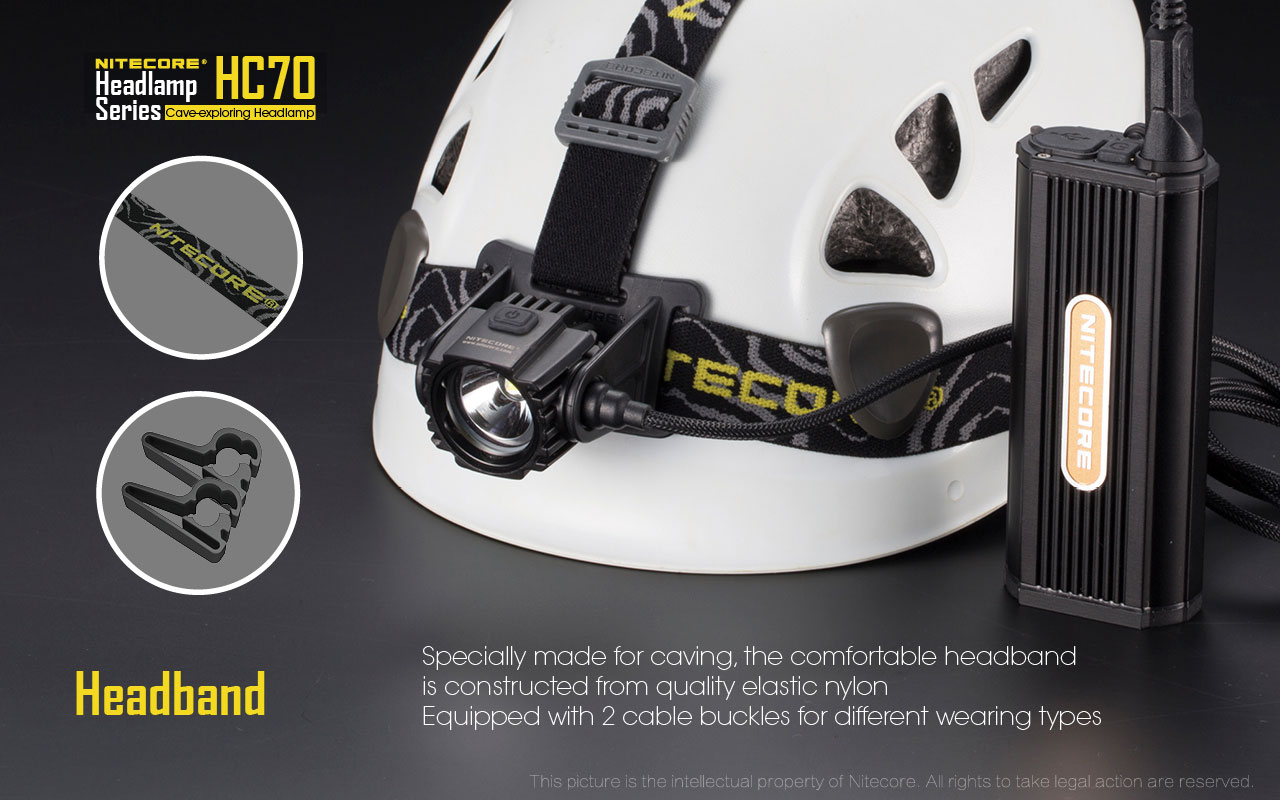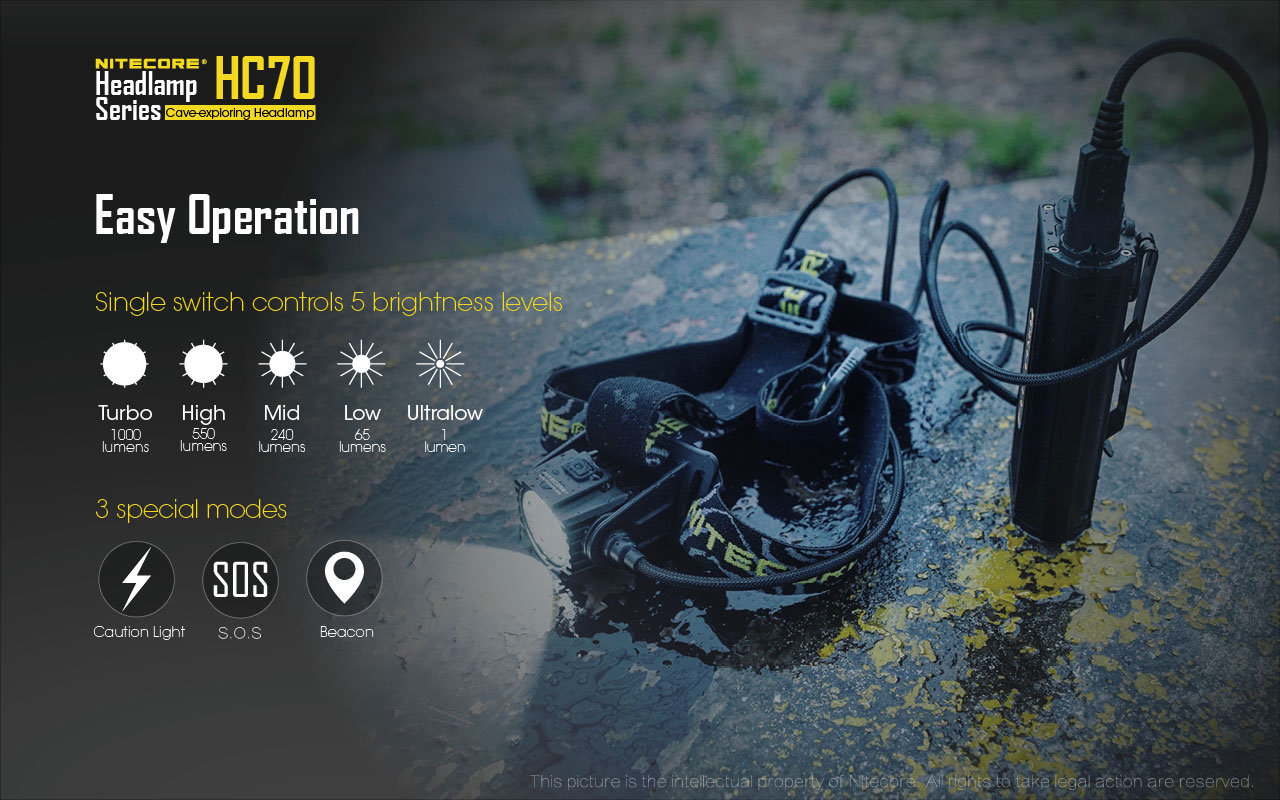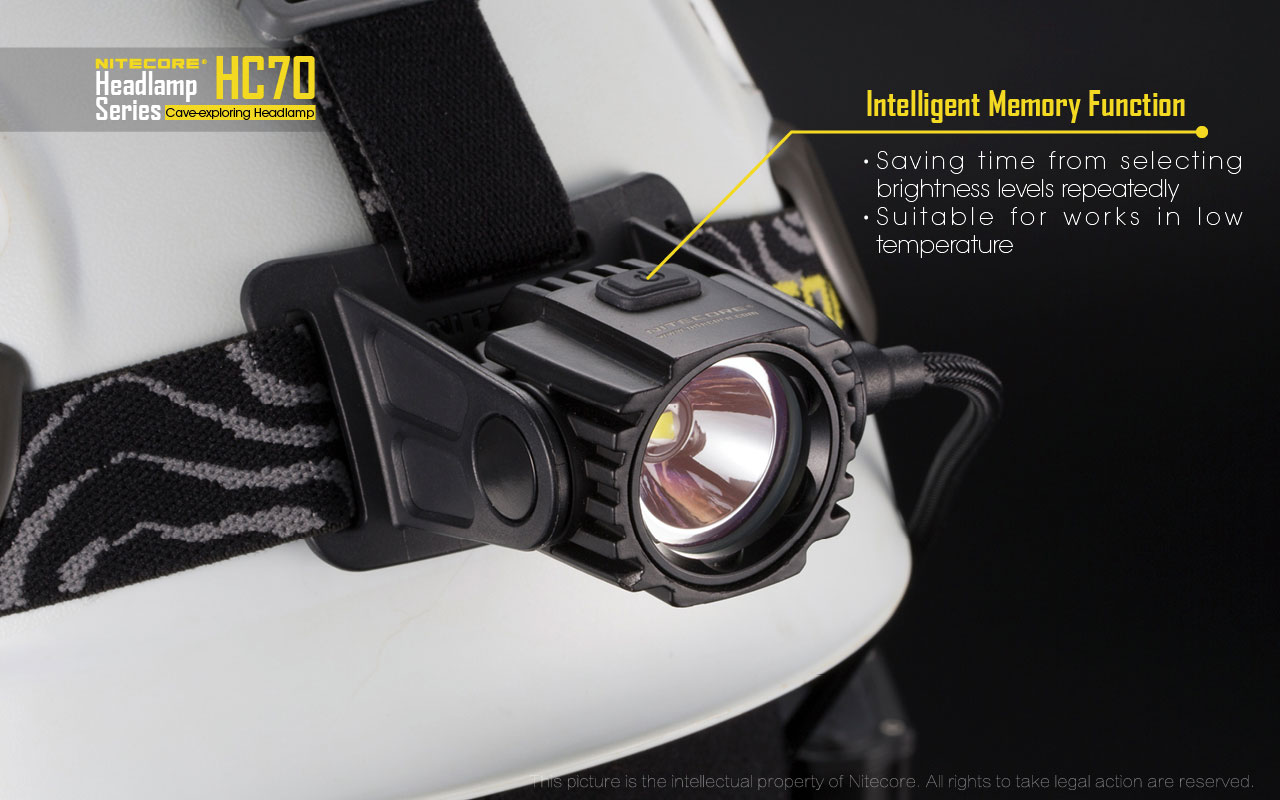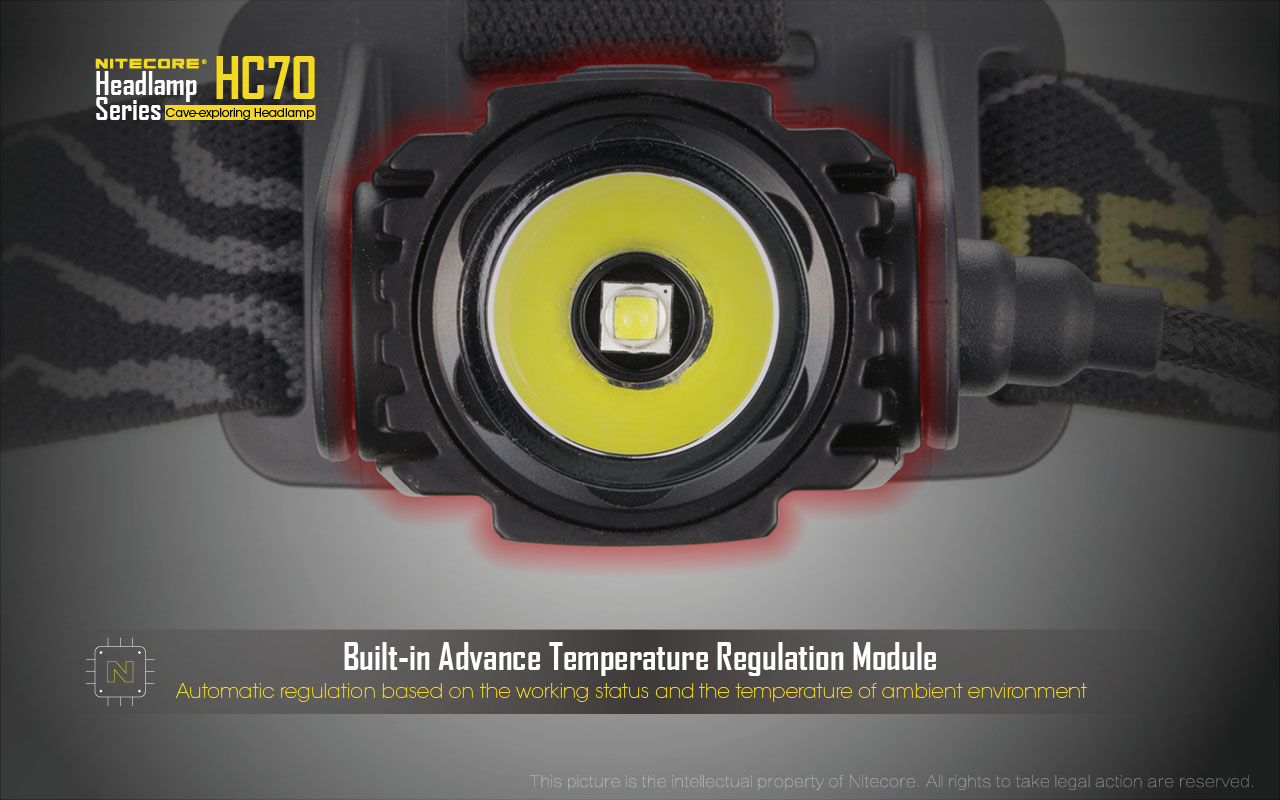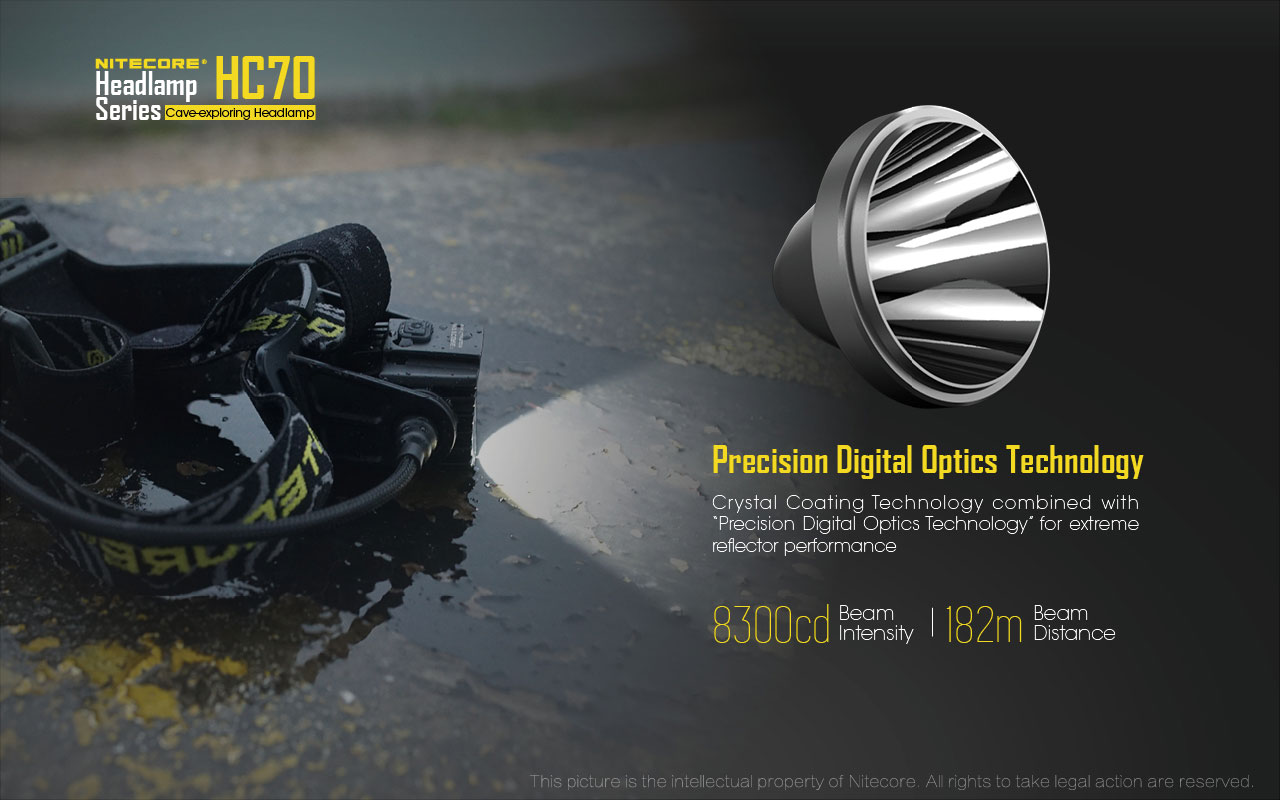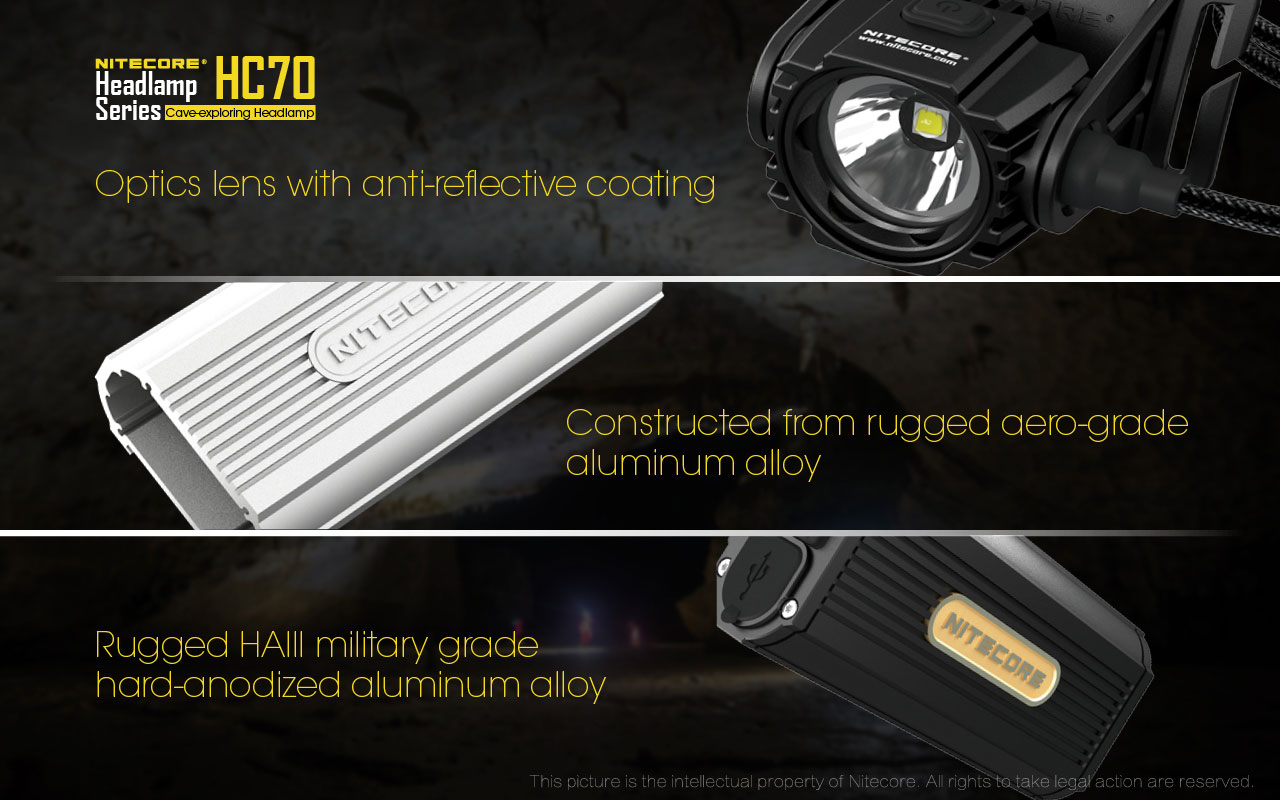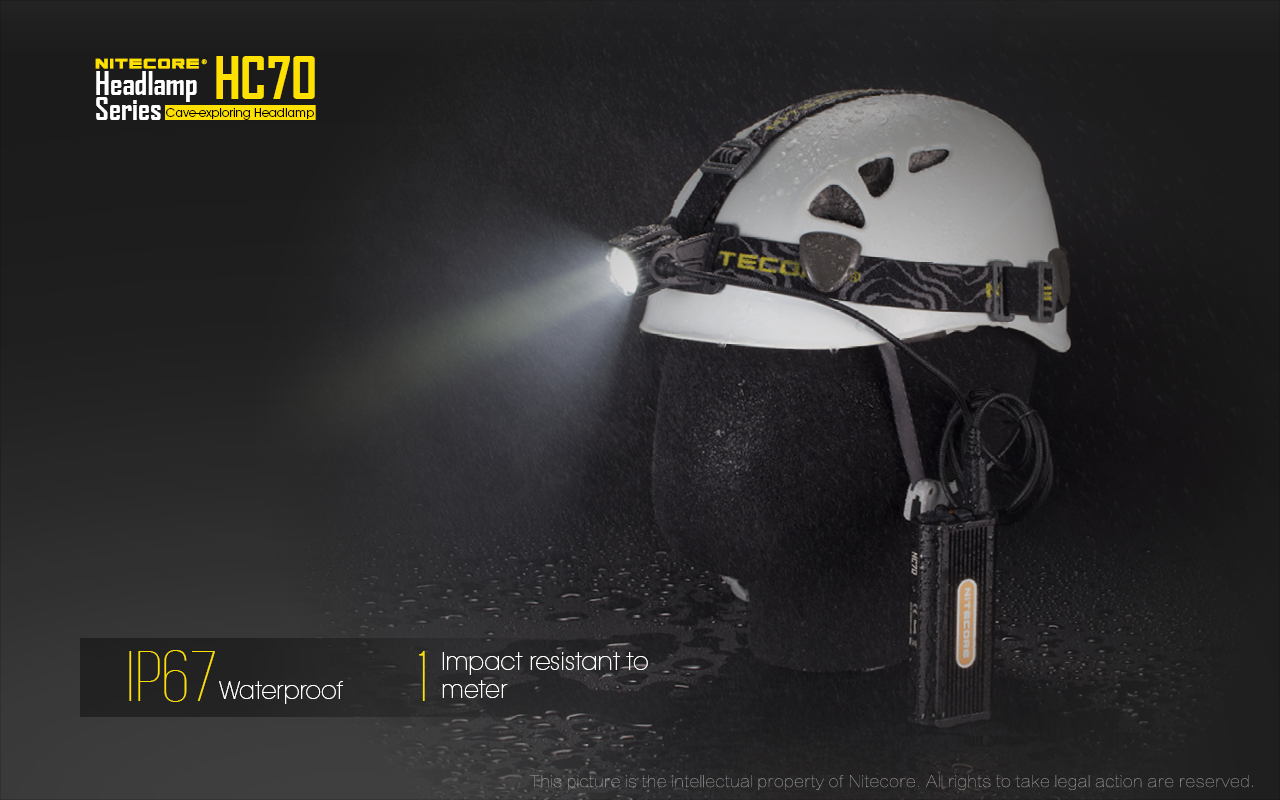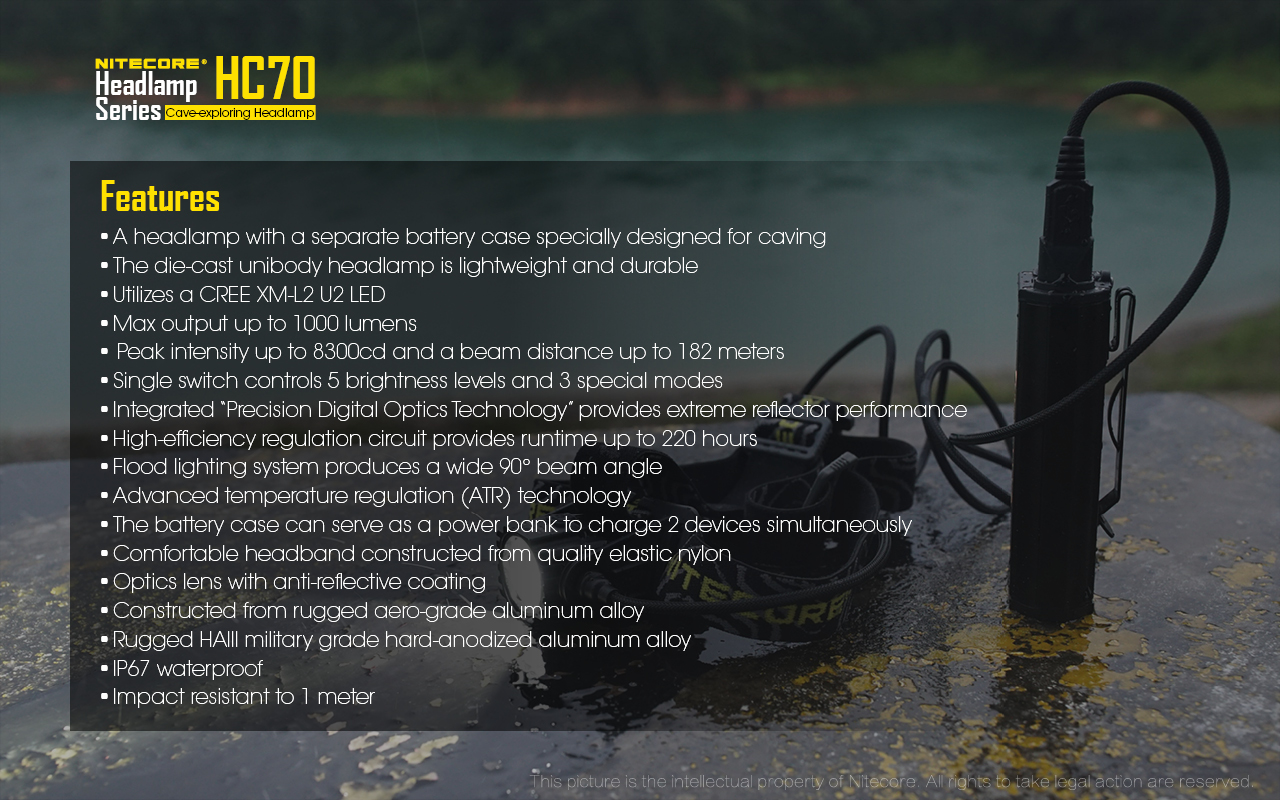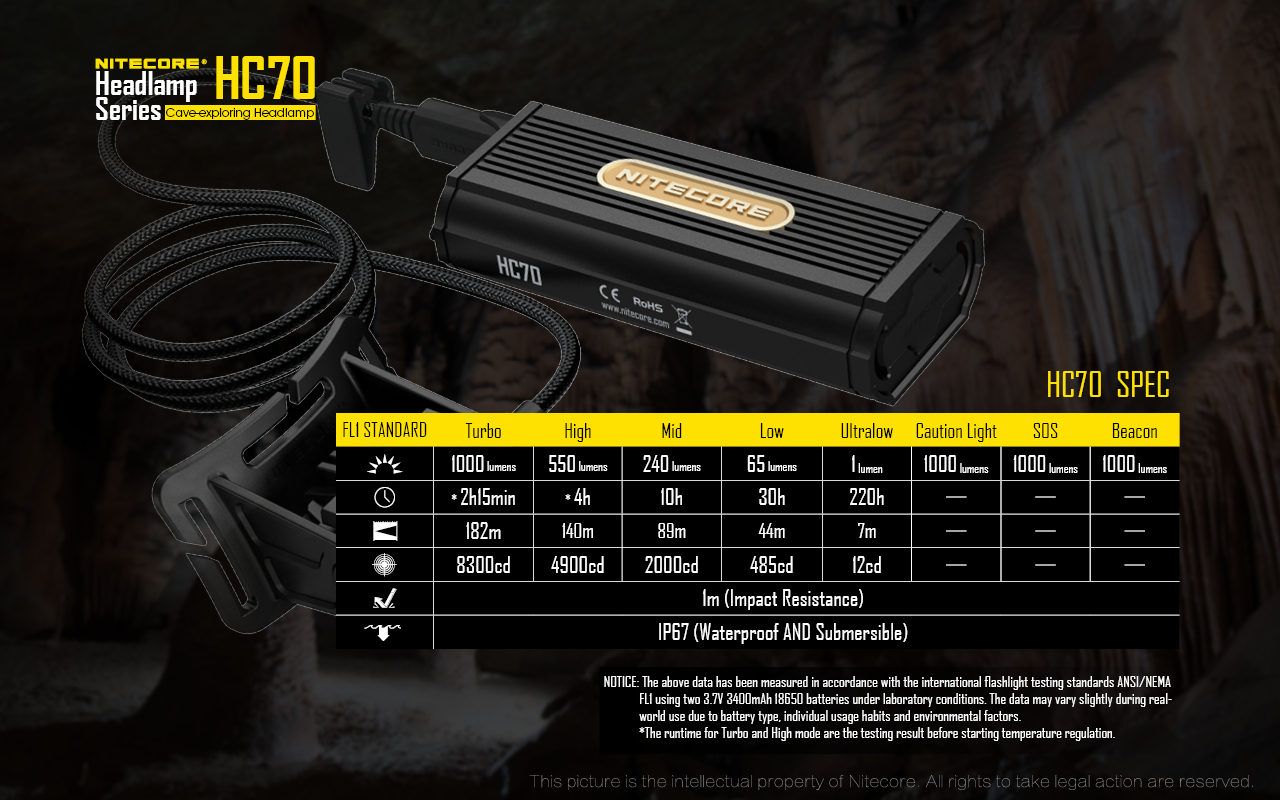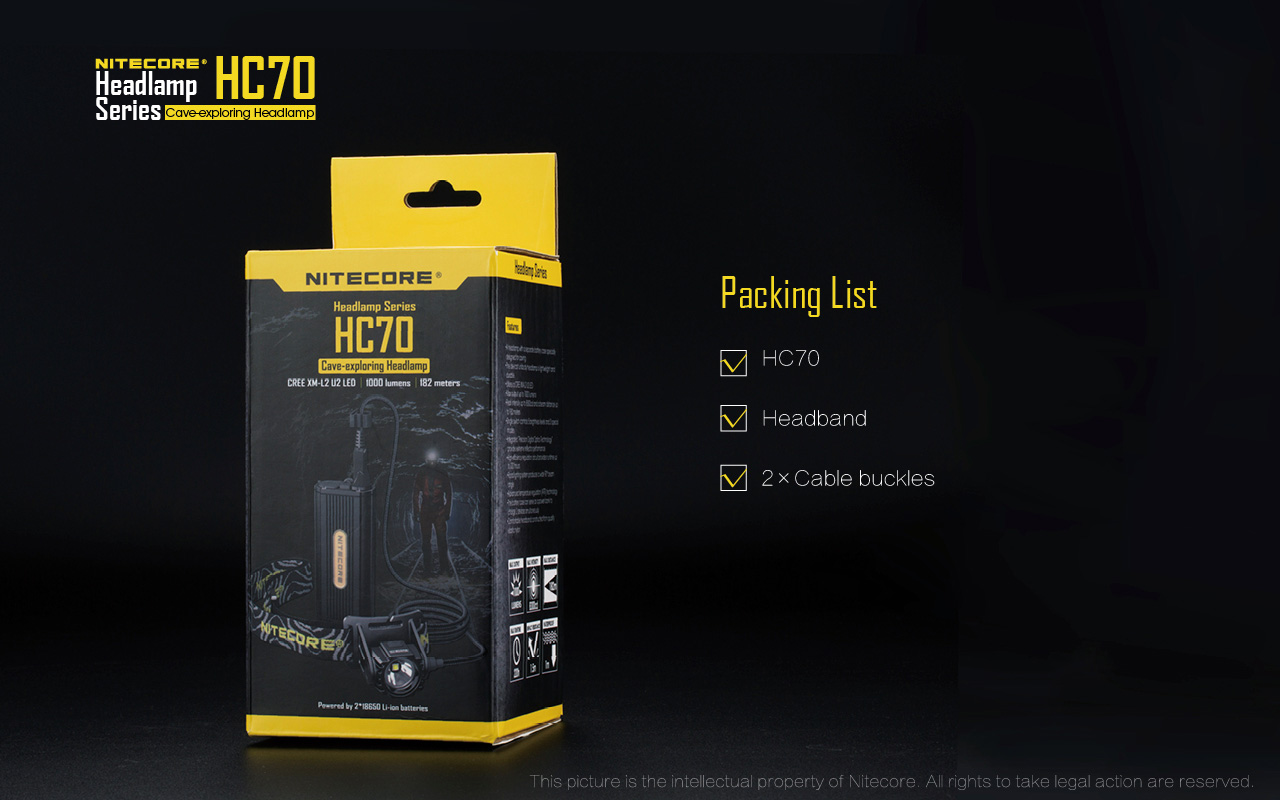 Flashlight Performance
Max Lumens
1000 Lumens
Min Lumens
1 Lumens
Modes
5 Brightness modes + Caution Light + SOS + Location Beacon mode
Flashing Modes(Strobe/SOS)
Caution Light + SOS + Location Beacon mode
Runtimes
Turbo(1000 Lumens): 2hr15min, High(550 Lumens): 4hrs, Mid(240 Lumens): 10hrs, Low(65 Lumens): 30hrs, Ultralow(1 Lumens): 220hrs
Beam Distance
182 mts
Peak Beam Intensity
8300 cd
Flashlight Features
Battery Type
2x18650 Rechargeable Li-ion or 4xCR123A Non-rechargeable Lithium
Emitter Type
CREE XM-L2 U2 White LED
Reflector
Lens Material
Toughened ultra-clear mineral glass lens with anti-reflective coating protects LED
Current Regulation
Yes
Smart Circuit for Rechargeable Batteries
Yes
Reverse-Polarity Protection
Yes
Impact Resistance
1.5mts
Tail Stands?
-
WaterProof
Yes (Standard IP67)
Switch Type
Easy-to-use single button interface makes cycling through settings a breeze
Other Features
-
Build
Body Material
Aero-space aluminum alloy body with HAIII military grade hard-anodized finish
Color
Black
Dimensions
Length x Height x Width: 64 mm x 56 mm x 36 mm
Weight
97.8 gms (without batteries)
In The Box
Included Accessories
1 x Headband, 2 x Cable buckles
Warranty
Manufacturer Warranty
15 Days (Replacement) + 60 Months/5 Year Free Manufacturer Repair Warranty - T&C apply
Lightorati Warranty
15-Day Refund (No Questions Asked), Lifetime Support - T&C apply