Nitecore MH12GTS - USB Rechargeable High Output LED Flashlight (1800 Lumens, 226mts, 1x18650 8A)
MH12GTS is currently on Pre-order. Expected arrival is around mid of December.

Nitecore MH12GTS - USB Rechargeable High Output Flashlight
- Everyday Carry Flashlight Size (Compact, High output, Flood output, rechargeable)
- Powered by CREE XHP35 HD LED
- 1800 Lumens, Powered by 1x18650 8A and above or 1x18650 (Nitecore 3500mah 8A Battery is included)
- Rated for 226mts beam distance and 30 mins on Turbo, 2hr15min on High, 5hr45mins on Mid, 19hrs on Low Mode
NOTE: MH12GTS like any other USB rechargeable 18650 Flashlight, can only be recharged internally when equipped with an 18650 battery. DO NOT attempt to recharge when equipped with CR123A or 16340 batteries.


Part of Nitecore's Established Line of MH/Multi-task Hybrid Series Flashlights
Ultra Compact Dual-Fuel Searchlight:
The Nitecore MH12GTS is an incredibly powerful LED searchlight, with a size to brightness ratio that will astound you! Measuring at just over five and a half inches, this portable powerhouse can emit up to 1800 Lumens! The MH12GTS utilizes a CREE XHP35 HD LED and either two CR123A batteries or a single (included) 18650 along with precision optics to deliver an impeccably bright and far reaching beam. The beam of this light can reach over 740 feet, making it a great choice for late night hunting, hiking and especially search and rescue operations.
USB-Rechargeable
While it has plenty of power, the Nitecore MH12GTS has a little more under the hood than just ultra-bright LED power. The included 18650 battery can be charged right inside the light using a (also included) micro USB cable. So if you need to charge up any computer, laptop or USB wall outlet will serve as a quick way to charge your light. An LED power indicator is located under the side switch, providing information on both remaining batter power and voltage level. Speaking of the switches, the MH12GTS features both side and rear switches that can be used in whatever grip you find the most comfortable on your searching expeditions.
Intelligent Design
Every aspect of the MH12GTS is designed to optimal user experience. Crafted from aerospace aluminum, the light's body is highly resistant to impact damage, protected from drops as high as 1.5 meters, and water damage, capable of being submerged under 2 meters of water. The light is operated using a pair of switches including a power switch on its tailcap for easy one-handed activation, and a mode switch that doubles as a power indicator, displaying the light's remaining charge. Compact, powerful, and convenient, the MH12GTS is the ideal EDC light for any user.
Features:
- Durable anodized aluminum construction
- Diamond knurling for a more secure grip
- Toughened ultra-clear mineral glass lens with anti-reflective coating
- Deep smooth reflector allows for maximum beam distance
- Comes with a trio of tactical outputs:
Strobe Mode: Used to disorient an attacker or other target
S.O.S. Mode: Morse code flash to signal for aid in emergency situations
Location Beacon: Efficient flash to mark current position
- Light operated using a pair of switches
Power Switch: Located on tailcap, used to momentarily / fully activate or deactivate light.
Mode Switch: Located on body, used to access and cycle through all outputs.
- Metal side switch controls 5 brightness levels and 3 special modes
- Power indicator beneath the side switch indicates the remaining battery power
- Power indicator can also display the battery voltage
- Built-in Li-ion battery charging circuit with a micro-USB port
- Rigid double layer tube design
- Convenient micro-USB charging port allows included 18650 to be recharged internally
- U-shaped tailcap helps prevent accidental activation
- ATR (Advanced Temperature Regulation) protection helps prevent overheating
- Reverse polarity protection prevents damage caused by improperly inserted batteries
- Tail stand capable
Specifications:
- LED: Premium CREE XHP35 HD LED
- Power Source: 1 x 18650 8A (Included) or 1 x 18650
- Peak Beam Distance: 226 meters (741 ft.)
- Peak Beam Intensity: 12760 cd
- Brightness Outputs (Using 1 x 18650):
Turbo - 1800 Lumens - 30 Min.
High - 900 Lumens - 2 Hour 15 Min.
Medium - 240 Lumens - 5 Hours 45 Min
Low - 70 Lumens - 19 Hours
Ultralow - 1 Lumen - 250 Hours
- IPX Rating: IPX-8 (Waterproof and submersible up to 2 meters)
- Impact Resistance: 1.5 meters (4.92 ft.)


Dimensions: Length x Head Diameter x Tail/Body Diameter: 144mm x 25.4mm x 26mm
Weight: 99.5gms (without battery)

Accessories Included:
Nitecore 18650 3500mah 8A battery(NL1835HP), USB cable, adjustable wrist lanyard, 2-way pocket clip, Tactical ring, Holster, spare O-rings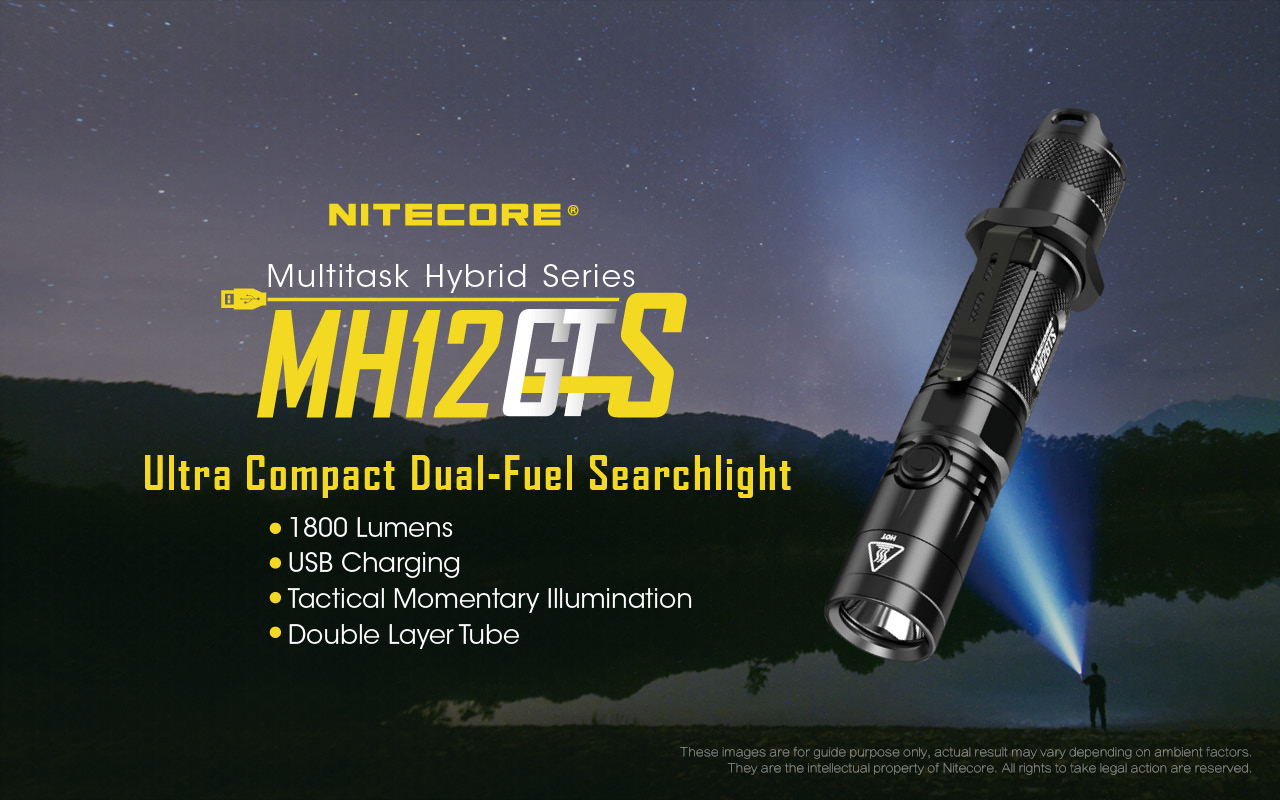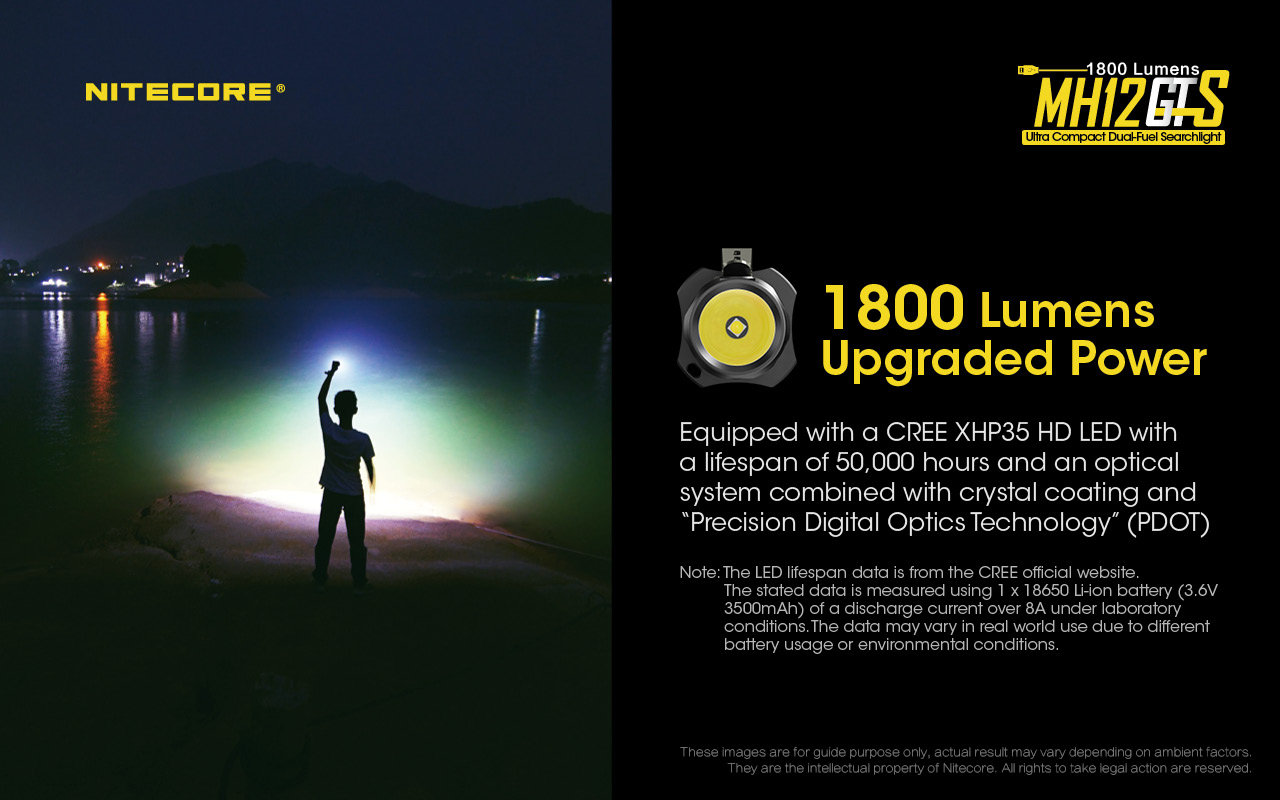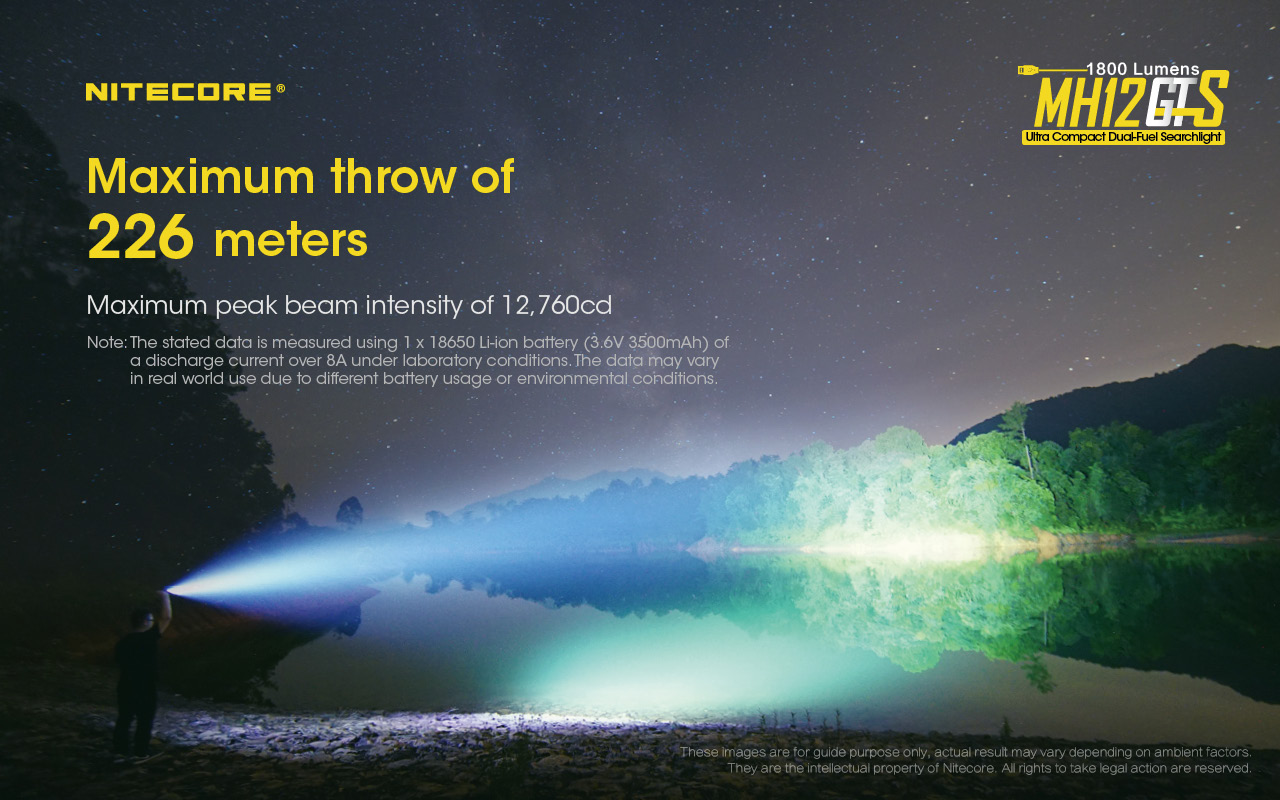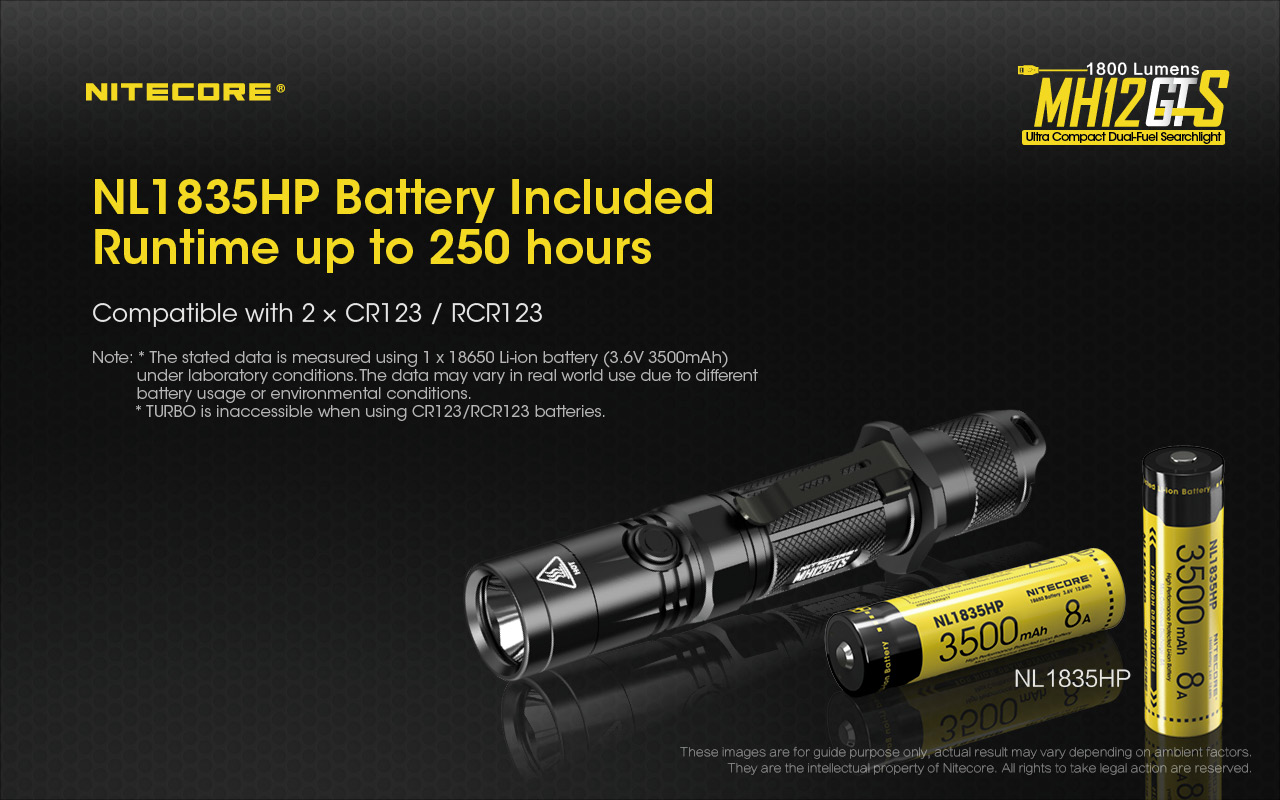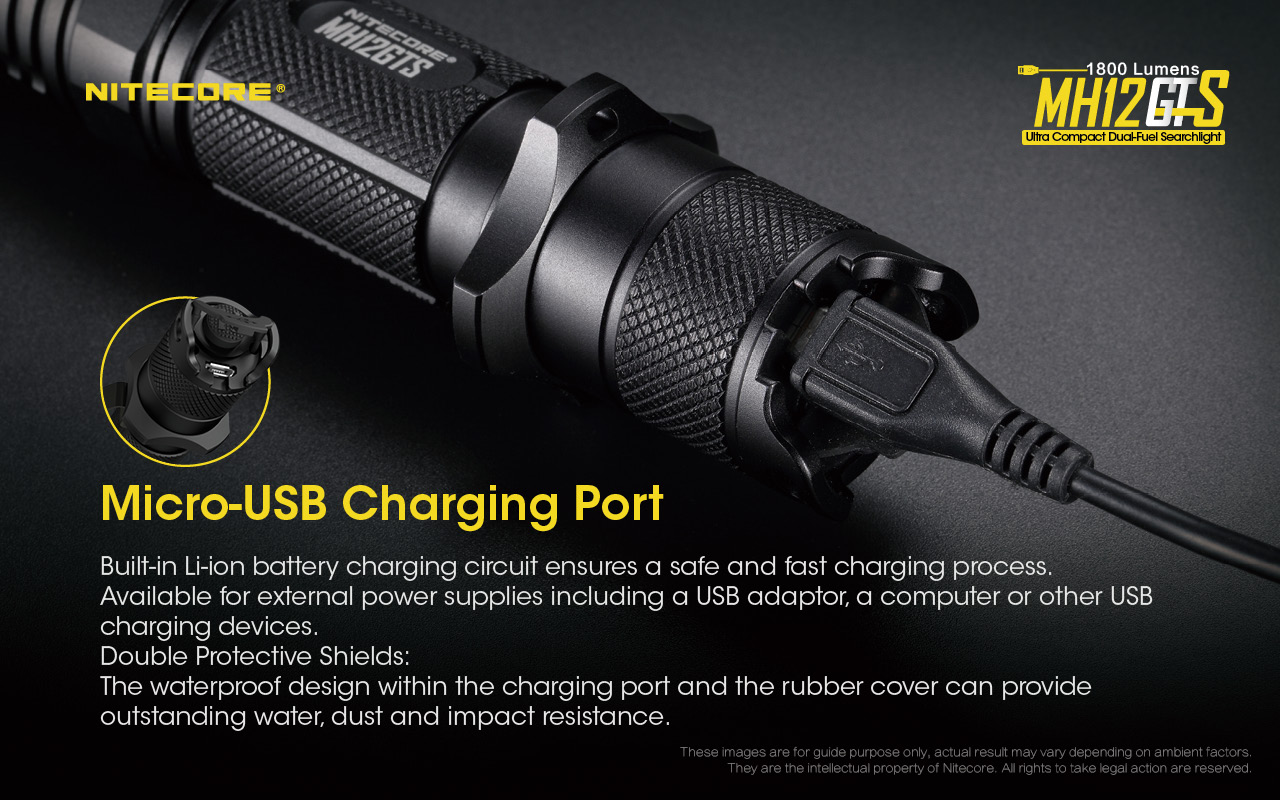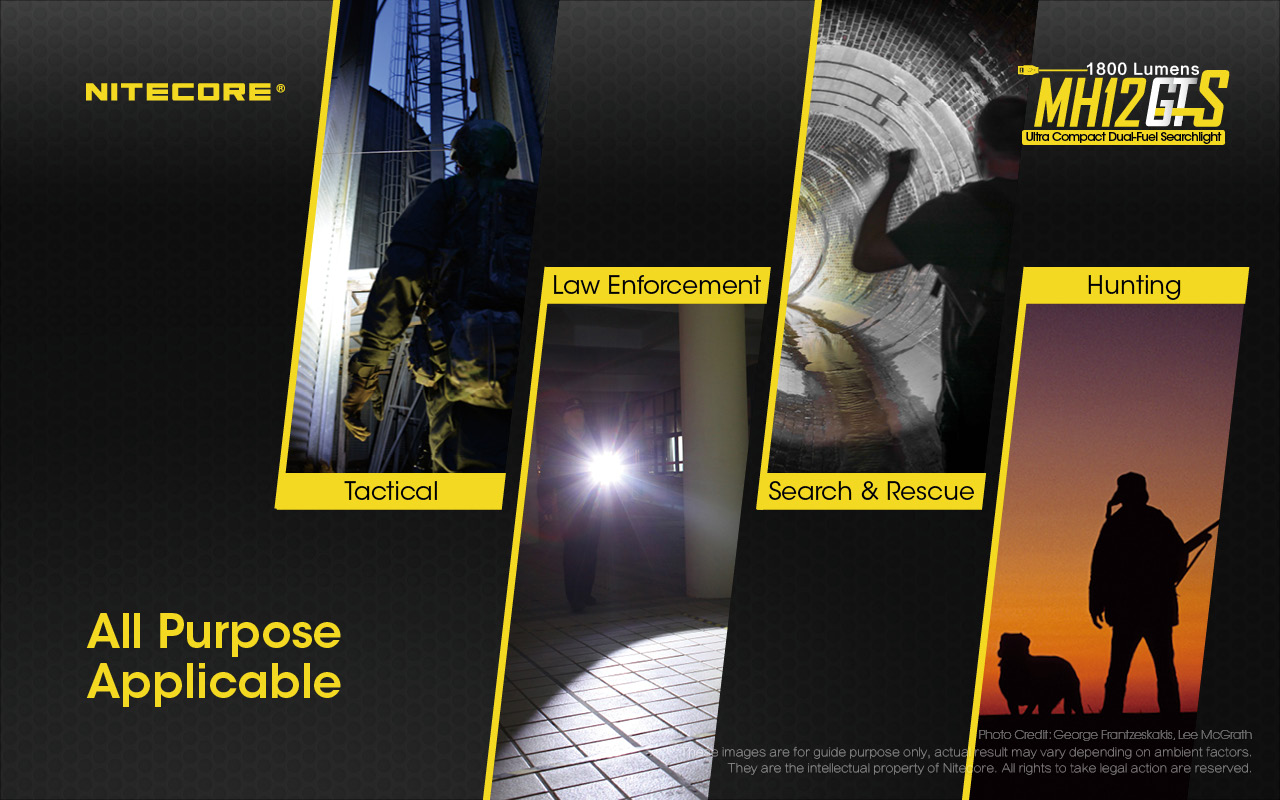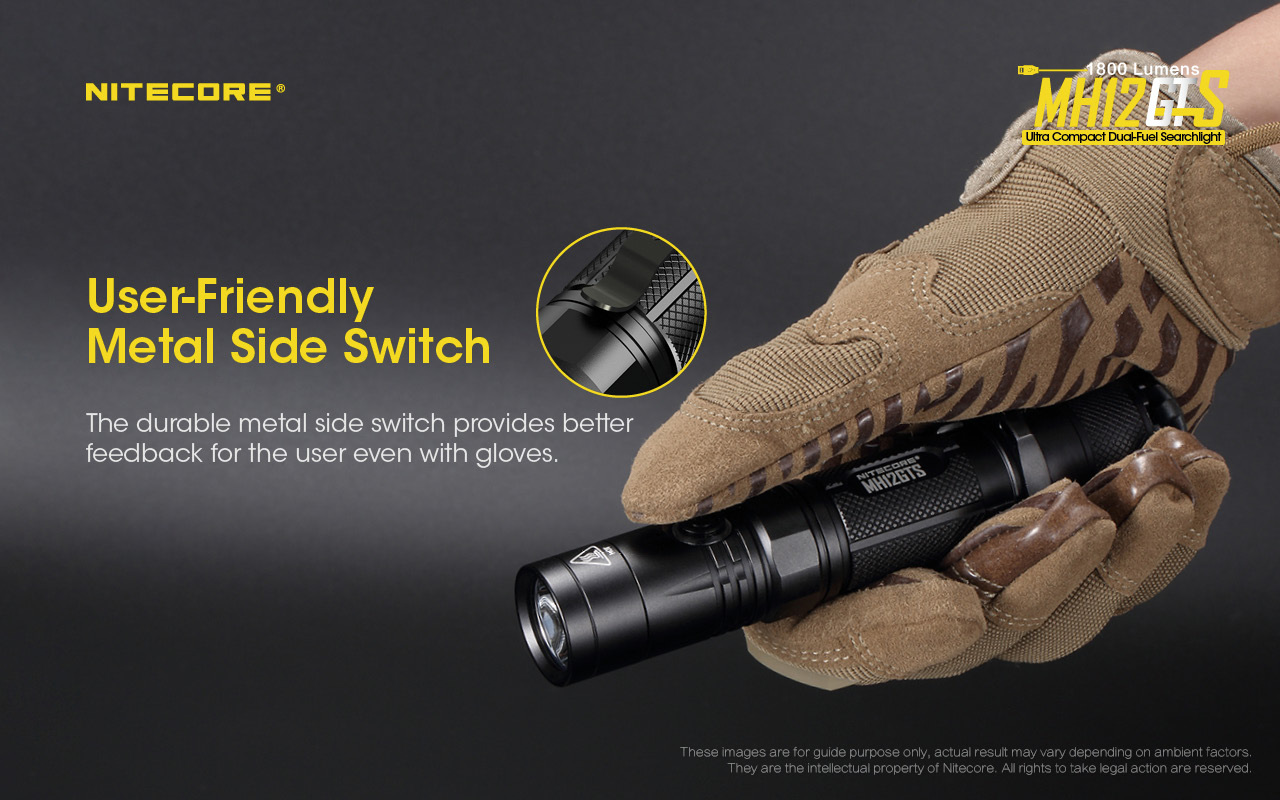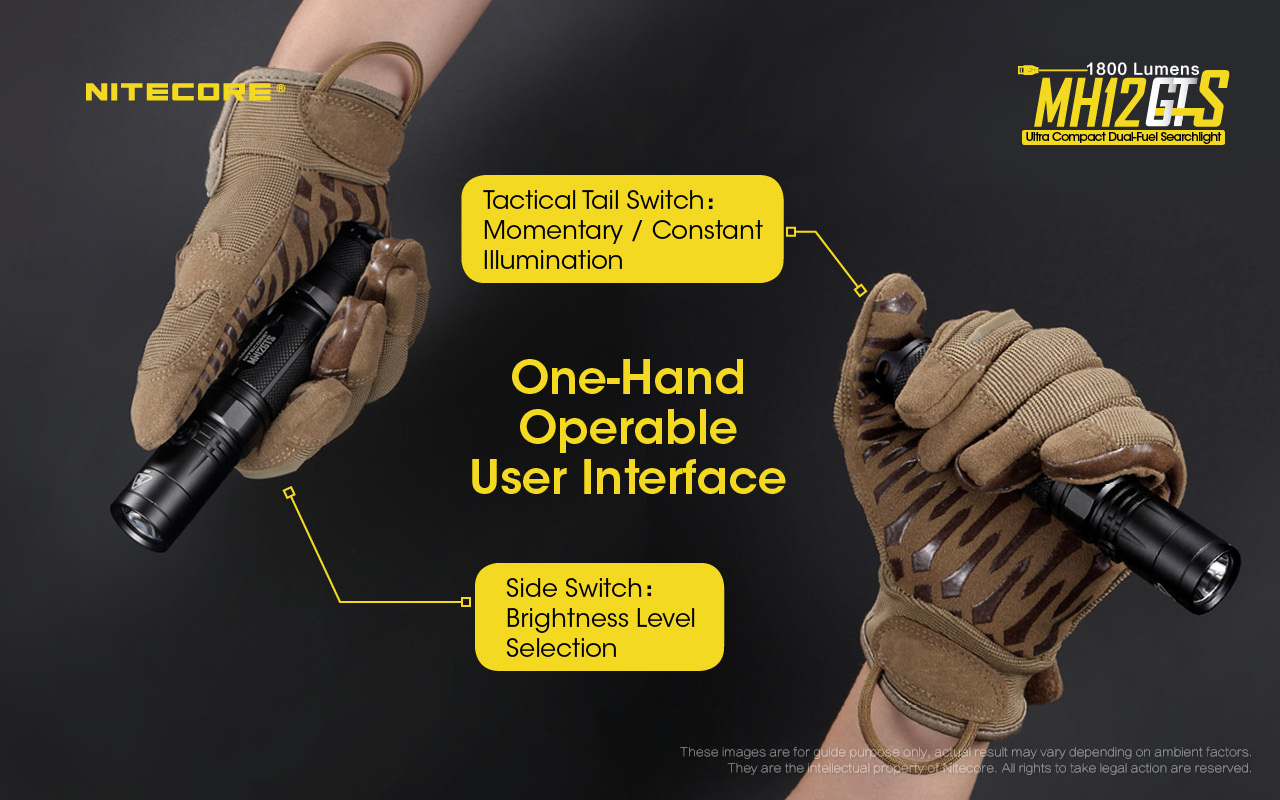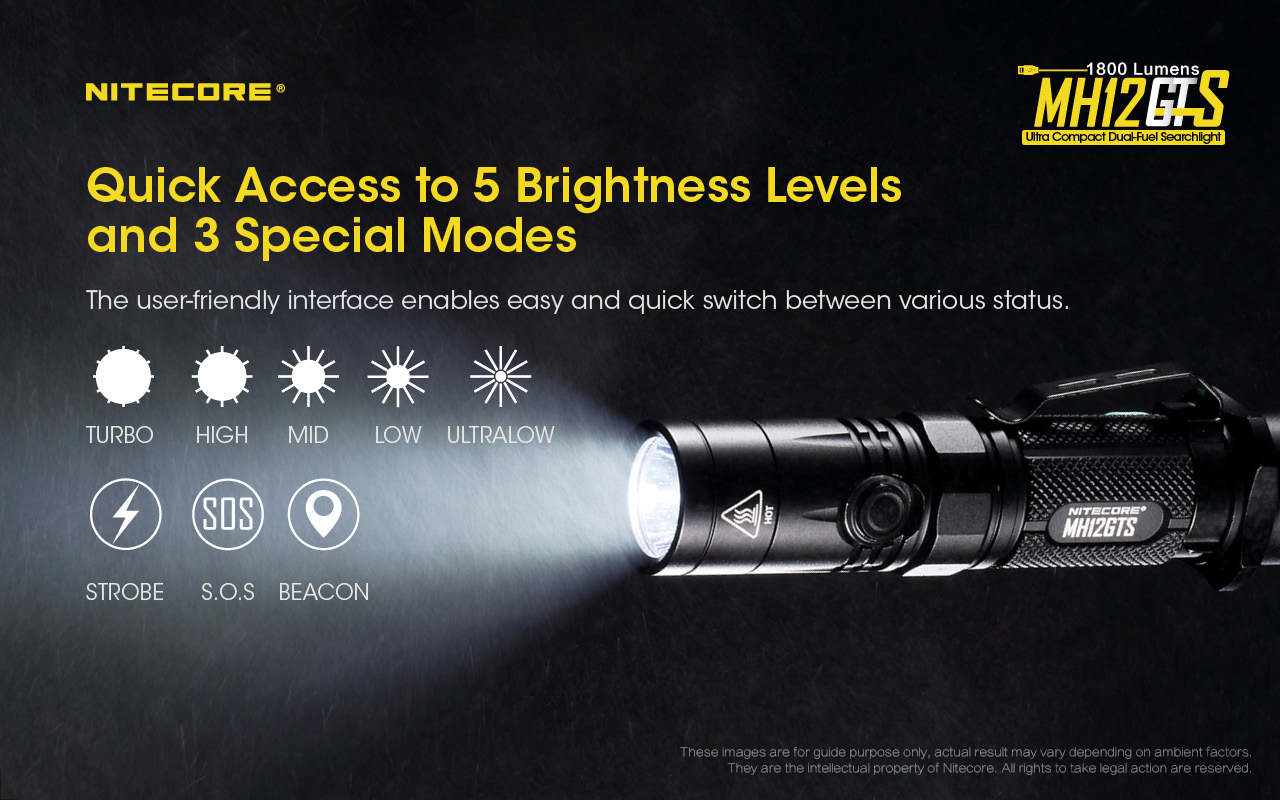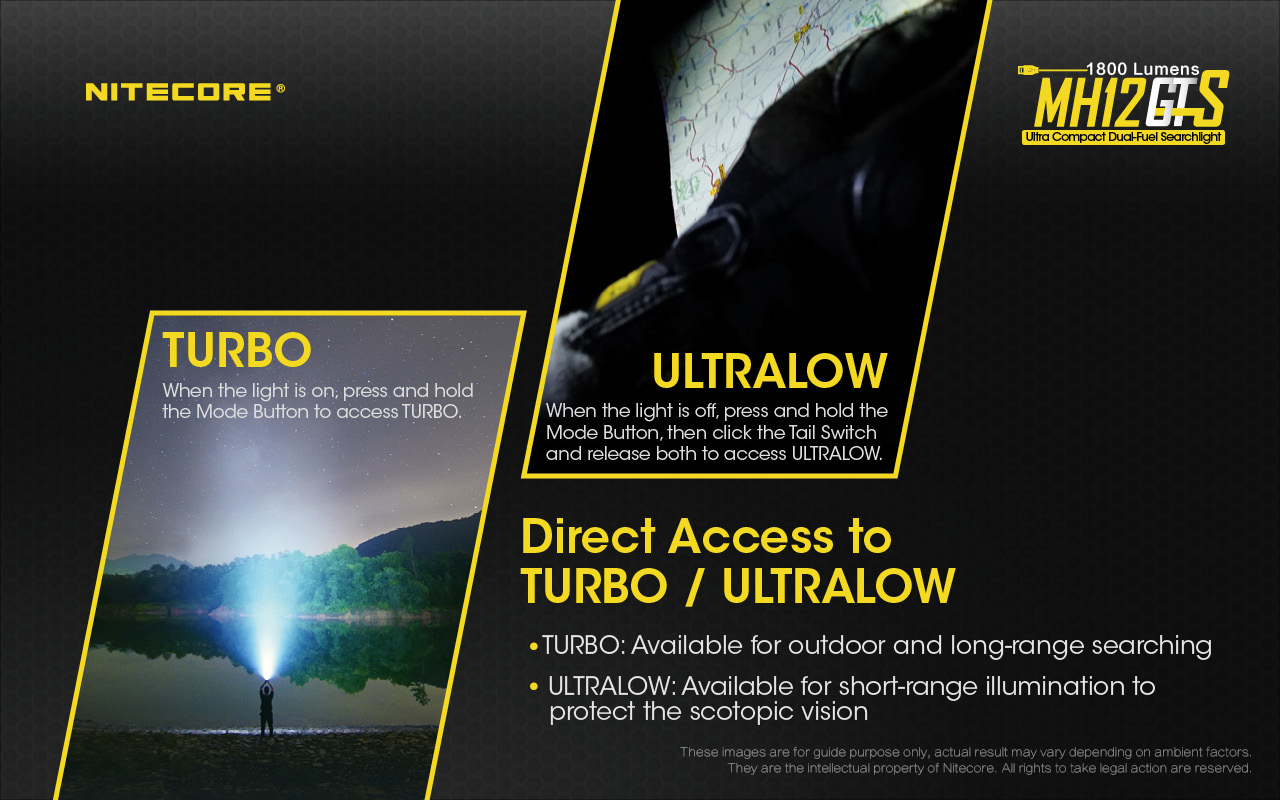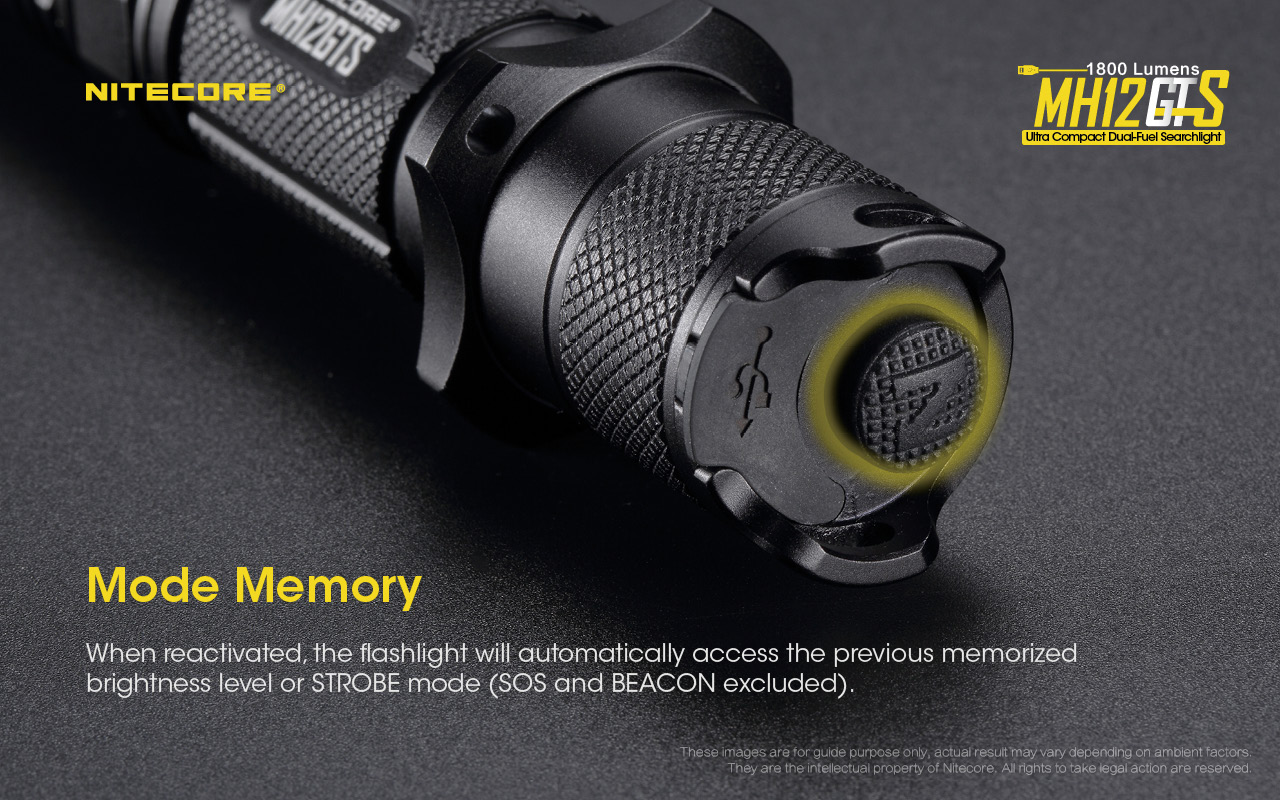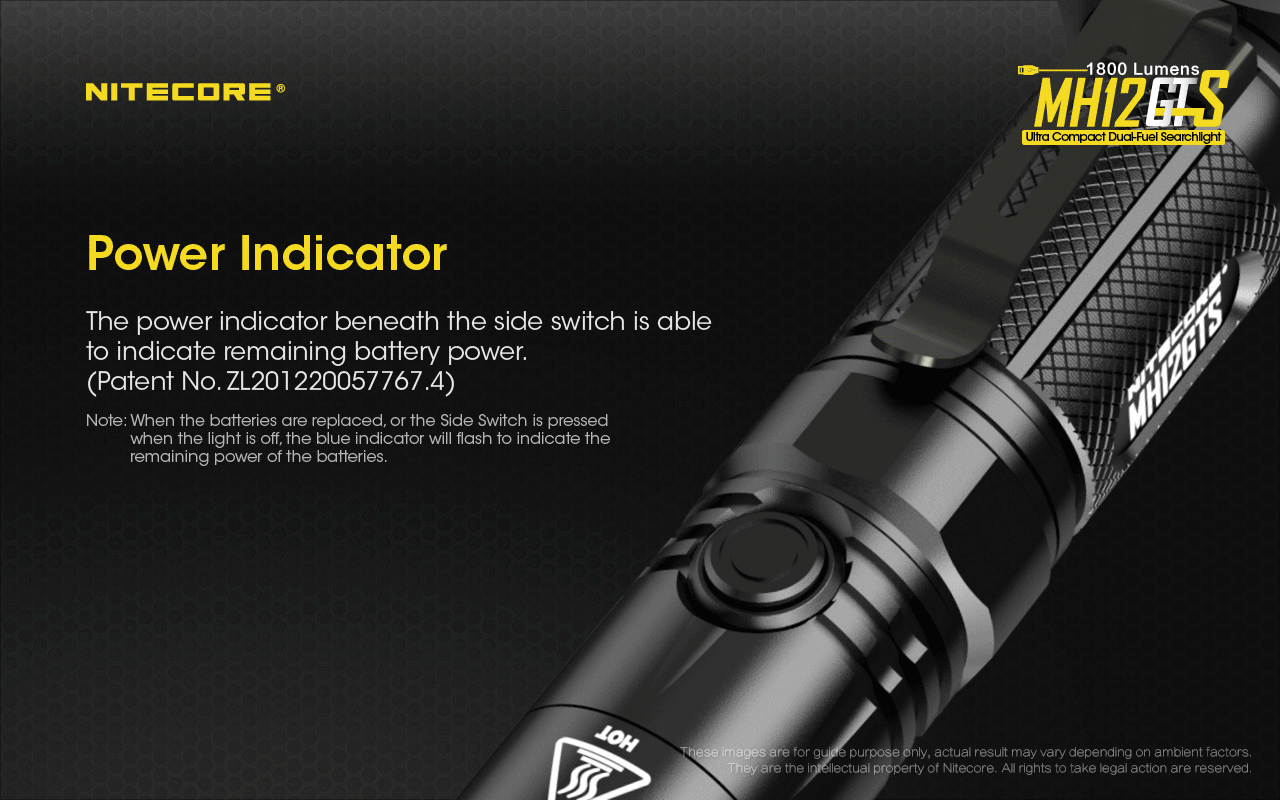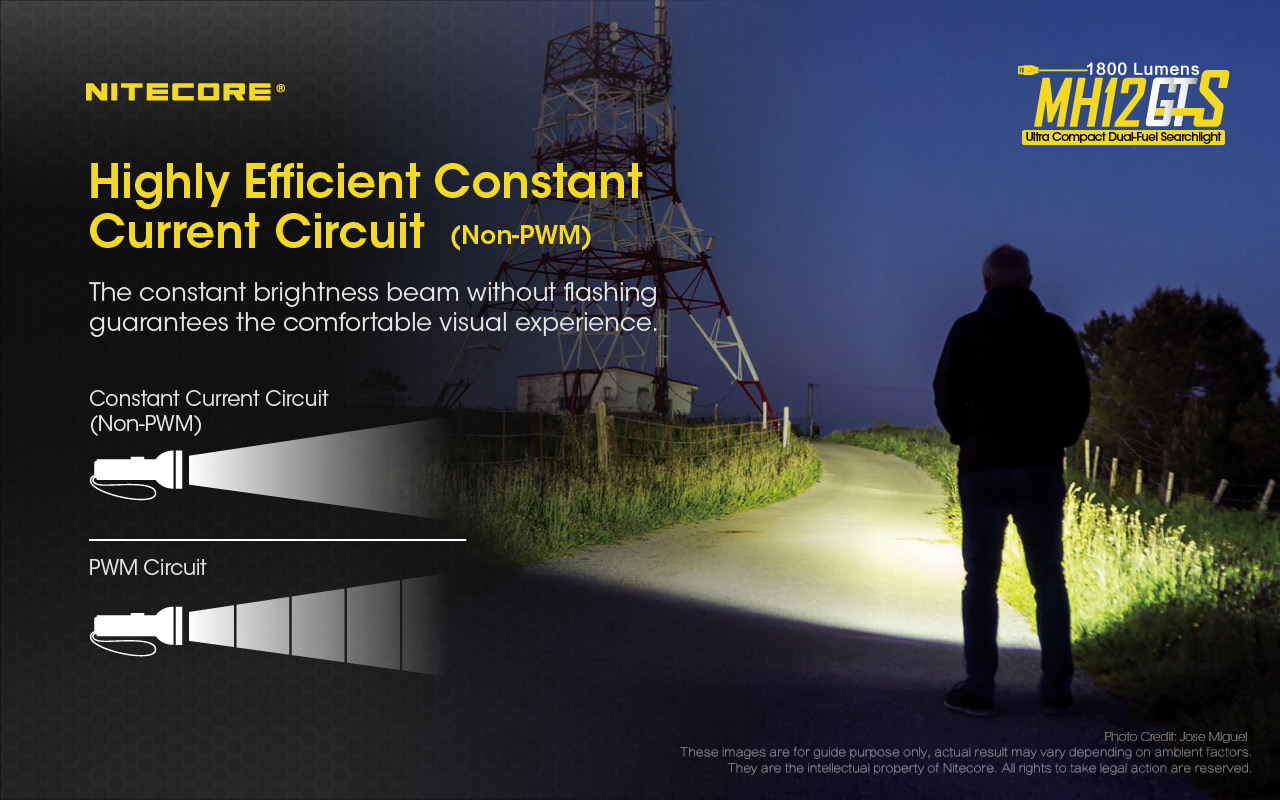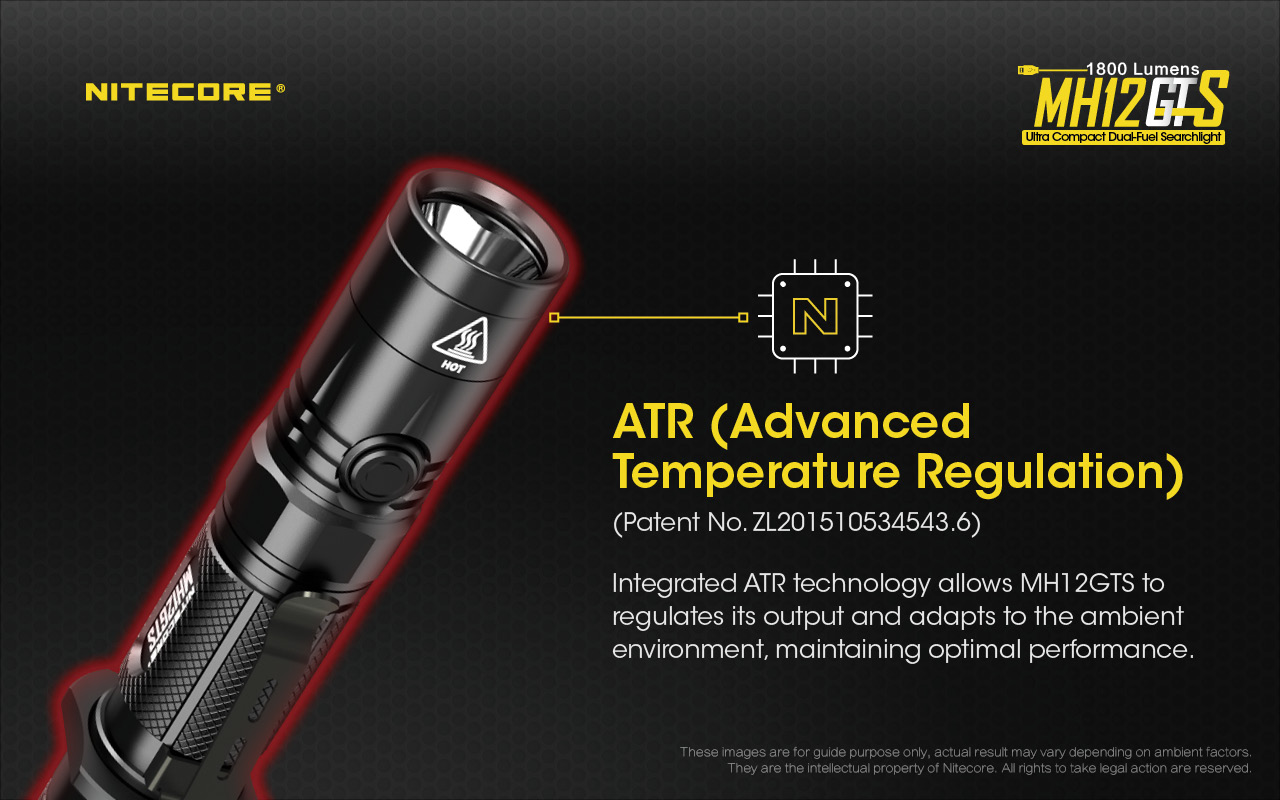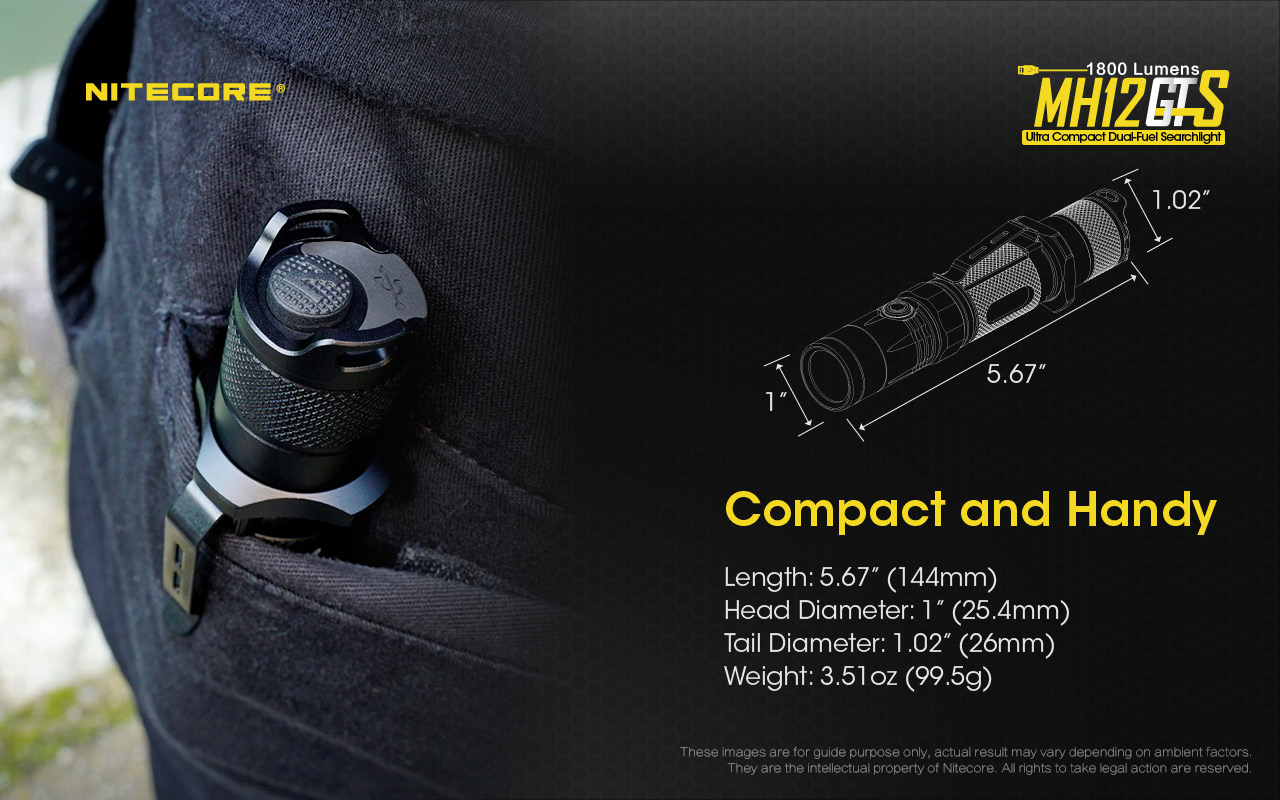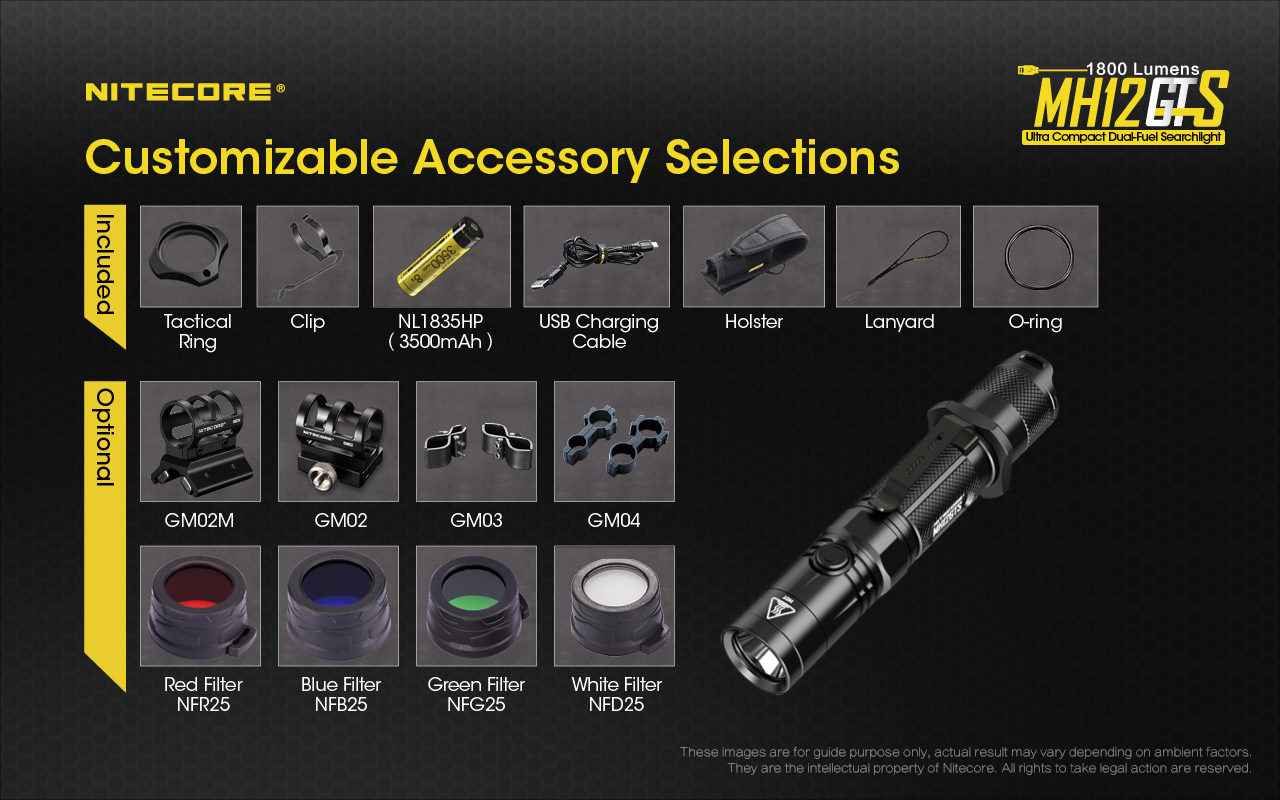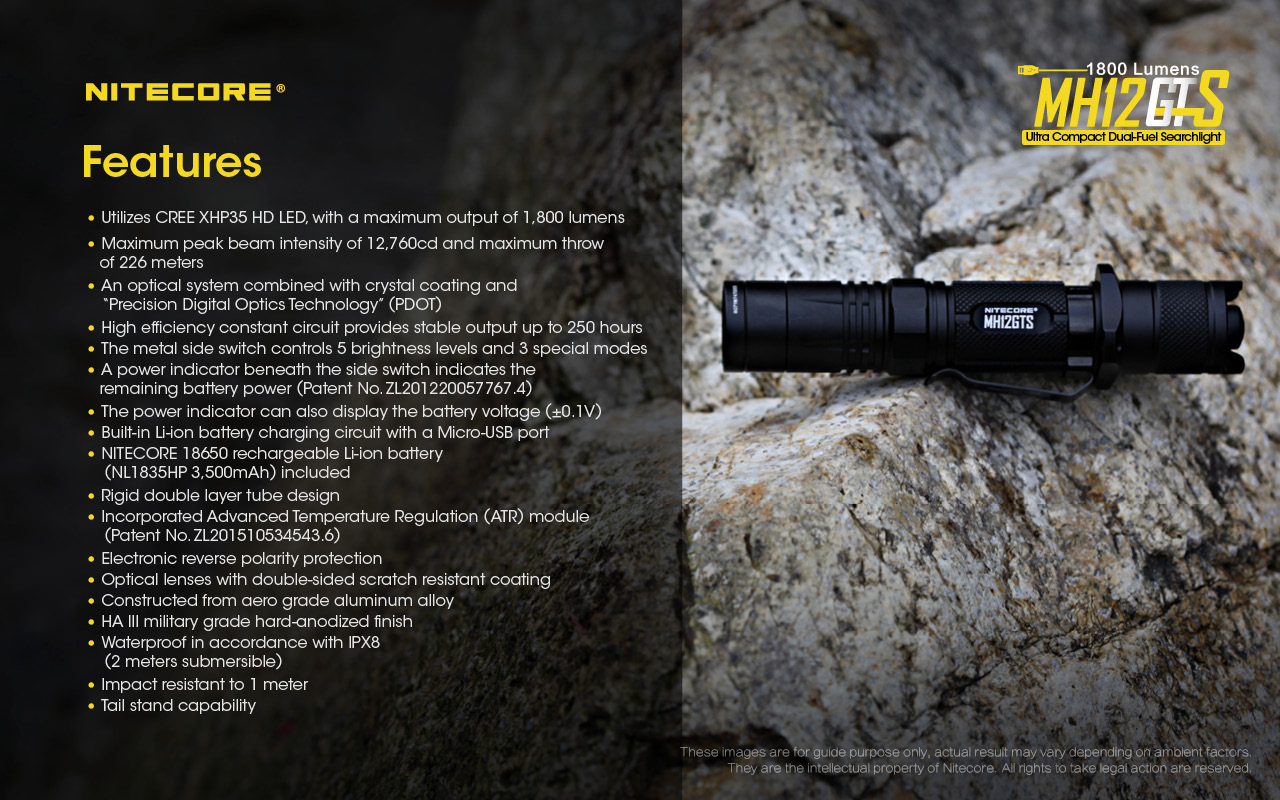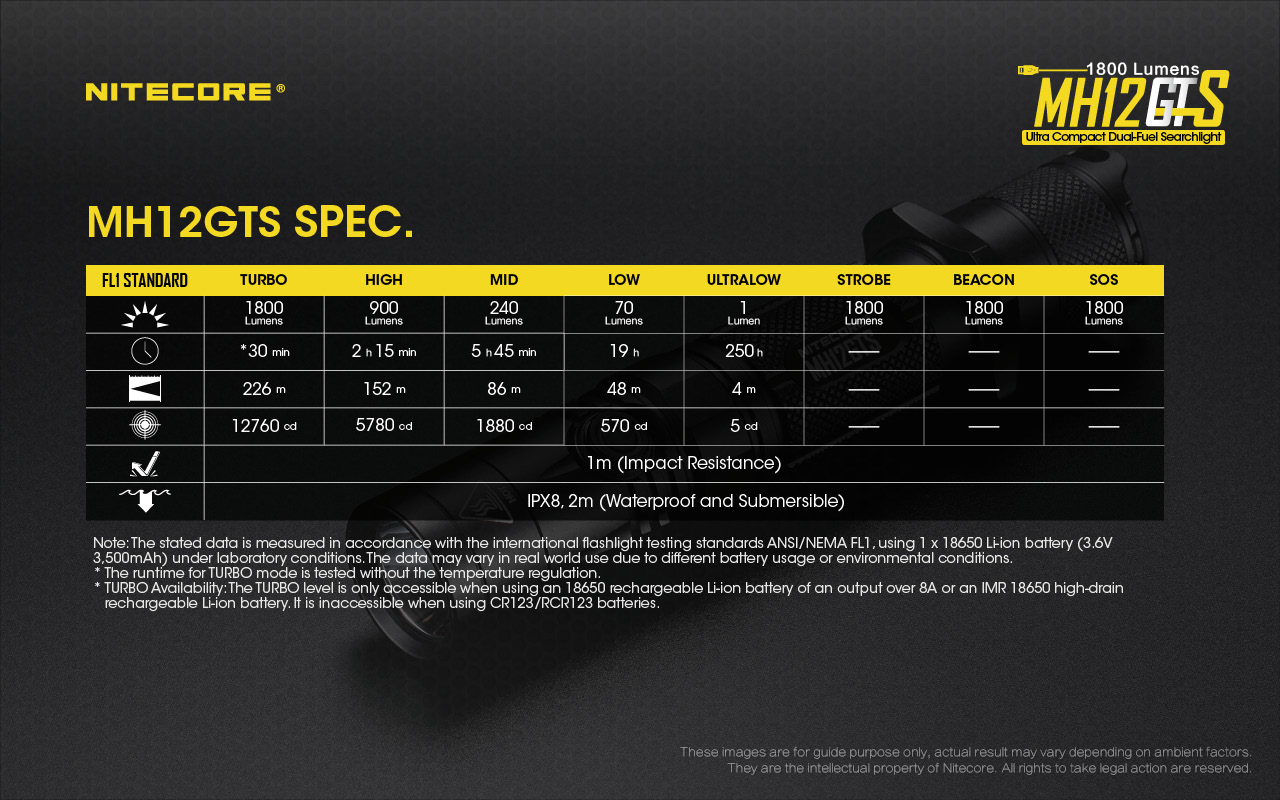 Flashlight Performance
Max Lumens
1800 Lumens
Min Lumens
1 Lumens
Modes
5 Brightness Modes + Strobe, SOS, Beacon
Flashing Modes(Strobe/SOS)
Strobe, SOS, Beacon
Runtimes
Turbo(1800 Lumens): 30mins, High(900 Lumens): 2hr15mins, Mid(240 Lumens): 5hr45mins, Low(70 Lumens): 19hrs, Ultralow(1 Lumen): 250hrs
Beam Distance
226 mts
Peak Beam Intensity
12760 cd
Flashlight Features
Battery Type
1x18650 (1x18650 3500mah 8A battery included)
Emitter Type
Premium CREE XHP35 HD LED
Reflector
Optimized ultra-precise Aluminum reflector ensures a smooth and powerful beam
Lens Material
Toughened ultra-clear mineral glass with anti-reflective coating
Current Regulation
Yes
Smart Circuit for Rechargeable Batteries
Yes
Reverse-Polarity Protection
Yes
Impact Resistance
1mts
Tail Stands?
Yes
WaterProof
Yes (Standard IPX-8) - 2mts Waterproof and Submersible
Switch Type
Tactical Tail Switch for On/Off + Head Switch for modes
Other Features
Build
Body Material
Constructed from Aero grade alluminium alloy, HA III Military grade hard anodized
Color
Black
Dimensions
Length x Head Diameter x Tail/Body Diameter: 144mm x 25.4mm x 26mm
Weight
99.5 gms (without batteries)
In The Box
Included Accessories
Nitecore 18650 3500mah 8A battery(NL1835HP), USB cable, adjustable wrist lanyard, 2-way pocket clip, Tactical ring, Holster, spare O-rings
Warranty
Manufacturer Warranty
15 Days (Replacement) + 60 Months / 5 Years Manufacturer Warranty (Free Repair) - T&C apply
Lightorati Warranty
15-Day Refund (No Questions Asked), Lifetime Support - T&C apply