Nitecore TIP 2017 USB Rechargeable Keychain Light (360 Lumens), 2017 Upgraded Version
Nitecore TIP 2017 (upgraded version) USB Rechargeable LED Keychain Flashlight
- Most loved Everyday Carry Keychain light
- New Daily Mode (auto shut off in 30 seconds)
- New Multipurpose clip included (protects against accidental activation, protection against dust, water)
- 360 Lumens, built-in 500mAh
- CREE XP-G2 (S3) LED
- Internal battery with Micro USB Port for Recharging
- Multiple color options: Black, Gray, Silver, Red, Green, Blue, Gold

Powerful Pint-Sized Illuminator!
Light as a feather - bright as the sun! The Nitecore TIP 2017 LED keylight is extremely durable while fitting in the palm of your hand. The CREE XP-G2 LED bulb has a maximum output of 360 Lumens and throw of 74 impressive meters. The overall throw and output is amazing for such a small light. It is powered by a rechargeable Lithium-Ion (Li-Ion) battery pack. To recharge the battery pack plug it in with a micro-USB cord (not included) and just wait for the indicator light to tell you it is ready! Fast, easy, and better than before!

So What's New?
The TIP 2017 comes with new and improved features that will light up your world! This TIP 2017 comes with a Daily Mode. When in Daily mode your light will shut off automatically after 30 seconds without operation - this will help prevent you from accidentally turning it on and draining your battery. Moreover, the TIP 2017 comes with a Multi-Purpose clip. It will also prevent accidental activation of the light and also provides a physical protection against dust and water by putting a barrier over these essential areas on your light. Beyond just protection the multi-purpose clip will attach to your hat, pocket, or more making it extremely versatile.
A Bounty Of Colors
Choose the color that fits you best! In addition to its abundance of impressive features, the Nitecore TIP 2017 is available with 7 different colors for its durable aluminum body: Black, Gray, Silver, Red, Green, Blue, and Gold. Whether you're trying to match it with your keychain or simply choosing your favorite color, the TIP has the options to bring a personal touch to your new illuminator.
Features:
- Body made from sturdy aluminum alloy with a HA-III hard-anodized finish
- Integrated Digital Optic Technology (PDOT) allows for extreme reflector performance
- Internal 500 mAh Li-Ion battery pack can be recharged via micro-USB charging port on side of light
- Note: The Nitecore TIP does NOT come with a micro-USB cable.
- Easy-to-use dual body switch interface for simple one-handed operation
Power Switch - Used to power light on and off.
With TIP turned OFF, press and hold for direct access to Low Mode (1 Lumen)
Mode Switch - Used to switch between the light's 4 outputs.
With TIP turned OFF, press and hold for direct access to Turbo - Mode (360 Lumens)
- New Daily and Constant-on Mode
- Direct Access to Turbo
- Durable HS-III Hard-anodized finished body
- Mode switch doubles as a power indicator, flashing to indicate the remaining battery power
- Intelligent memory function remembers last mode used
- Holding both switches engages lock-out function, which prevents light from accidentally being turned on
- Rear suspension ring can sustain to 66 lbs. (20 kg) of weight
- Advanced Temperature Regulation (ATR) technology helps regulate the light's output and prevent overheating
- Available in 7 Colors: Black, Gray, Silver, Red, Green, Blue, and Gold


Specifications:

- LED: CREE XP-G2 (S3) LED
- Power Source: Internal Rechargeable Lithium Ion Battery Pack (500 mAh)
- IP Rating: IP54 (Dust-protected, protected against water splashes from all directions)
- Impact Resistance: 1.5 meters
- Brightness Outputs:
Turbo - 360 Lumens - 30 Minutes
High - 150 Lumens - 1 Hour 30 Min.
Medium - 35 Lumens - 6 Hours 30 Min.
Low - 1 Lumen - 46 Hours
- Peak Beam Distance: 74 meters
- Peak Beam Intensity: 1400 cd
Dimensions: Length: 60.8mm, Width: 24.5mm, Height: 13.8mm
Weight: 23.5gms (With battery)
Includes:
Nitecore Tip Light, Multipurpose Clip, Keyring , Belt loop D-ring clasp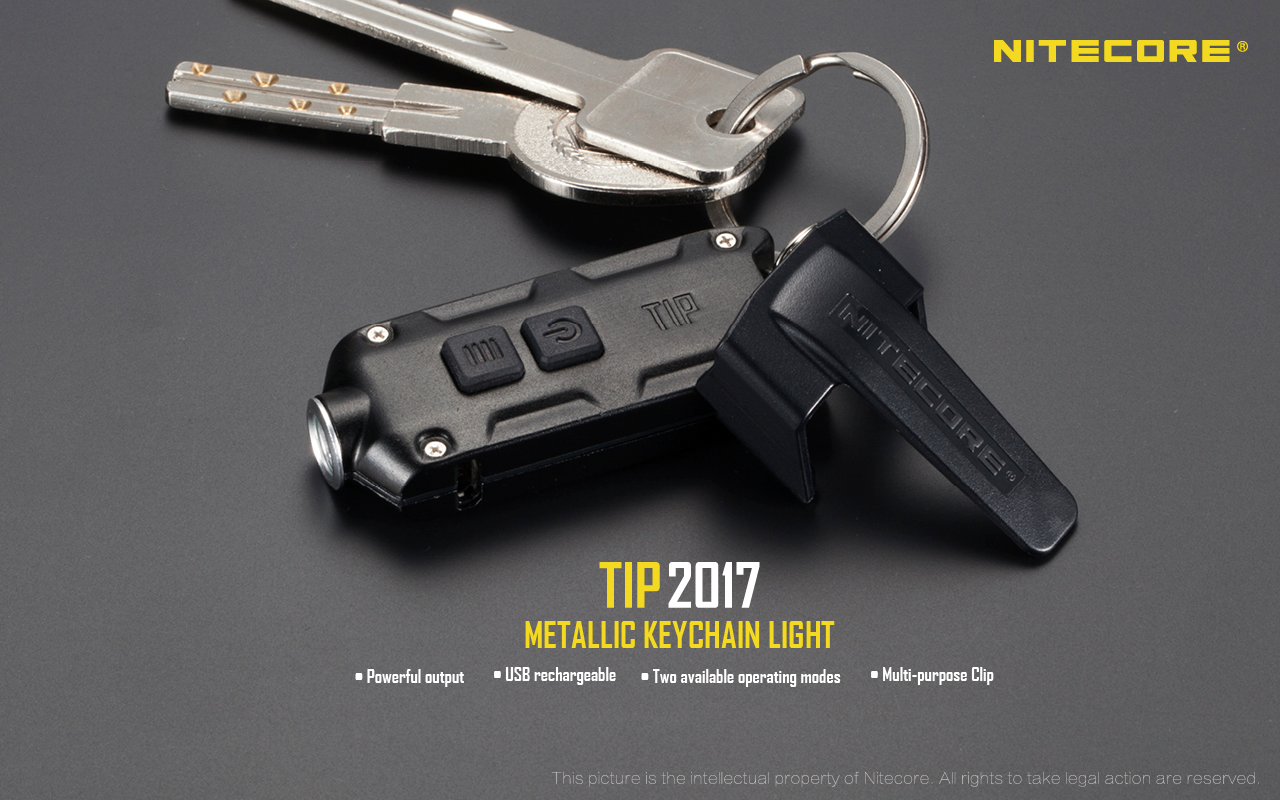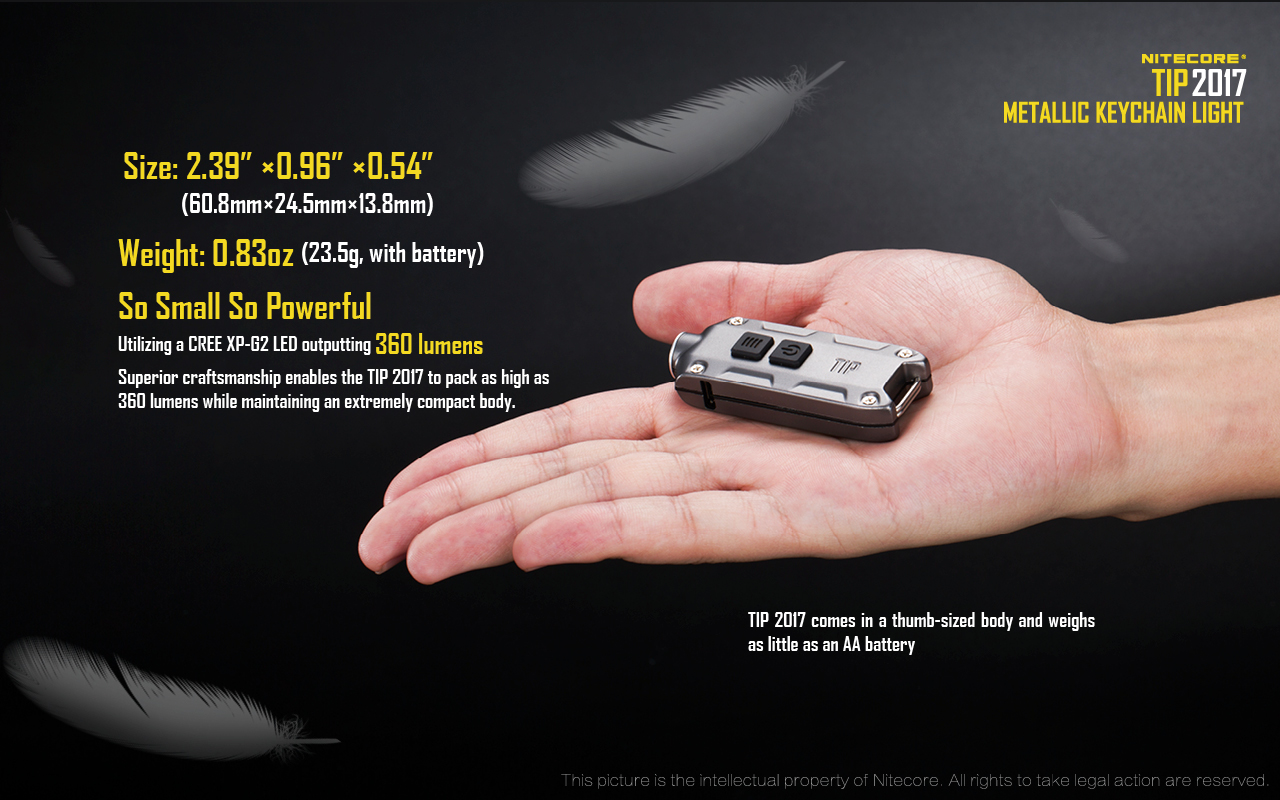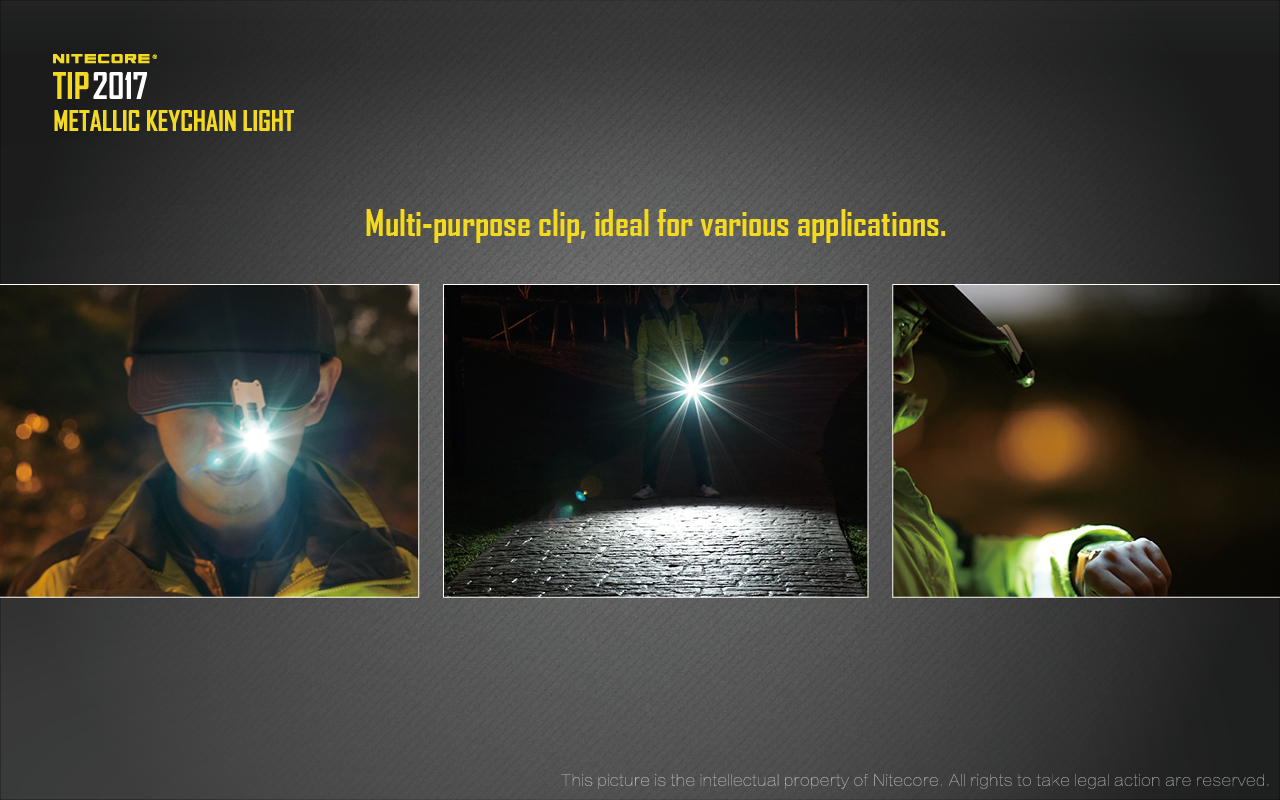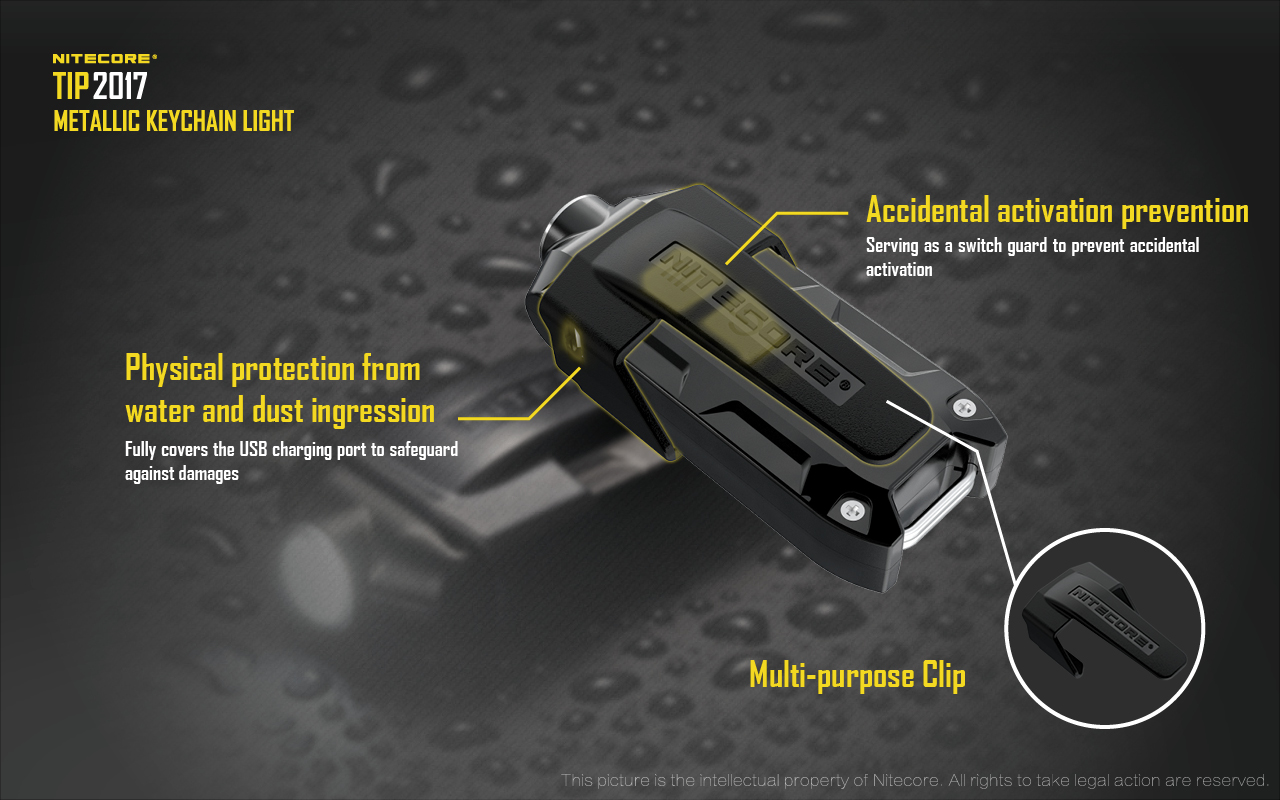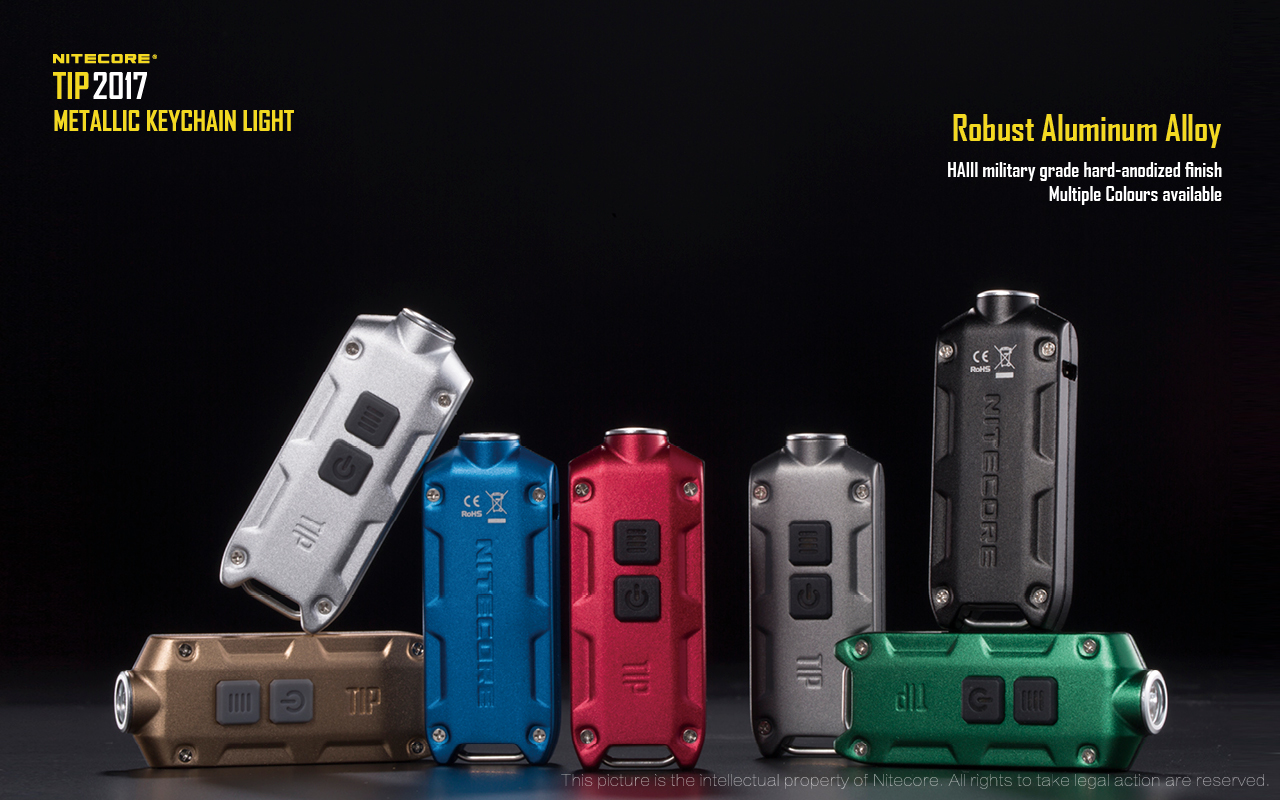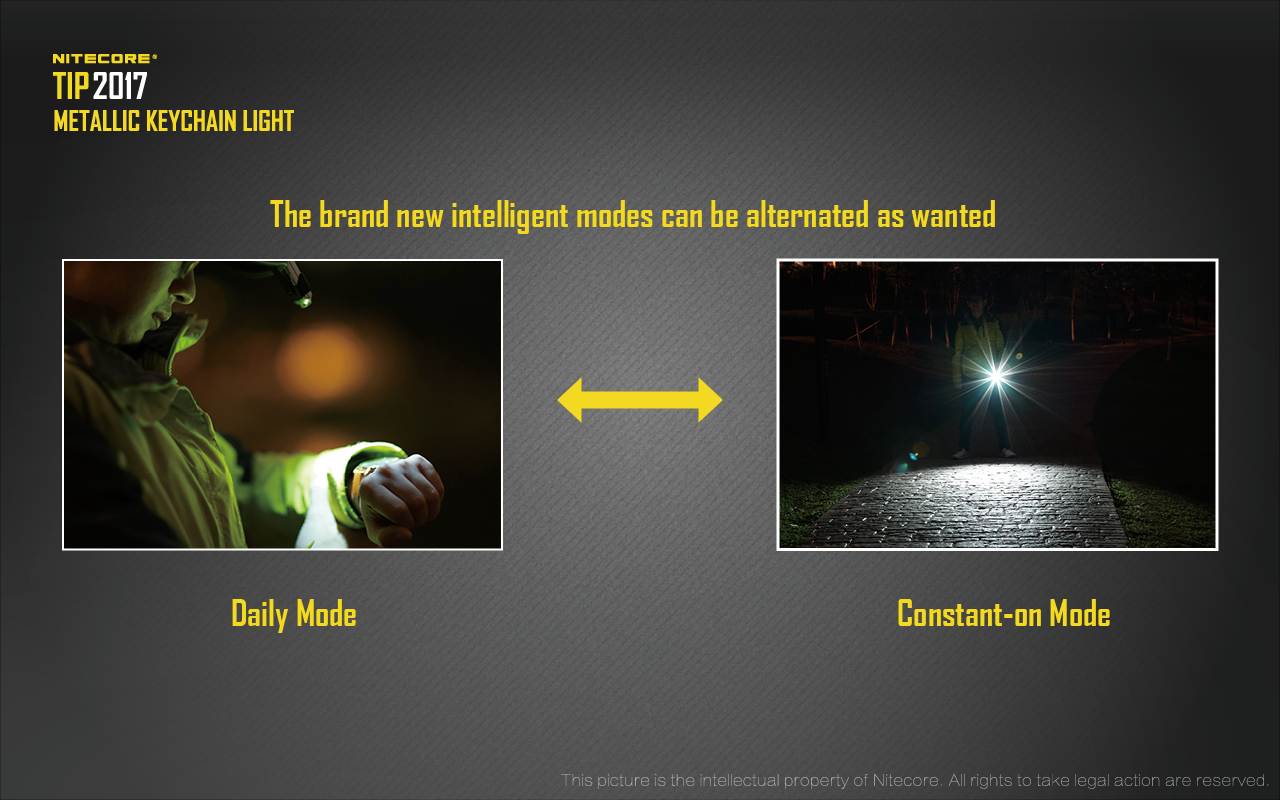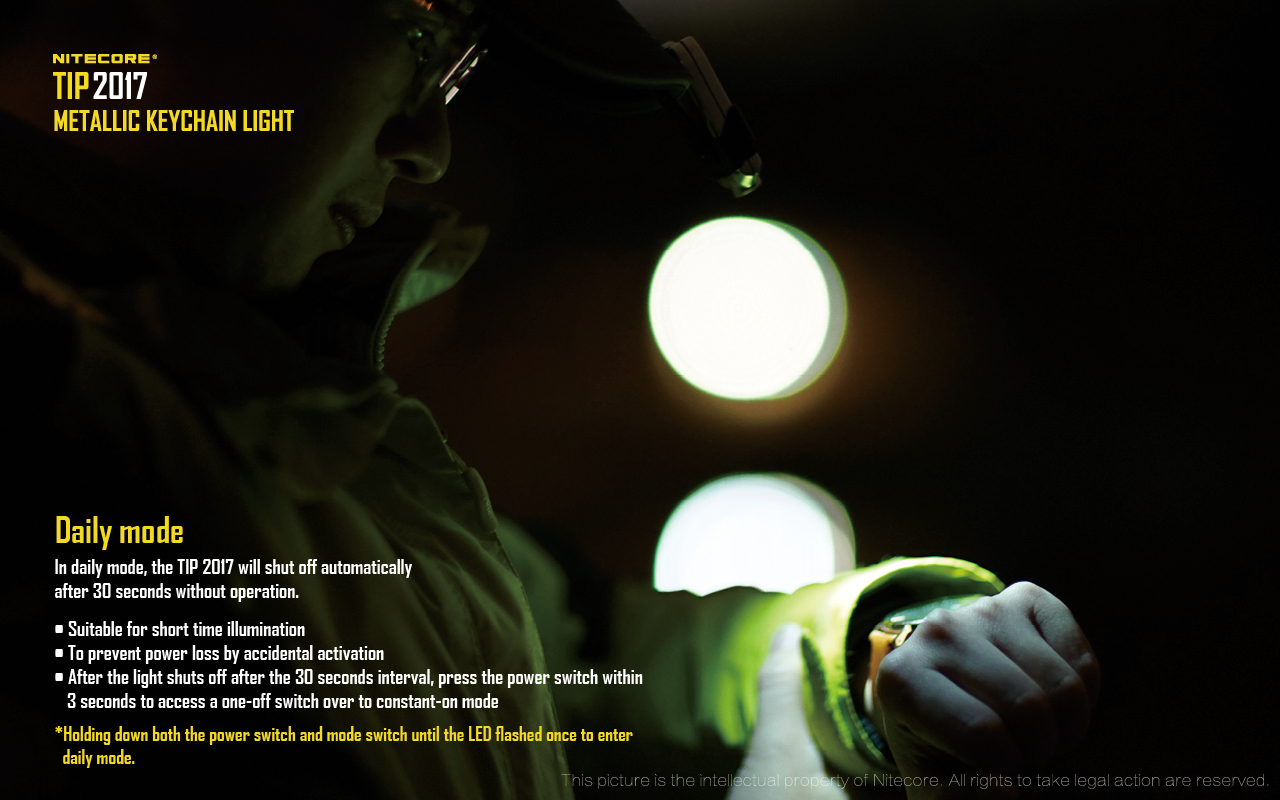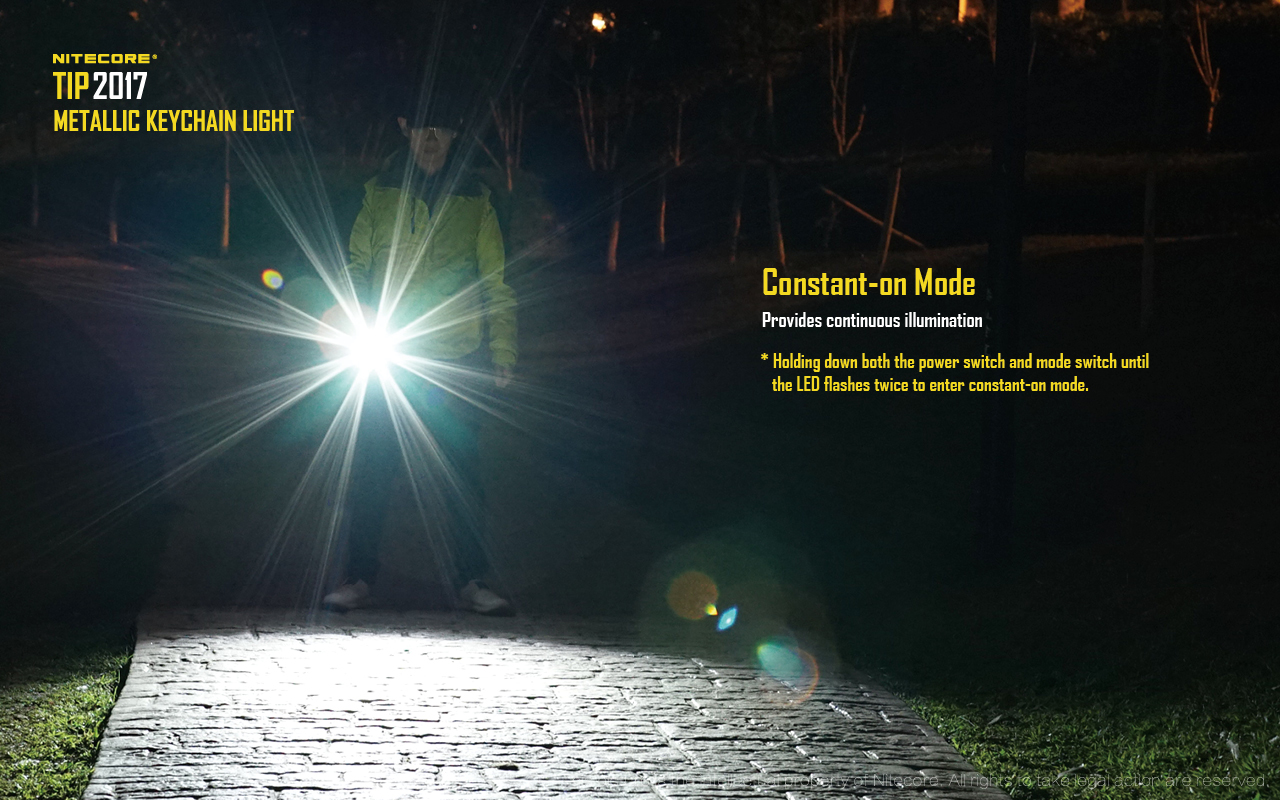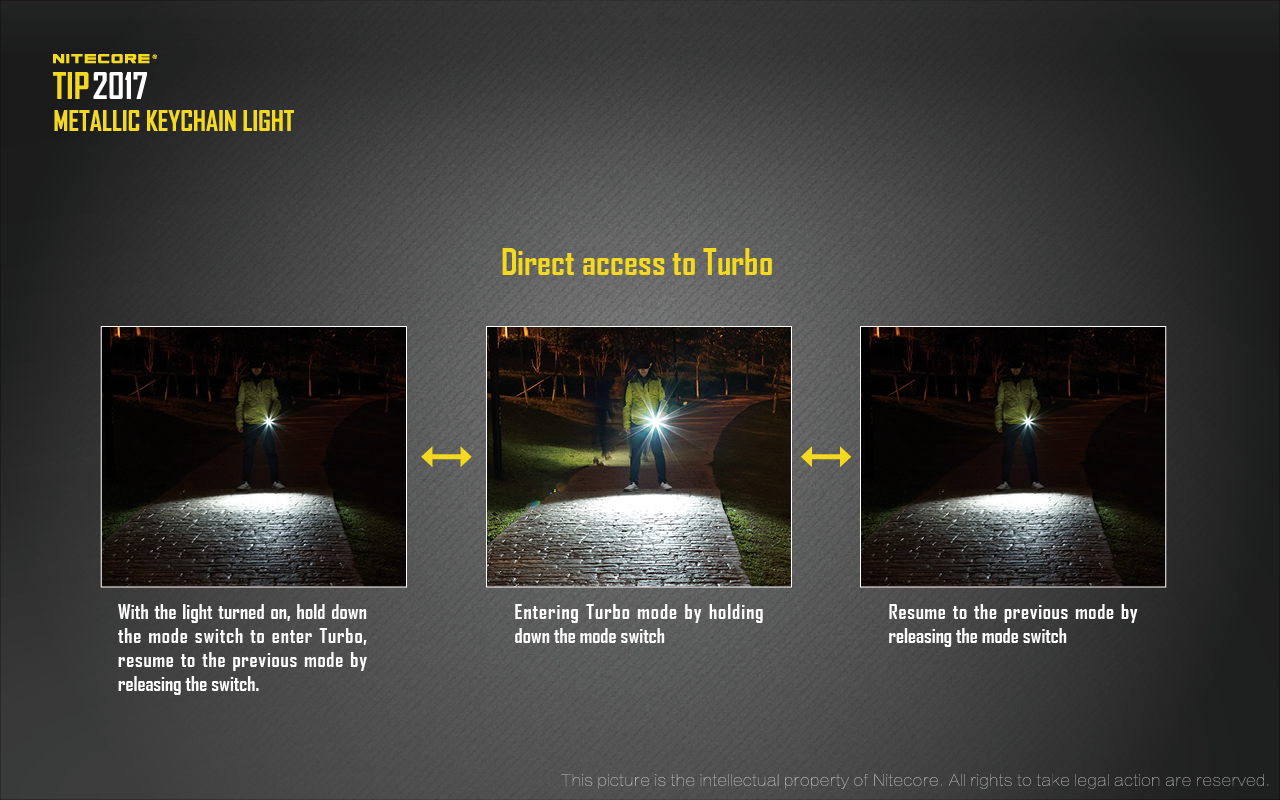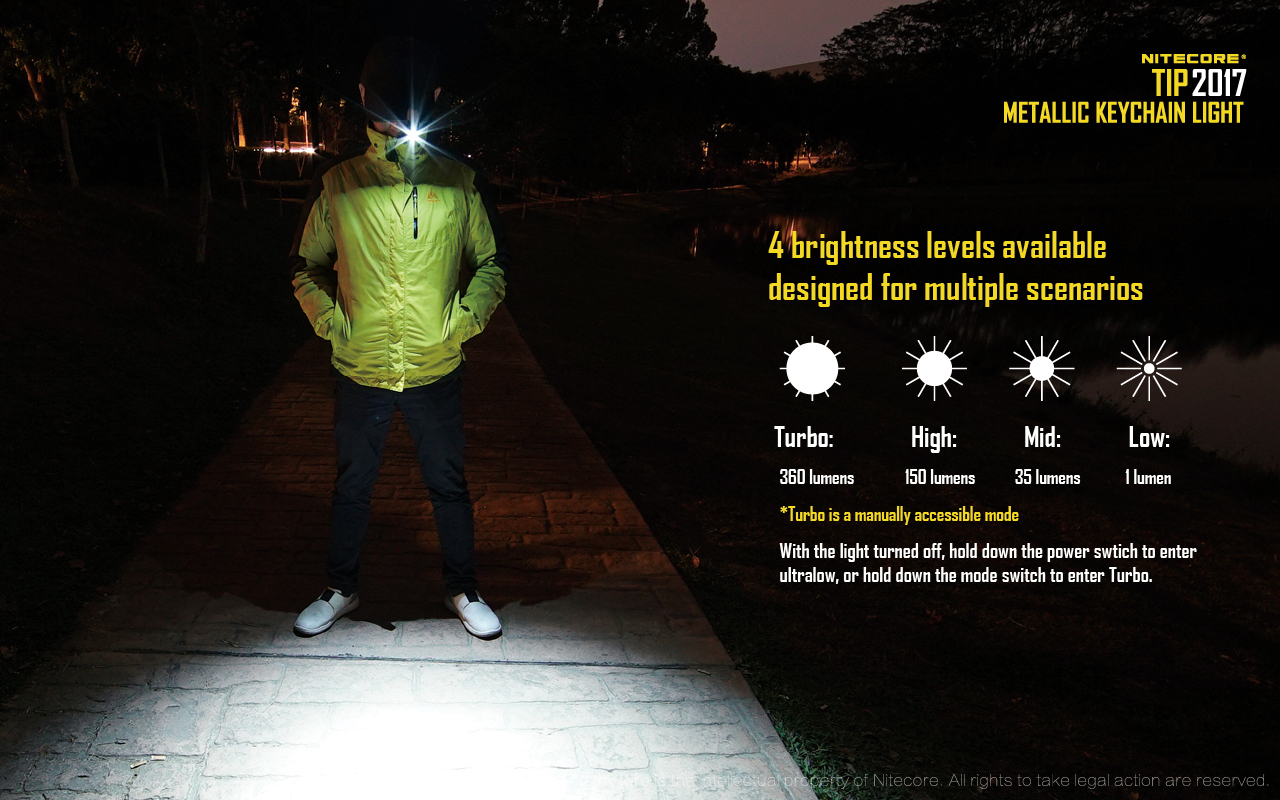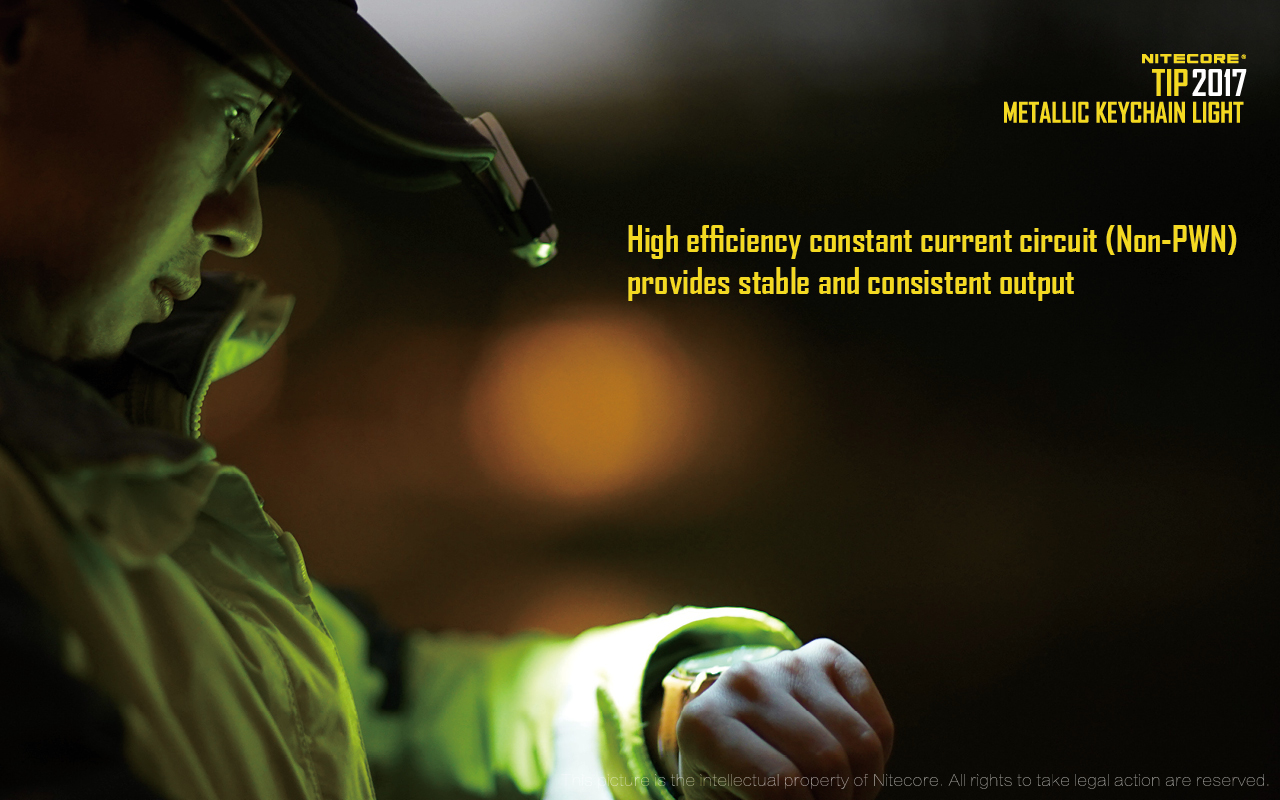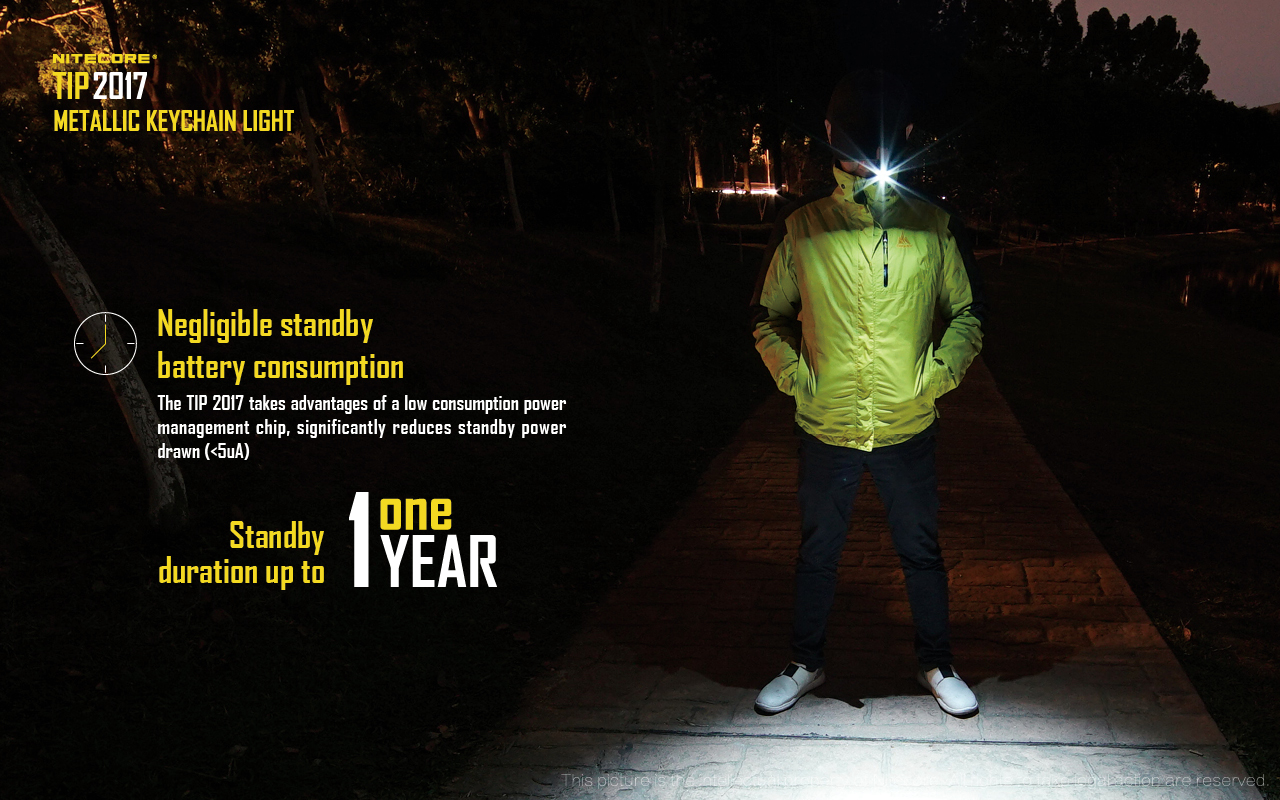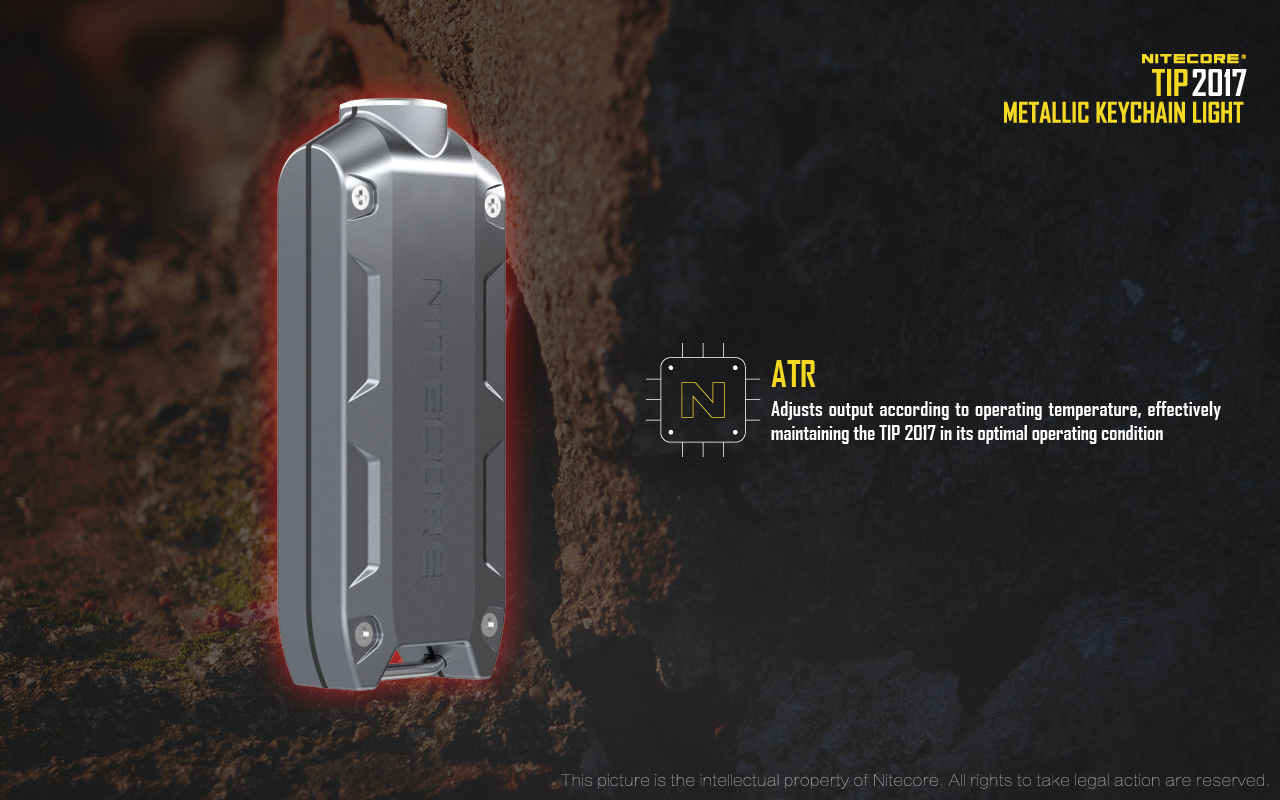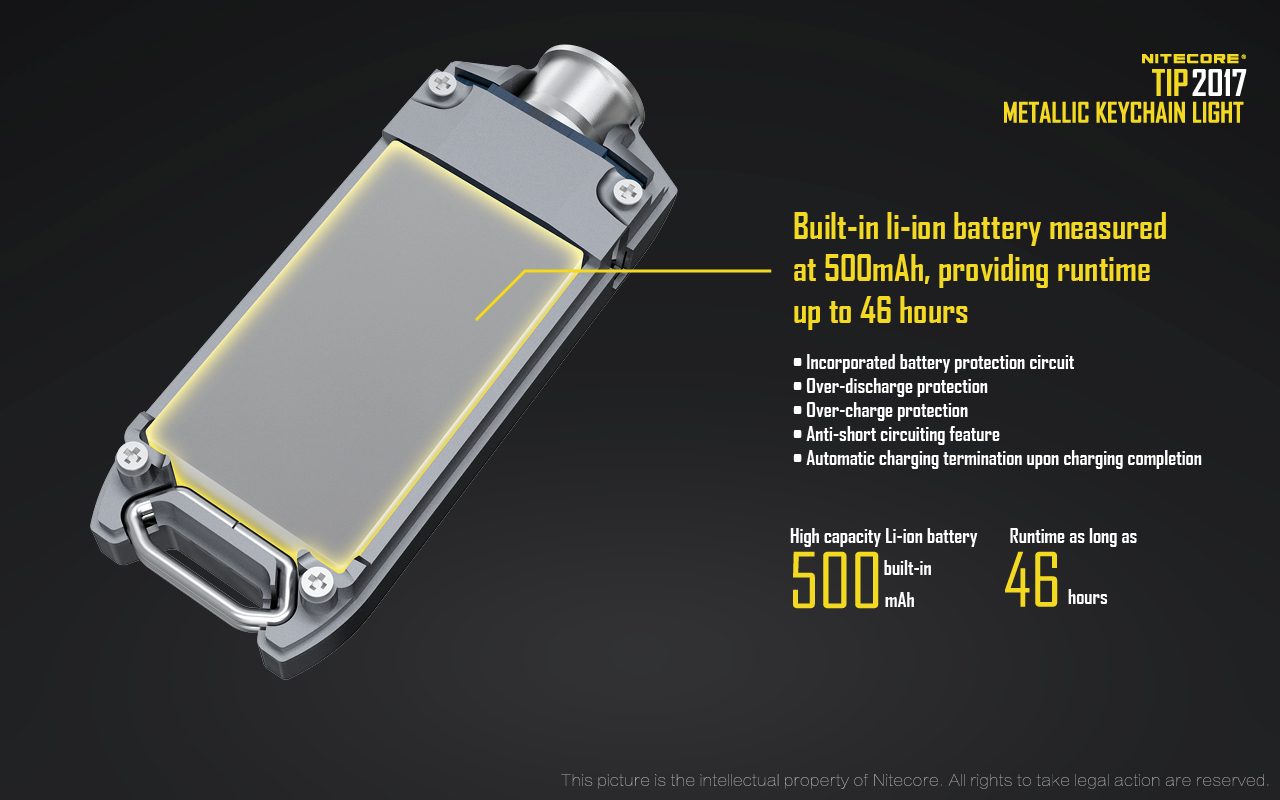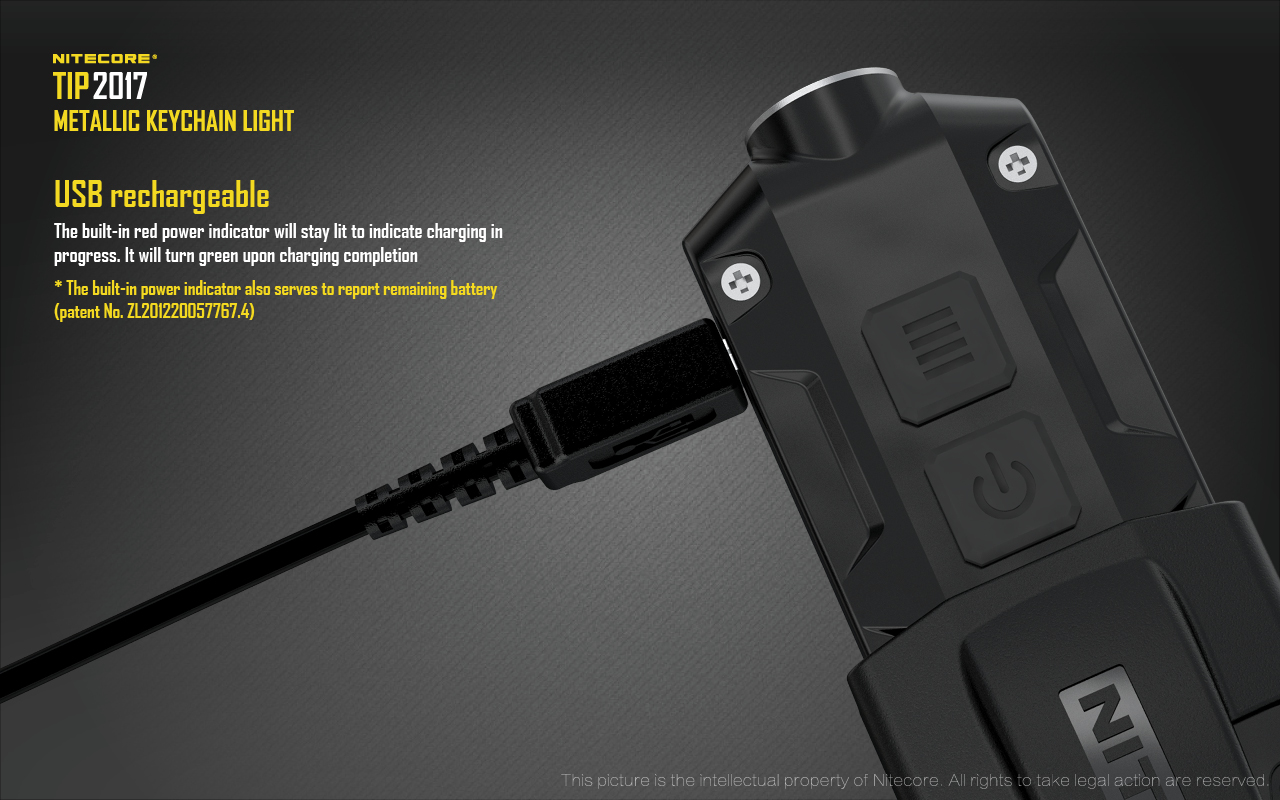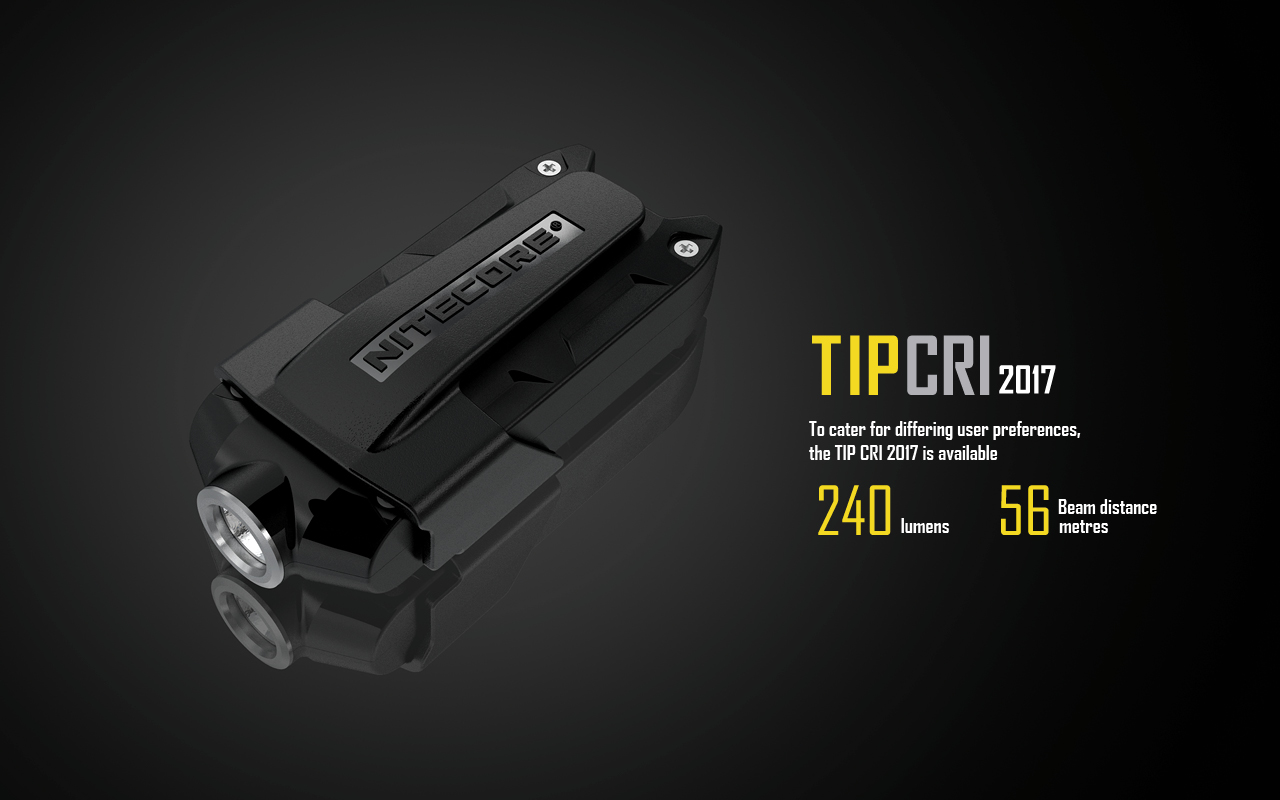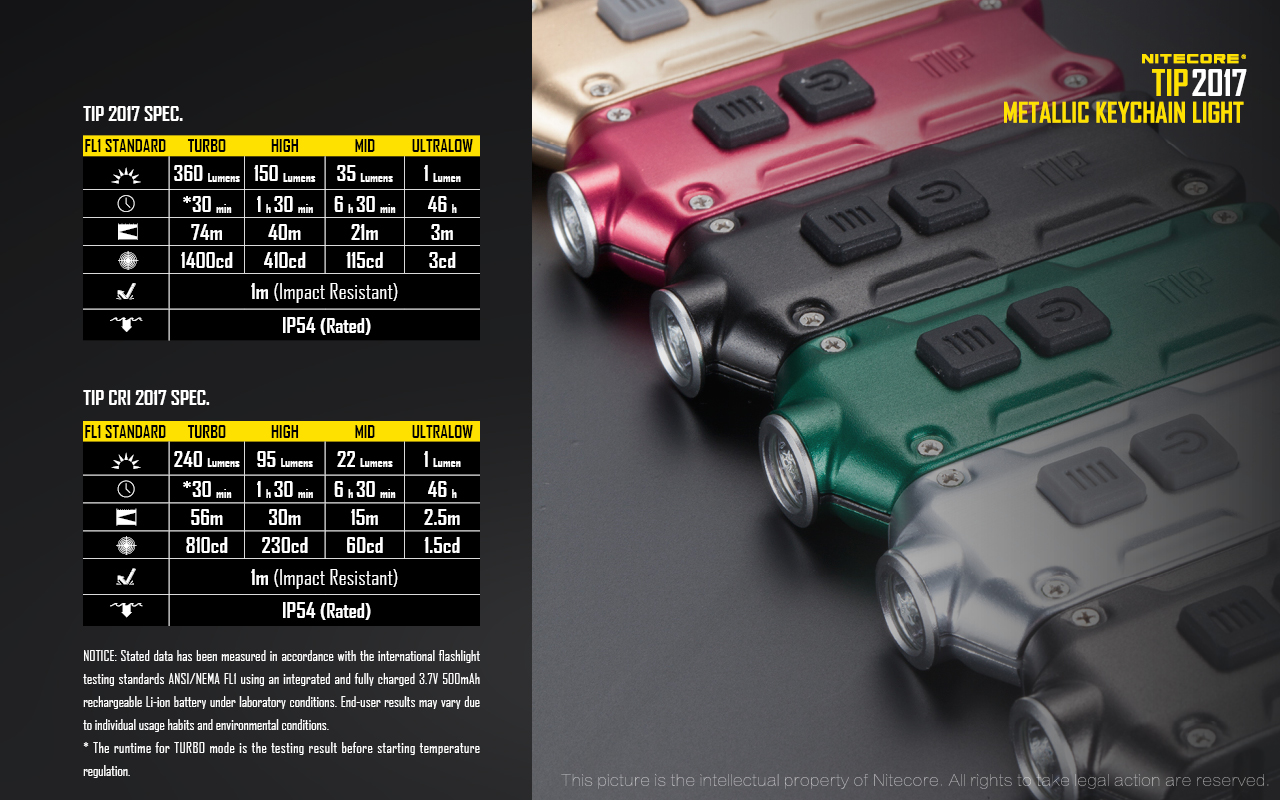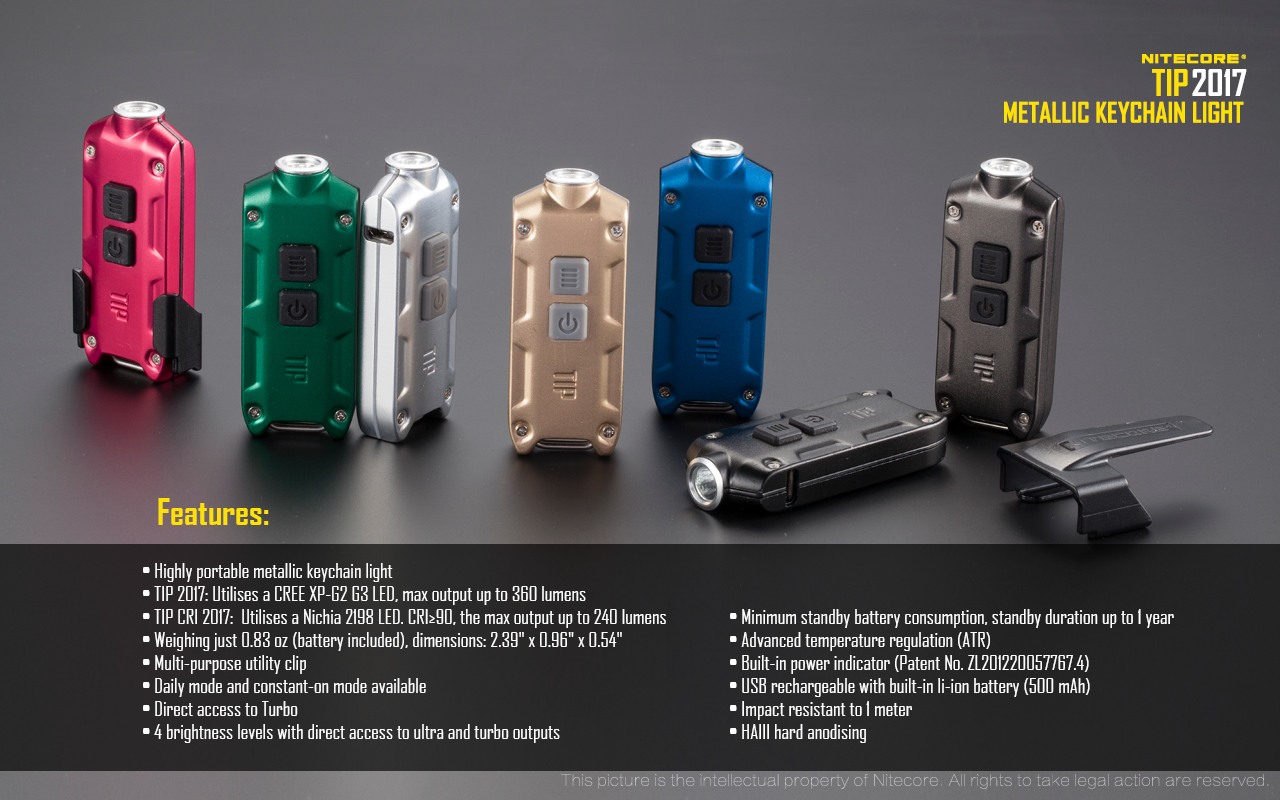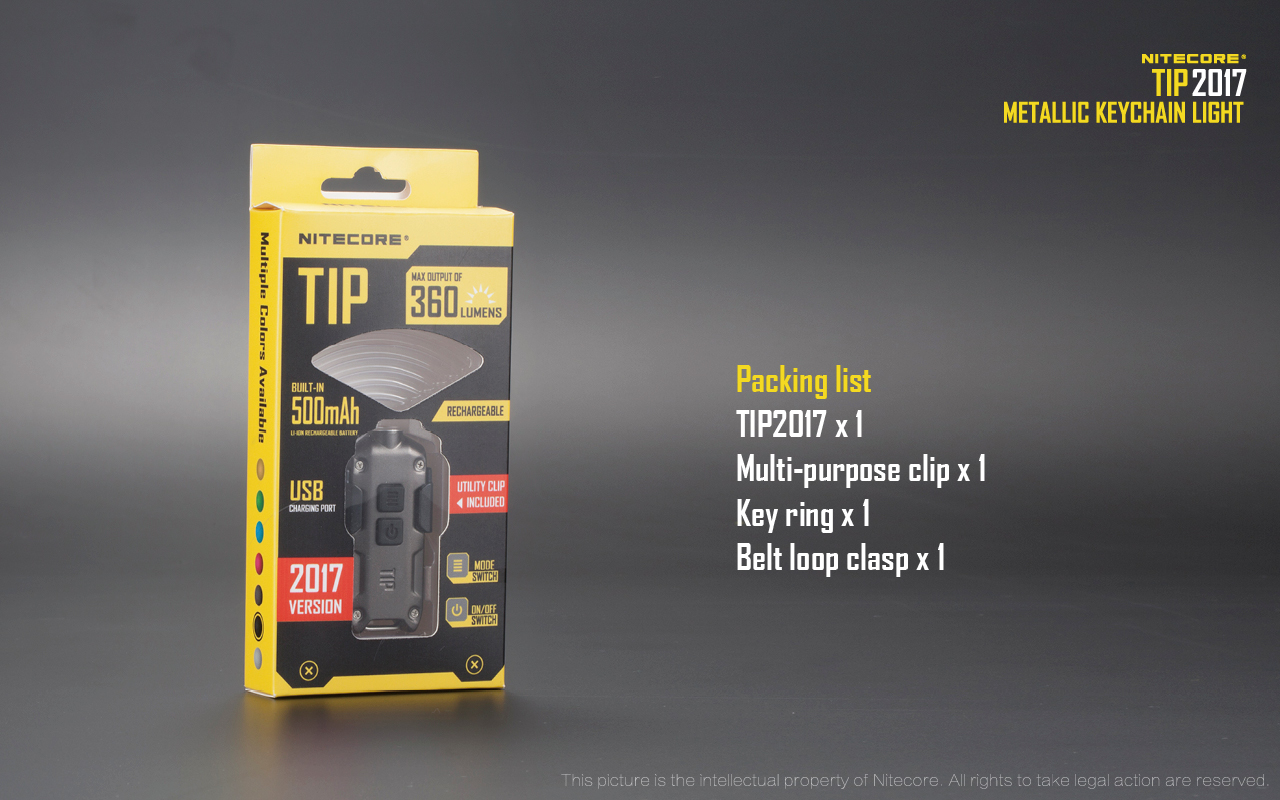 Flashlight Performance
Max Lumens
360 Lumens
Min Lumens
2 Lumens
Modes
4 Brightness Modes
Flashing Modes(Strobe/SOS)
-
Runtimes
Turbo(360 Lumens): 30mins, High(150 Lumens): 1hr30mins, Mid(35 Lumens): 6hr30mins, Low(1 Lumens): 46hrs
Beam Distance
74 mts
Peak Beam Intensity
1400 cd
Flashlight Features
Battery Type
Internal Rechargeable 500 mAh Li-Ion battery pack
Emitter Type
High performance CREE XP-G2 (S3) LED
Reflector
-
Lens Material
-
Current Regulation
-
Smart Circuit for Rechargeable Batteries
-
Reverse-Polarity Protection
-
Impact Resistance
1.5mts
Tail Stands?
-
WaterProof
Yes (Standard IP-54) - Dust-protected, protected against water splashes from all directions
Switch Type
dual body switch interface for simple one-handed operation
Other Features
-
Build
Body Material
made from sturdy aluminum alloy with a HA-III hard-anodized finish
Color
Black, Gray, Silver, Red, Green, Blue, and Gold
Dimensions
60.8 x 24.5 x 13.8 mm
Weight
23.5 gms (with battery)
In The Box
Included Accessories
Warranty
Manufacturer Warranty
15 Days (Replacement) + 12 Months / 1 Year Free Repair - T&C apply
Lightorati Warranty
15-Day Refund (No Questions Asked), Lifetime Support - T&C apply