Nitecore TUP USB Rechargeable EDC and LED Keychain Flashlight
- 1000 Lumens

- Brightest Keychain Flashlight do date, one of a kind!
- 1000 Lumens, built-in 1200mAh rechargeable battery
- CREE XP-L HD V8 LED
- Internal battery with Micro USB Port for Recharging
- Multiple color options:
Hi-Tech Black
,
Metallic Grey
Features:

- Revolutionary Intelligent Pocket Light
- Utilizes a CREE XP-L HD V6 LED with a max output of 1000 Lumens
- Max beam intensity of 8130cd and max throw distance of 180 meters
- Built-in 1,200mah Li-ion battery with charging circuit and Micro-USB port
- Multi-functional OLED Display showing real time numbers for Lumens, Battery Voltage, Runtime, etc.
- Utilizes a total reflective optic lens for uniform and soft light
- Advance Power Cut-Off (APC) technology for an Ultra-low parasitic drain
- High efficiency Constant Current Circuit design provides stable output up to 70 hours
- 2 user modes available (DEMO and Daily mode)
- Five Brightness Levels with direct access to turbo
- Dual Switch design for easy access of modes
- 2 Lockout modes: Half and Full Lockout Modes
- Turbo and Ultralow Shortcuts
- Intelligent mode memory function
- Advanced Temperature Regulation
- Stainless-Steel Ring able to withstand up to 30kg of weight
- Deep Carry Pocket and Hat Clip
- Usable While Charging
- Anodized Aluminum Construction with HAIII Hard-anodized finish
- Available in Black and Gray
Specifications:

- LED: CREE XP-L HD V6 LED
- Power Source: Internal Rechargeable Lithium Ion Battery Pack (1200 mAh)
- IP Rating: IP54 (Dust-protected, protected against water splashes from all directions)
- Impact Resistance: 1.5 meters
- Brightness Outputs:
Turbo - 1000 Lumens - 15 Mins
High - 200 Lumens - 3 Hour.
Medium - 65 Lumens - 9 Hours 45 Mins
Low - 15 Lumens - 19 Hours
Ultra Low - 1 Lumen - 70 Hours
- Peak Beam Distance: 180 meters
- Peak Beam Intensity: 8130 cd
Dimensions: Length: 70.3mm, Width: 29.5mm, Thickness: 26.2mm
Weight: 53.2 gms (including the clip)
Includes:
Nitecore TUP Light, Key clasp (key ring)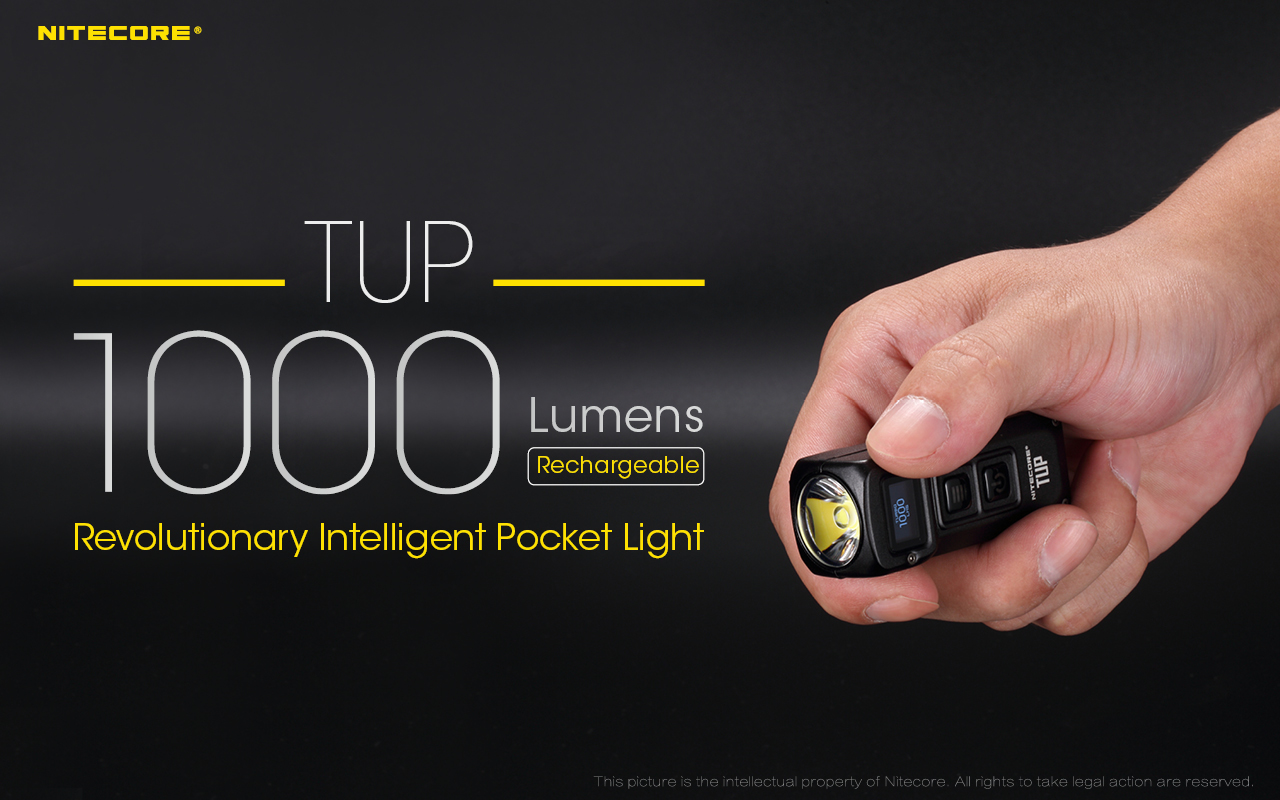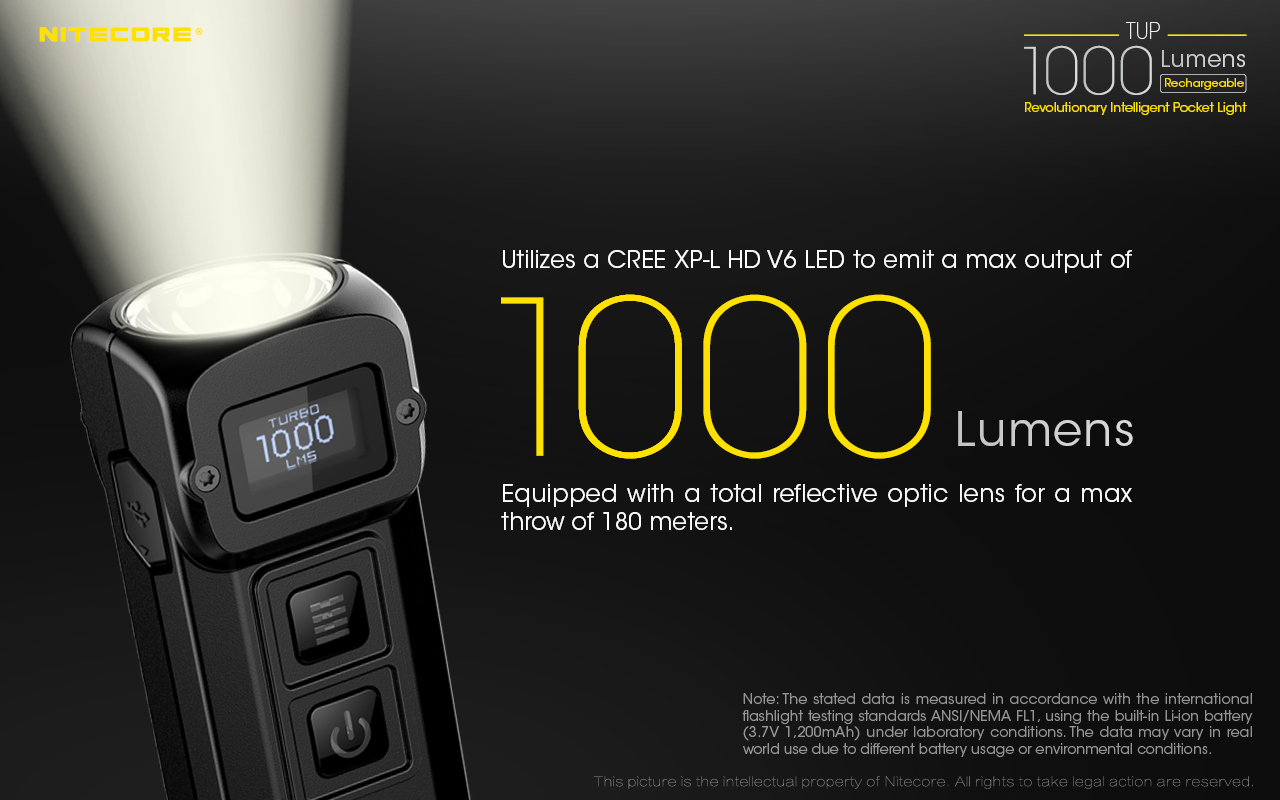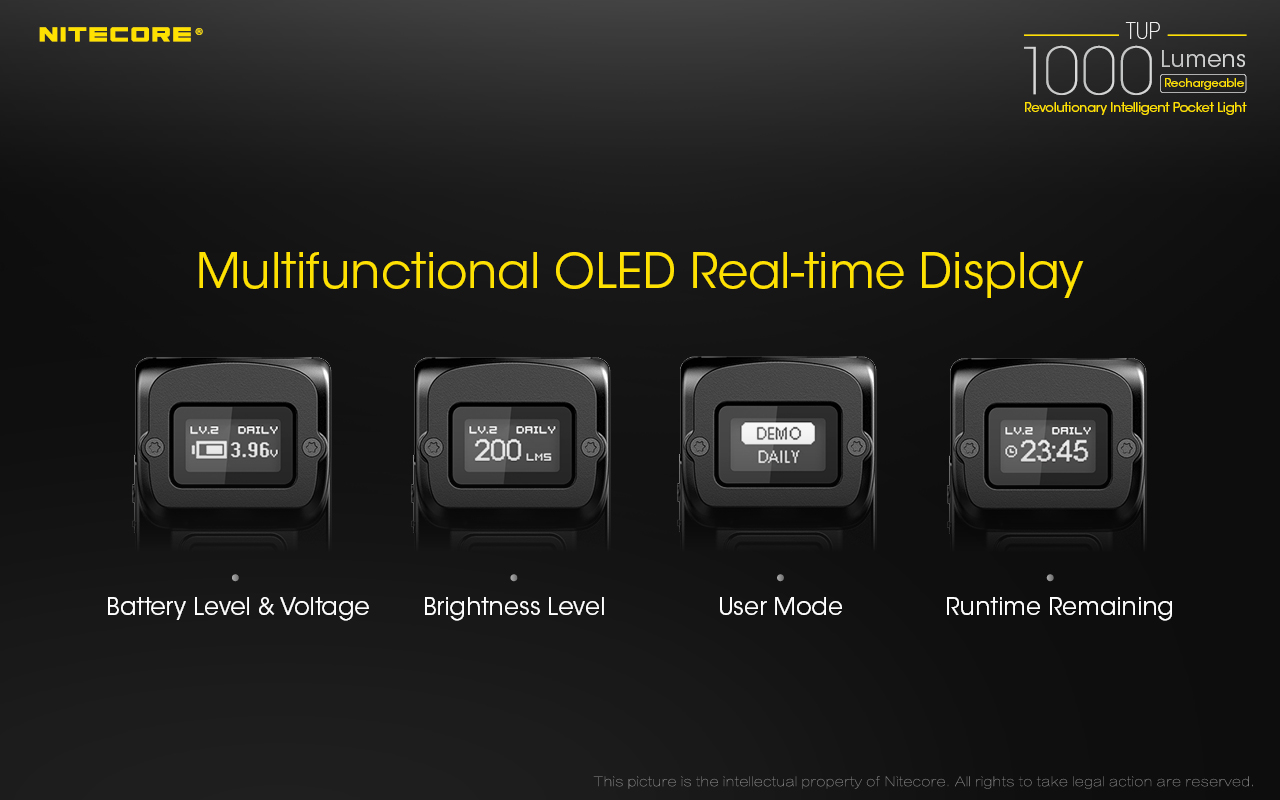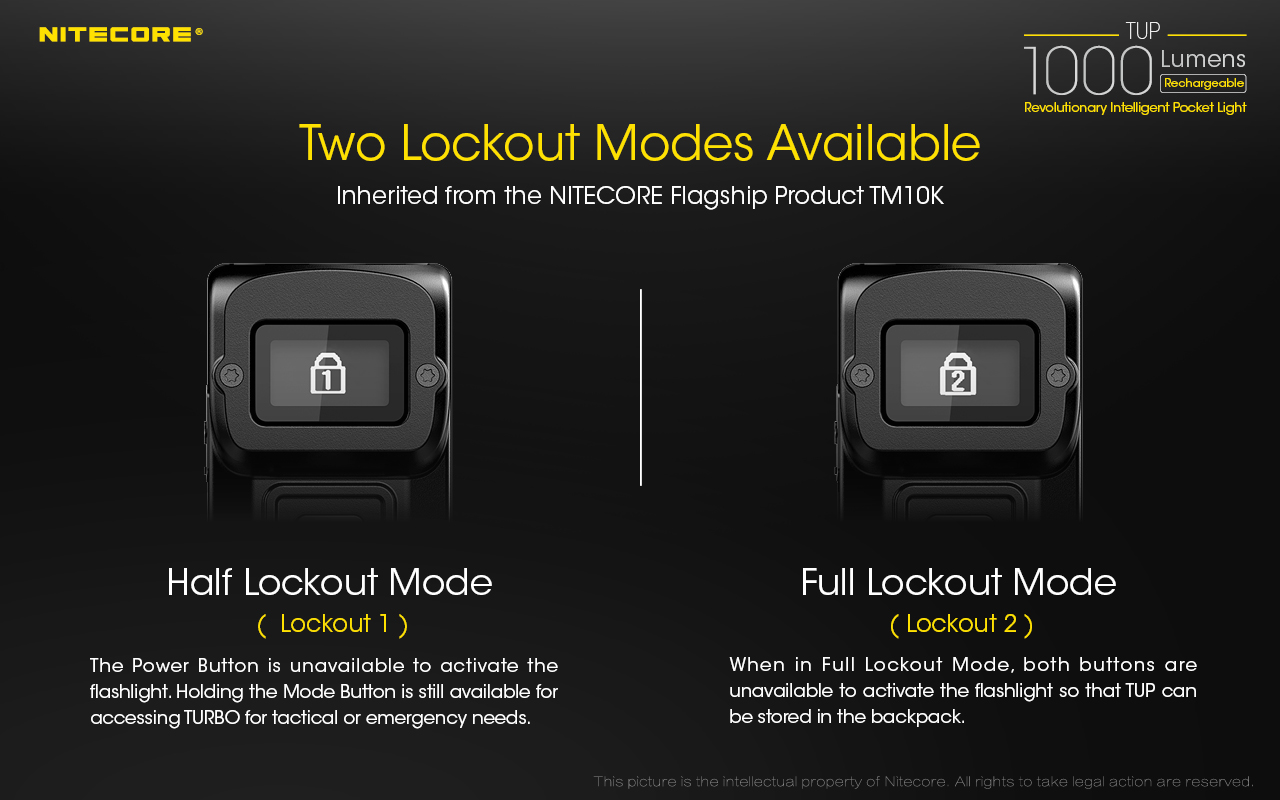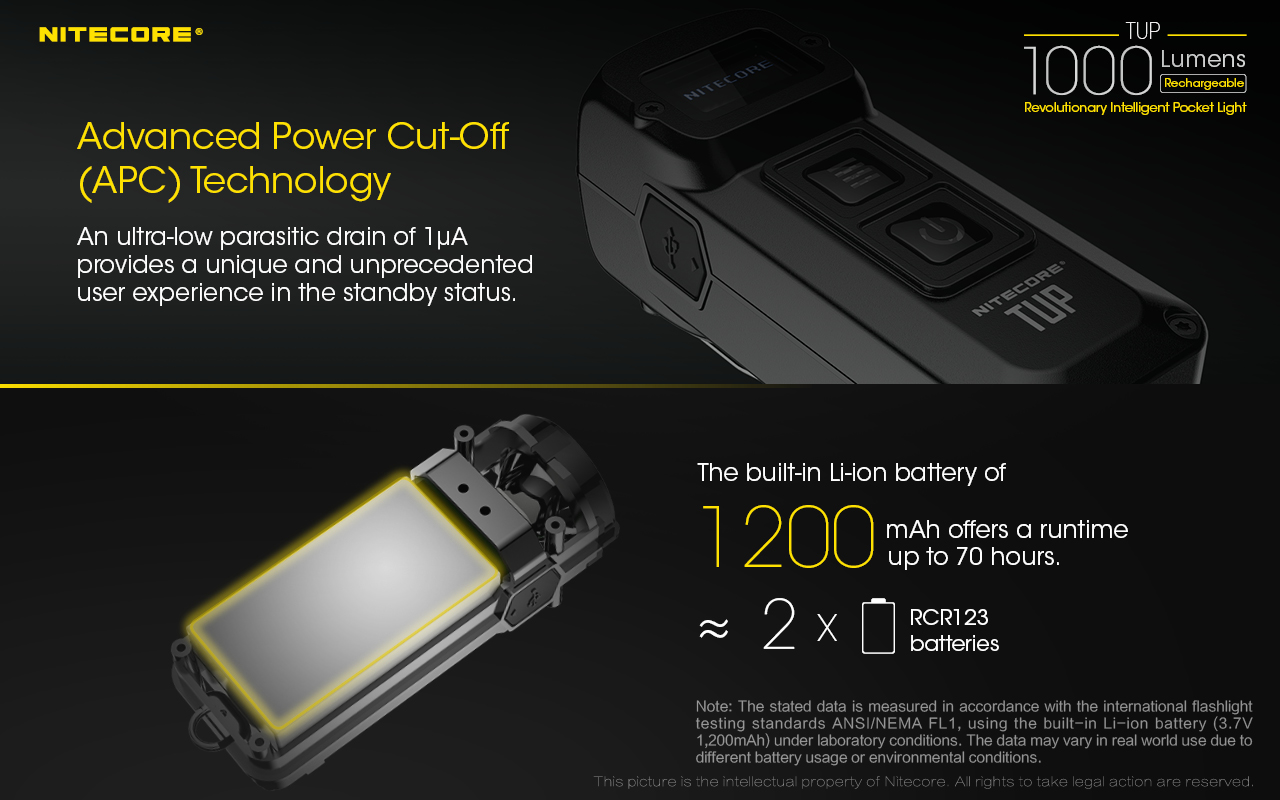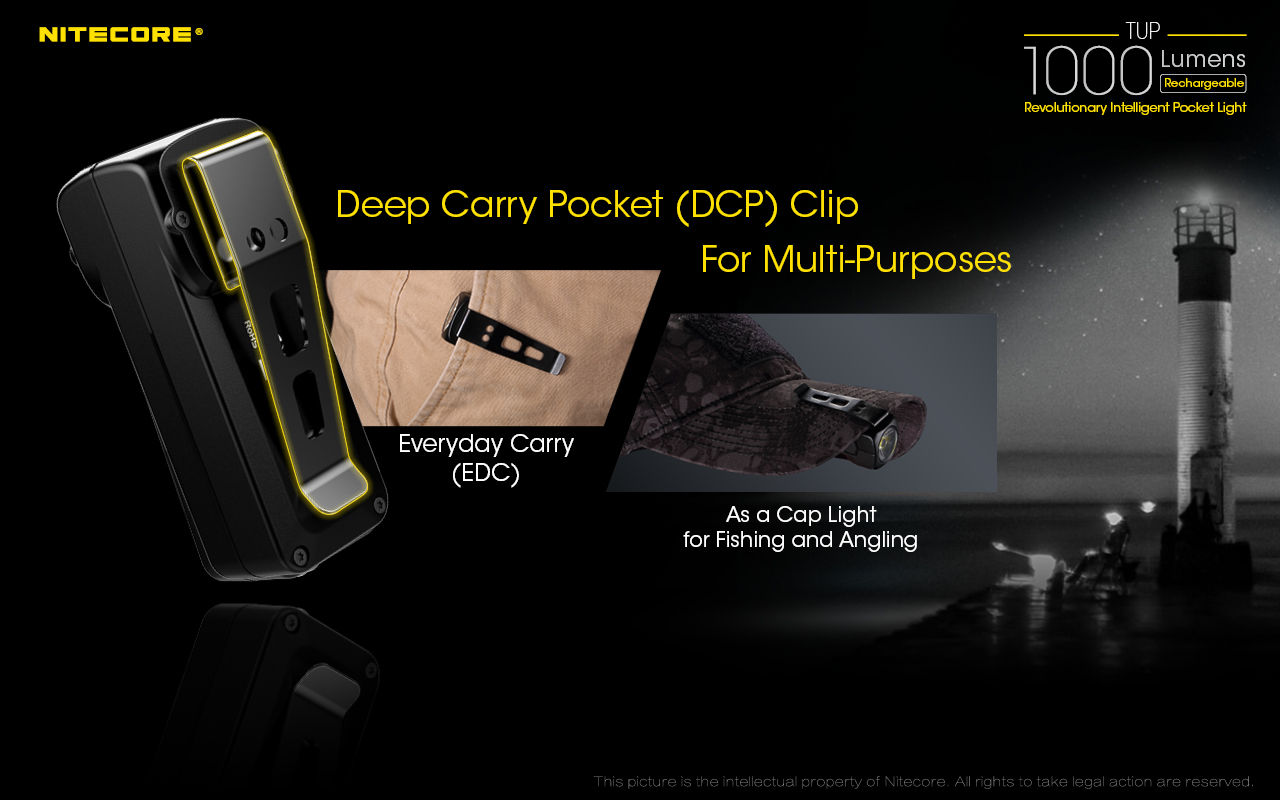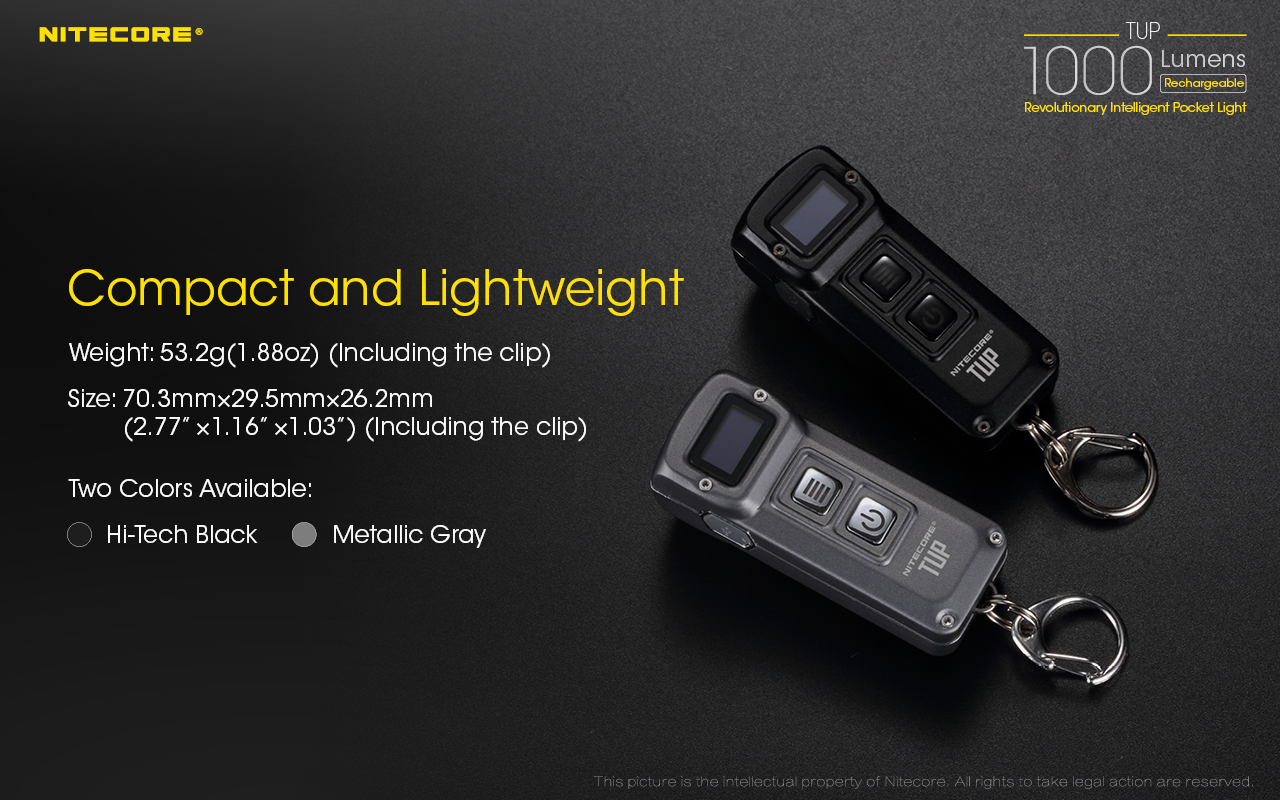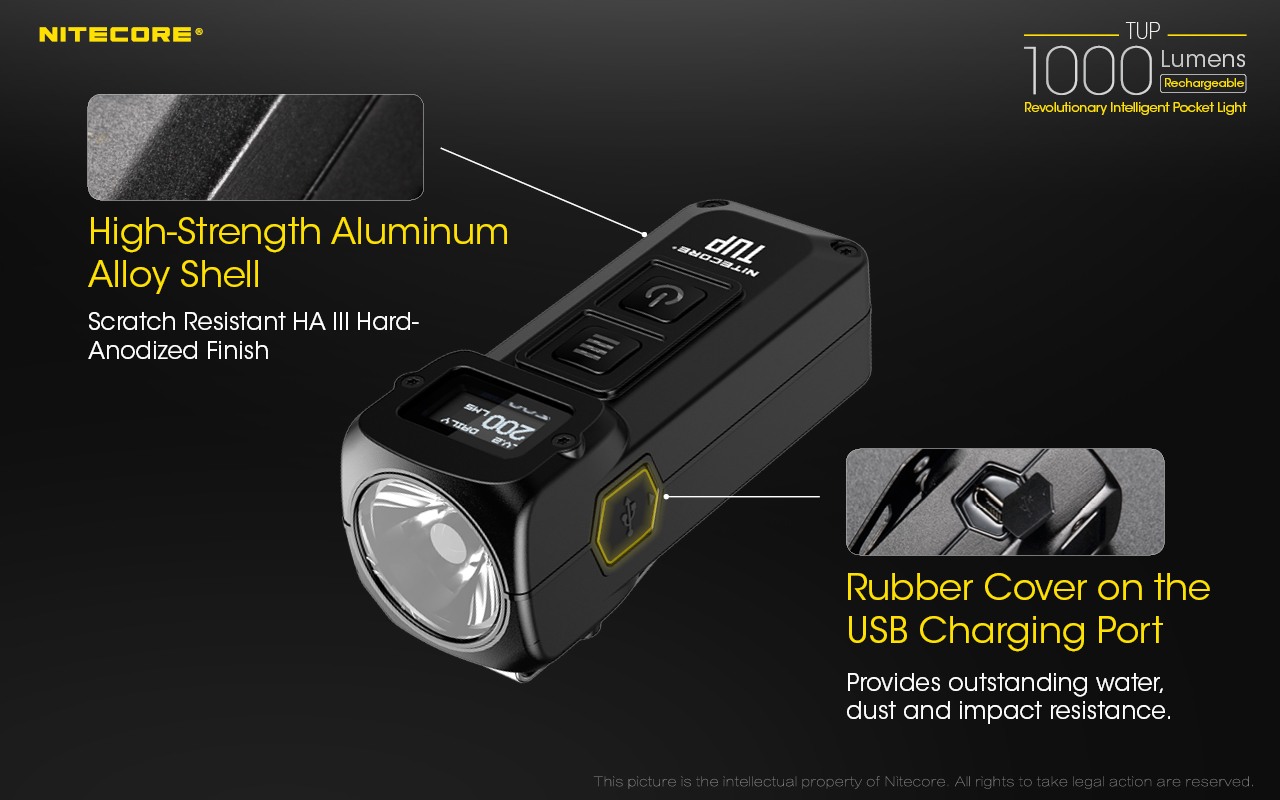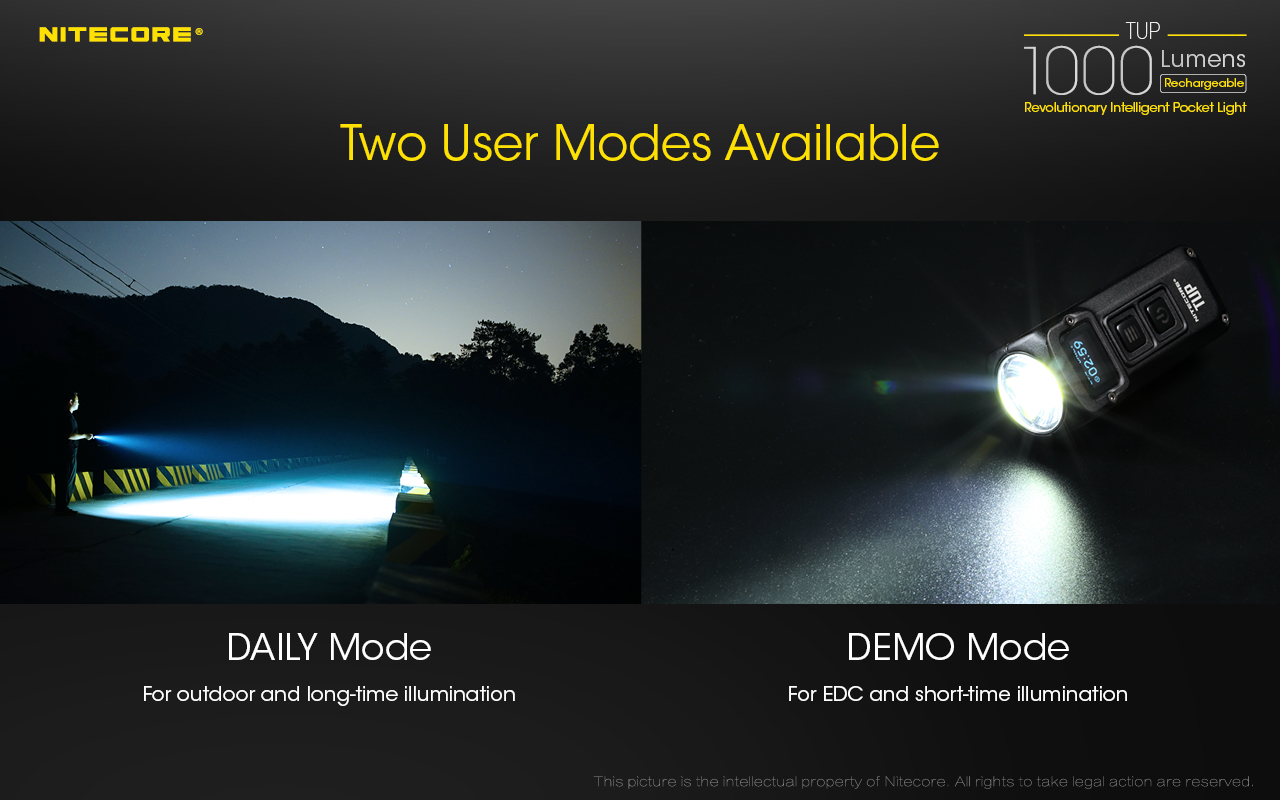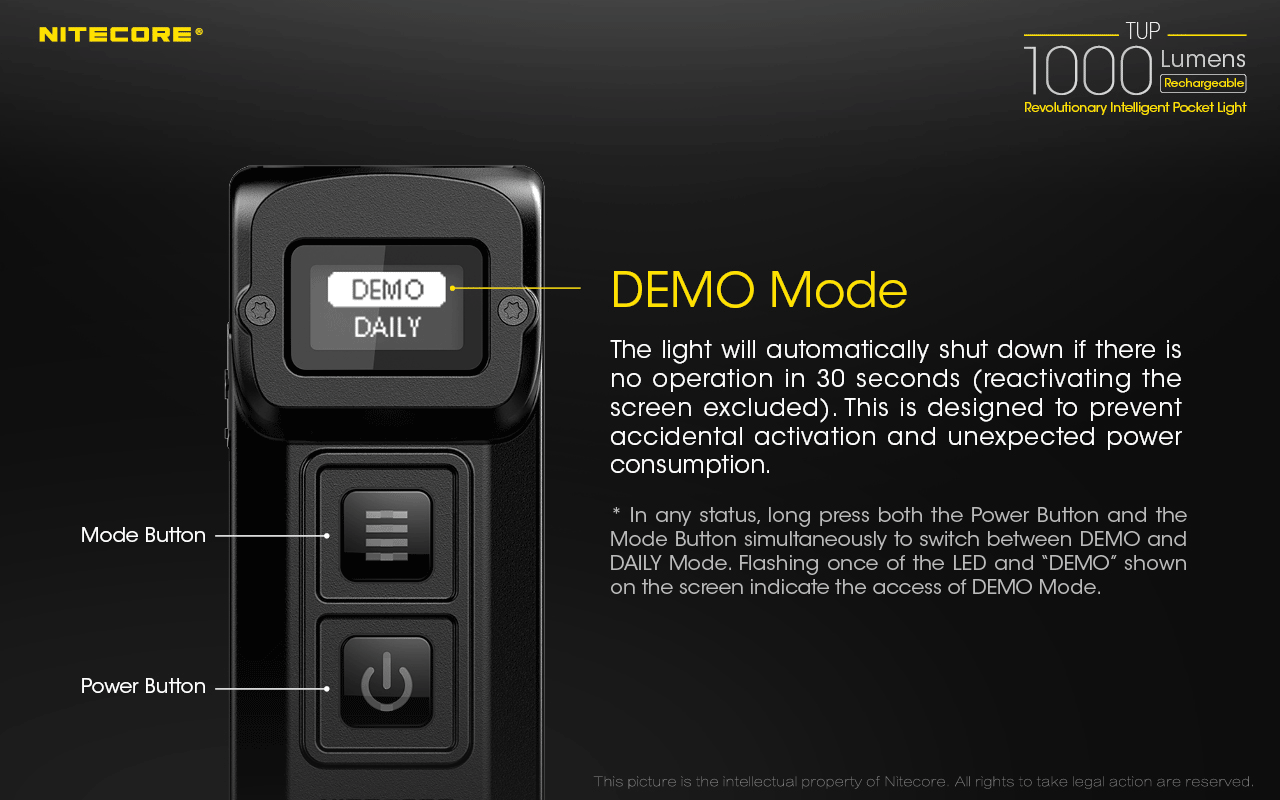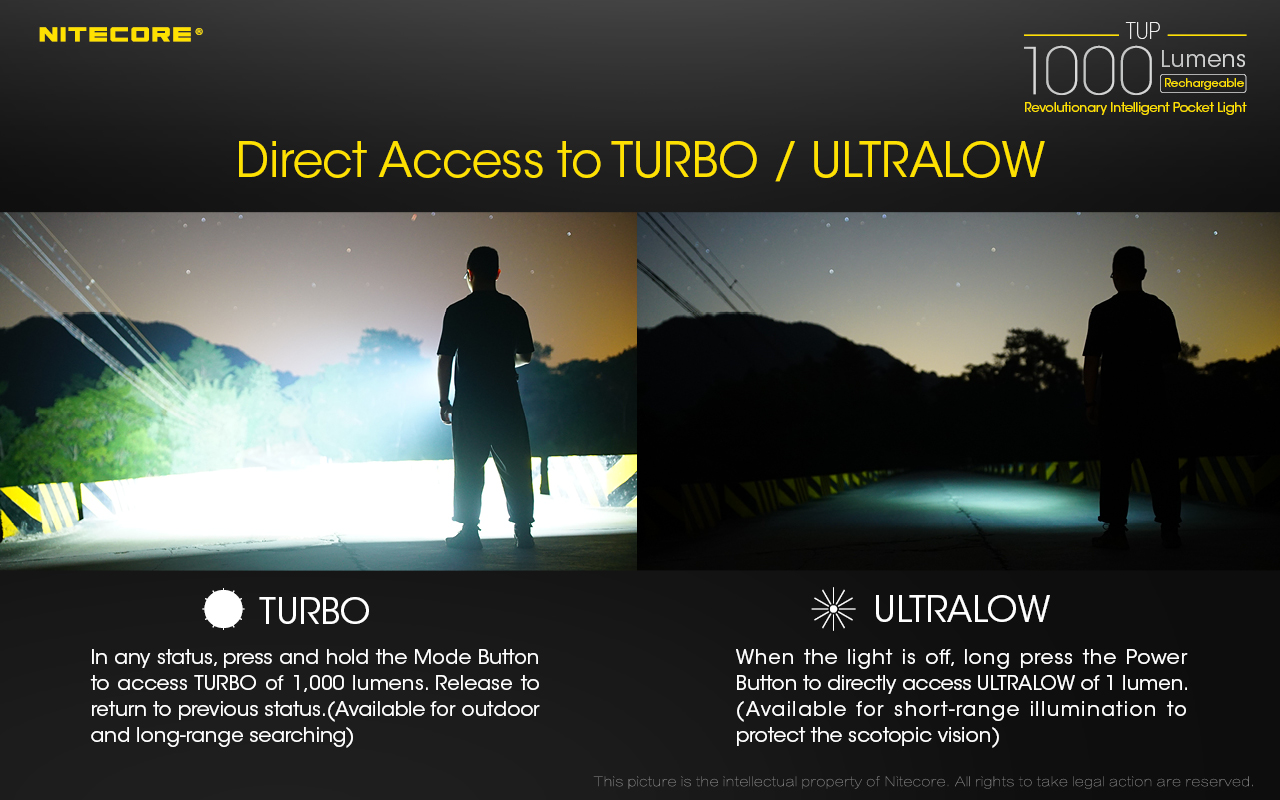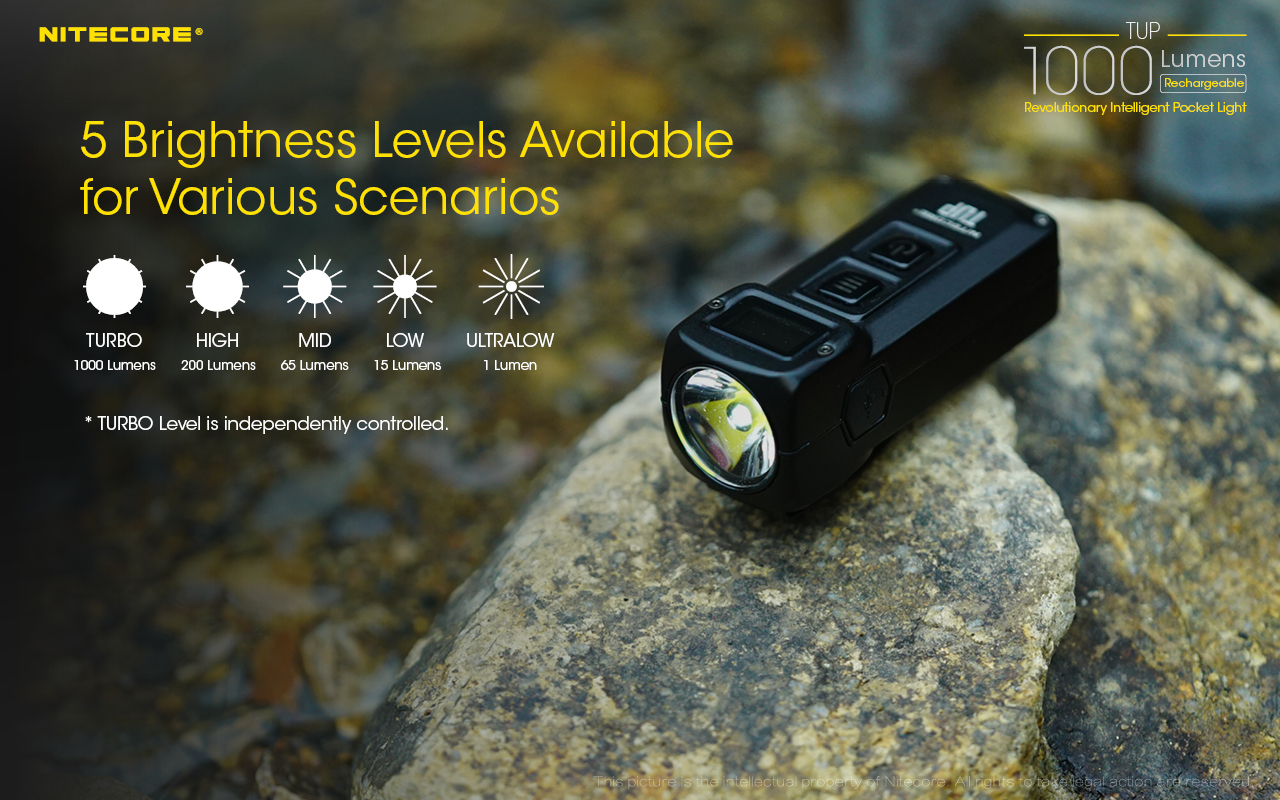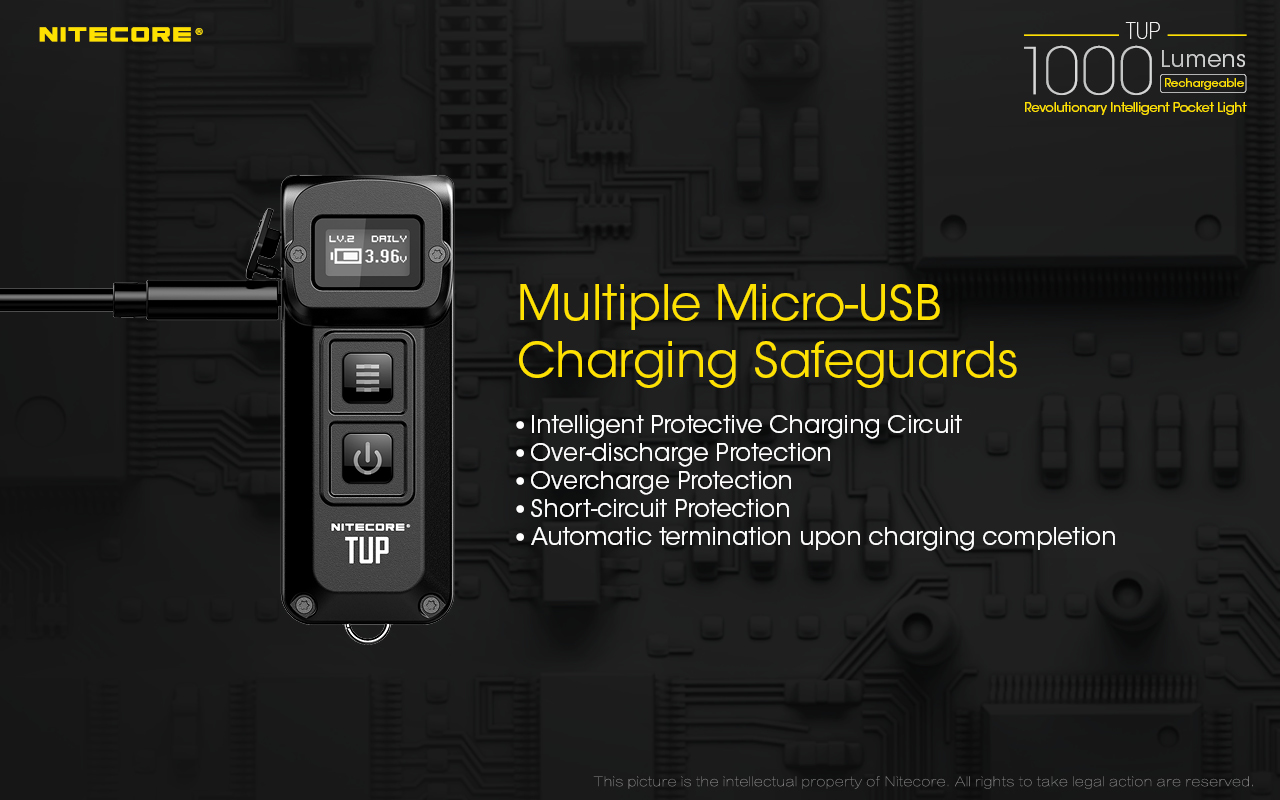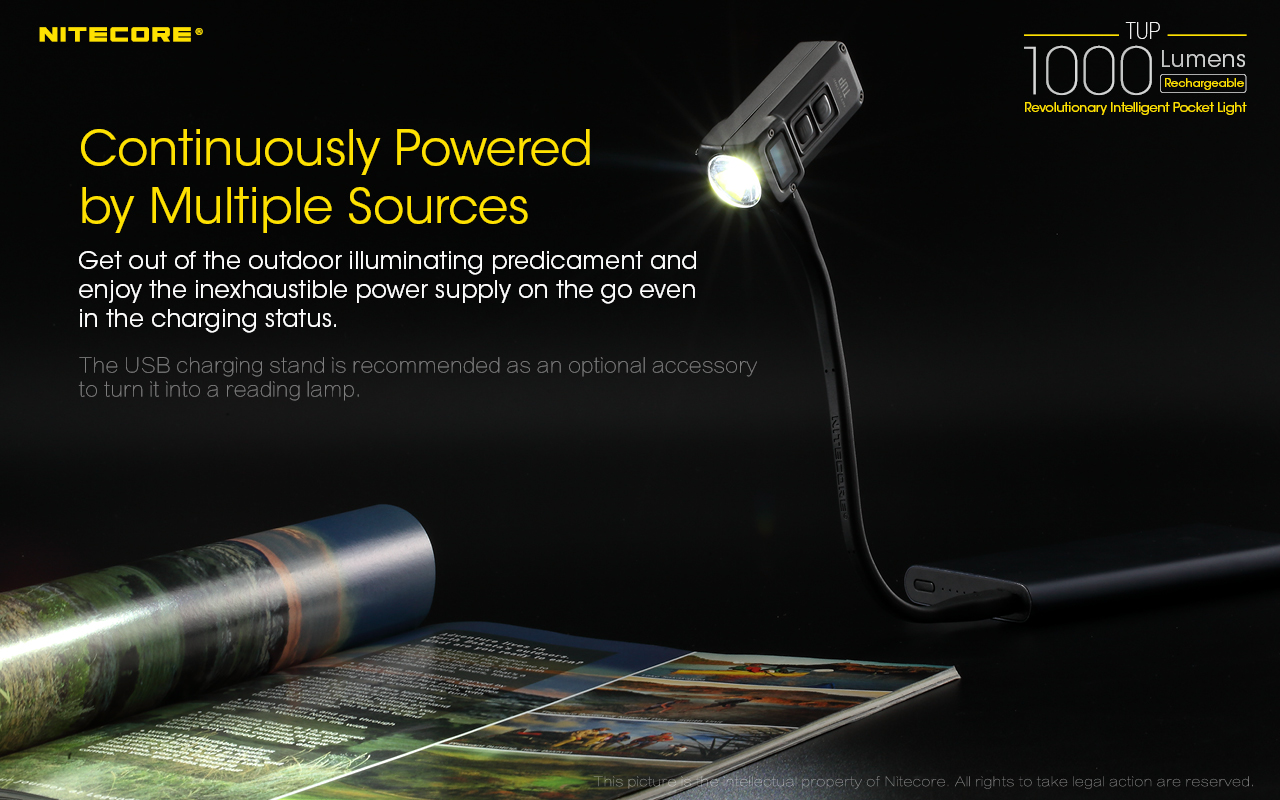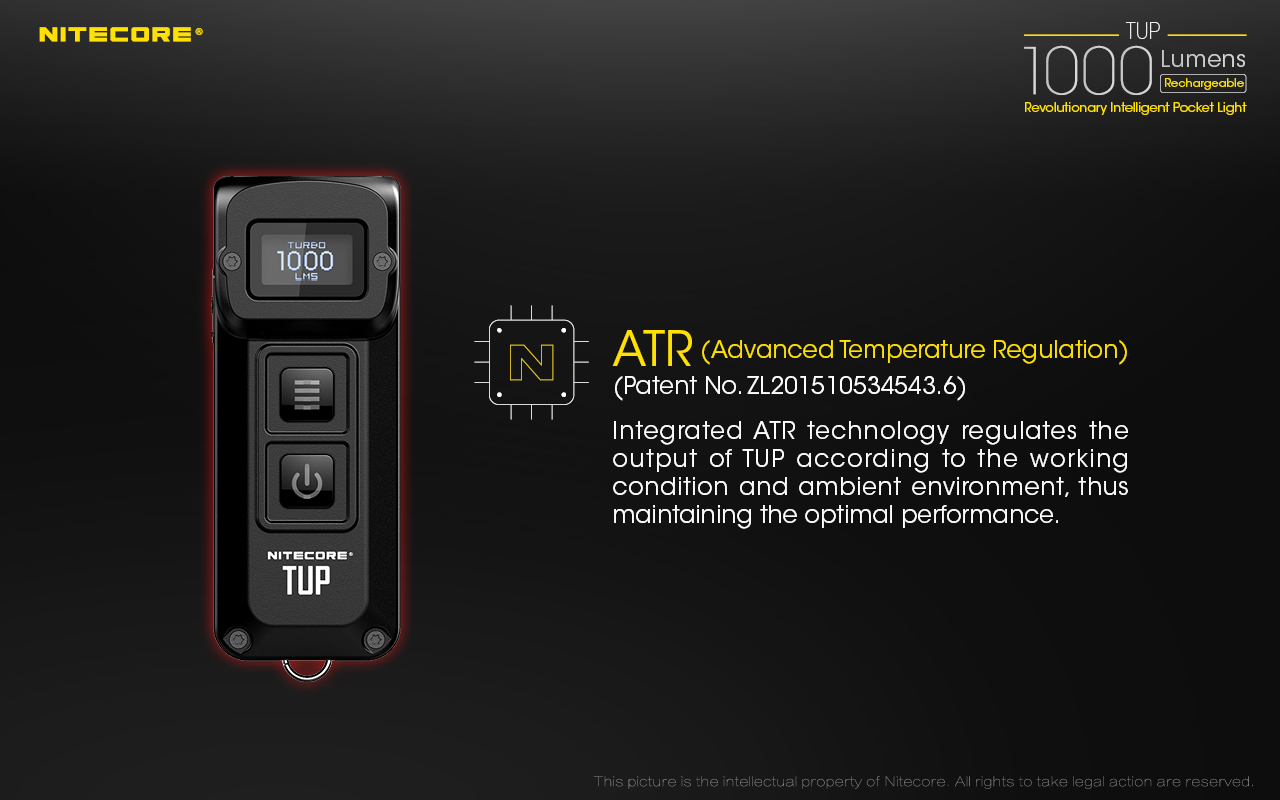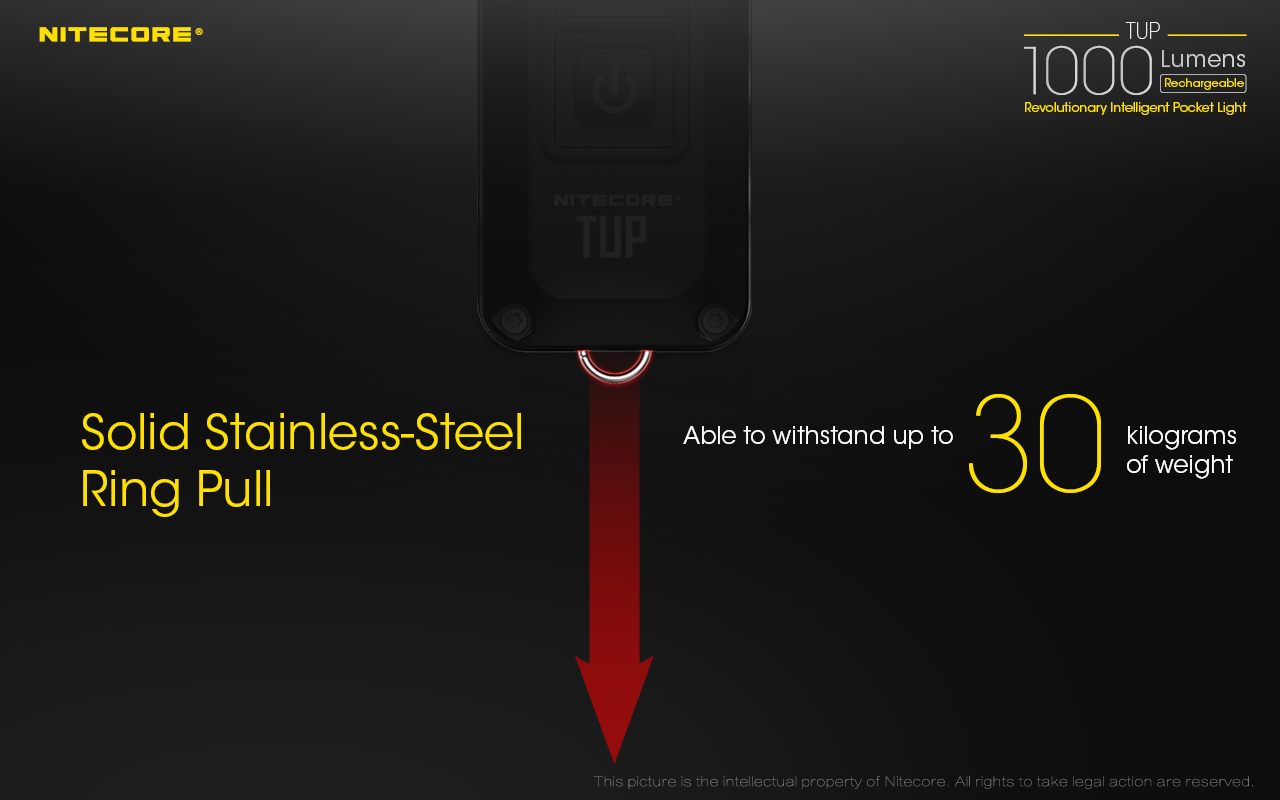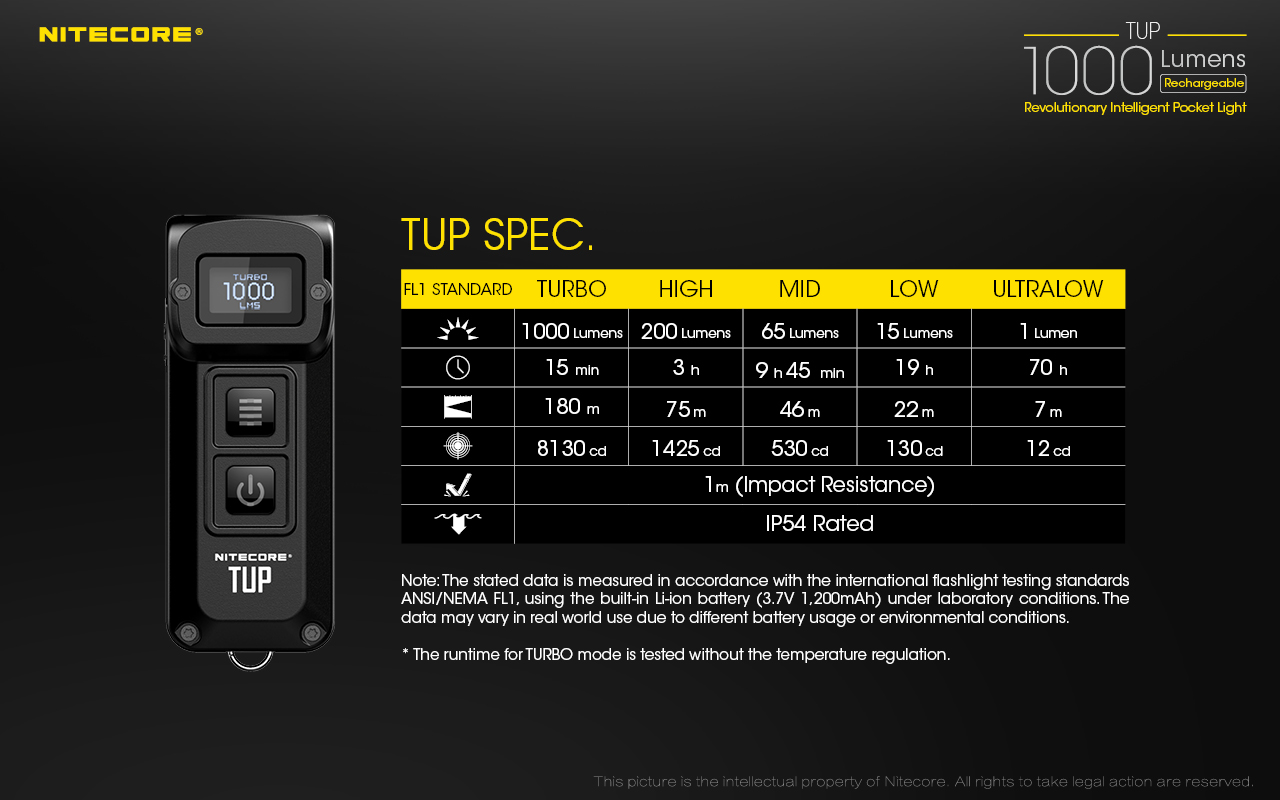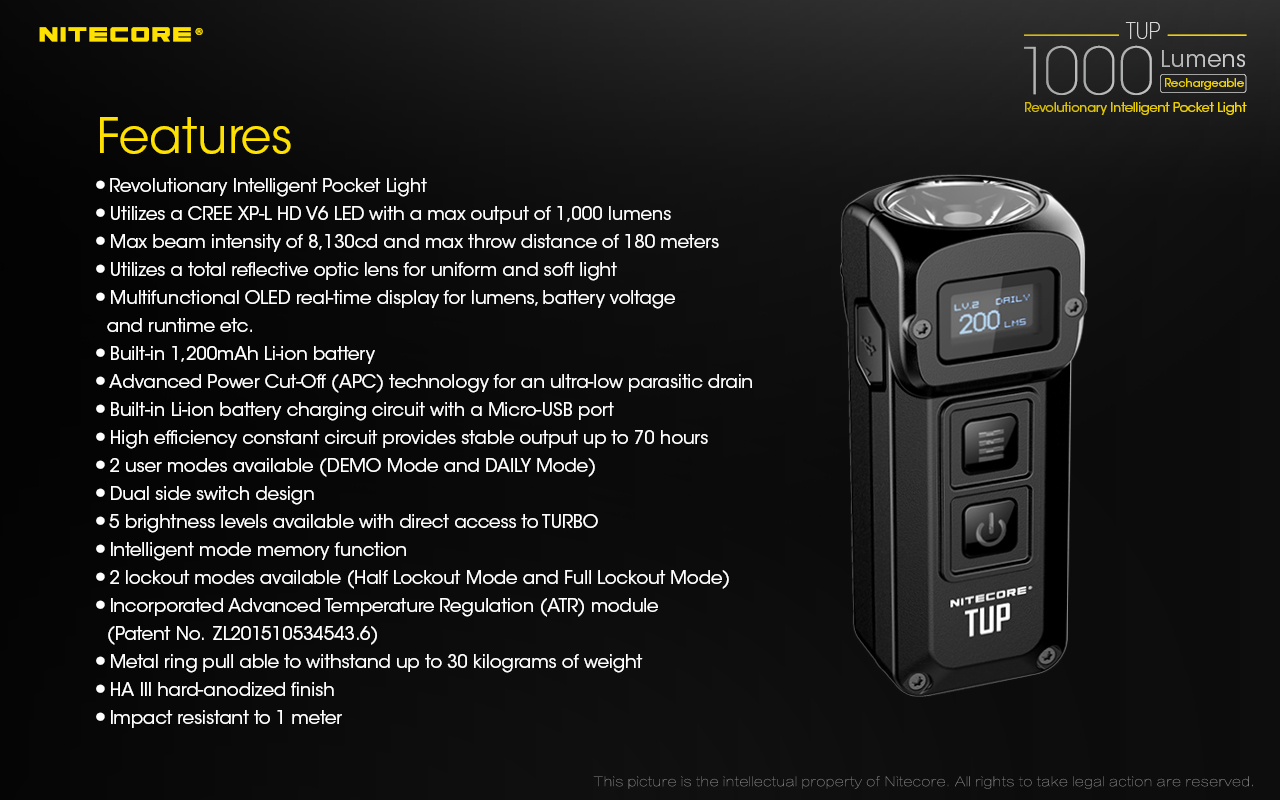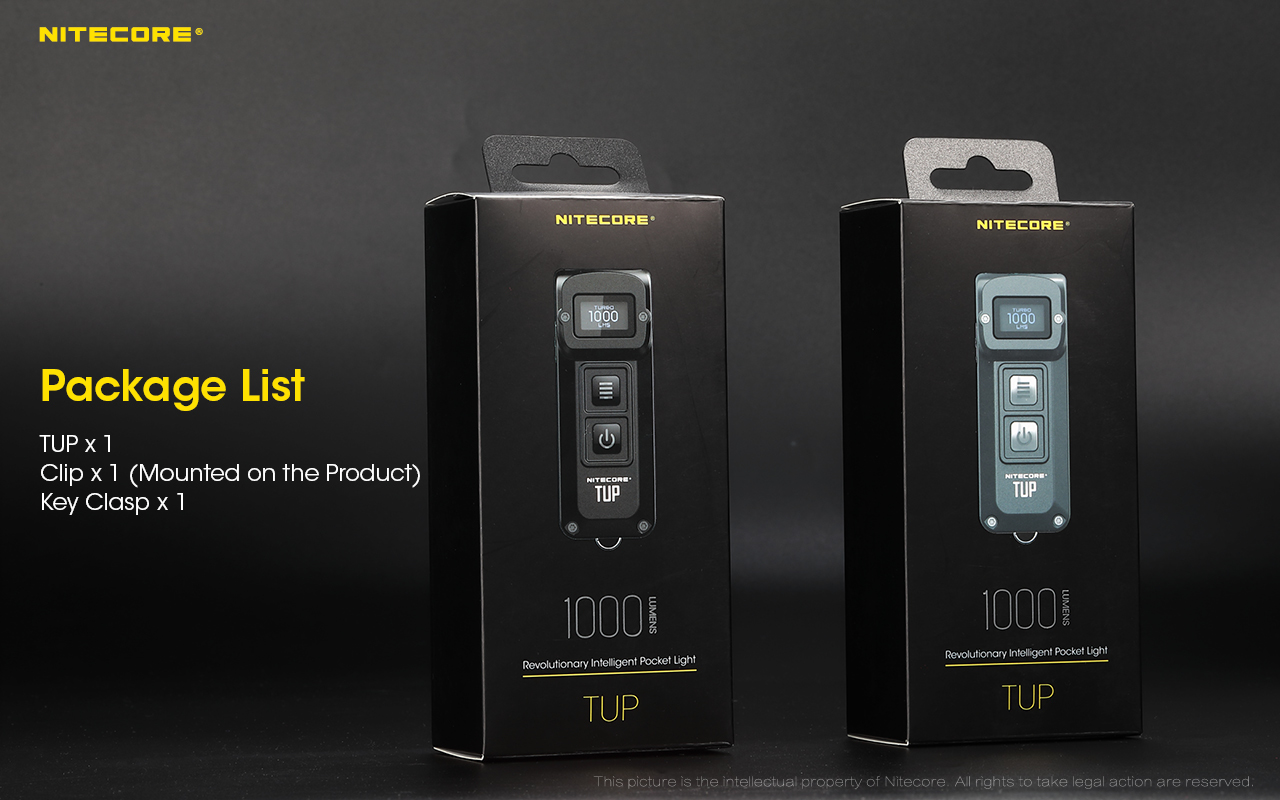 Flashlight Performance
Max Lumens
1000 Lumens
Min Lumens
1 Lumens
Modes
5 Brightness Modes
Flashing Modes(Strobe/SOS)
-
Runtimes
Turbo(1000 Lumens): 15mins
Beam Distance
180 mts
Peak Beam Intensity
8130 cd
Flashlight Features
Battery Type
Internal Rechargeable 1200mAh Li-ion battery pack
Emitter Type
High performance CREE XP-L HD V6 LED
Reflector
-
Lens Material
Utilizes a total reflective optic lens for uniform and soft light
Current Regulation
Constant Current Circuit Design
Smart Circuit for Rechargeable Batteries
-
Reverse-Polarity Protection
-
Impact Resistance
1mts
Tail Stands?
-
WaterProof
Yes (Standard IP-54) - Dust-protected
Switch Type
Dual body side switches interface for simple one-handed operation
Other Features
-
Build
Body Material
Anodized Aluminum Construction
Color
Black
Dimensions
70.3 x 29.5 x 26.2 mm
Weight
53.2 gms (with battery)
In The Box
Included Accessories
Key Clasp
Warranty
Manufacturer Warranty
15 Days (Replacement) + 12 Months / 1 Year Free Repair Warranty - T&C apply
Lightorati Warranty
15-Day Refund (No Questions Asked)