Fenix TK47UE Search Light (3200 Lumens, 408mts, 2x18650)
Fenix TK47 UE - Powerful and Bright Search Light (Flooder with Neutral White Output)
- 3200 Lumens - 4 Brightness Levels + Strobe
- Powered by 2x18650 batteries (not included)
- 408 Mts Throw, integrated Red and white LED with diffuser on Tail Switch


Manufacturer Product Description:
Fenix TK47UE is a high-performance flashlight innovatively equipped with a multi-functional tail light. The headlight is fitted with the high performance Cree XHP70 LED and orange-peel textured reflector, resulting in output up to 3200 lumens and long-distance beam of over 400 meters. The diffused tail light is fitted with a neutral white light and a red light, which are independently controlled, and they are versatile aids in relaxing, reading, camping or signaling. In addition to searching, caving, the TK47UE is also a recommendable spare lighting tool for your self-driving journey.


Please note that 18650 batteries and charger are not included with the light and have to be bought separately.

TK47 Throw(1300 Lumens) vs TK47 UE Flood(3200 Lumens) Comparison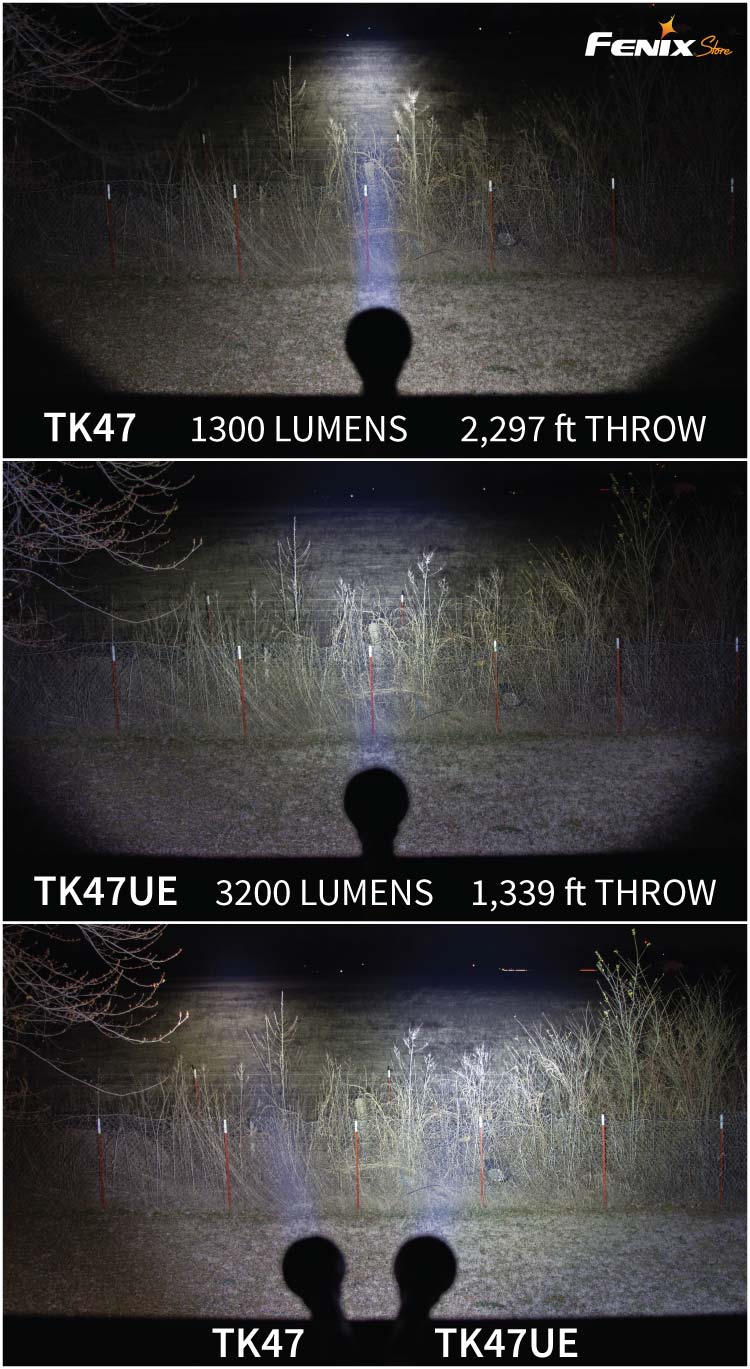 Recommended Accessories:
Batteries: 2x18650 Rechargeables - check out the 18650 Batteries
Charger: Fenix ARE-C1+ 2-Battery Charger with LED display or any 18650 Chargers


Features:
- Headlight utilizes a Cree XHP70 neutral white LED with a lifespan of 50,000 hours
- Tail light utilizes quality white LED, red LED and diffuser tip design
- Output Modes:
3200 Lumens (1 hour - 1,339 feet/408 meters)
1000 Lumens (3 hour 20 min)
350 Lumens (11 hours 20min)
30 Lumens (43 hour 30 min)
- Tail light has a wide-range 26.2 feet/8m beam diameter
- Dual Independent light source that can be used simultaneously
- Tail light includes diffuser desgin to act as "candle light" for relaxing, reading, camping, or signaling
- Made of durable aircraft-grade aluminum
- Premium type III hard-anodized anti-abrasive finish
- Stainless steel strike bezel
- Stainless steel switches
- Dual layer body structure
- Digitally regulated output maintains constant brightness
- Headlight features lockout function
- Reverse polarity protection to protect from improper battery insertion
- Intelligent overheat protection to avoid high surface temperature
- Intelligent memory circuit - memorizes the last brightness level used in the general mode
- Featuring low voltage downshift function
- IP68 dustproof and waterproof - submersible to 6.6 feet/2 meters
Dimensions:
Length x Body Diameter x Head Diameter: 266.2mm x 28.6mm x 61.5mm
Weight:
365 gram (excluding batteries)
Whats Included:
- TK47 UE Flashlight
- Holster
- Spare O-ring
- Lanyard
- User Manual
- Warranty Card
Flashlight Performance
Max Lumens
3200 Lumens
Min Lumens
20 Lumens (main) / 1.5 Lumens (Tail light)
Modes
5 Brightness Levels + Strobe Mode (Main Light), 4 Brightness Levels (Tail Light)
Flashing Modes(Strobe/SOS)
Strobe + Red Flash + Red SOS
Runtimes
Turbo(3200 Lumens): 1hr, High(1000 Lumens): 3hr20min, Mid(350 Lumens): 11hr20min, Low(100 Lumens): 46hrs, Eco(20 Lumens): 170hrs,
Beam Distance
408 mts
Peak Beam Intensity
41600 cd
Flashlight Features
Battery Type
2x18650 Li-ion Batteries
Emitter Type
Cree XHP70 White LED with a lifespan of 50,000 hours
Reflector
Lens Material
Toughened ultra-clear glass lens with anti-reflective finish
Current Regulation
Digitally-regulated output (maintains constant brightness)
Smart Circuit for Rechargeable Batteries
Yes
Reverse-Polarity Protection
Yes
Impact Resistance
1mts
Tail Stands?
Yes
WaterProof
Yes (Standard IPX-68) - 2mts Underwater
Switch Type
Two independent light switches on Head and Tail
Other Features
low voltage downshift function, Over-discharge protection circuit, Dual independent light source that can be used simultaneously
Build
Body Material
Made of durable aircraft-grade aluminum, premium Type III hard-anodized finish, scratch resistant and wear resistant. Stainless steel bezel.
Color
Black
Dimensions
Length x Diameter x Head: 266.2mm x 28.6mm x 61.5mm
Weight
365 gms (without batteries)
In The Box
Included Accessories
Holster, Lanyard, Spare O-ring
Warranty
Manufacturer Warranty
15 Days (Replacement) + 60 Months / 5 Years Free Repair
Lightorati Warranty
15-Day Refund (No Questions Asked), Lifetime Support - T&C apply