Fenix TK65R - Powerful Rechargeable Search Light (Flooder with Neutral White Output)
- 3200 Lumens - 5 Brightness Levels + Strobe + SOS
- Built-in 7.2V/5000mAh Li-ion battery pack, Micro USB fast charging with fast charging adapter
- 375 Mts Throw, integrated Battery indicator on Tail Switch
- Cataplut action belt clip included


Manufacturer Product Description:
TK65R is a high-performance flashlight which can be widely used in security, safety, policing and law enforcement tasks. This tough flashlight features a durable structure and powerful performance. Fitted with a Cree XHP70 LED, the TK65R emits a powerful 3200 lumens and a far-reaching beam distance of 375m. The newly designed catapult - action belt clip is meant for users to quickly detach the flashlight. IP68 rated structure, stainless steel strike bezel and dual side switches make the TK65R fearless of any environment and challenge, especially when policing, searching and law enforcement,etc. In addition, the Micro USB fast charging port in the light's tail and the included 7.2V/5000mAh dual-polarity Li-ion battery pack strengthen the TK65R into a highly efficient power source and with highly efficient power usage.


Features:
- Utilizes a Cree XHP70 neutral white LED with a lifespan of 50,000 hours
- Built-in 7.2V/5000mAh Li-ion battery pack
- 5 modes plus strobe and SOS
Turbo: 3200 lumens (1 hour and 45 min) - 1,230.3 feet/375 meters
High: 1000 lumens (4 hours and 55 min)
Med: 400 lumens (13 hours and 10 min)
Low: 150 lumens (35 hours and 45 min)
Eco: 30 lumens (113 hours)
Strobe: 3200 lumens
SOS: 400 lumens
- Micro USB fast charging with fast charging adapter
- Micro USB charging port with inner waterproofing design
- Features lockout function
- Dedicated catapult - action belt clip (Belt width less than 1.97 in./50mm)
- Digitally regulated output maintains constant brightness
- Featuring battery level indication and low-voltage warning function
- Intelligent overheat protection
- Intelligent memory circuit
- Made of durable aircraft-grade aluminum
- Stainless steel strike bezel
- Premium type III hard-anodized anti-abrasive finish
- Toughened ultra-clear glass lens with an anti-reflective coating
- IP68 Rated - inner waterproof charging port
Dimensions:
Length x Body Diameter x Head Diameter: 270.5mm x 36.5mm x 61.5mm
Weight:
418 gram (excluding battery and belt clip)
Whats Included:
- TK65R Flashlight
- 1x7.2V 5000mah li-ion battery pack
- Micro USB charging cable
- Catapult action belt clip
- Spare O-ring
- Lanyard
- User Manual
- Warranty Card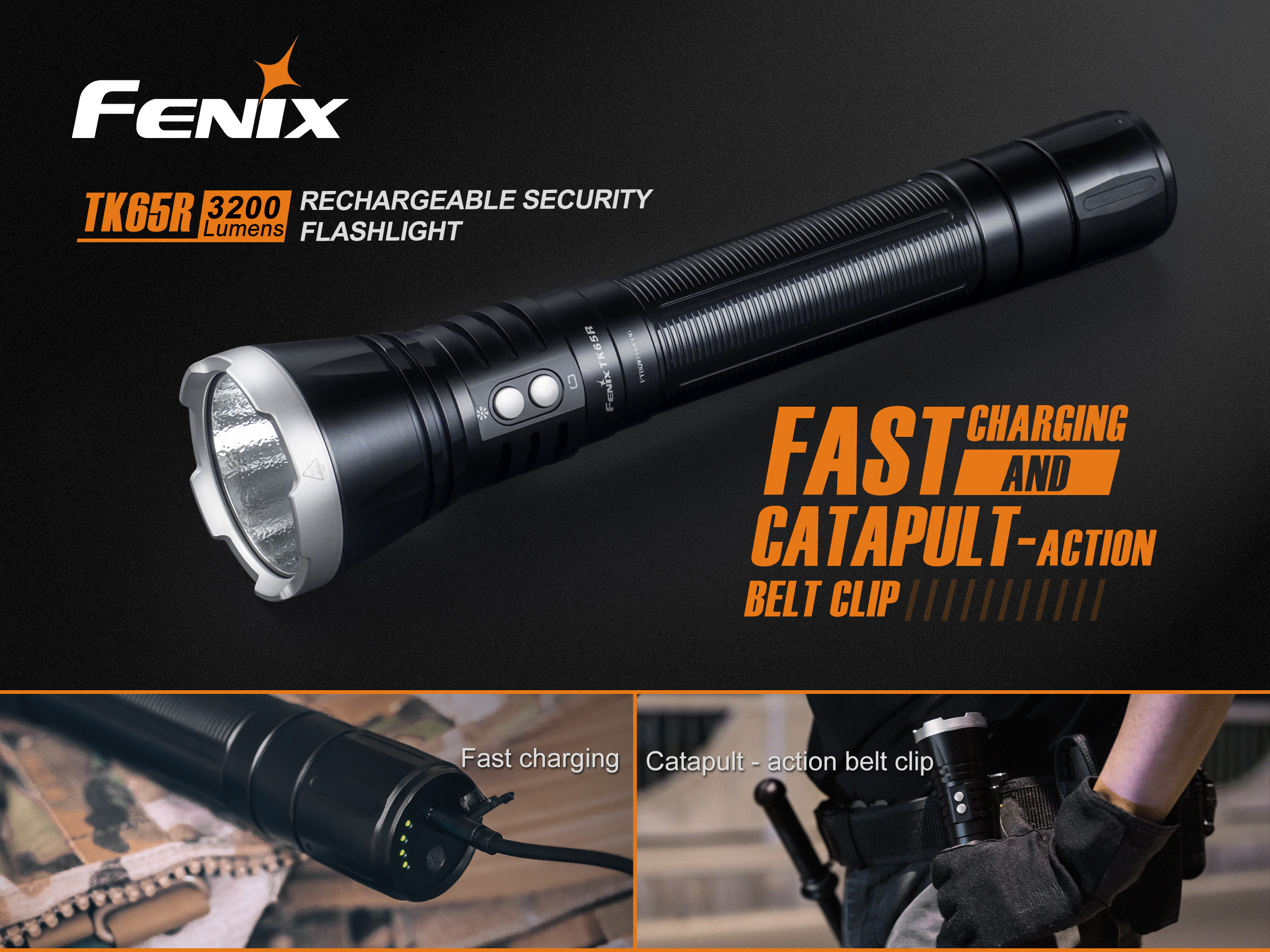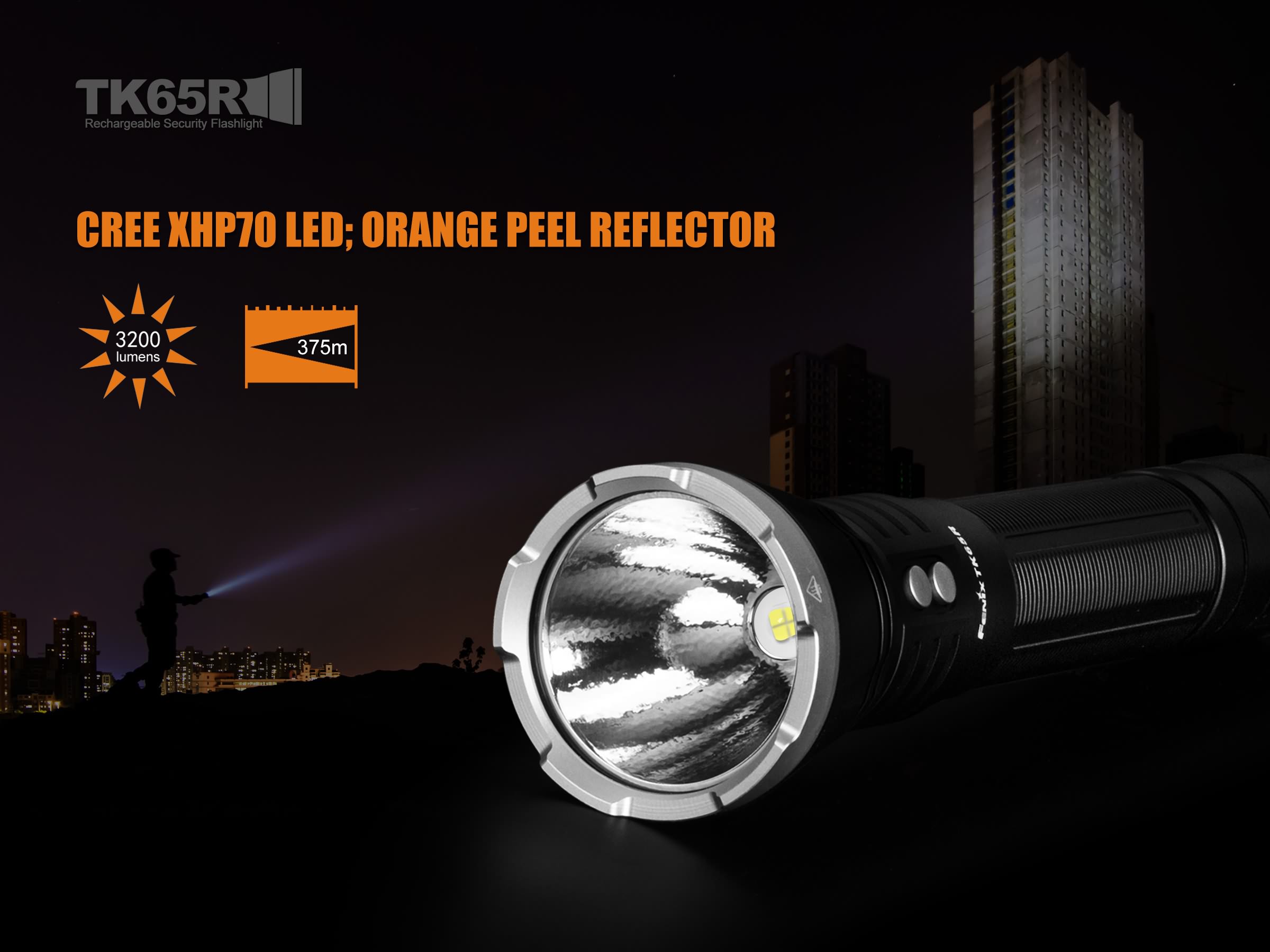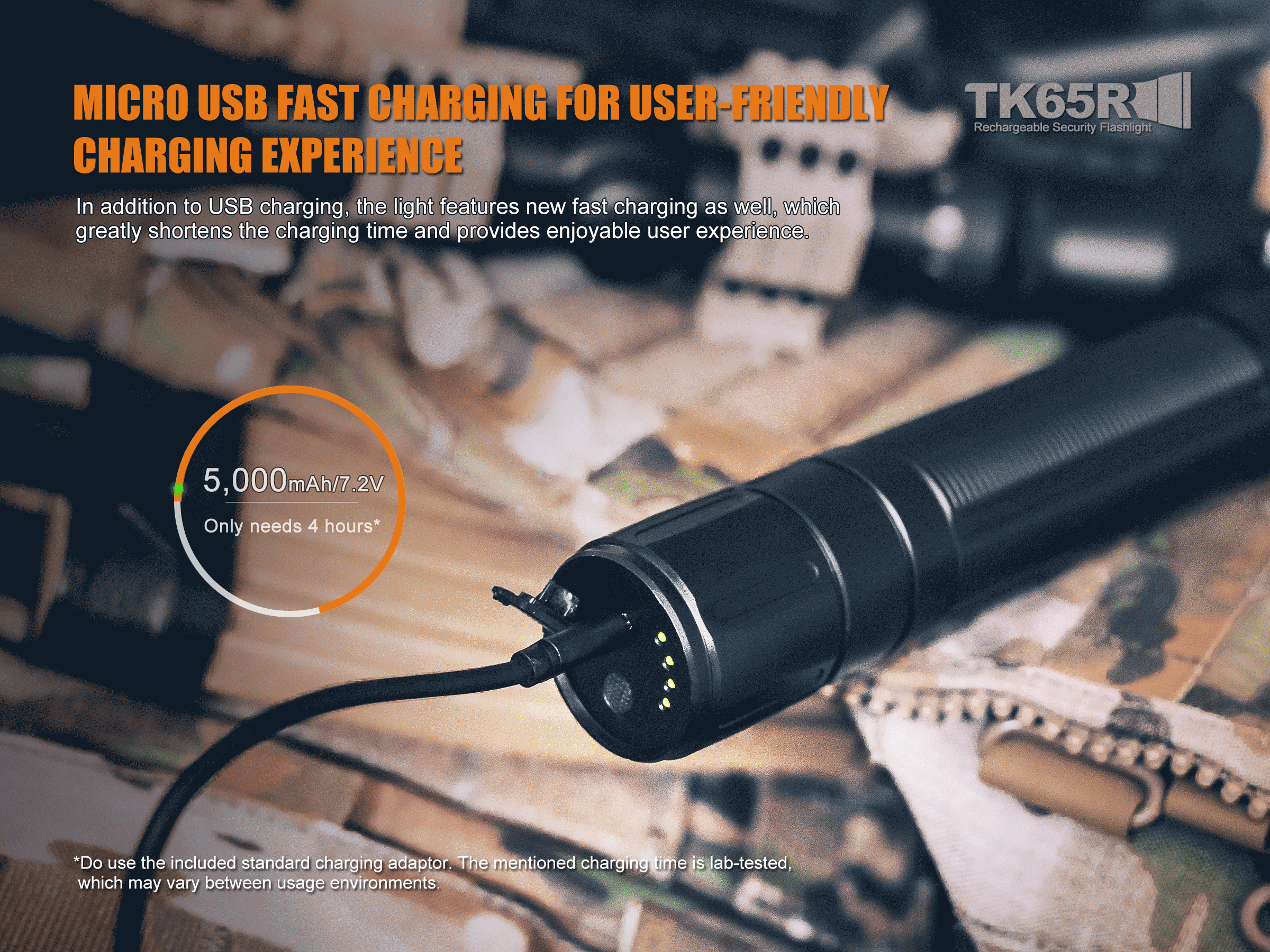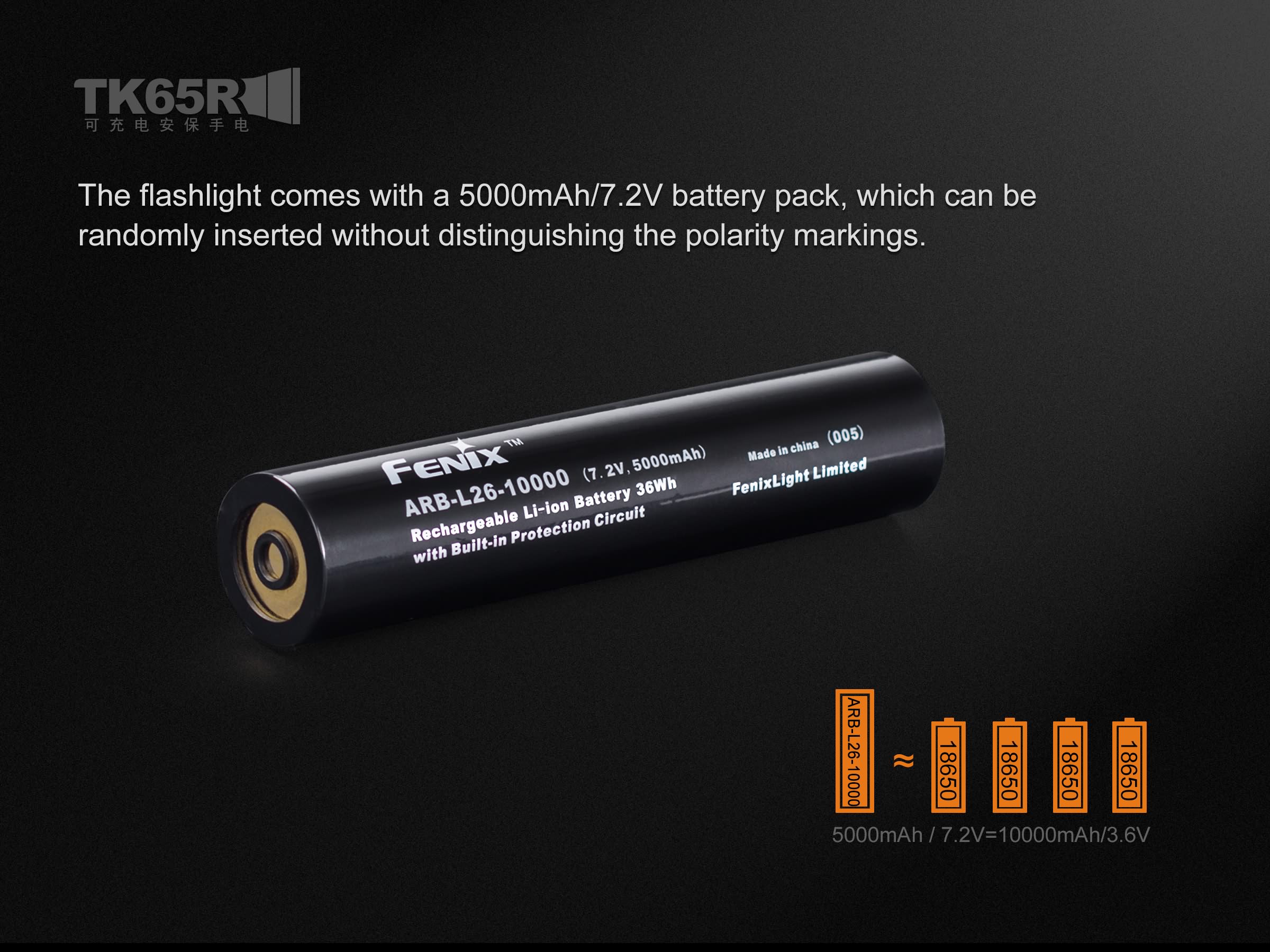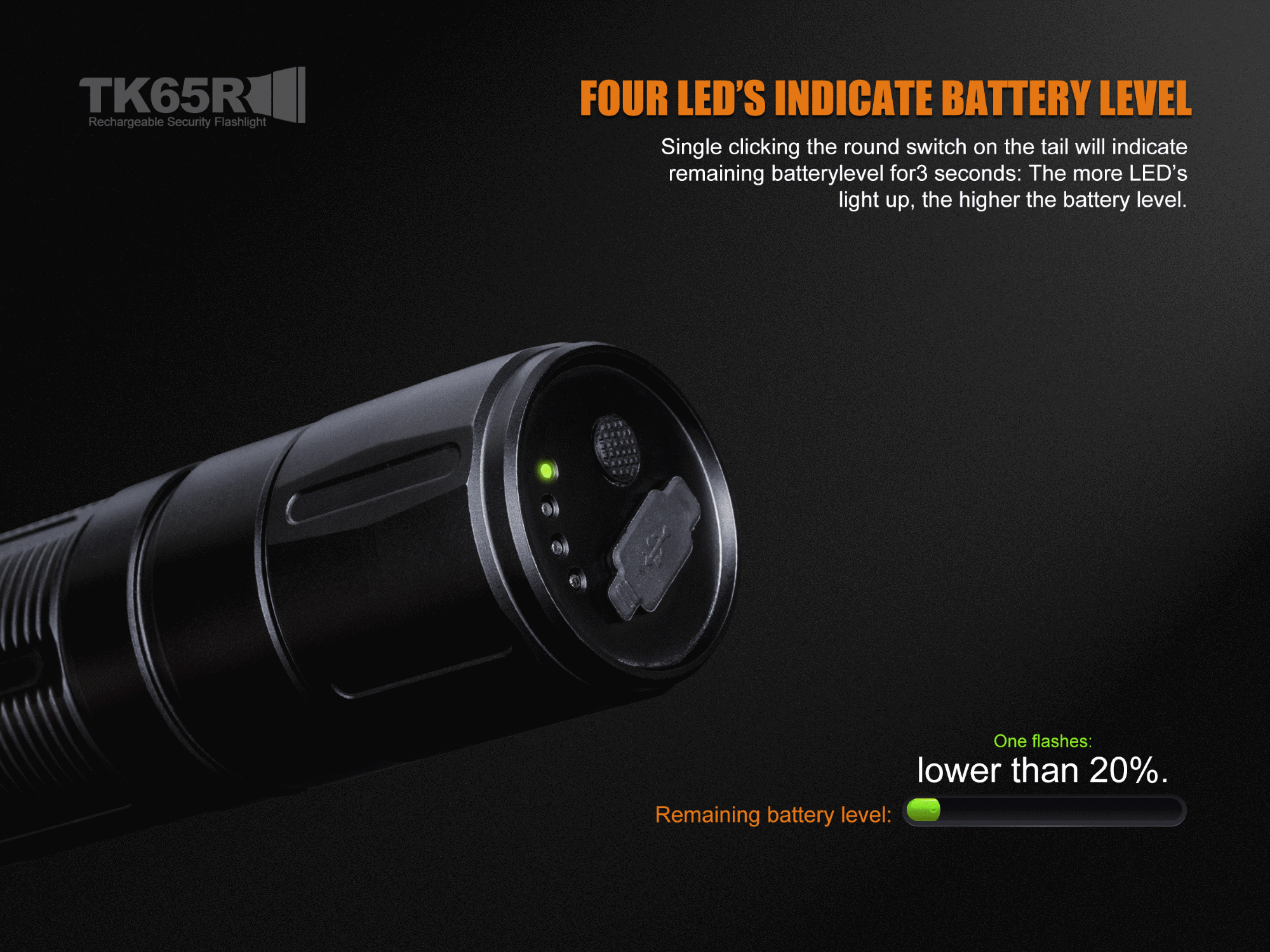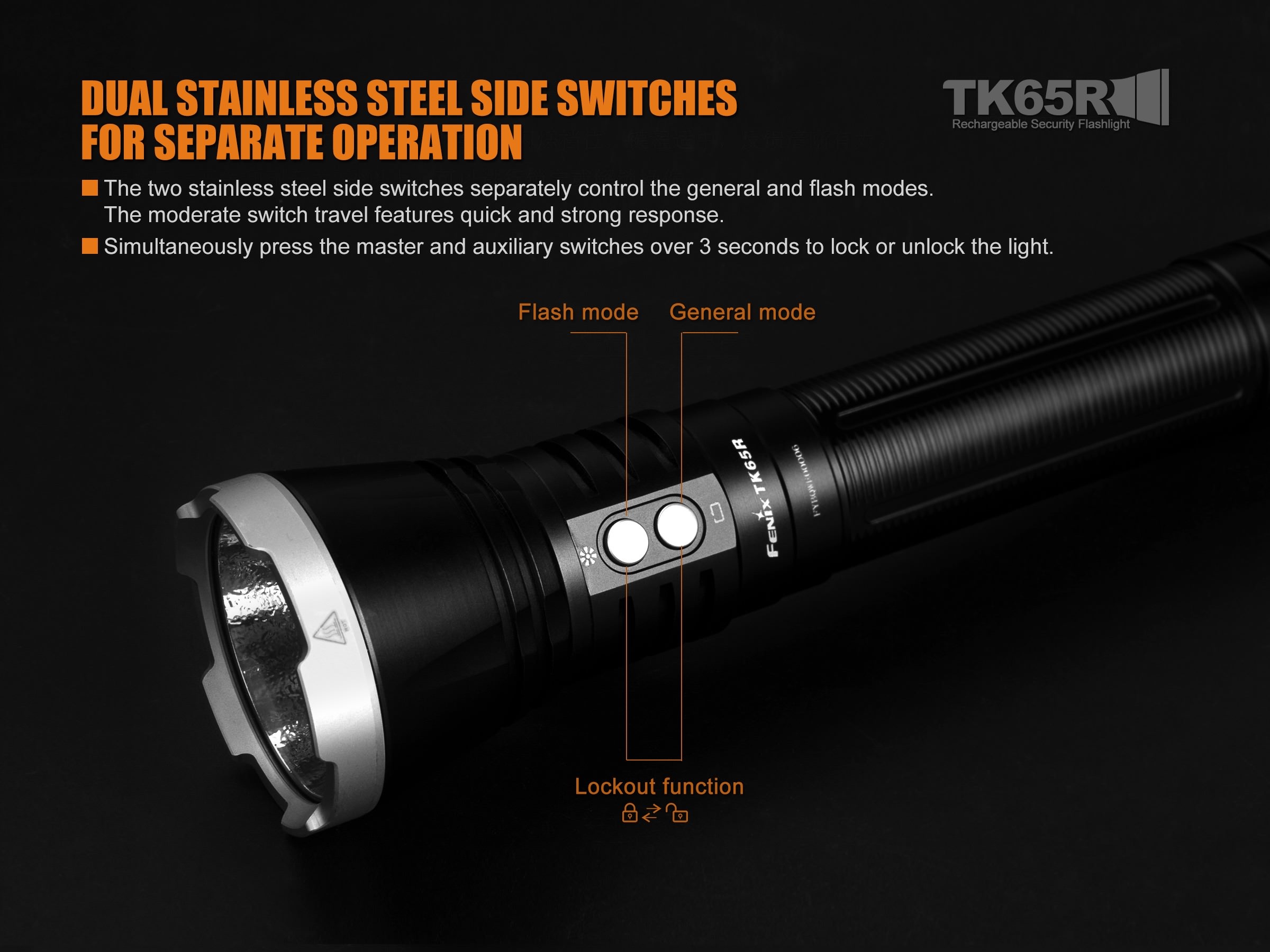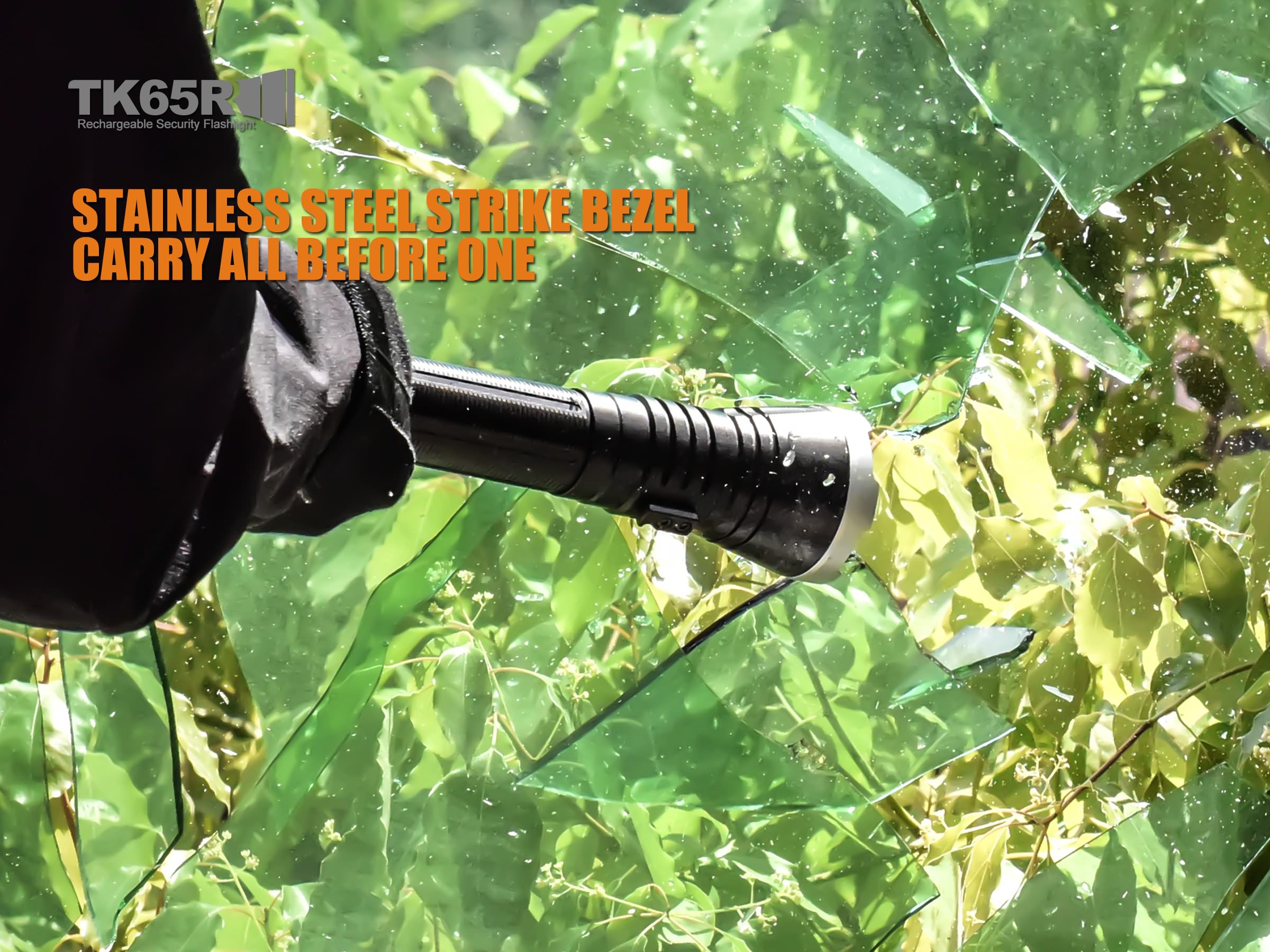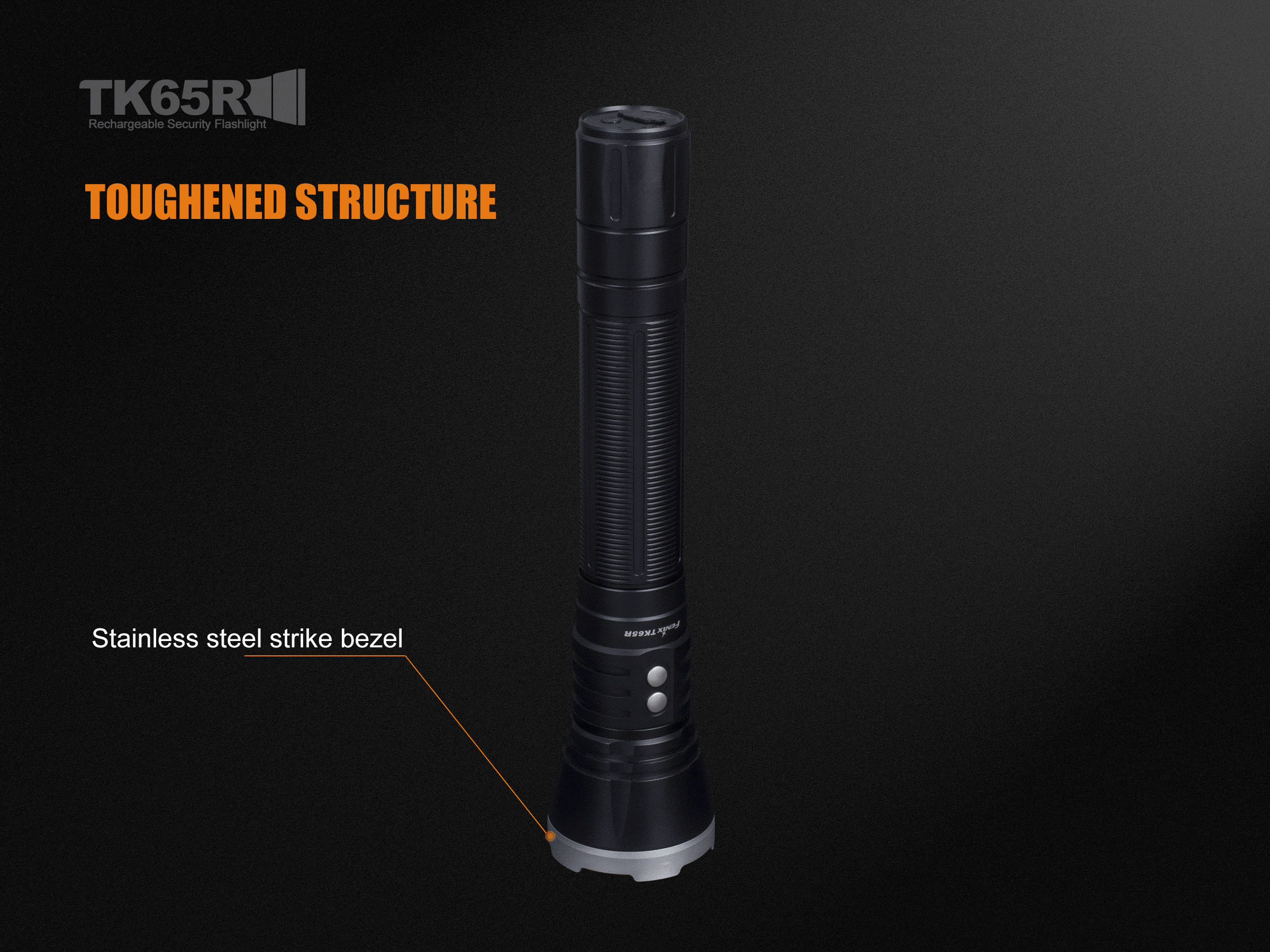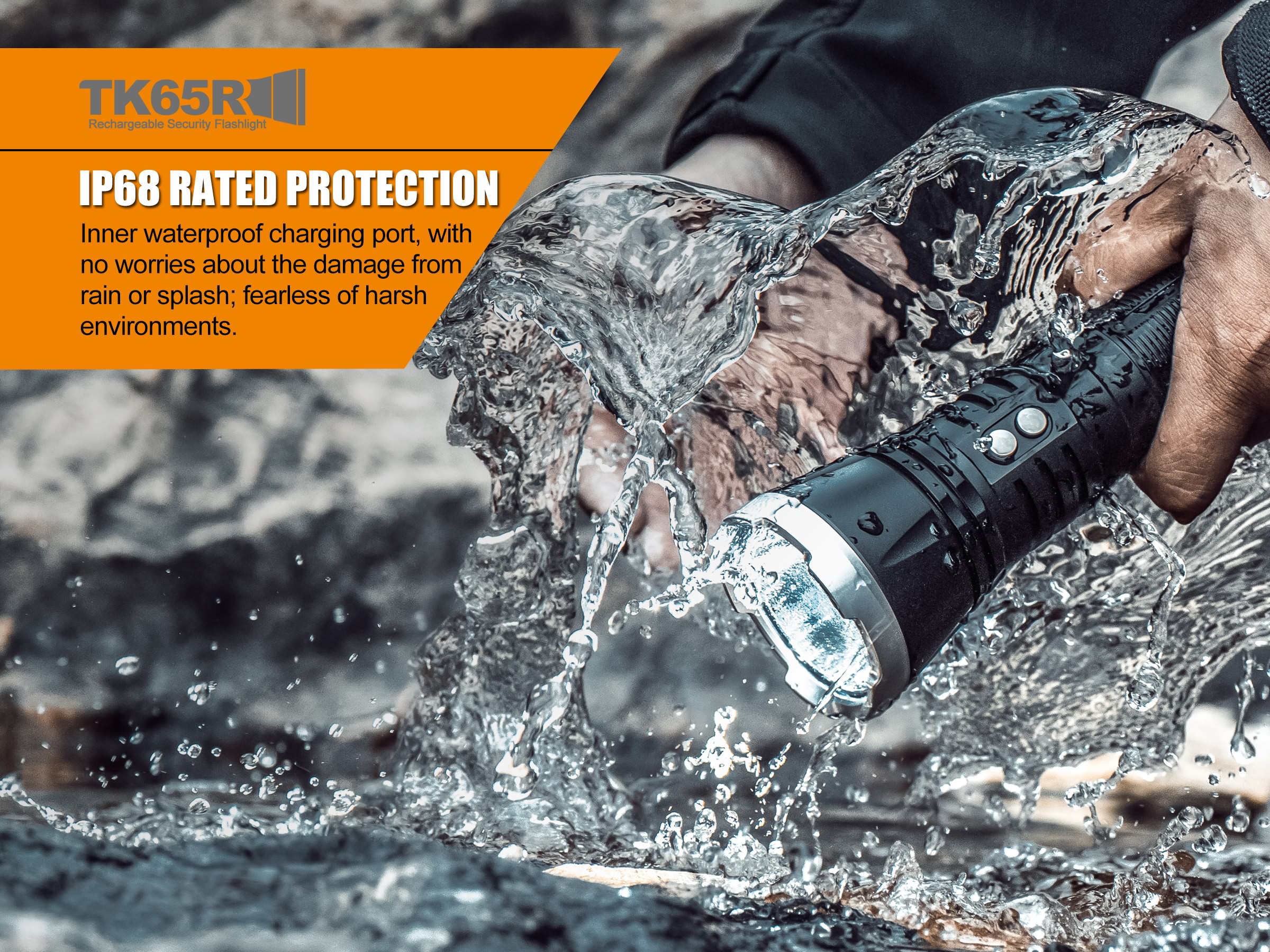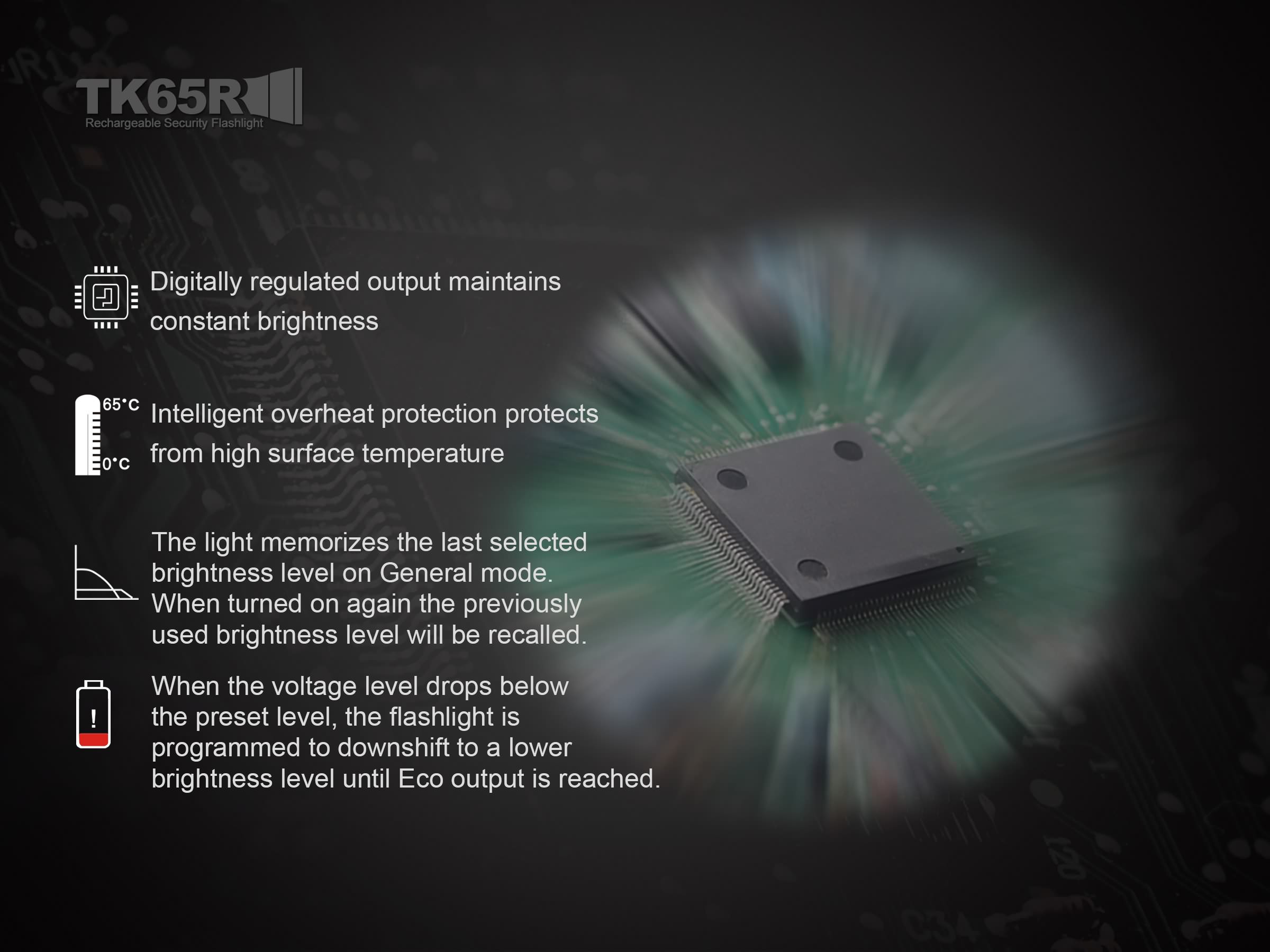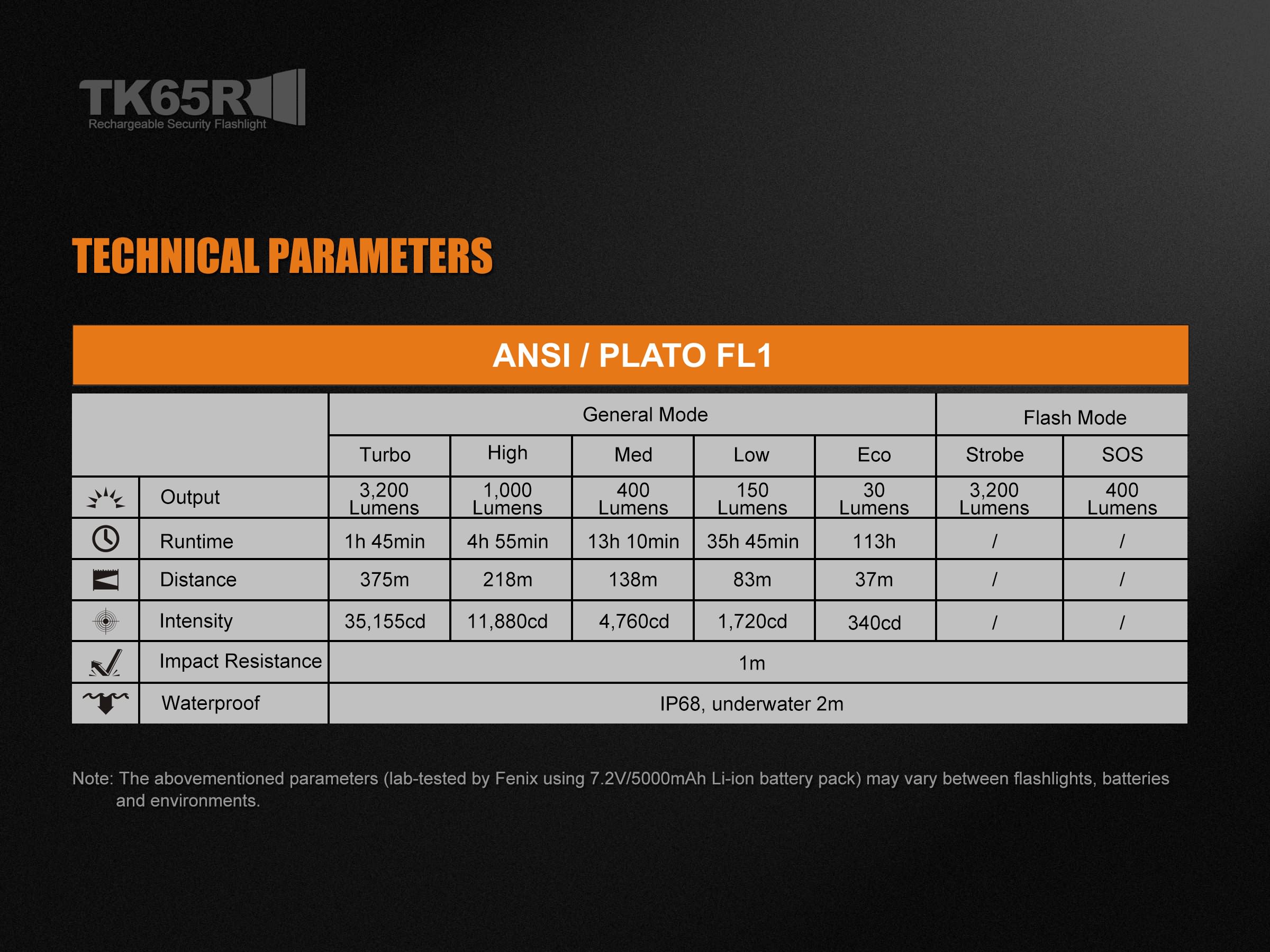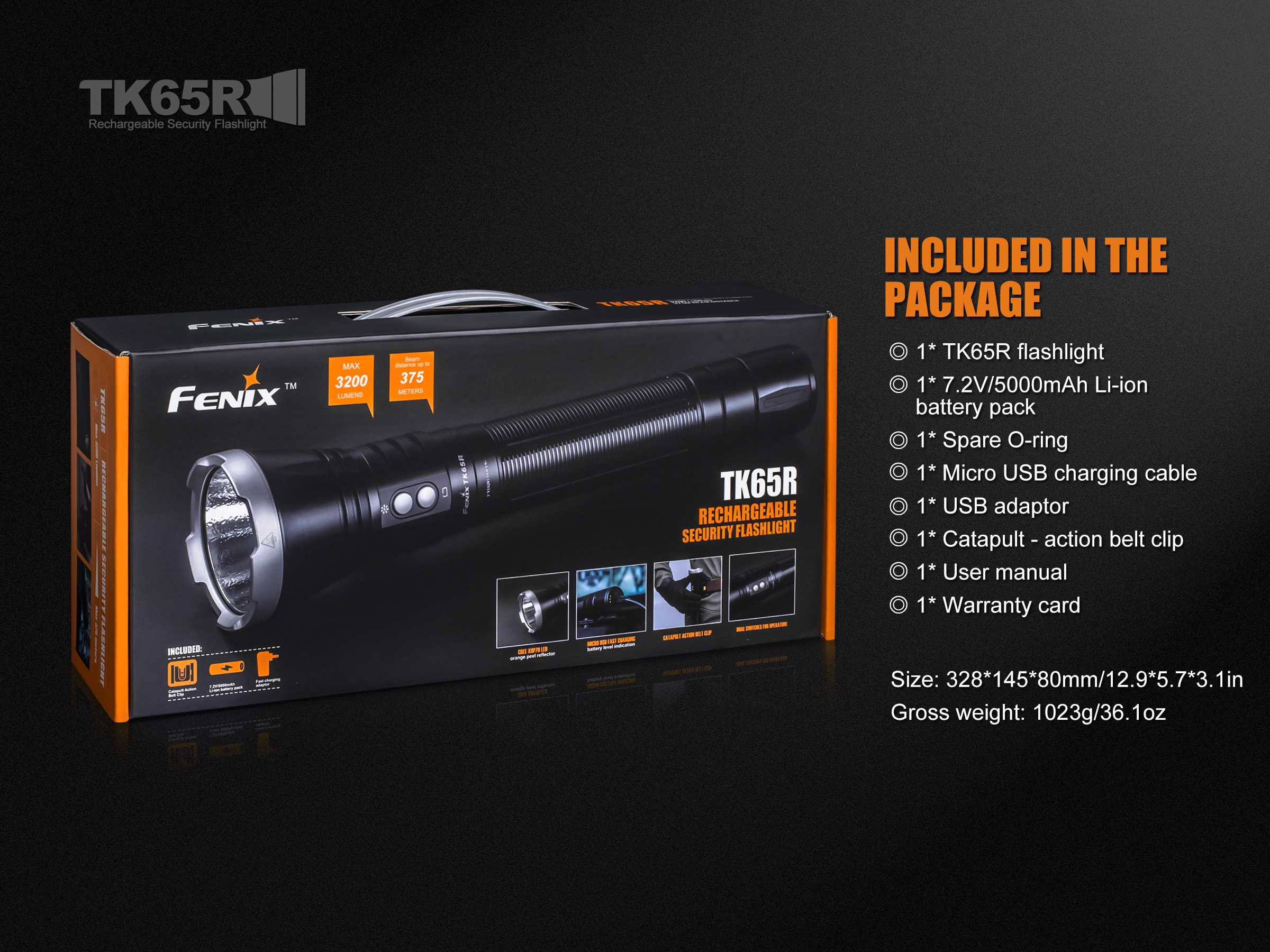 Flashlight Performance
Max Lumens
3200 Lumens
Min Lumens
30 Lumens (main)
Modes
5 Brightness Levels + Strobe + SOS
Flashing Modes(Strobe/SOS)
Strobe + SOS
Runtimes
Turbo(3200 Lumens): 1hr45min
Beam Distance
375 mts
Peak Beam Intensity
35155 cd
Flashlight Features
Battery Type
Built-in 7.2V/5000mAh Li-ion battery pack
Emitter Type
Cree XHP70 White LED with a lifespan of 50
Lens Material
Toughened ultra-clear glass lens with anti-reflective finish
Current Regulation
Digitally-regulated output (maintains constant brightness)
Smart Circuit for Rechargeable Batteries
Yes
Reverse-Polarity Protection
Yes
Impact Resistance
1mts
Tail Stands?
Yes
WaterProof
Yes (Standard IPX-68) - 2mts Underwater
Switch Type
Two independent light switches on Head
Build
Body Material
Made of durable aircraft-grade aluminum
Color
Black
Dimensions
Length x Diameter x Head: 270.5mm x 36.5mm x 61.5mm
Weight
418 gms (without batteries)
In The Box
Included Accessories
Fenix TK65R
Warranty
Manufacturer Warranty
15 Days (Replacement) + 60 Months / 5 Years Free Repair
Lightorati Warranty
15-Day Refund (No Questions Asked)