Leatherman Curl Multitool Silver Made in USA (15 Tools)

DESCRIPTION:
Inspired by the Wave Plus, the Curl features 15 handy tools to keep you ready for any project.
Classic and capable. The Curl is packed with some of Leatherman's iconic features yet affordable for first-time users. It's equipped with 15 different tools, including an ultra-sharp knife blade that's accessible with one hand, spring-loaded scissors, and our customizable bit driver. Carry it wherever the work takes you with the removable pocket clip or the provided nylon sheath.

One-hand Operable Features:
* Keep one hand free. Open and use features on this tool with one hand.
Outside-accessible Features:
* This multi-tool features tools that are accessible while the tool is in its folded or closed position.
Bit Kit Compatibility:
* Add capability and extra drivers. This multi-tool is compatible with our custom-made Bit Kit.
Removable Pocket Clip:
* Remove this pocket clip whenever you want.
FEATURES:
Curl
Inspired by our best-selling multipurpose tool, the Curl is an instant classic for the next generation of Leatherman users. Its blend of iconic features and affordability make it a great value for first-time ownership or a lasting gift. The outside-accessible, locking knife blade makes cutting through jobs a breeze. The spring-action scissors are great for trimming various types of materials and the bit driver gives you custom capability when paired with our Bit Kit. The 15 different tools fold down to a compact, four inch package that stows away easily with the removable pocket clip.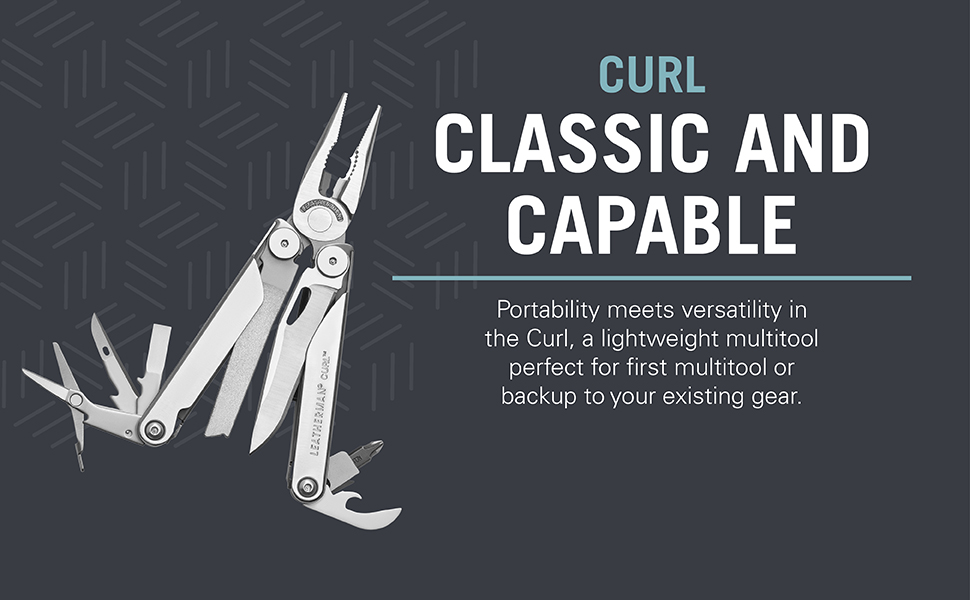 Included Bits:
01 - Needlenose Pliers
02 - Regular Pliers
03 - Hard-wire Cutters
04 - Wire Cutters
05 - Wire Stripper
06 - 420HC Knife
07 - Large Bit Driver
08 - Spring-action Scissors
09 - Diamond-coated File
10 - Can Opener
11 - Bottle Opener
12 - Awl w/ Thread Loop
13 - Ruler (4 in | 10 cm)
14 - Wood/Metal File
15 - Medium Screwdriver




Closed Length - 10 cm


Open Length - 15.87 cm

Primary Blade Length - 7.37 cm
Weight - 212 g
Width - 3.14 cm
Materials - 420HC Stainless Steel