Nitecore LA10 CRI Lip Stick Camping Lantern with Magnetic Tail (85 Lumens, 1xAA)
Nitecore LA10 CRI - Magnetic base Single AA Camping Lantern
- Available in Black, Blue (Sapphire) and Red (Ruby)
- Warm White Output that is not harsh on huiman eyes
- 85 Lumens, 1xAA (Alkaline/Ni-MH)
- 360 degree output unlike conventional flashlights
- Makes a great EDC light with lantern type output


High Color Rendering Index Camping Light: Get the real picture with natural color
Bringing together powerful LED output and high CRI definition, the Nitecore LA10 CRI is an ideal pocket sized lantern. With a simple twist interface, the domed LED provides 85 Lumens of bright area lighting that covers up to 10 meters - great for camping, hunting or hiking. The compact size of the LA10 CRI makes it easy to store, so it can fit right in with the rest of your outdoor supplies. A high color rendering index casts natural light similar to the sun, which lets the right colors stand out and allows for high quality late night navigation or photography.
Nitecore Ingenuity: Multi-functional area lighting
It wouldn't be a Nitecore light if it wasn't designed to handle all situations. The LA10CRI has 3 distinct lighting modes that you can easily adjust to meet your needs. The body of the light is constructed for heavy use, and an IPX-6 Waterproof rating keeps it safe in all weather conditions making it great for outdoor activity and emergencies.


Features:
- Ultra-portable camping light
- Powerful Nichia NVSL219B LED
- 360 Degree area illumination
- Runtime up to 23 hours
- 3 Brightness levels
- Location beacon mode
- Reverse polarity protection
- Magnetic tail cap with tail stand capability
- Easy to use twist interface
- Includes: Nylon Wrist Lanyard, Spare Rubber O-Ring
Specifications:

- LED: Nichia NVSL219B LED
- Output / Runtime:
High: 85 Lumens / 1.5 Hours
Medium: 30 Lumens / 6 Hours
Low: 9 Lumens / 23 Hours
- Beam Diameter: 10 Meters
- Impact Resistance: 1.5 Meter
- Waterproof: IPX-6
- Runs on 1 x AA Battery (not included)
Dimensions: Length: 78.5mm, Dia: 22.6mm
Weight: 42.7gms (With battery)
Includes:
Nylon Wrist Lanyard, Spare Rubber O-Ring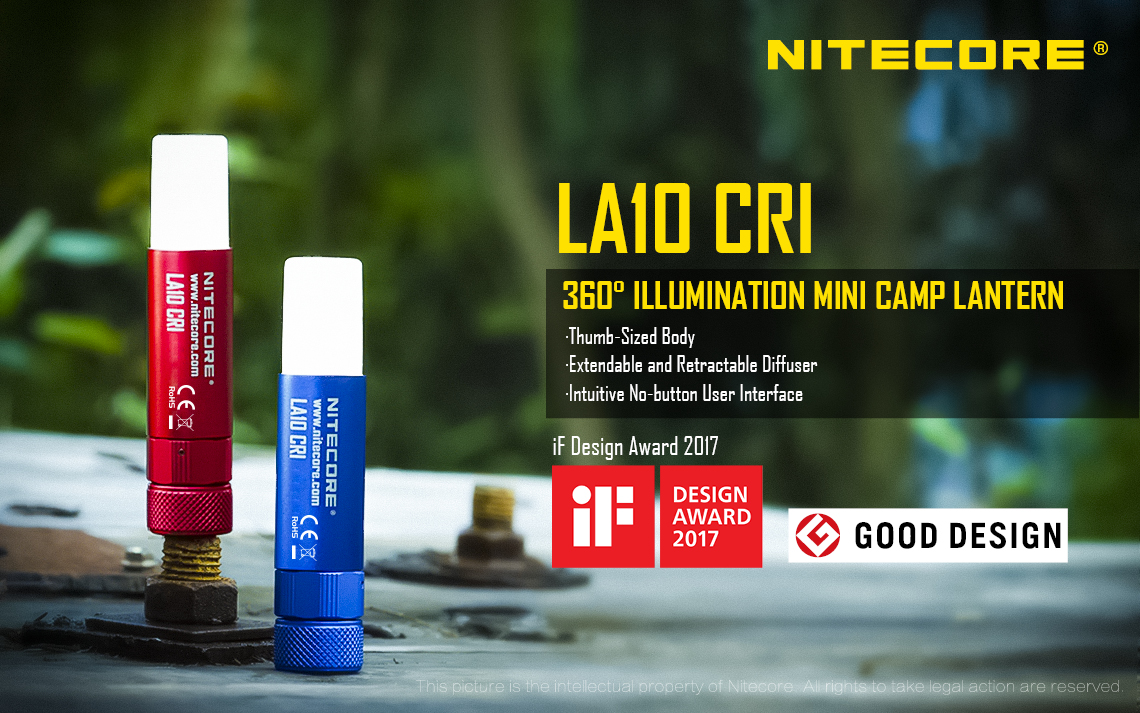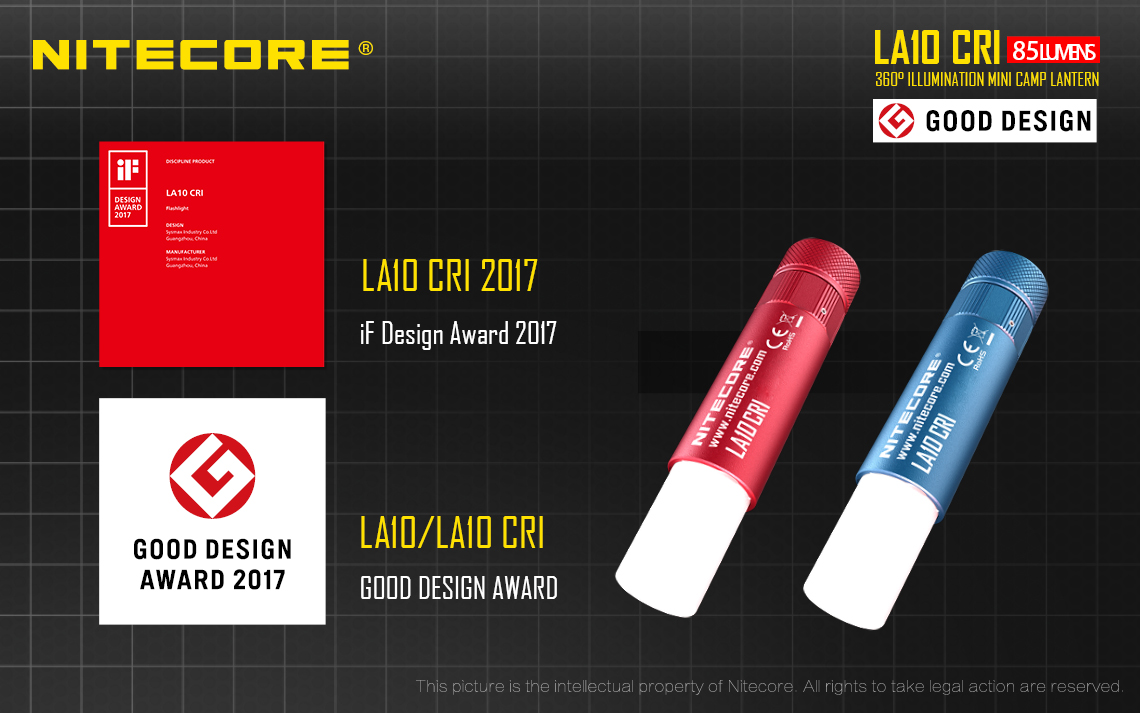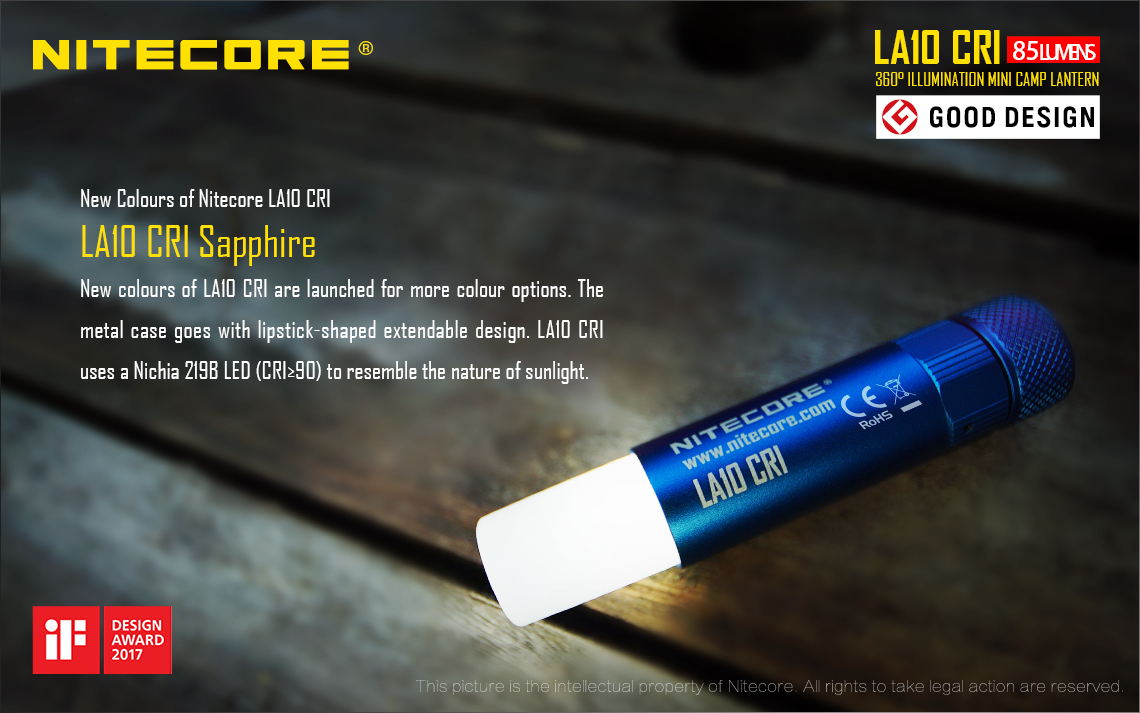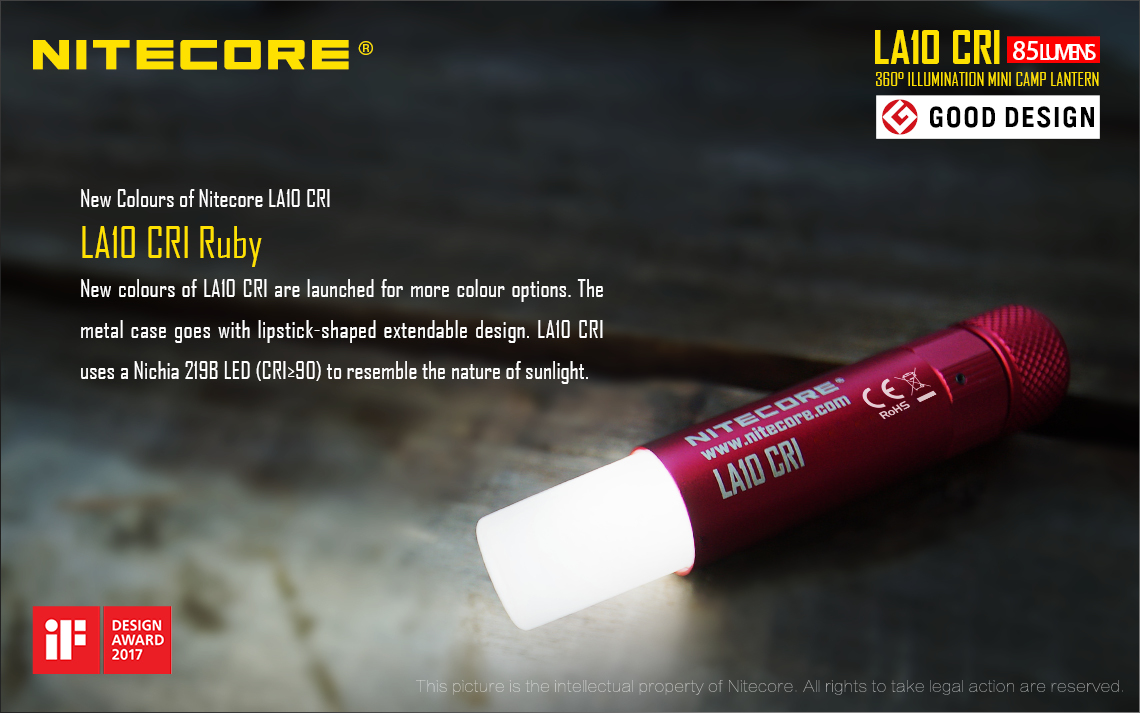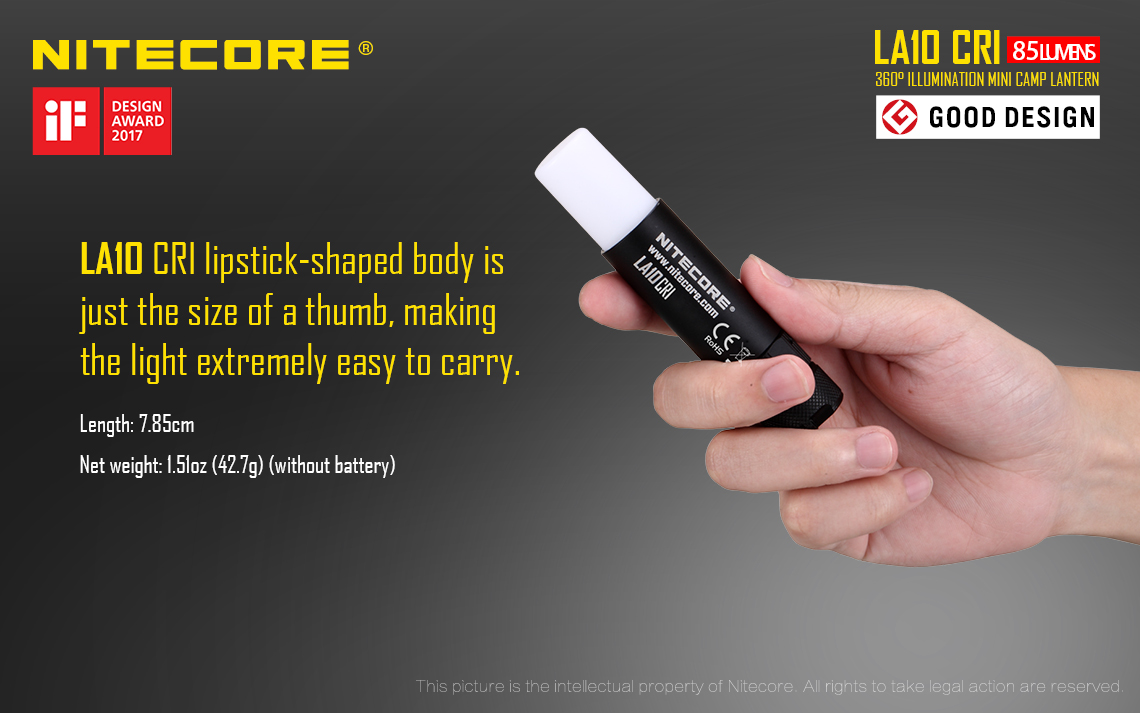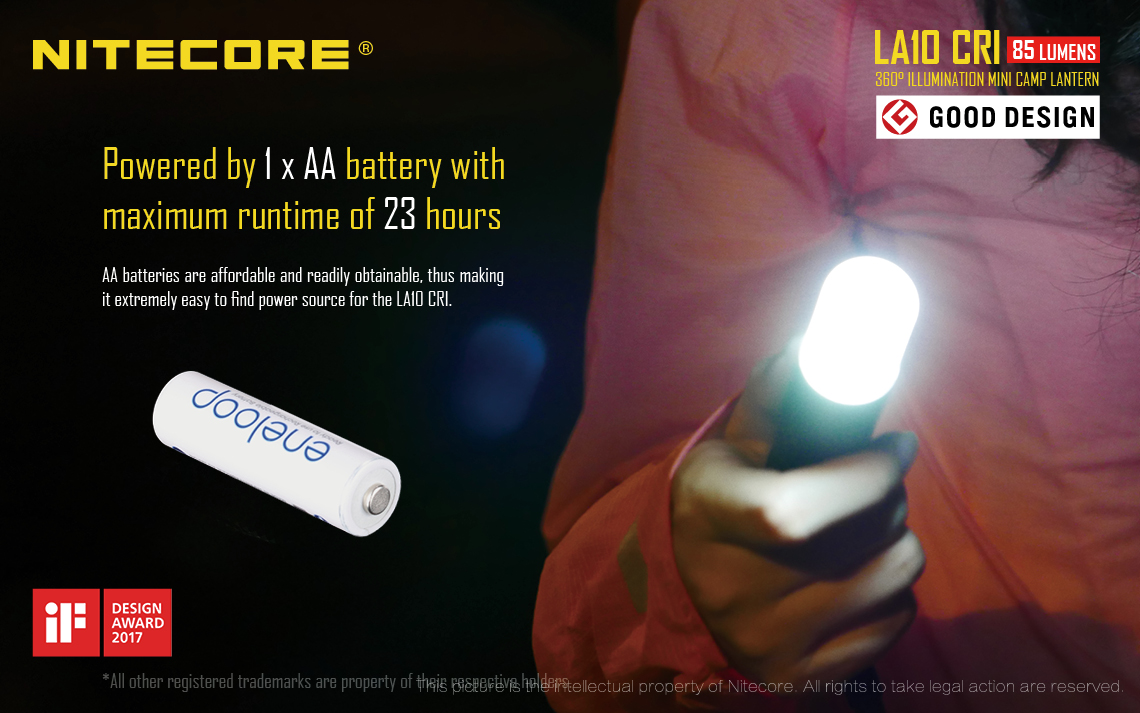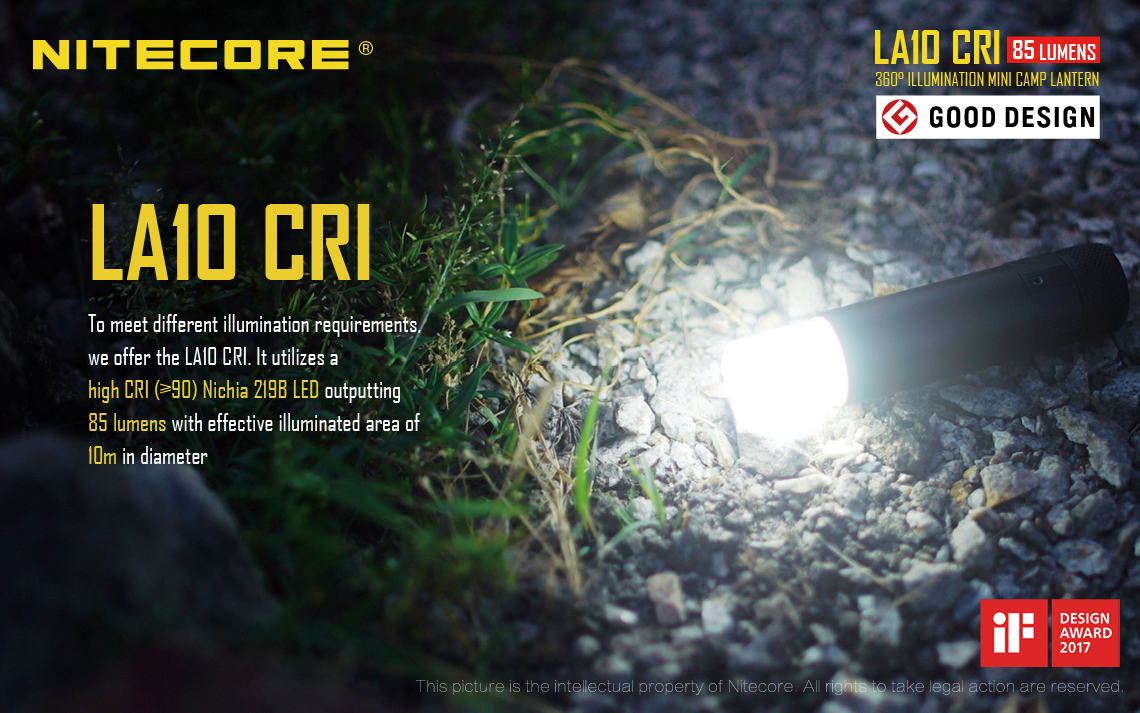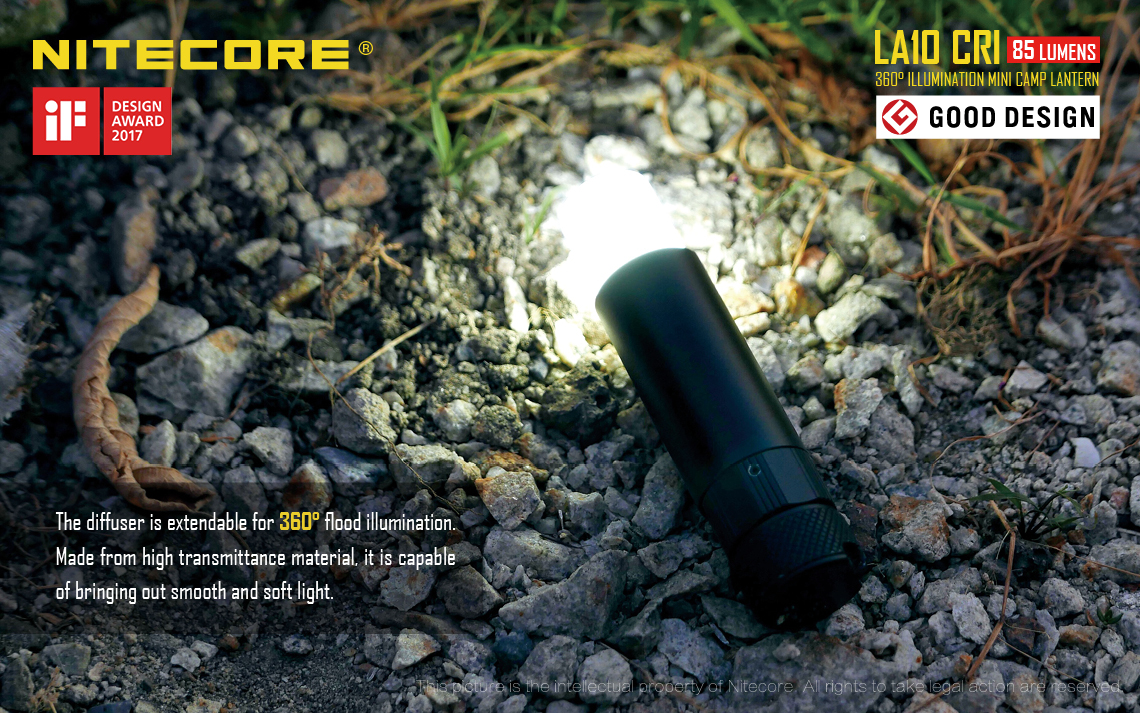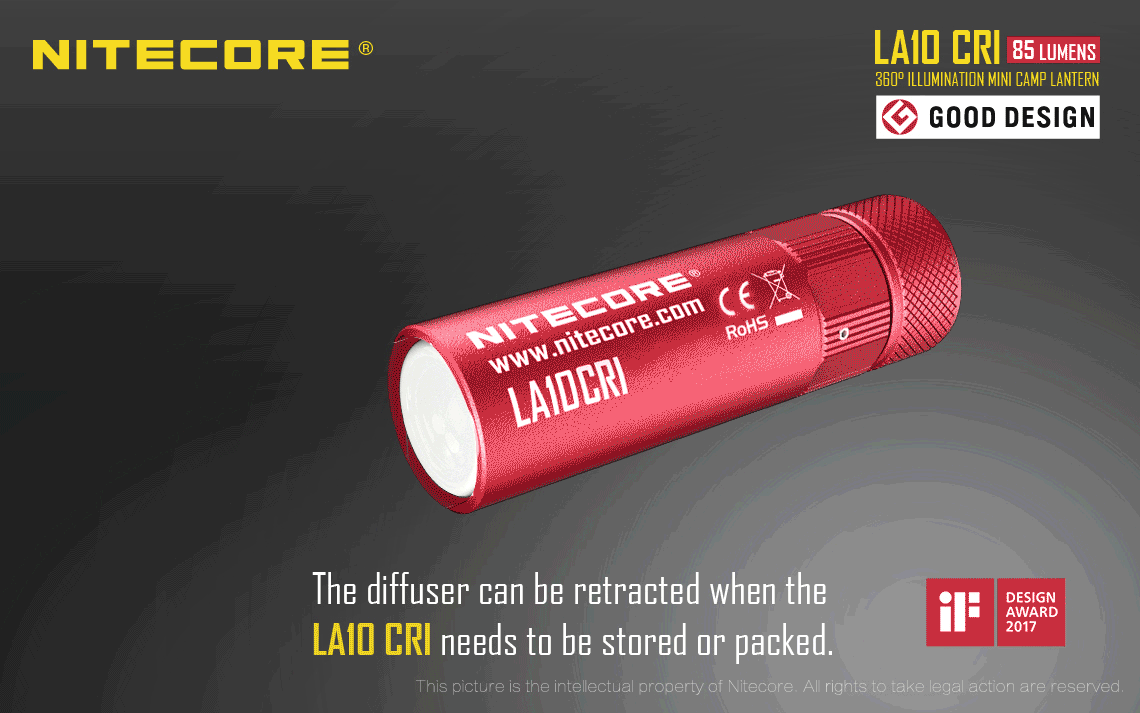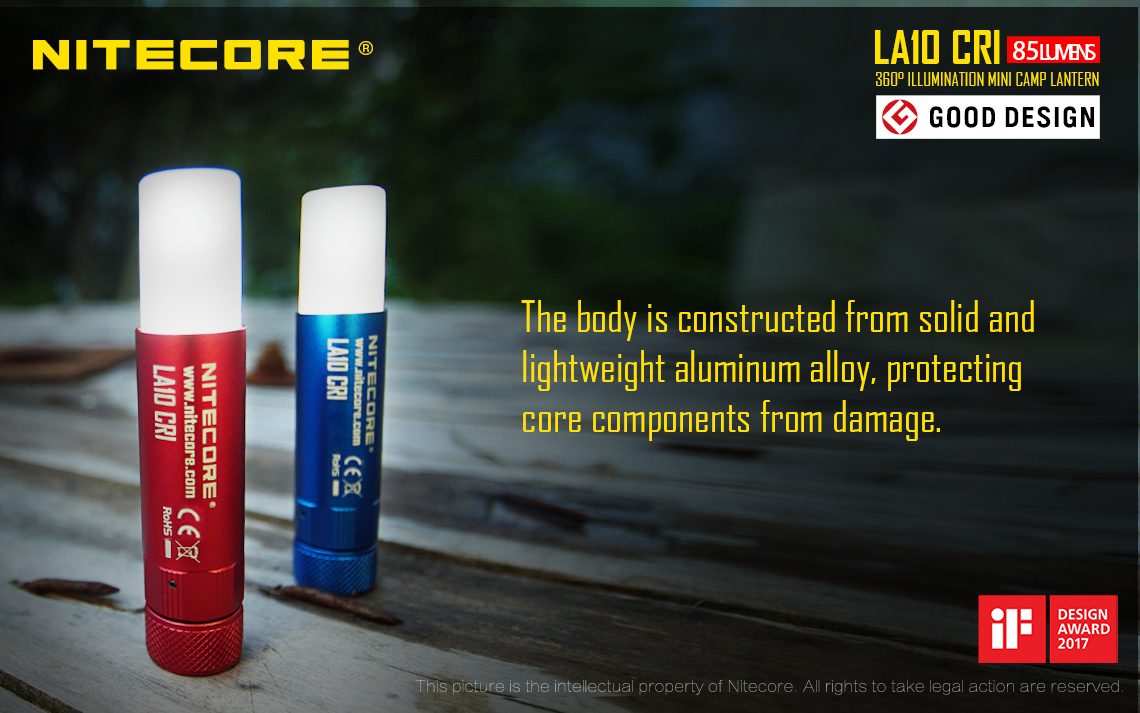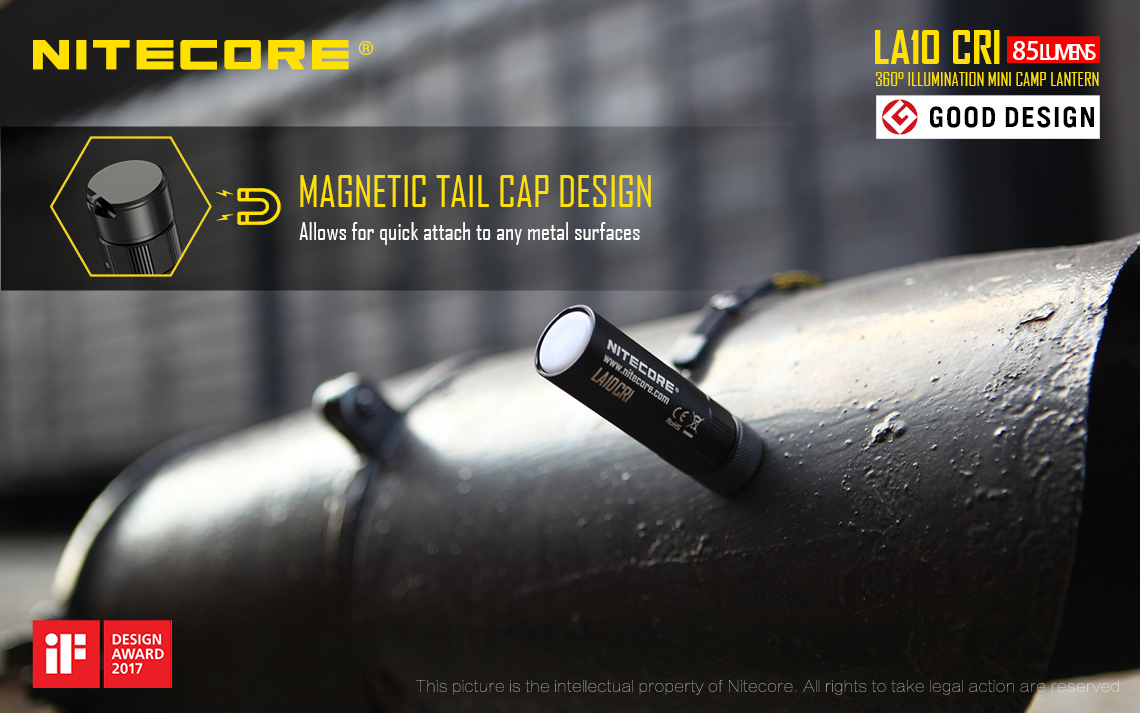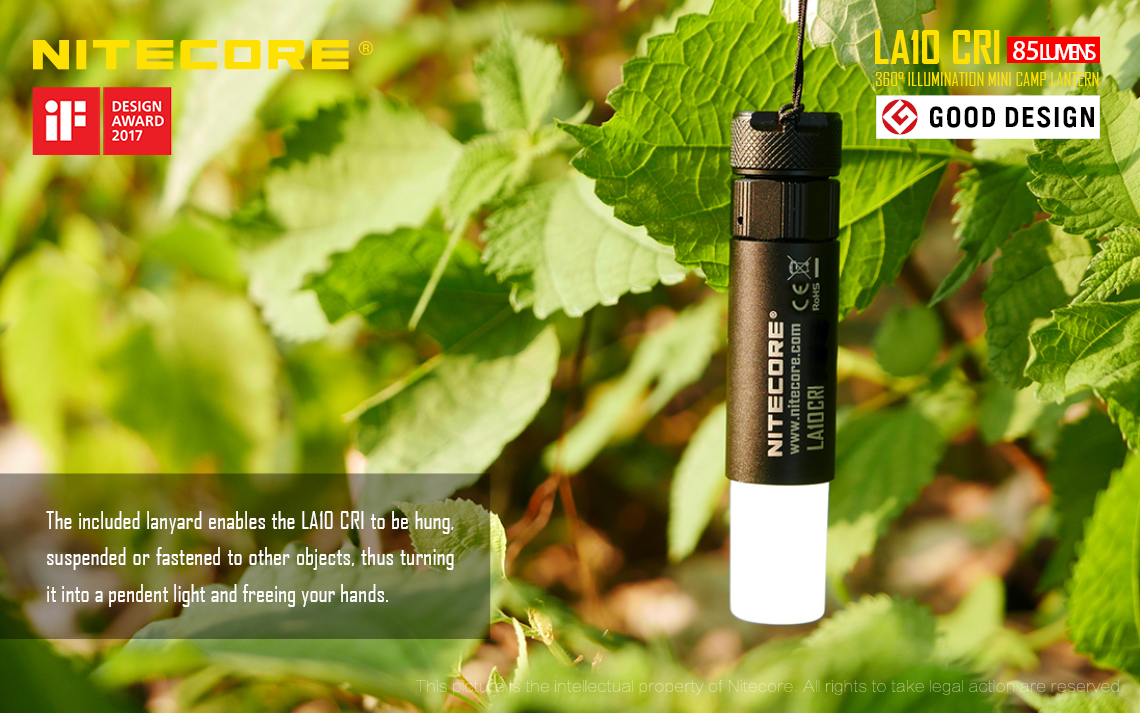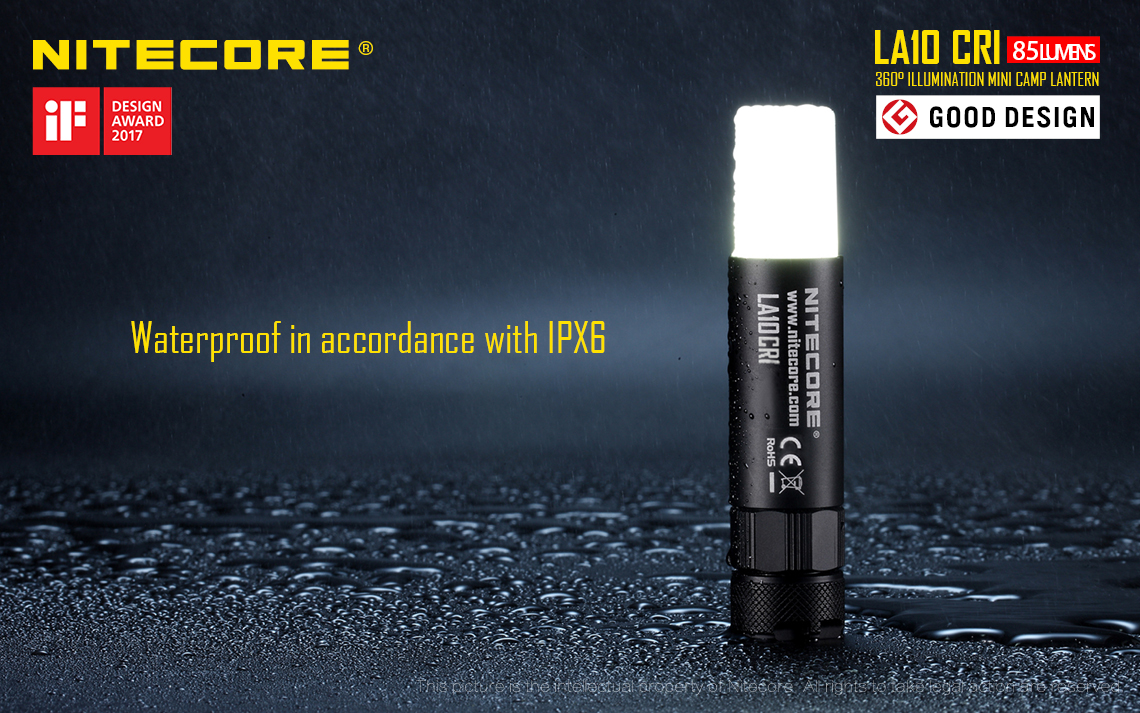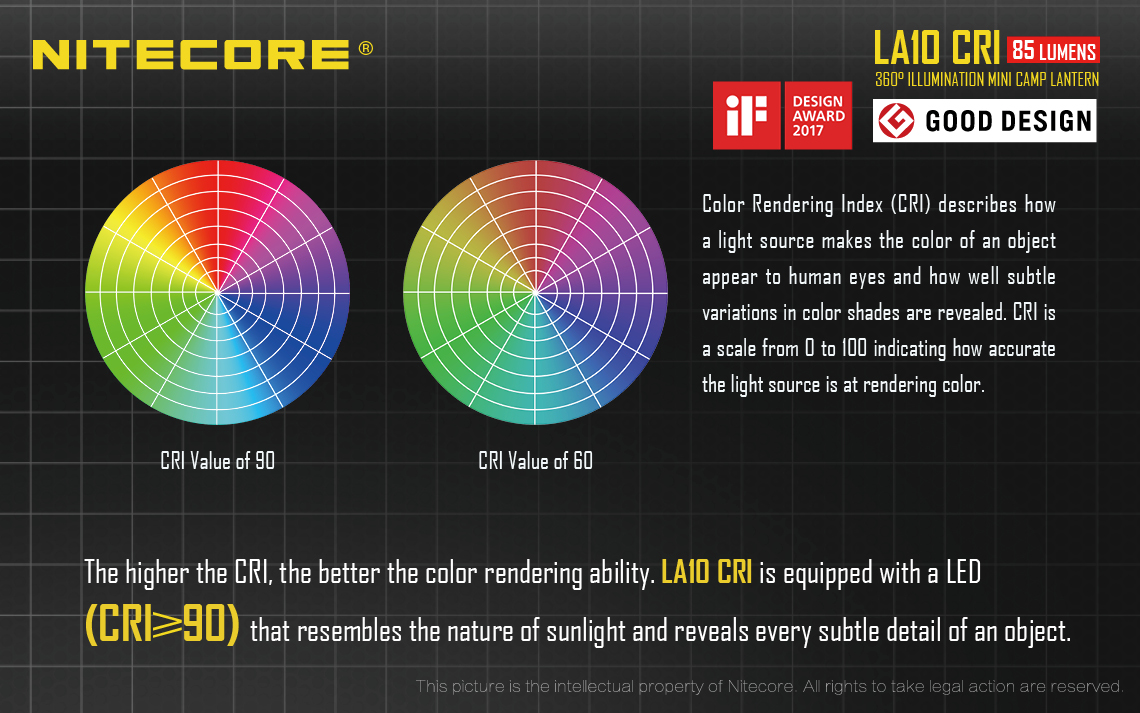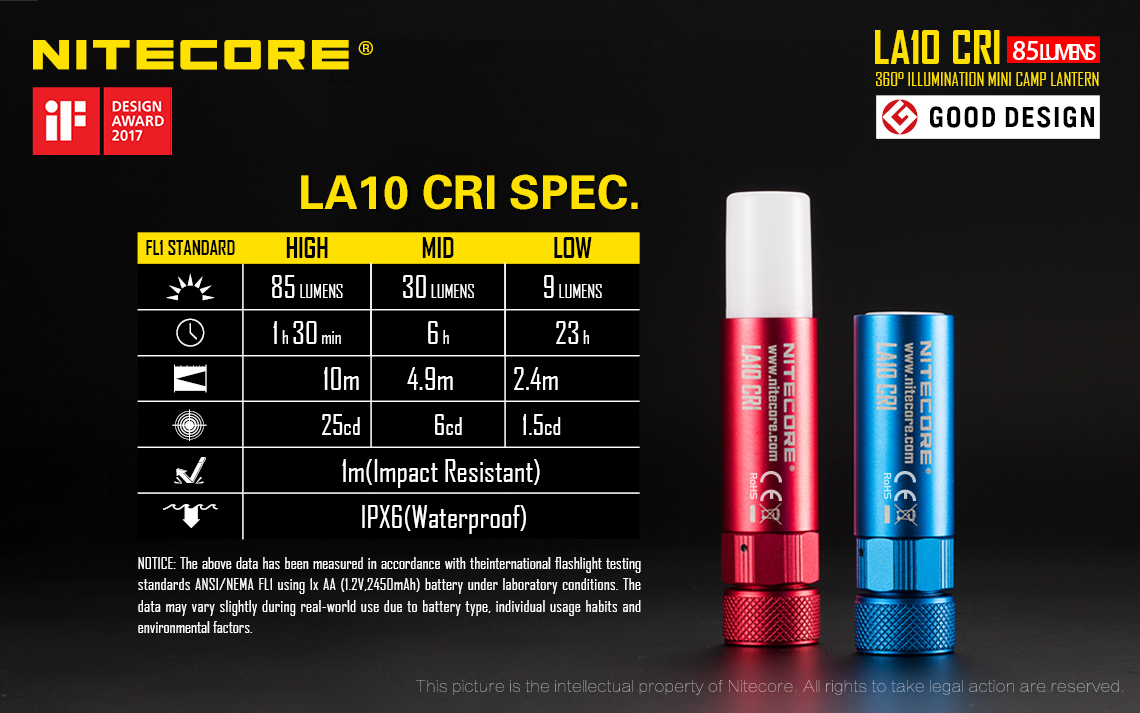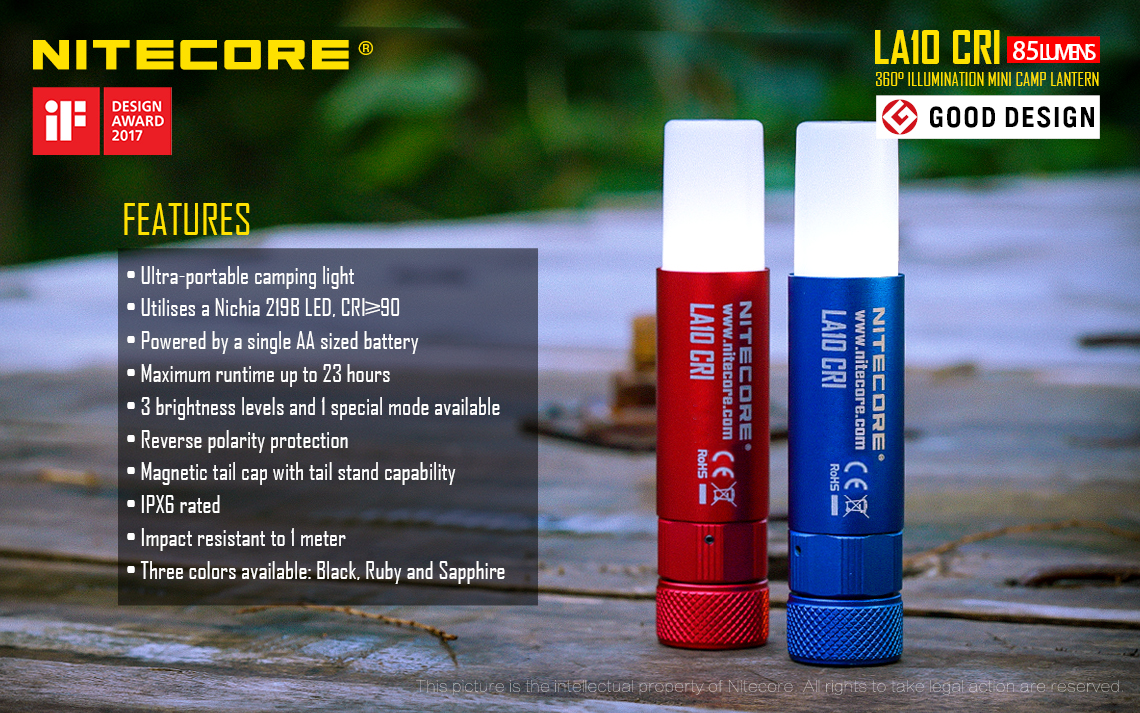 Flashlight Performance
Max Lumens
85 Lumens
Min Lumens
9 Lumens
Modes
3 Brightness Modes
Flashing Modes(Strobe/SOS)
-
Runtimes
High(85 Lumens): 1hr30mins, Mid(30 Lumens): 6hr, Low(9 Lumens): 23hrs
Beam Distance
10 mts
Peak Beam Intensity
-
Flashlight Features
Battery Type
1xAA (Alkaline/Ni-MH Rechargeable)
Emitter Type
High performance Nichia NVSL219B
Reflector
-
Lens Material
-
Current Regulation
Yes
Smart Circuit for Rechargeable Batteries
Yes
Reverse-Polarity Protection
Yes
Impact Resistance
1.5mts
Tail Stands?
Yes
WaterProof
Yes (Standard IPX6) - Dust-protected, protected against heavy water splashes and rain
Switch Type
dual body switch interface for simple one-handed operation
Other Features
Magnetic Base, concealed diffuser tip when not n use
Build
Body Material
made from solid light weight aluminum alloy with a HA-III hard-anodized finish
Color
Black / Blue (Sapphire) / Red (Ruby)
Dimensions
78.5 x 22.6 mm
Weight
42.7 gms (with battery)
In The Box
Included Accessories
Warranty
Manufacturer Warranty
15 Days (Replacement) + 60 Months / 5 Year Free Repair - T&C apply
Lightorati Warranty
15-Day Refund (No Questions Asked), Lifetime Support - T&C apply