Nitecore EF1 Explosion-Proof and Intrinsically Safe LED Flashlight (830 Lumens, 1x18650)
Nitecore EF1 Explosion-Proof, Intrinsically Safe LED Flashlight
- Designed for hazardous industries including land and marine petroleum exploitation, petrochemical and chemical industries
- Type II non-mine explosion-proof electrical appliance
- Mark: Ex d II C T5 Gb
- Exceptionlly long runtimes: (runtimes based on 2600mah batteries)
High(830 Lumens): 1 Hours 45 mins, Medium(320 Lumens): 3 Hours, Low(4 Lumens): 150 Hours
- Runs on 1x18650 Li-ion battery or 2xCR123A batteries (Batteries and charger to be bought separately)
Nitecore Once Again Leading the Way in Heavy Duty Flashlights
The EF1 from Nitecore is a brand-new flashlight that contains state-of-the-art "explosion-proof" technology that sets it apart from other industrial-strength flashlights. It can function as both an everyday carry (EDC) light and a searchlight, so versatility is one of its key strengths. It's also a great choice to put among your emergency supplies. This is a powerfully bright flashlight, with a max output of 830 lumens and a 18300cd candela rate/peak beam intensity, with a long-lasting run time of 1h 45min. The EF1 has the advantage of being compatible with CR123 batteries as well as a single 18650 cell. The EF1 casts a wide-ranging beam, with a maximum beam distance of 270 meters, due to its smooth (SMO) reflector with Nitecore's own "precision digital optics technology". Its LED is a top-of-the-line CREE XM-L2 U3.
Designed for Intense, Potentially Unsafe Environments
The Nitecore EF1 is designed for intense, potentially unsafe environments and is built with many features that will stand up to such conditions. One of these features is its ability to engage in explosion suppression for Class D substances through its 10mm epoxy resin lens. Class D is a technical classification used by the National Electric Code (NEC) to indicate that a flashlight, in this case the EF1, is suitable for use in environments that consist of highly combustible substances like propane, gasoline, naphtha, benzene, butane, ethyl alcohol, acetone and methane. The flashlight body is created for challenging circumstances, crafted from an aerospace-grade aluminum alloy that comes with a military grade hard anodized finish. The EF1 is rated as IP67. This IP rating is a bit different than typical IPX ratings, in that it means that your EF1 is not only waterproof, it is also dustproof. In an IP rating, the first numeral indicates how well-guarded the flashlight is against solid matter, while the second numeral shows how secure the flashlight is from liquids, such as water. With an IP67 rating, the EF1 is shielded from all dust and can be submerged underwater up to 1 meter.
Attractive and Sleek, Yet Rugged and High-Performing
With an impact resistance of 1.5 meters, Nitecore's EF1 is ready for the rigors of everyday wear and tear. Another great highlight of the EF1 is its simple-to-operate switch that slides, located on the body; it is easy to click through for three different levels of brightness. This flashlight also comes with Nitecore's pioneering ATR technology, also known as advanced temperature regulation, which automatically allows the user to regulate the lumen output based on the aluminum shell's temperature. Also part of this incredible little flashlight's structure is its very effective regulation circuit that affords the user a strong and dependable beam. The EF1 also has the unique ability to stand on its tailcap.
Features:

- Designed for hazardous industries, including land and marine petroleum exploitation, petrochemical and chemical industries
- Constructed from aerospace-grade aluminum alloy with distinctive 3mm body thickness
- Integrating a 10mm epoxy resin explosion-suppressive optical lens
- Type II non-mine explosion-proof electrical appliance
- Class 2/Div. 2 explosion-suppressive flashlight
- IIC explosion-proof grade
- Sliding control switch provides rapid and accurate one-handed brightness adjustment
- Featuring Advanced Temperature Regulation (ATR) technology to dynamically adjust output performance according to body temperature
- Utilizing a CREE XM-L2 U3 LED
- Powered by 1 x 18650 Li-ion battery for a maximum output up to 830 lumens
- High-efficiency regulation circuit provides unwavering output
- Robust HAIII military-grade hard-anodized
- Waterproof in accordance with IP67
- 1.5m impact resistance
- Tail stand capability
Specifications:

-
LED:
CREE XM-L2 U3 LED
-
Power Source:
1 x 18650 Battery (Not Included)
-
IP Rating:
IP67 (Dustproof, Waterproof and submersible up to 1 meters)
-
Impact Resistance:
1.5 meters
-
EX Mark:
Explosion Group IIC, Zone 1, Zone 2, Type IIA, IIB, IIC and T1-T5 Levels
-
Brightness Outputs
(Based on 1x26400mAh Battery):
High - 830 Lumens - 1 Hours 45 mins
Medium - 320 Lumens - 3 Hours
Low - 4 Lumens - 150 Hours
-
Peak Beam Distance:
270 meters
-
Peak Beam Intensity:
18,300 cd
Dimensions: Length x Head x Body: 152.2 mm x 40 mm x 32 mm
Weight: 250 gms (including battery)
Accessories Included:
1 x Holster, 1 x Lanyard
Please note that batteries and charger are NOT included with this flashlight. You need to add them to the cart separately.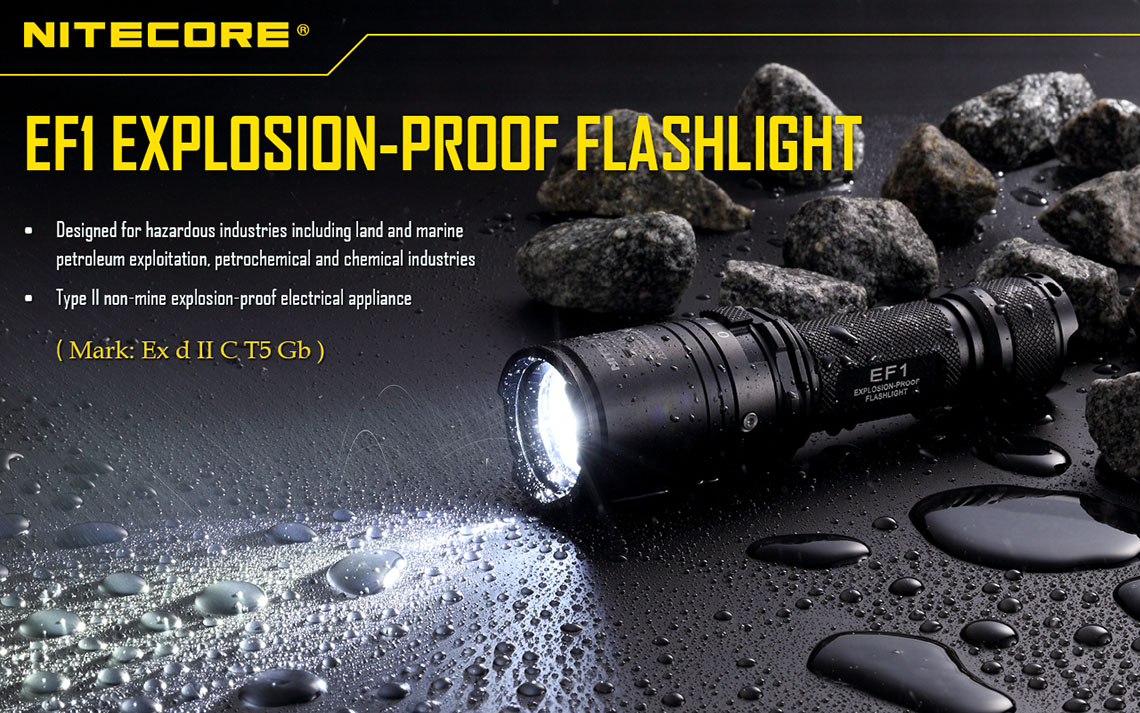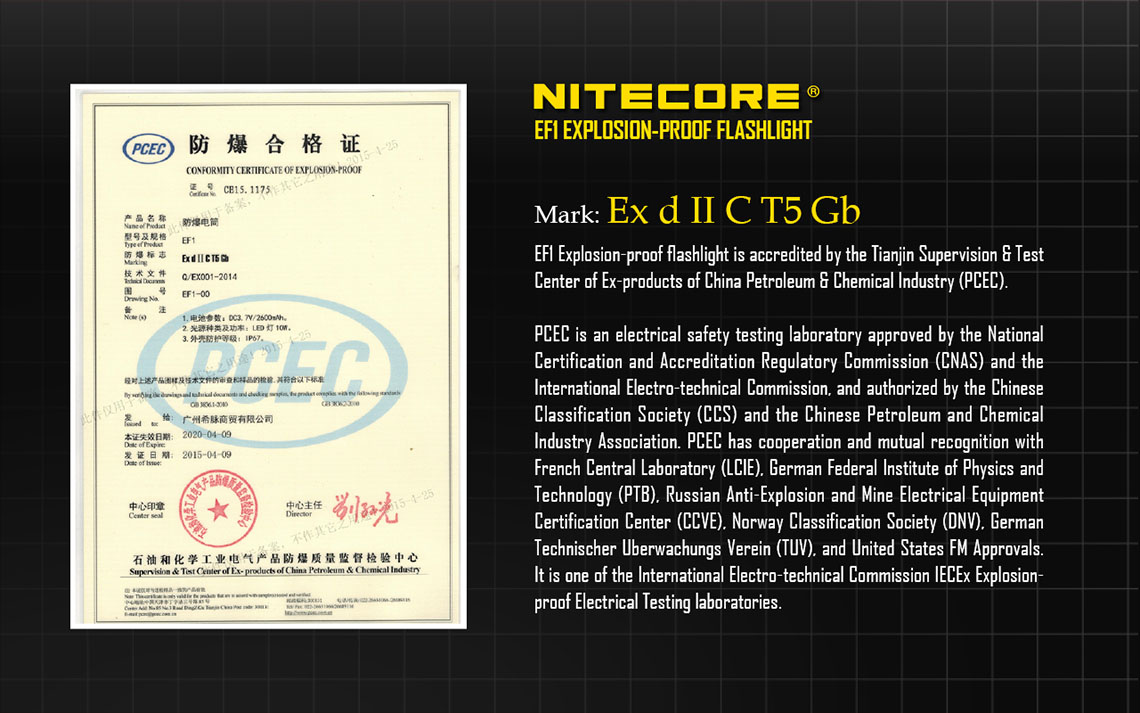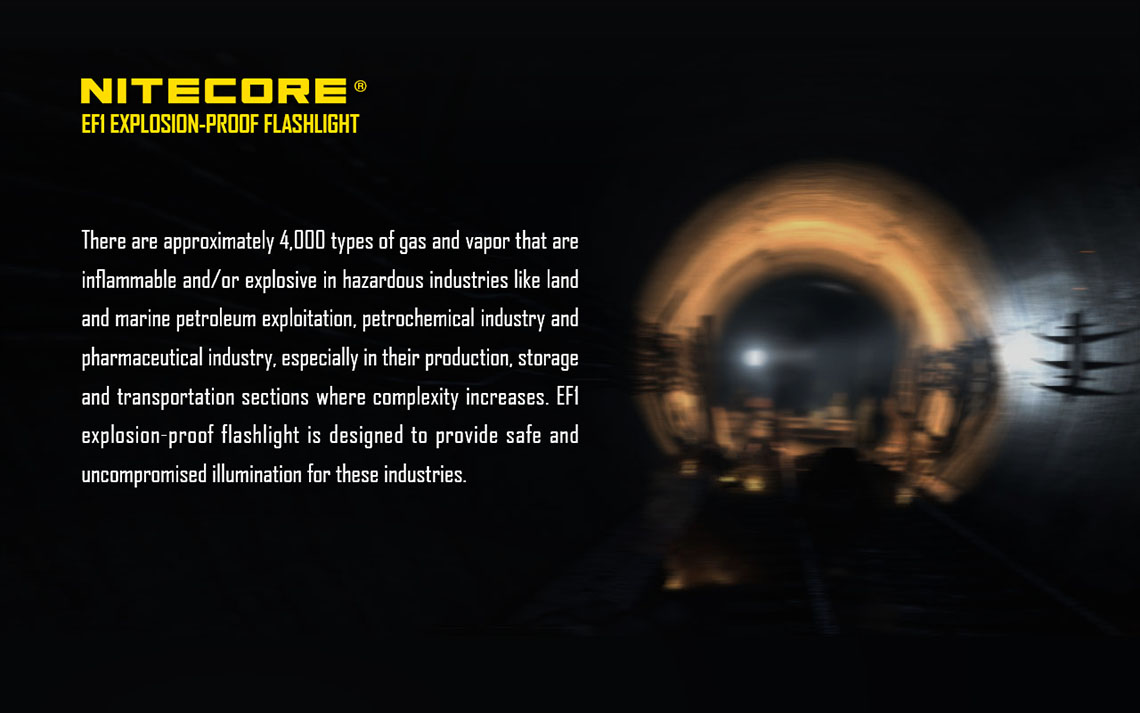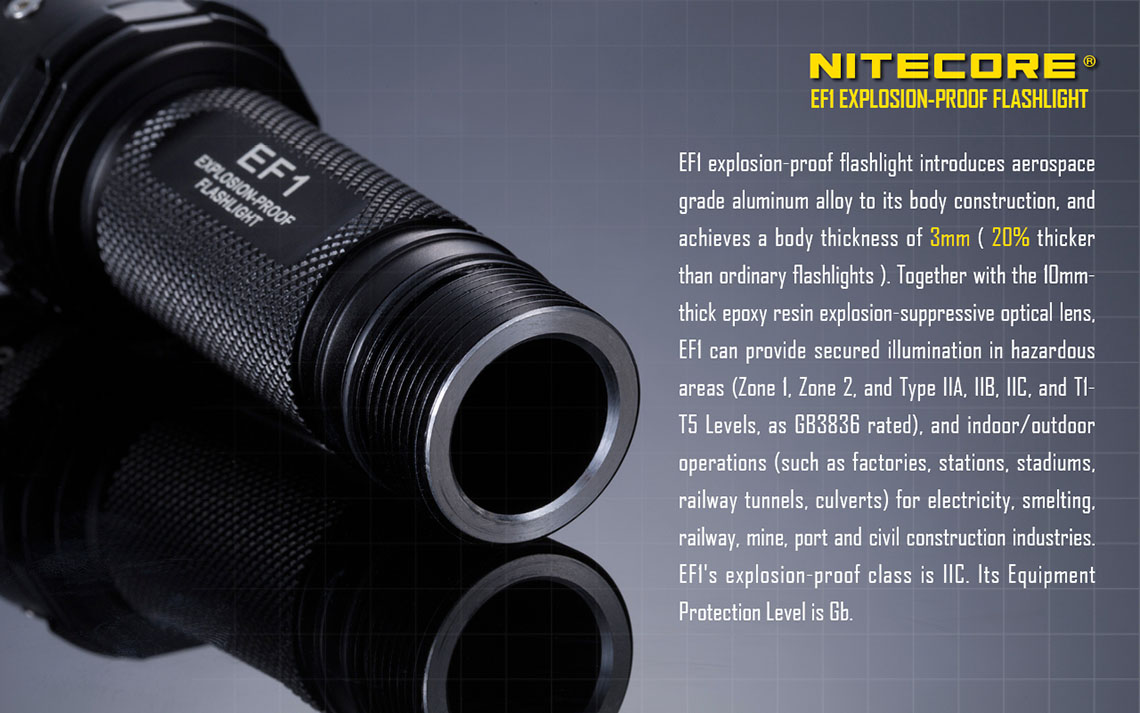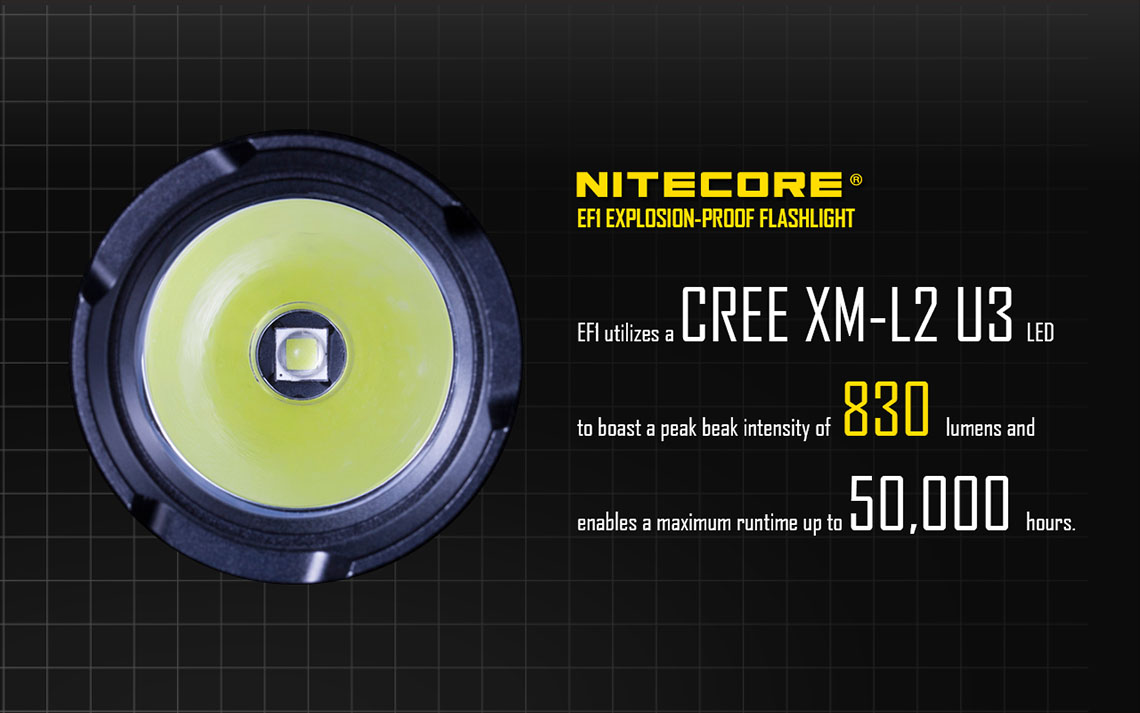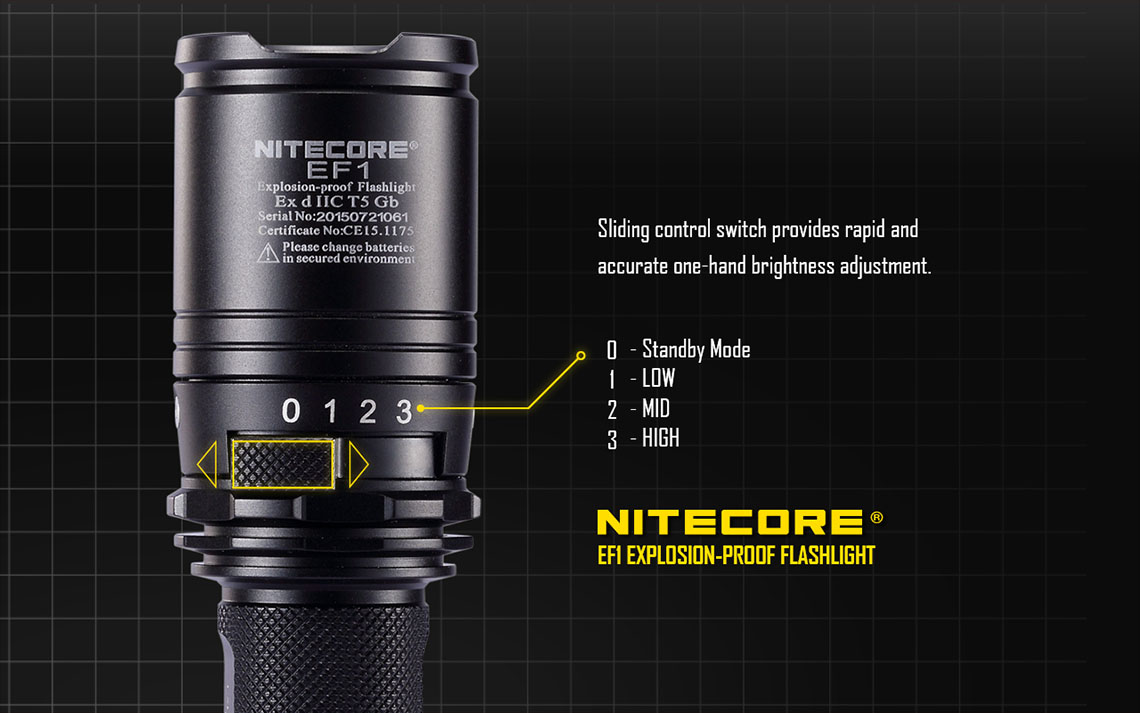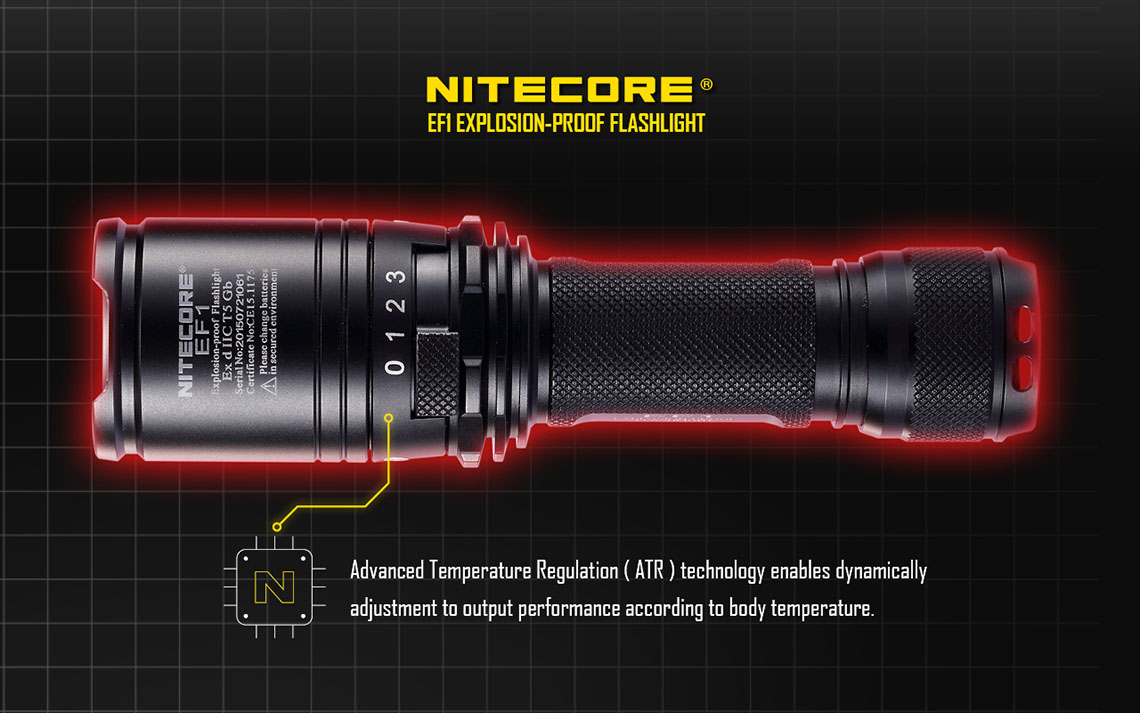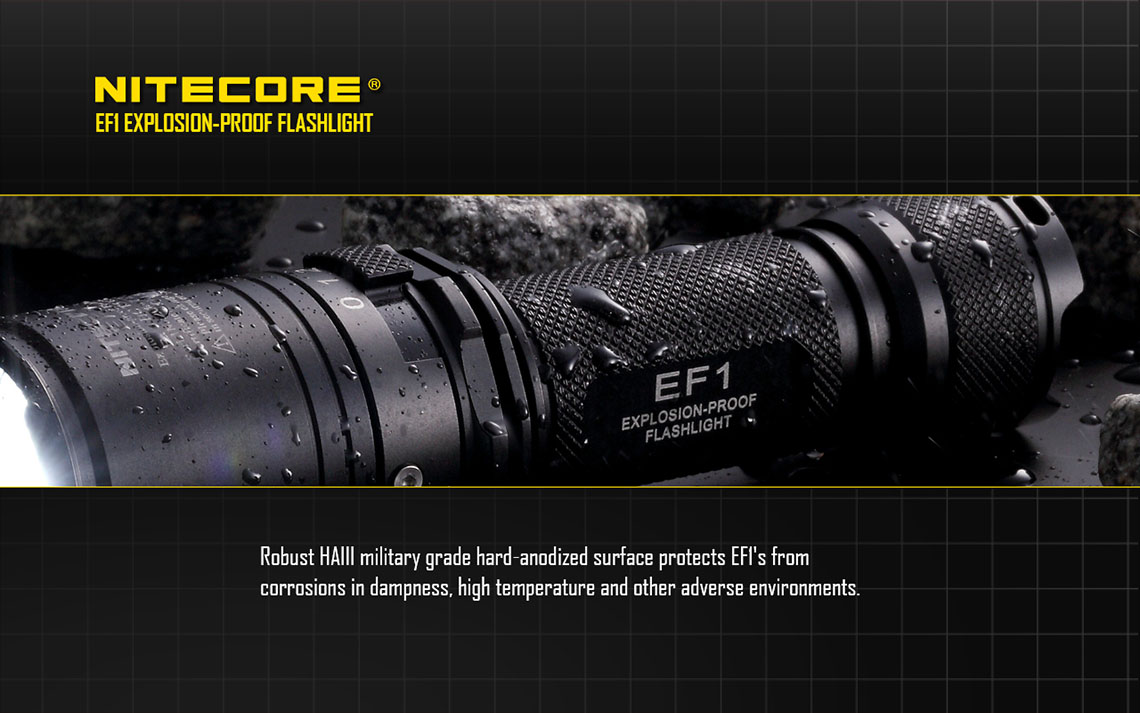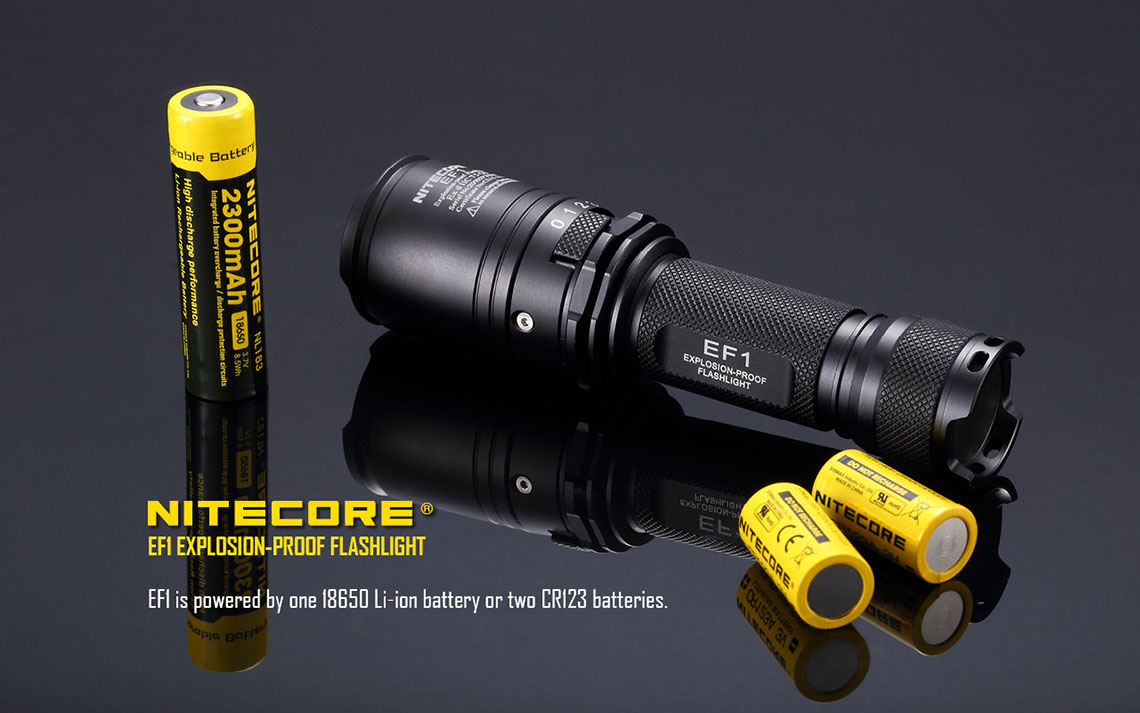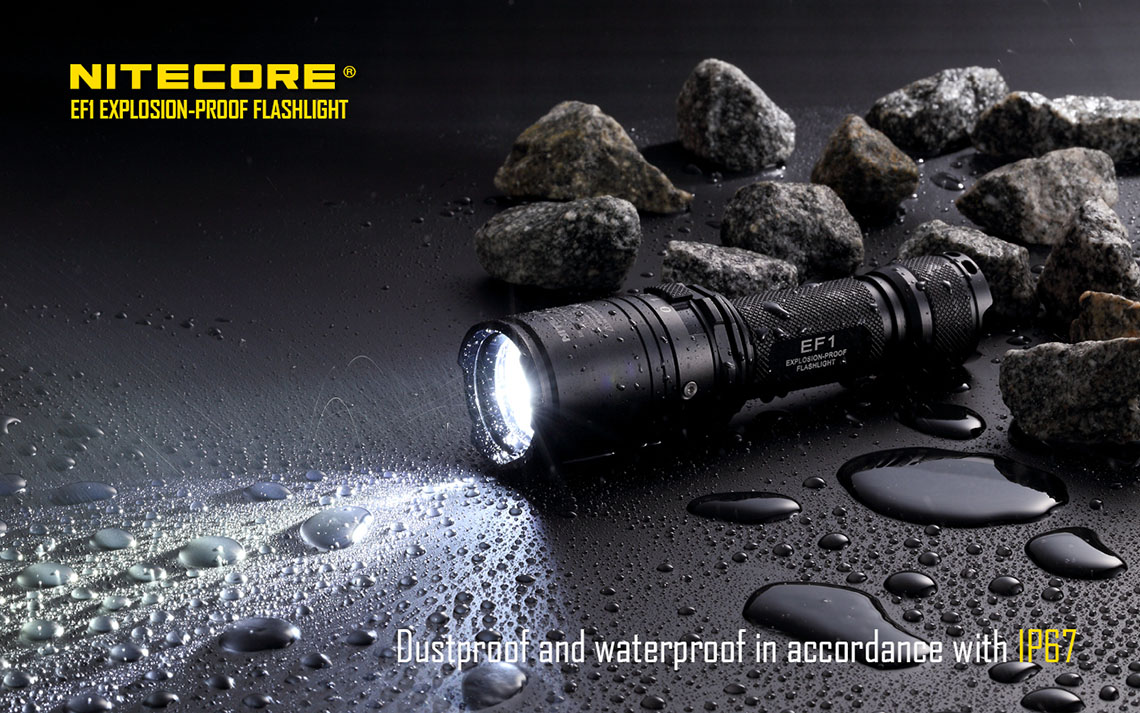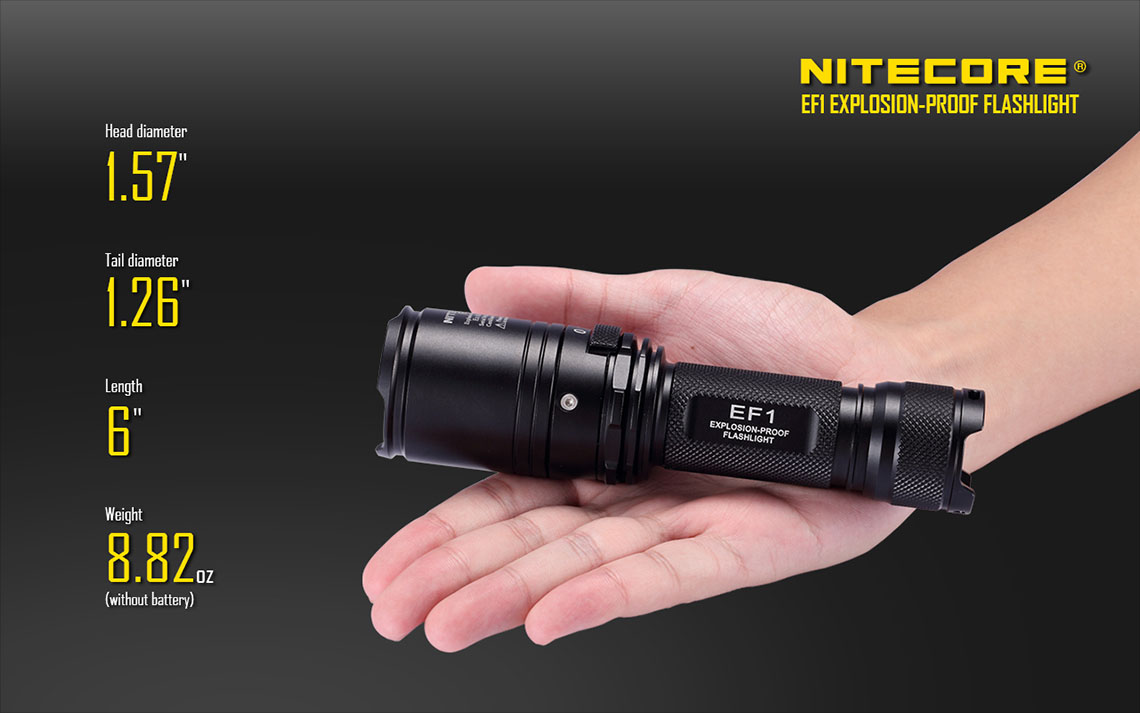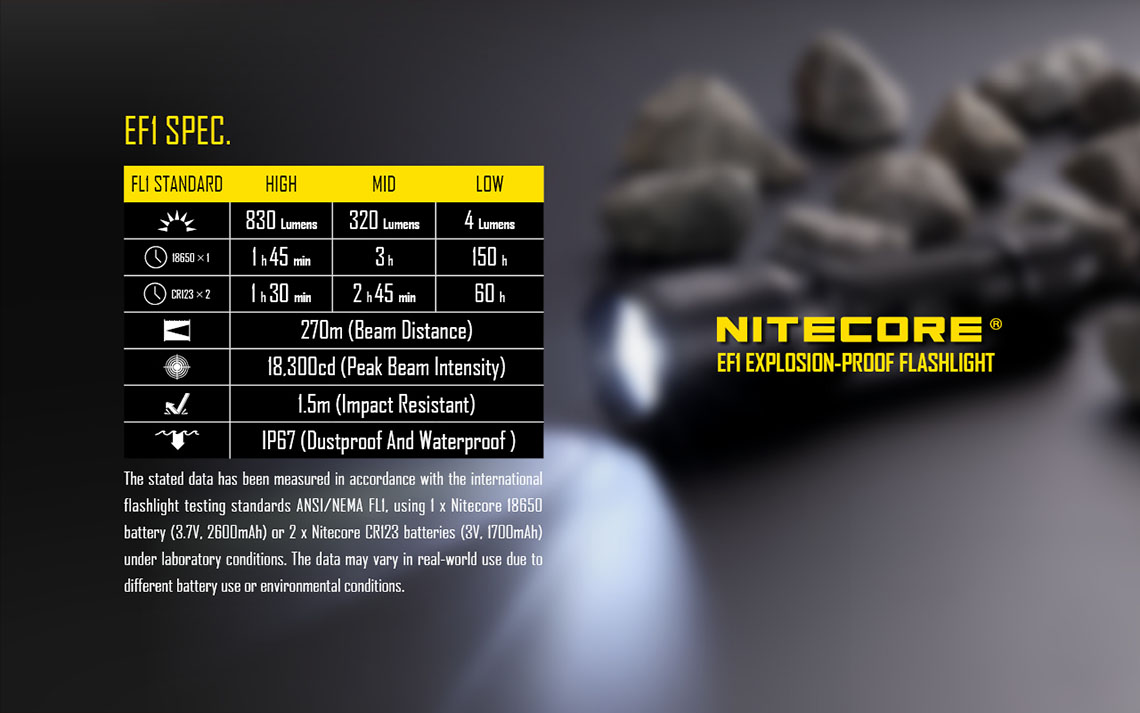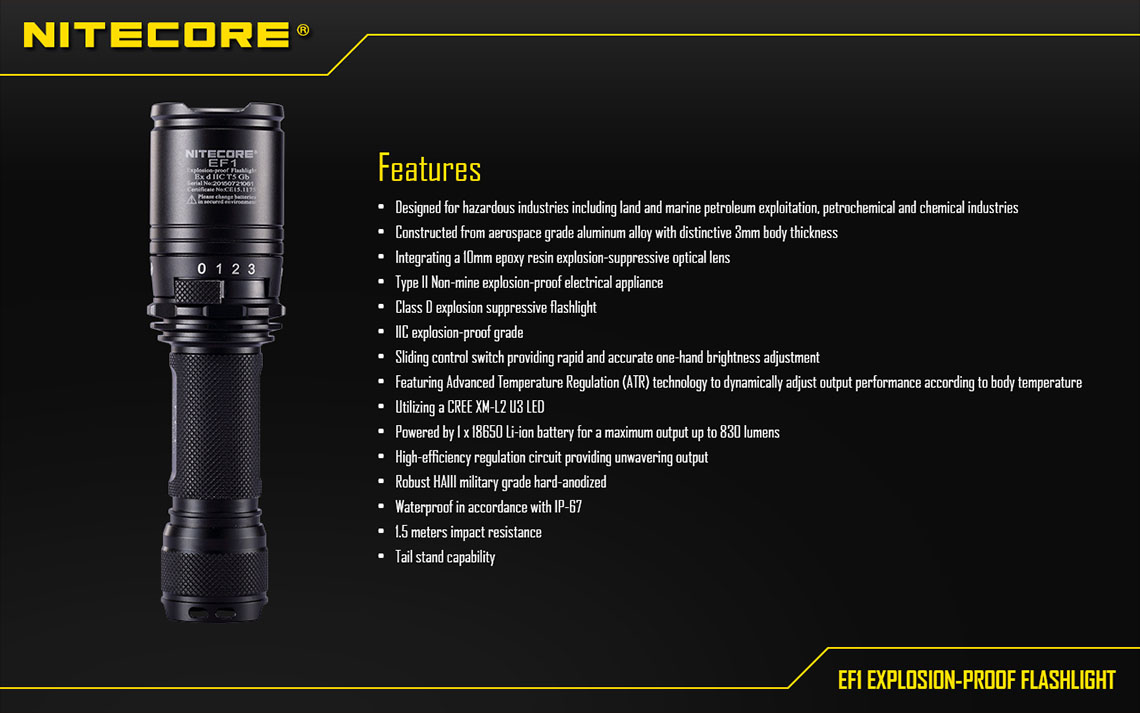 Flashlight Performance
Max Lumens
830 Lumens
Min Lumens
4 Lumens
Modes
3 Brightness Modes
Flashing Modes(Strobe/SOS)
-
Runtimes
High(830 Lumens): 1hr45mins, Mid(320 Lumens): 3hrs, Low(4 Lumens): 150hrs
Beam Distance
270 mts
Peak Beam Intensity
18300 cd
Flashlight Features
Battery Type
1x18650 3.7v Rechargeable Li-ion battery or 2xCR123A 3v non rechargeable battery (not included)
Emitter Type
CREE XM-L2 U3 LED
Reflector
Lens Material
Smooth metal reflector ensures maximum throw distance, Integrating a 10mm epoxy resin explosion-suppressive optical lens
Current Regulation
Yes
Smart Circuit for Rechargeable Batteries
Yes
Reverse-Polarity Protection
Yes
Impact Resistance
1.5 meters
Tail Stands?
Yes
WaterProof
Yes - IP67 (Dustproof, Waterproof and submersible up to 1 meters)
Switch Type
Sliding control switch provides rapid and accurate one-handed brightness adjustment
Other Features
-
Build
Body Material
Constructed from aerospace-grade aluminum alloy with distinctive 3mm body thickness
Color
-
Dimensions
Length x Width x Height: 83 mm x 70 mm x 52 mm
Weight
250 gms (without battery)
In The Box
Included Accessories
1 x High Quality Holster, 1 x Lanyard
Warranty
Manufacturer Warranty
15 Days (Replacement) + 60 Months(5 years) Free Repair - T&C apply
Lightorati Warranty
15-Day Refund (No Questions Asked), Lifetime Support - T&C apply